21 Gorgeous Mirrors With Shelves & Hooks!
Decorative Mirrors in general are beautiful. Decorative Mirrors with shelves and hooks are on a whole other level. Double-Duty decor pieces are my favorite because there's nothing better than getting two products for the price of one! Mirrors with storage take on a whole new function. They're both pretty and practical!
Decor items that come with extra storage are true gems when dealing with small spaces. Mirrors with shelves and hooks are a great way to enhance your decor and add a little extra storage all at the same time!
So, In this article, I rounded up 21 Stunning mirrors with shelves and hooks, and they're all super affordable! These mirrors are perfect for entryways too.
Small Spaces Love Mirrors…
Mirrors have the power to visually expand a room. Add A mirror to the end of a hallway and watch that entire space transform. Hang one opposite or near a window and you've just doubled the amount of natural light streaming into your home.
It's the old optical illusion trick. Mirrors can make it seem like you have way more square feet than you actually do. A huge bonus for small rooms!
Here are some beautiful mirrors with storage I know you're going to love!
**This post contains affiliate links. If you make a purchase through these links I may receive a commission at no extra cost to you. See the full disclosure here.**
21 Stylish Mirrors With Shelves & Hooks.
Wooden Capsule Bathroom Mirror With Shelf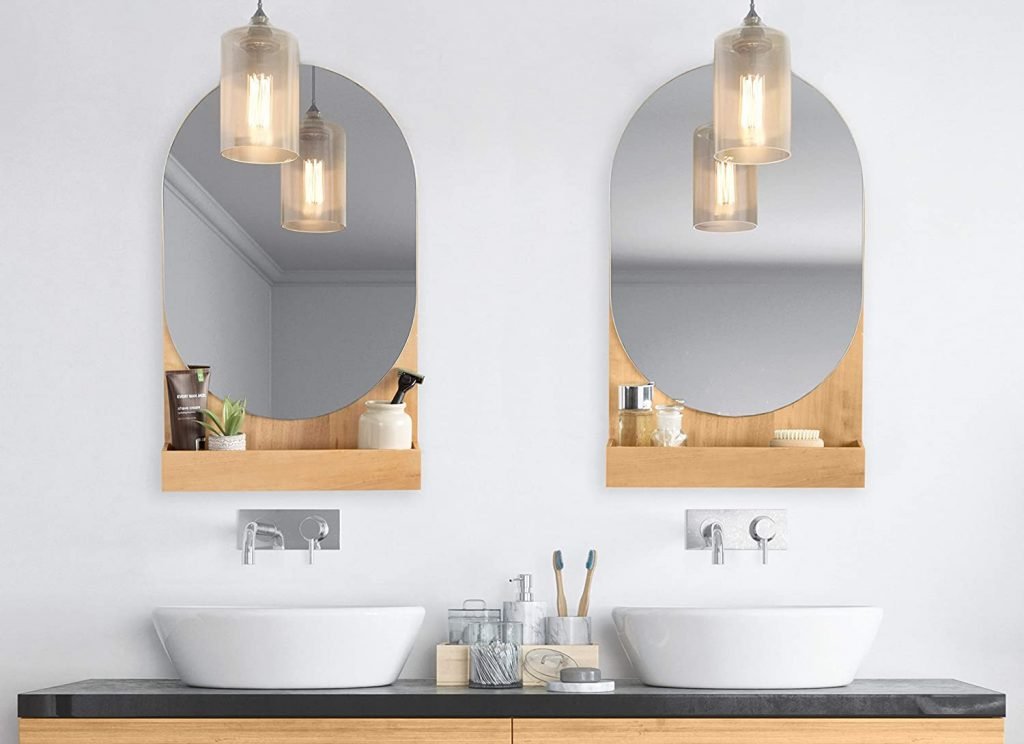 If you love Scandinavian decor, then this Wood Framed Capsule Mirror is a beautiful piece to consider. The Astra Capsule mirror features a clean and simple design with a premium wood frame and high-quality glass. This mirror brings style and sophistication to any space, with its oval shape and light wooden finish (also available in Walnut Brown).
Gold Oval Entryway Mirror With Shelf & Hooks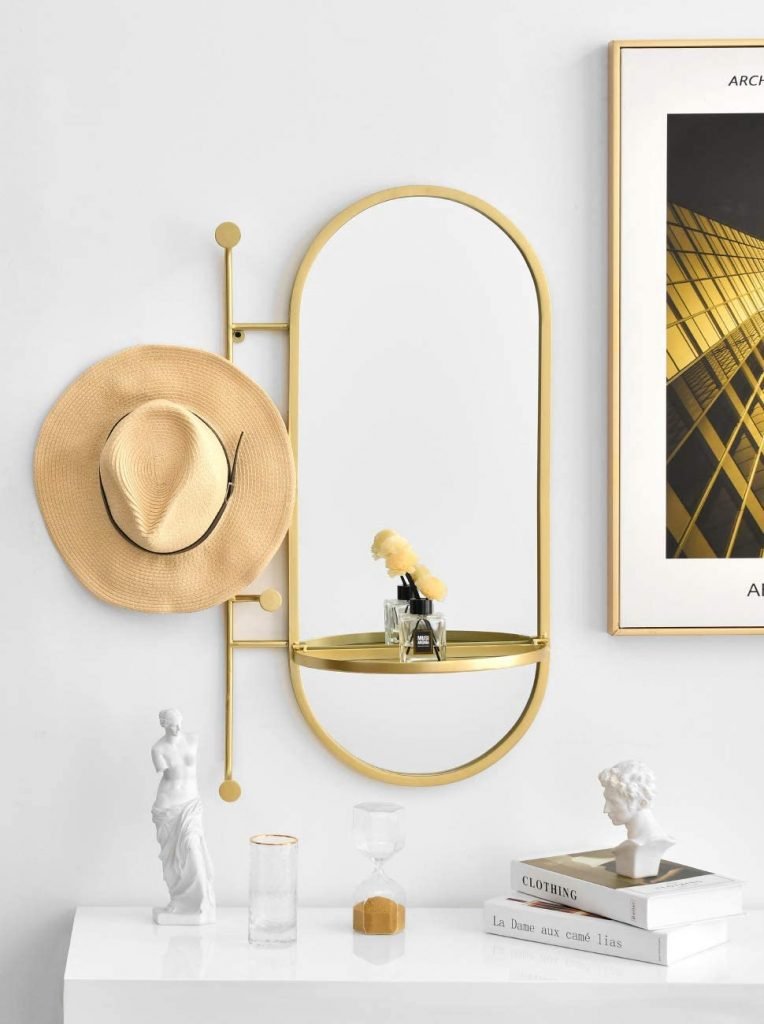 The Bikarsoul Oval Wall Mirror from Amazon adds glam and storage to your decor without the hefty price tag. This luxe mirror is just the right size for displaying your favorite ornaments. Or just a nice place to put your lipstick and scarves in your entryway. Either way, this mirror adds a beautiful modern, classy look to any room. Mirrors with shelves and hooks are so versatile you can put them anywhere you need extra storage. Get it in Black Here. There's another beautiful alternative here at Overstock. Same gold oval mirror with shelf, just without the hooks.
Middlebrook Designs Black Modern Industrial Mirror with Hooks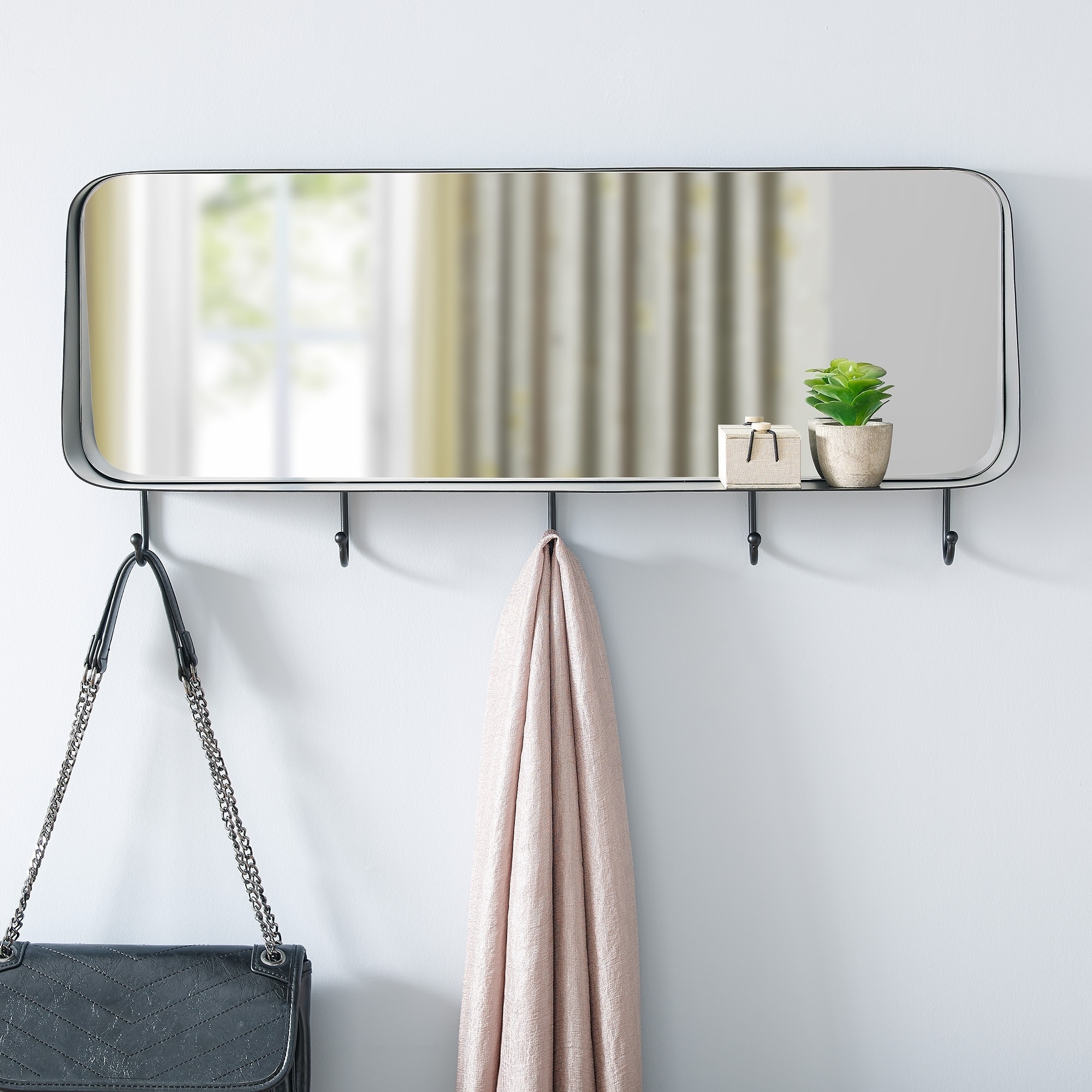 Give your entryway or mudroom a stylish and efficient addition with this Modern Industrial Mirror With Hooks. Featuring rounded corners to slightly soften the industrial metal construction, this mirror will also complement modern or vintage furnishings and provide you with an alternative to a traditional hall tree. A narrow, built-in shelf below the inset mirror is ideal to house your keys and trinkets, while five hooks keep you organized and prepared with coats, hats, bags, and scarves at your fingertips.
---
Related Post:
---
Full-Length Standing Mirror with Coat Rack & Shelves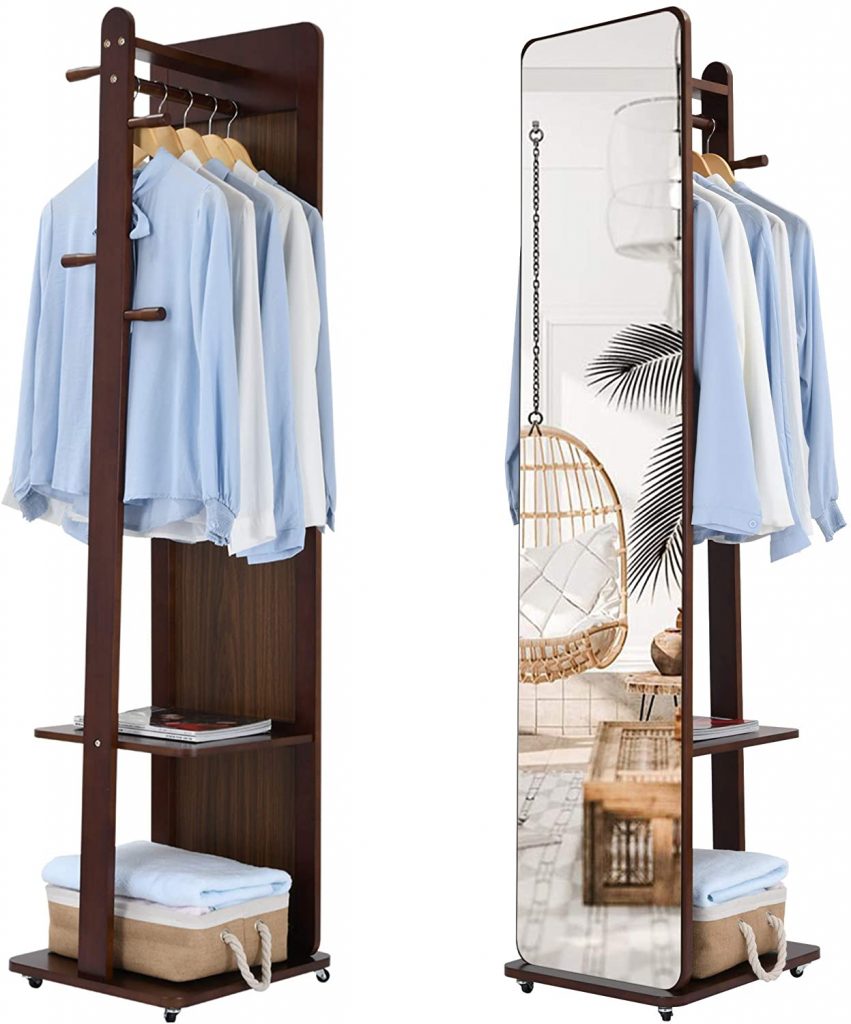 LVSOMT Full Length Mirror with Coat Rack (See updated price On Amazon) The LVSOMT free-standing mirror is a multifunctional piece that small spaces love. With a 1.5" thick solid wood frame and 18″ wide base, this mirror was made to last. It's also fitted with wheels, which means you can move this piece to any room when needed. It's also available in White!
Modern Bathroom Mirror With Hidden  Shelves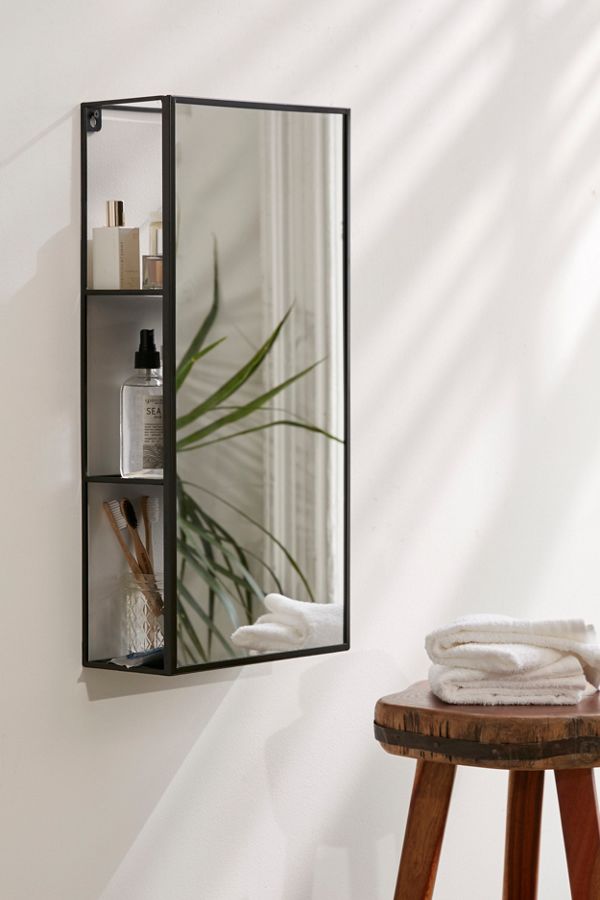 The Cubiko Storage Mirror was designed to make the most of small spaces. Tucked behind the profile of the mirror are three shelves for hidden storage. Use this mirror in your bathroom or your entryway. Store accessories, bathroom essentials, or your keys, and wallet out of sight! Get the round version Here.
Modern Hexagon Wall Shelf with Mirror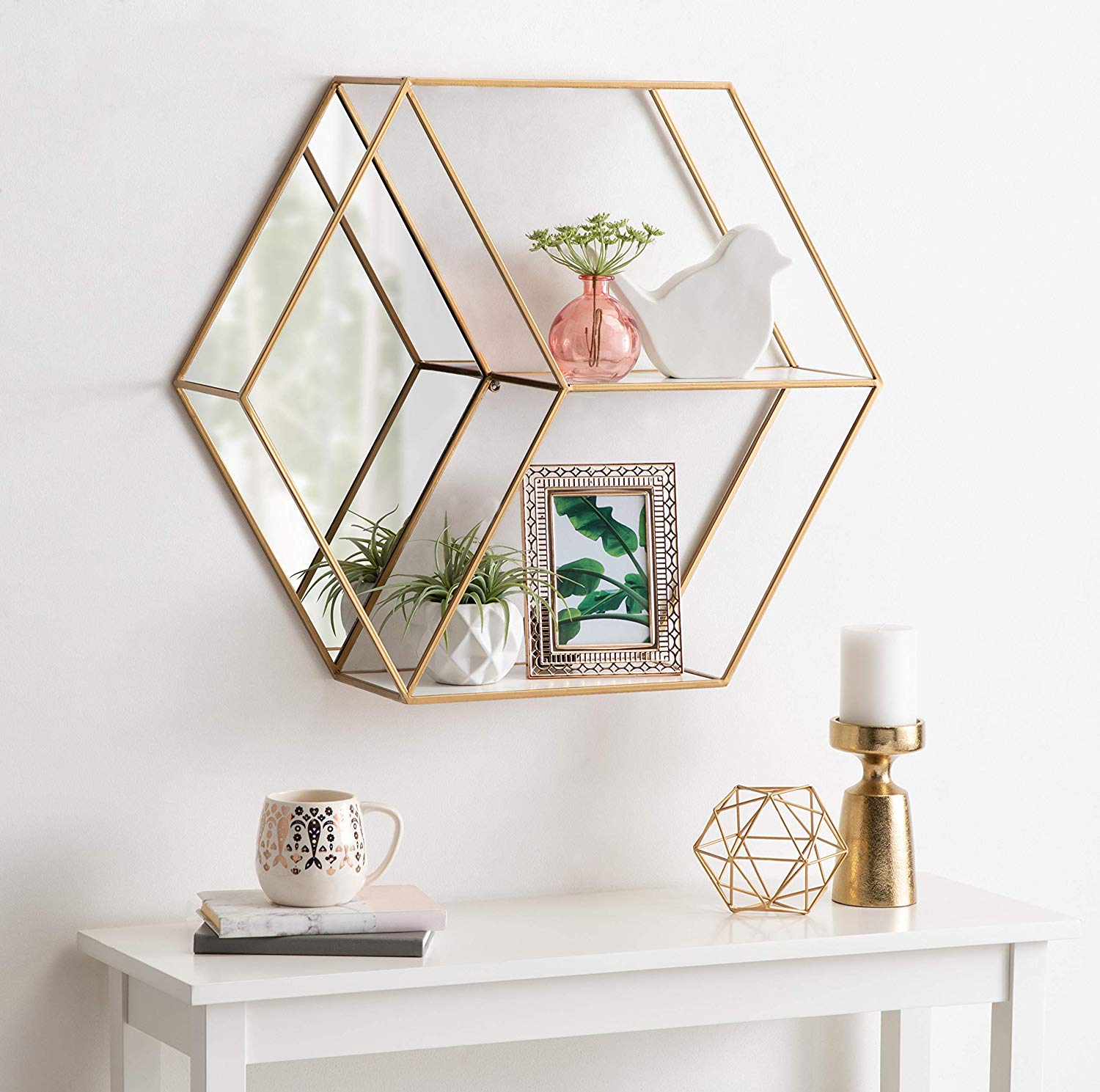 This gorgeous Modern Hexagonal shaped Shelf With Mirror makes for a truly upscale piece. The shelves create an easy display and storage space while the mirror makes it extremely practical to use. It's perfect for jewelry, cosmetics or ornamental accents. It's decorative shelving with mixed functionality – great for small space living!  The overall appearance fits a range of decor styles, from modern to eclectic, and is sure to transform any space you use it in.
Round Entryway/Vanity Mirror With Shelf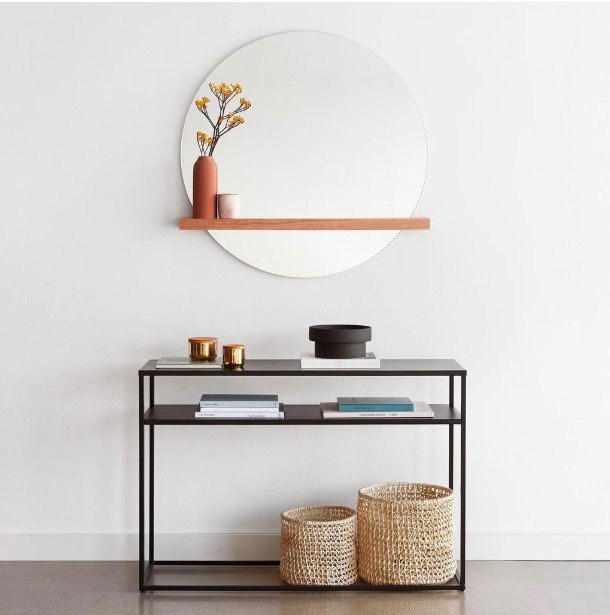 Round Bellavista Wall Mirror With Shelf from The Citizenry. A mirror that looks simply stunning anywhere it goes. Part function, part art. This shelf mirror is a best-of-both-worlds design. Featuring a clean, minimal circular shape, finished with a hand-carved lenga wood shelf. This piece makes an impact in your entry, hallway, or above your couch. See more artisan mirrors here from The Citizenry.
Rustic Barn Door Wall Vanity Mirror with Shelf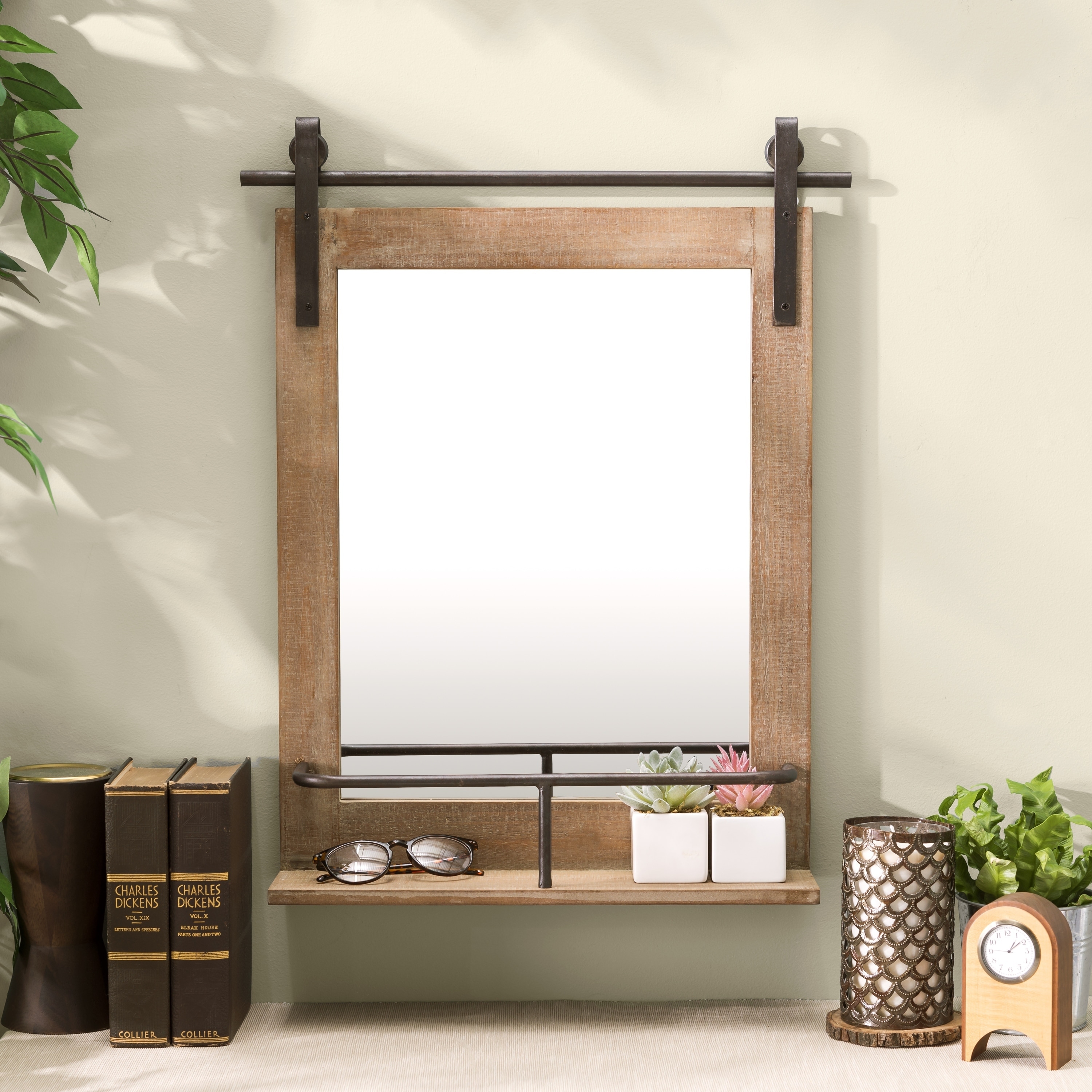 Style and purpose converge in the Danya B. Barn Door Vanity Mirror with Shelf and Iron Hardware. Crafted in true rustic fashion, this charming vanity mirror and shelf feature a gorgeous wooden frame made from natural pine wood. Metal caster hardware finished in bold black adds a unique industrial flair. A small shelf offers just enough space for your skincare and toiletries.
Nordic Bamboo Vanity Mirror With Shelf & Hooks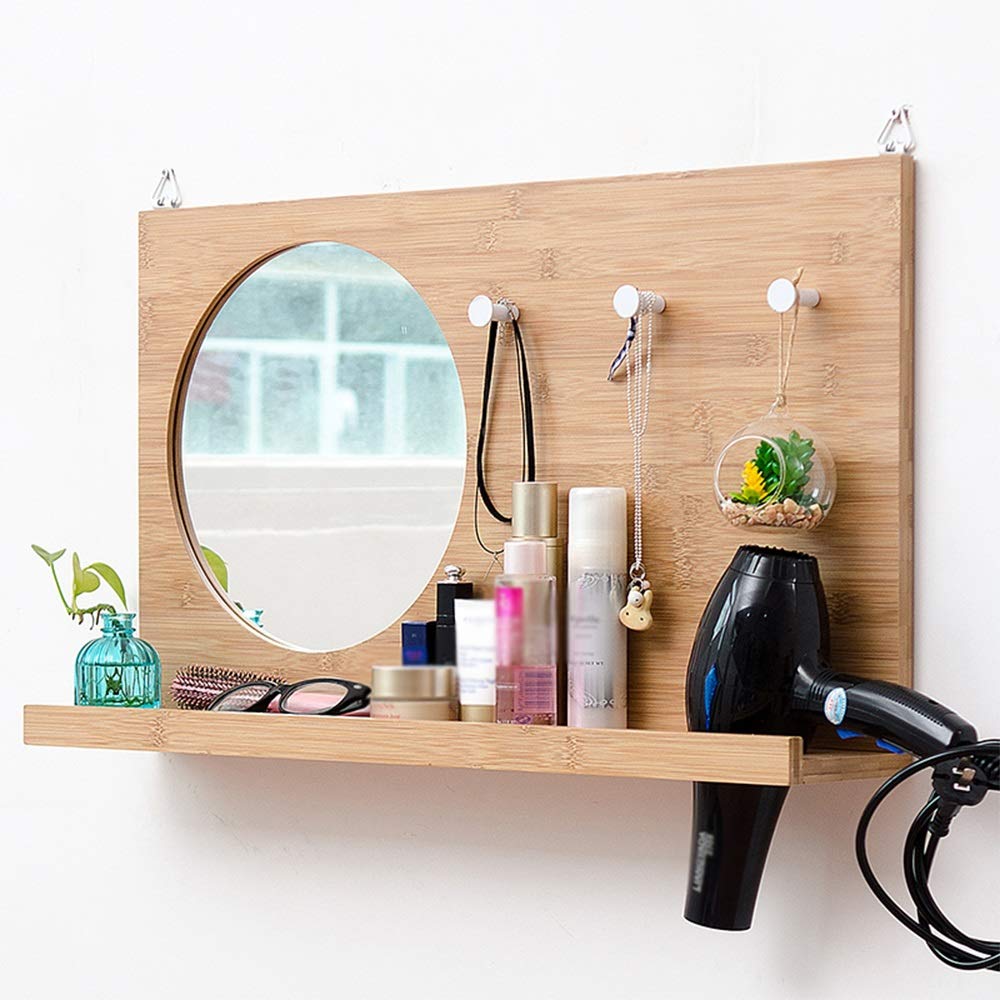 The Nordic Bamboo Mirror With Shelf & Hooks is the perfect multipurpose bathroom mirror for getting ready. This Bamboo shelved mirror with hooks conveniently store your bathroom or makeup & hair essentials, all within reach.
Rustic-Modern Farmhouse Entryway Mirror With Shelf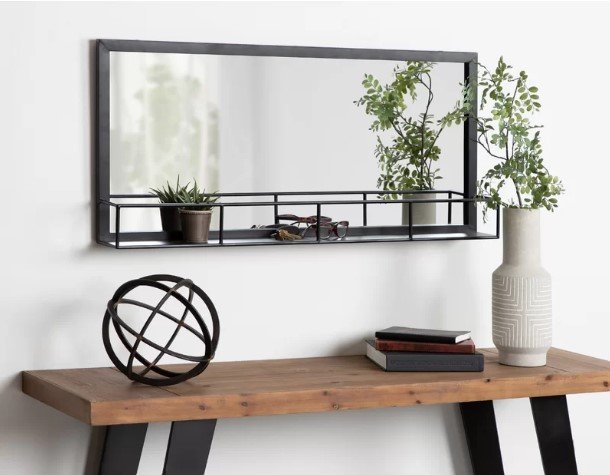 The Kate and Laurel Jackson Metal Frame Mirror with Shelf From Overstock is the perfect addition to your entryway decor. Use it to set up a spot for last looks, display, and organization with this charming mirror and shelf design. The graceful look is suited to an entryway for holding keys and other items as you head out the door. The rugged construction is sleek and sophisticated for versatile use in a variety of spaces. Available in other sizes and colors.
Gold Half Circle Wall Mirror With Jewelry Hooks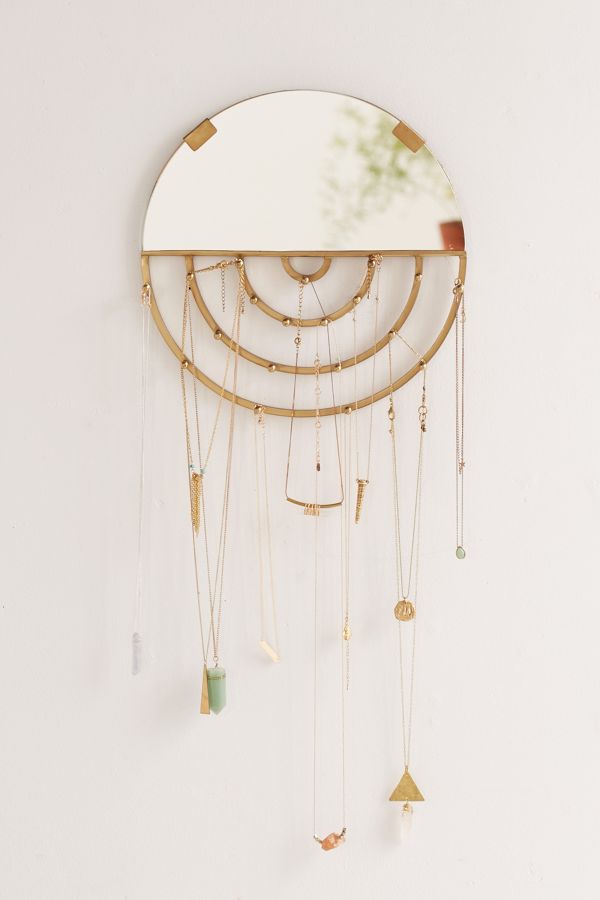 Half Mirror Jewelry Organizer from Amazon. A 2-in-1 mirror & jewelry storage, made from metal and glass for a chic addition to any space. Complete with a mirror and over 10 hooks for hanging necklaces, bracelets, earrings + more.
Industrial-Styled Octagon Entryway Mirror with Shelf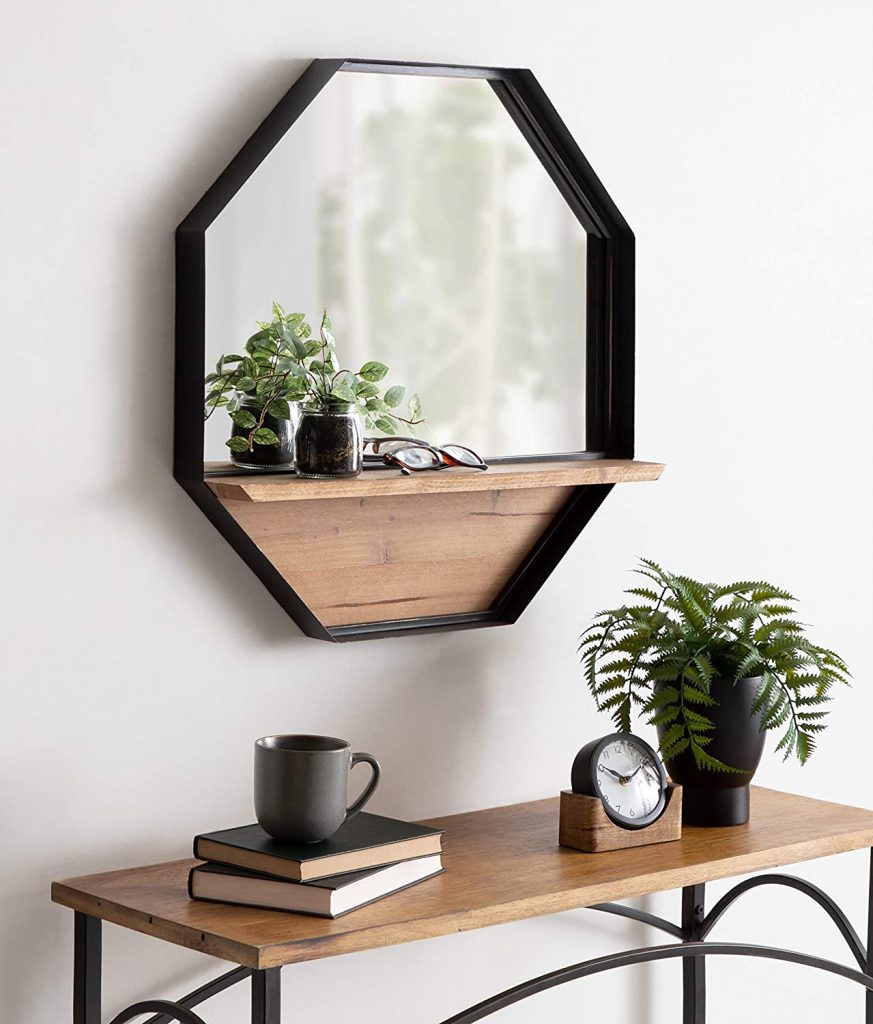 The Kate and Laurel Owing Metal Farmhouse Mirror is an artistic display on its own, with its striking shape and charming rustic look. The wooden shelf adds functionality and style to any wall. Perfect for farmhouse or industrial decor. Of if you just want to bring in some natural elements to your interior design.
Round Wooden Mirror With Hidden Storage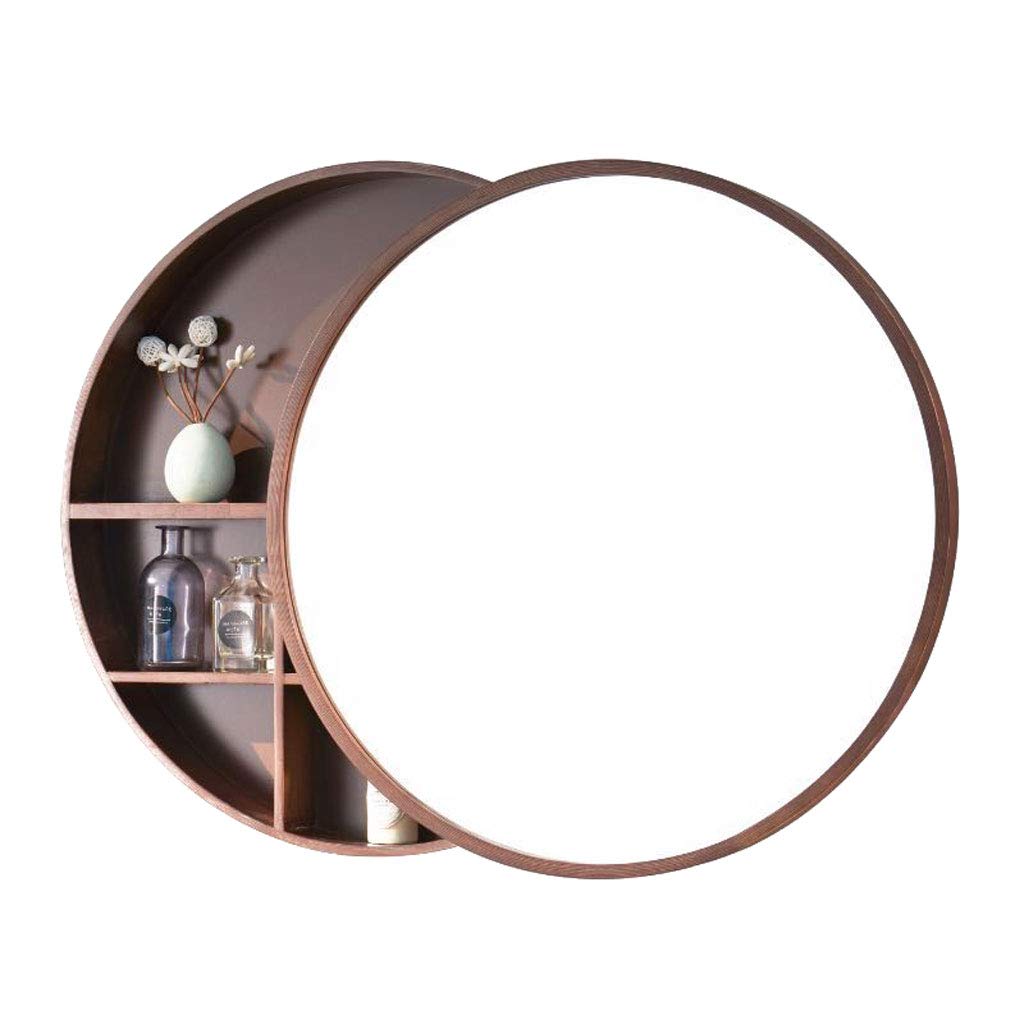 Round Wooden Cosmetic Mirror With Hidden Shelves (See Price On Amazon). This round sliding bathroom mirror boasts a solid wood frame and a high-definition mirror. Store bathroom essentials and beauty products in the hidden shelves behind the mirror.
Rustic Entryway Mirror With Hooks & Shelf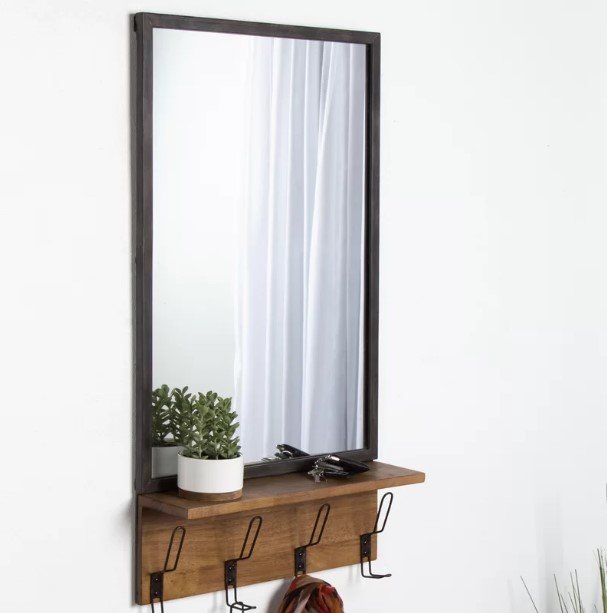 Rework your foyer design with this Distressed Metal Accent Mirror With Shelves & Hooks from Overstock. A distressed black metal frame provides a simple protective border for this rectangular mirror, and the wooden shelf at the bottom introduces warm contrast while providing four sturdy hooks to hold bags and coats reliably.
Gold Wall Mirror with Shelves
The FirsTime & Co. Gold Pharmacy Mirror will add sophisticated elegance to your space, and ample storage for your beauty products or home accents. There's something about gold accessories that's just so feminine and chic. I don't care what anyone says, gold-framed mirrors will never go out of style!
Full-Length Mirror With Jewelry Storage & LED Lights
When you have a growing jewelry collection and limited space, a multi-functional piece like this Mirror/ Jewelry Cabinet from Overstock is gold! This mirror has 5 automatic LED lights and an additional mirror on the inside, drawers and bins, a travel pouch, shelves, hooks, and a lock and key to keep everything safe.
Behind-The-Door Full-Length Mirror With Storage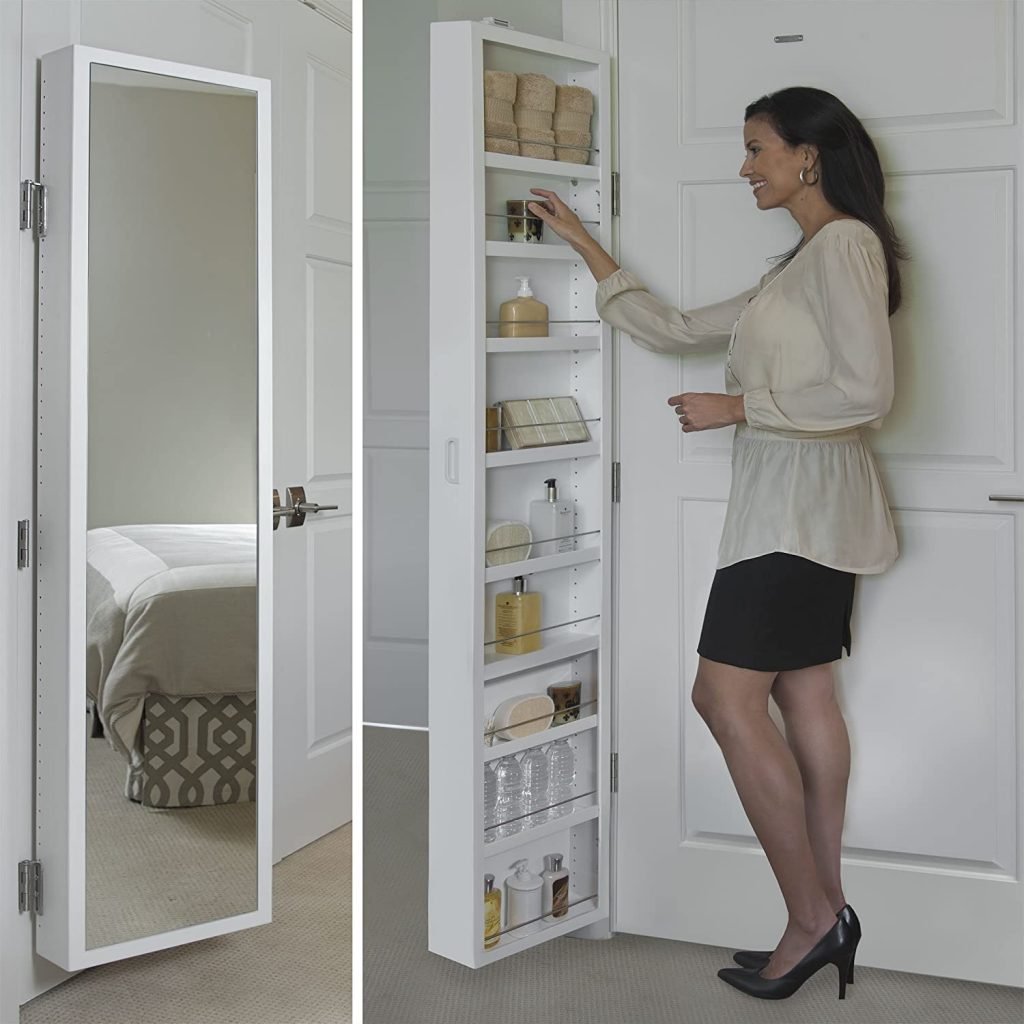 The Cabidor Deluxe Mirrored Storage Cabinet is perfect for small bathrooms and bedrooms that need a little extra storage. If you like hidden storage, then this one is for you! This mirrored cabinet is thin yet tall and mounts on the side of the door where the hinges are visible, keeping it out of the way yet easily accessible. With adjustable shelves, you can easily customize this unit to suit your storage needs. It's such a smart way to declutter your space and add more.
Barn Door Entryway Mirror With Storage Pocket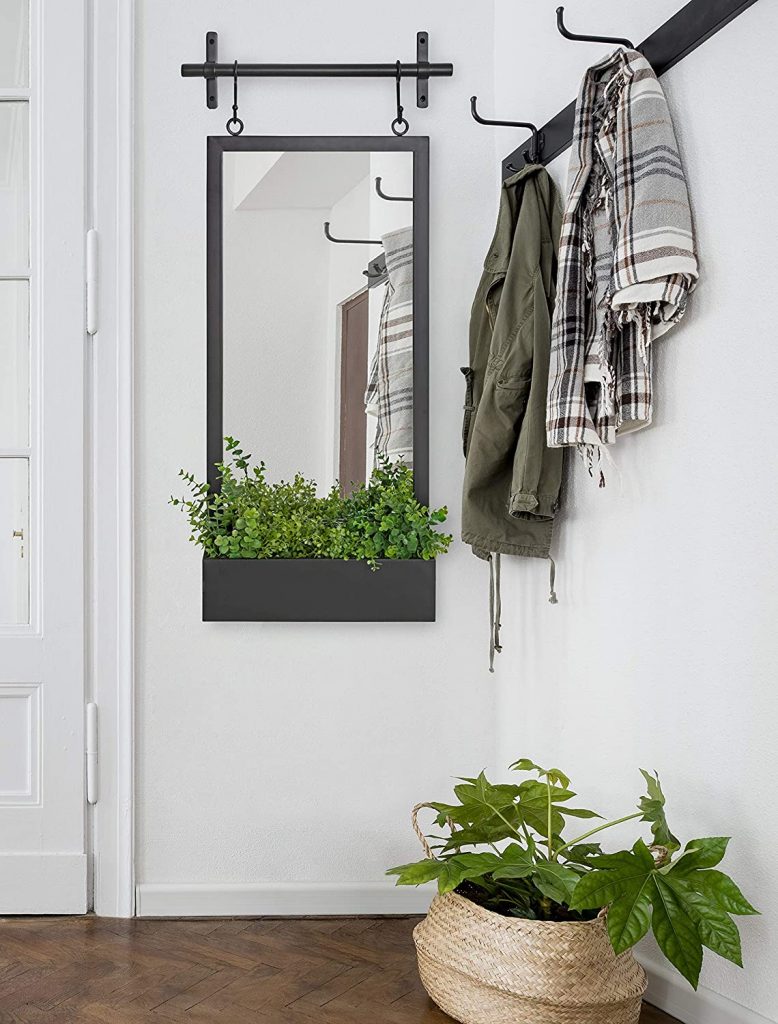 Add light, dimension, and function to your wall decor with the Gammons Barn-Door Inspired Wall Mirror. This mirror offers a shabby-chic accent to your home while also providing plenty of practicality. It features a black metal frame with a pocket shelf for storing your mail, keys, wallet, or faux plants, as seen above. Its narrow profile makes it the perfect decor item for smaller, more narrow spaces. This mirror is a chic, eye-catching decor piece for any room. Larger size is available.
Entryway Mirror with Hooks & Organizer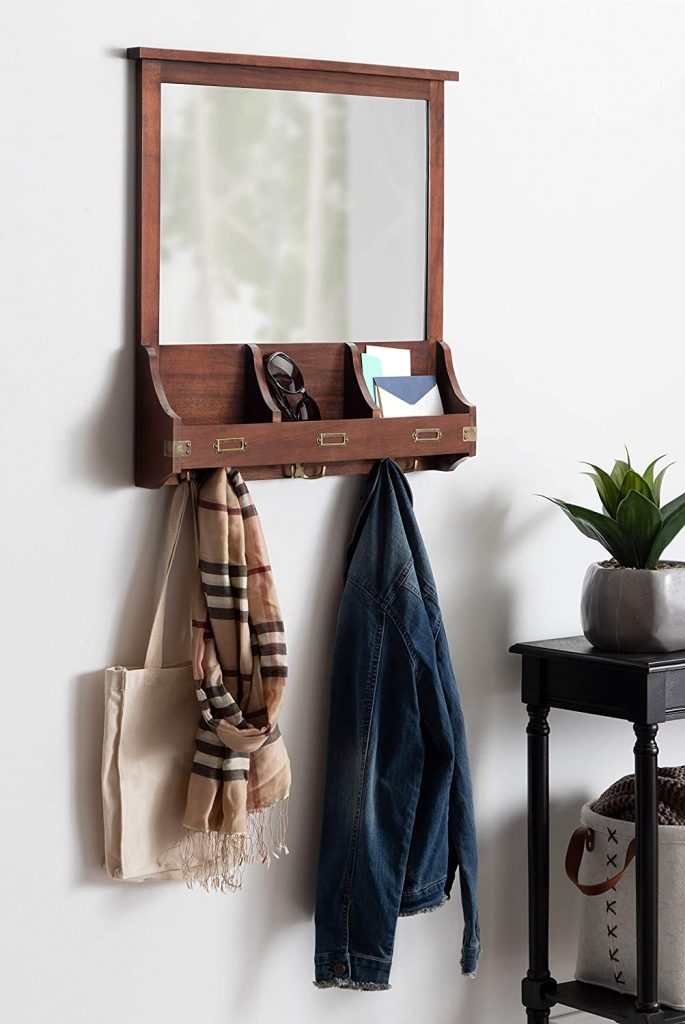 This Mirror with Hooks and Organizers (from Amazon) offers ample storage space. It's made from solid wood and fitted with metal hooks and label holders to keep things. Use it as a catch-all on your way in and know exactly where everything is on your way out. Also available in other colors and wood finishes!
McCauley Decorative Metal Mirror with Shelf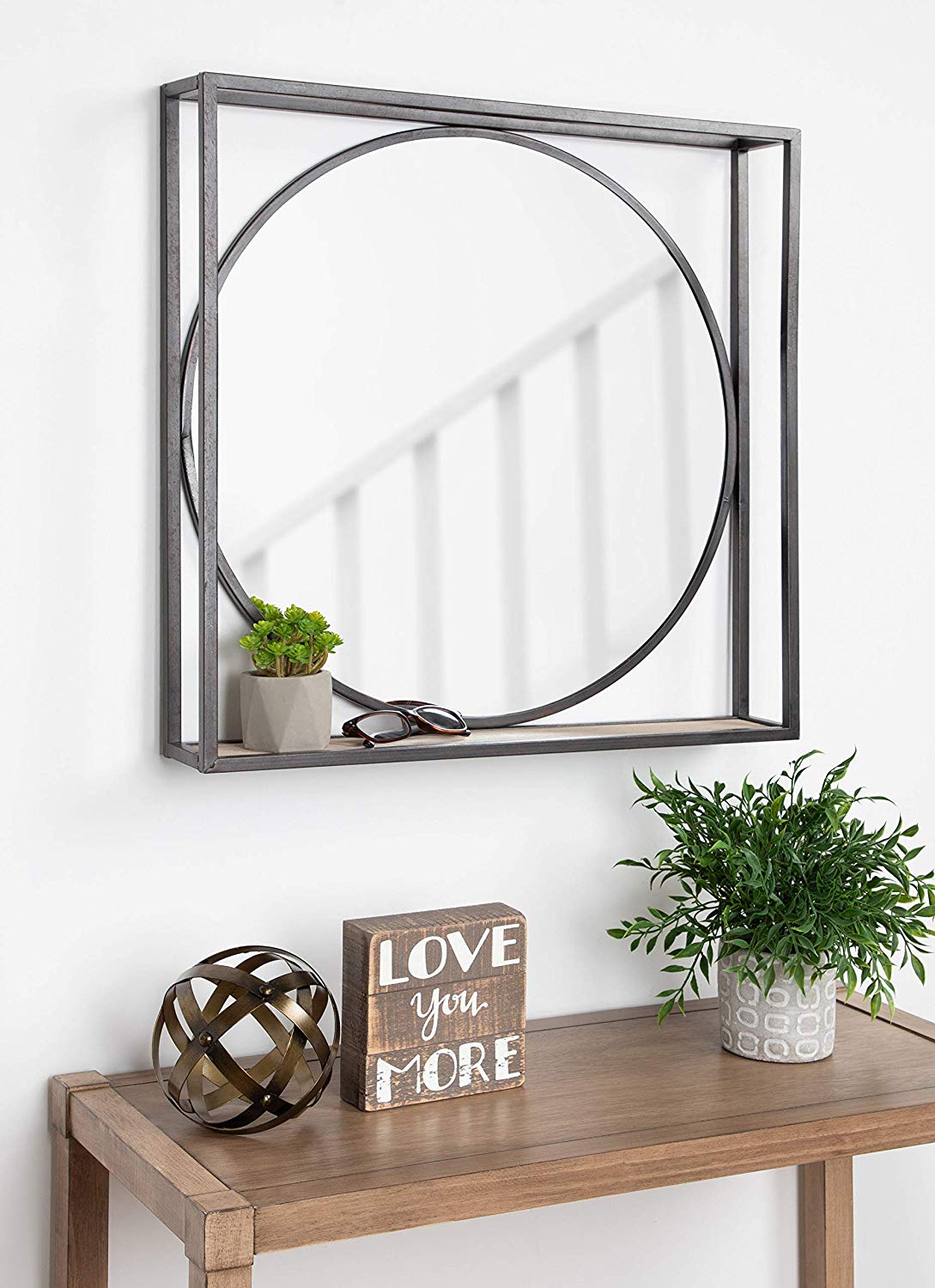 Rustic Modern Round Mirror With Square Metal Frame & Wooden Shelf . An artistic display on its own, this mirror/shelf combination is a beautiful part of any home decorating scheme. The gorgeous raw iron look of the metal frame gives a sophisticated rustic modern appearance and adorns the sizable round mirror adding depth and brightness. Another mirror to complement a modern farmhouse decor space.
 Gray Middleton Planks Mirror With Hooks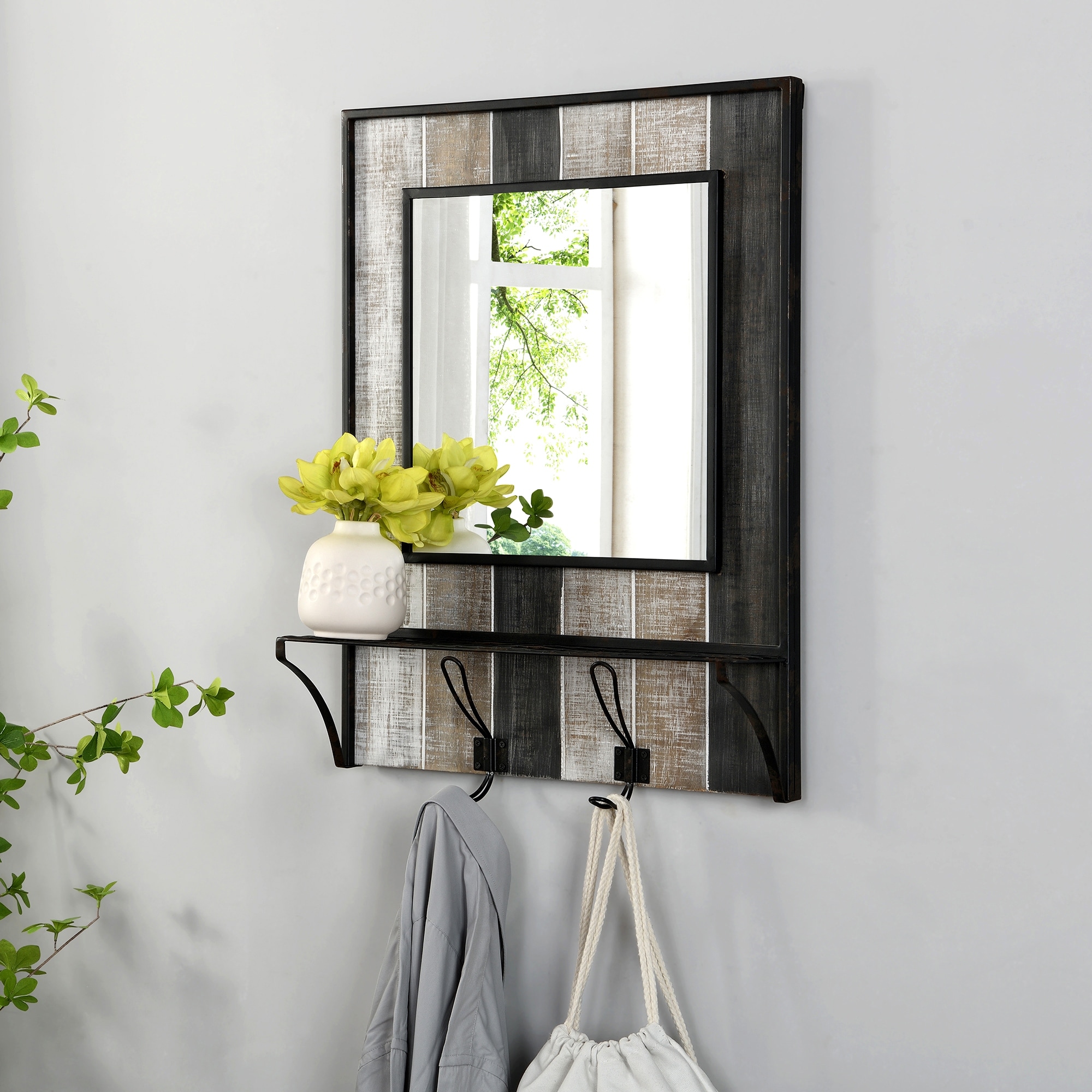 The FirsTime & Co. Gray Middleton Planks Mirror With Hooks combines farmhouse with rustic style. This 26″ tall mirror is made of wood with a rustic finish that will go perfectly with any décor. Featuring a rustic multicolor shiplap pattern, a shelf, and 2 hooks for storing purses, coats, towels, and more, this mirror is the perfect accent piece for your entryway, bedroom, bathroom, or any room!
There You Have It!…
21 Mirrors with shelves and hooks for double-duty decor! When working with smaller rooms, always try to find ways to incorporate more storage without creating clutter. These mirrors, while they won't hold a ton of stuff, they're a clever way to store the thing you use daily. Plus they're stylish as hell!
I hope you found one that you like. I had so much fun rounding them up!
Where To Shop Stunning Mirrors?
You May Also Like:
PIN THIS FOR LATER!