6 Easy Ways To Stretch Your Small Living Room.
A small living room often comes with its own stress and frustrations. I can also feel like a design death sentence, but I promise you it's not! In fact, it should be thought of as a fun challenge. Optimizing the space for comfort and functionality should be a priority. That means squeezing more out of your small living room and stretching your living footprint (or at least creating the illusion of a larger space). Here are six simple swaps and hacks to try in your small living room.
**This page may contain affiliate links. If you purchase something through these links, I may receive a small commission. You will NOT pay more for products purchased through these links. I only recommend products that I love and trust! **
PIN IT FOR LATER!
6 Easy Ways To Stretch Your Small Living Room!
Re-Think Your Coffee Table Or Side Table
Living room necessities are pretty straightforward: A sofa, side tables, accent chair/s, coffee table. But here's a thought: You might not actually need a coffee table. In fact, there are smaller more versatile, and modular options that can work just as well in your small space.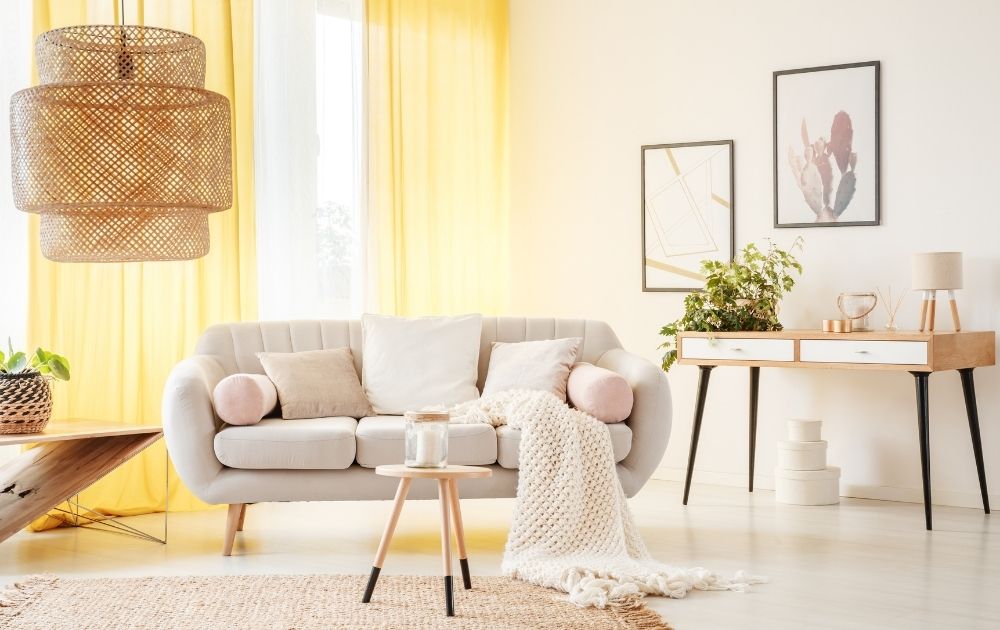 Try these alternatives:
Poufs: Add a tray on top of a small pouf for a more solid surface to place beveages or accessories. Voila! You have a 'coffee table plus extra seating, without sacrificing too much living space.
Ottomans: Choose one with hidden storage. Just like a pouf, add a tray and you've got yourself a place to rest your drinks and extra storage space.
Garden stools: You can really save space (and money) with these as these are often petite and compact. No tray need here Garden stools are solid and sturdy.
Slender bench: Benches and coffee tables tend to fall around the same height (roughly 18″ from floor to surface) so don't overlook using a backless bench that is a bit more slender than a table. This move works particularly well in a really narrow space.
Nothing at all: The so called living room essentials are a good starting point but think really hard about how you use your living room space. Do you typically put your stuff on the side table? Is the coffee table just a place to display decor with no other real purpose besides getting in your way? If it's not serving you or your room it might be time to ditch it!
RELATED: 9 Best Types Of Furniture For Small Spaces.
…Or Maybe Ditch The Side Table Instead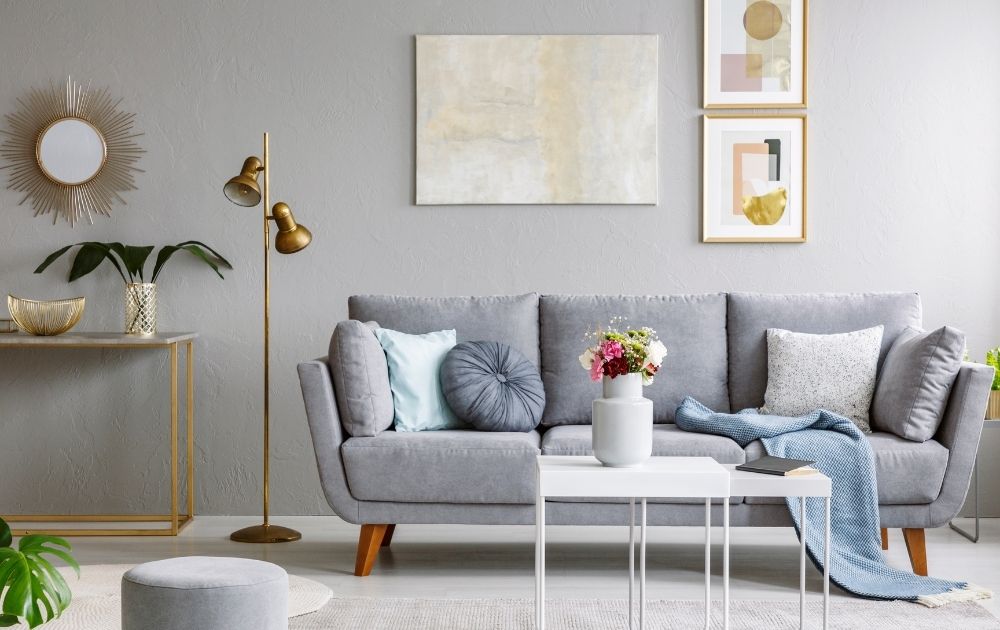 Like the coffee table, if a side table is just taking up space without any practical use, then get rid of that instead. The idea is to keep the number of living room furniture to a minimum. When floor space is premium you don't need two tables that do the same thing. If you're more inclined to use the coffee table then say goodbye to the side table. It's ok to get cutthroat when you live in a small space.
Choose An Apartment-Size Sofa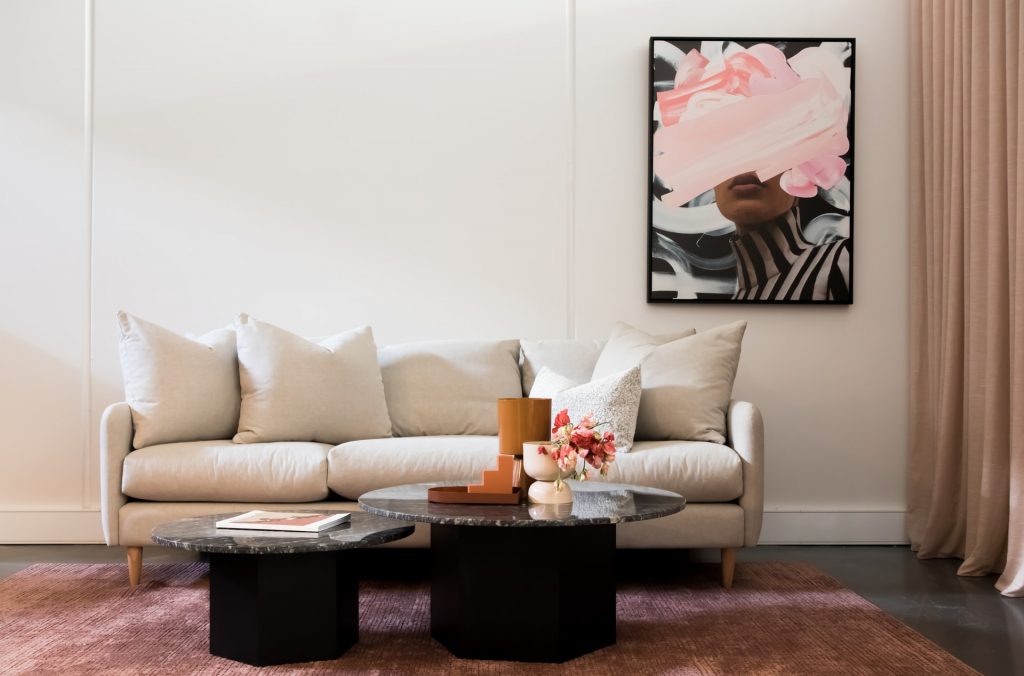 A sofa category made precisely for smaller spaces! If you think you're limited to a loveseat due to a lack of space, then think again! Enter the apartment size sofa. Available in a variety of styles, colors, and price points.
A standard, full-size sofa can be anywhere between 70″ and 96″. Loveseats run at about 52″ to 64″, so this special "apartment" categorization fills in that gap.
Apt2B has a ton of modern and stylish Apartment Sized sofas you can customize! If you're looking for that sweet spot between a full-sized sofa and a loveseat, Apt2B is where it's at.
RELATED: Where To Buy Furniture For Small Spaces (That's Not IKEA).
Always Aim For Double-Duty Pieces.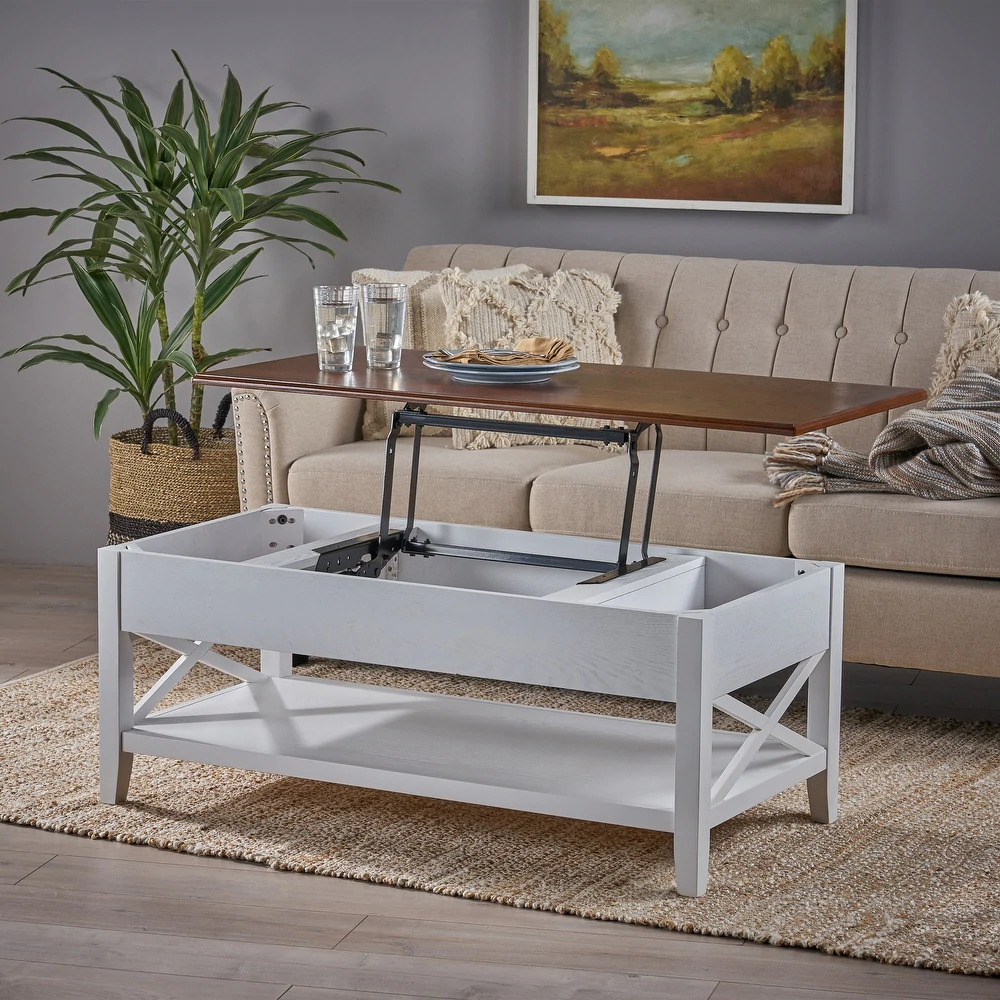 Get This Farmhouse Lift Top Coffee Table with Storage ($319.99) Here On Overstock
See more Lift Top coffee tables in This Roundup!
Multifunctional furniture is gold when working with small spaces. Every room should have its own piece! For small living rooms, there are a few double-duty options you can go with:
Storage Side Tables
A Bookshelf Room Divider
Whichever you decide be sure to invest in a good quality piece. You won't regret it and your small living room will feel less cluttered and more like home.
Mirror Mirror On The Wall, Make My Space Look Wide & Tall
You know the drill here. Mirrors are sneaky little gems that have the power to expand any cramped nook (visually, of course). Hang a medium-to-large mirror in your small living room to create the illusion of a larger space. Those oversized, floor mirrors are beautiful! Lean them up against the wall for a sophisticated and dramatic effect.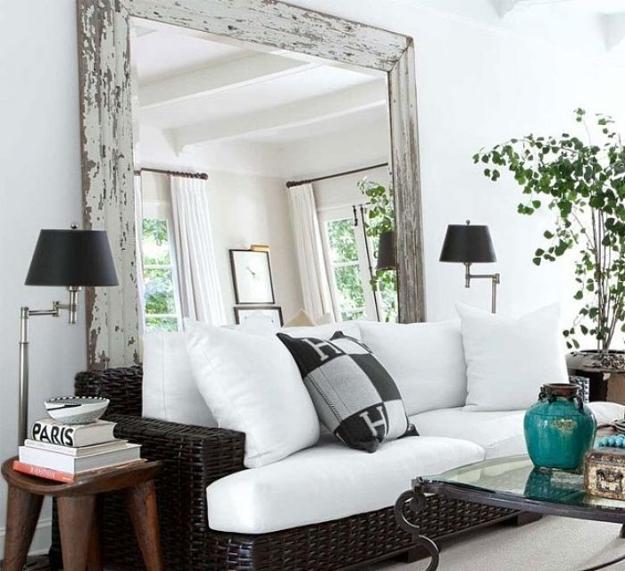 Where to place mirrors in your small living room?
Above your sofa
Opposite or next to your window – This will not only create the illusion of a larger space, it will also bounce natural light around the room, brightening up your small space.
On the floor leaning against the wall
Behind a light source like a table lamp
Create a gallery wall with different size and shape mirrors
Use Mirrored Furniture
Go Big With Rugs. Yes. BIG!
This is one of the most common mistakes I see with small living rooms. People think that everything needs to be small, even the rug. Creating the right balance is key when decorating small spaces. Large items add interest, and can even create the illusion of a larger space. Rugs are one of them!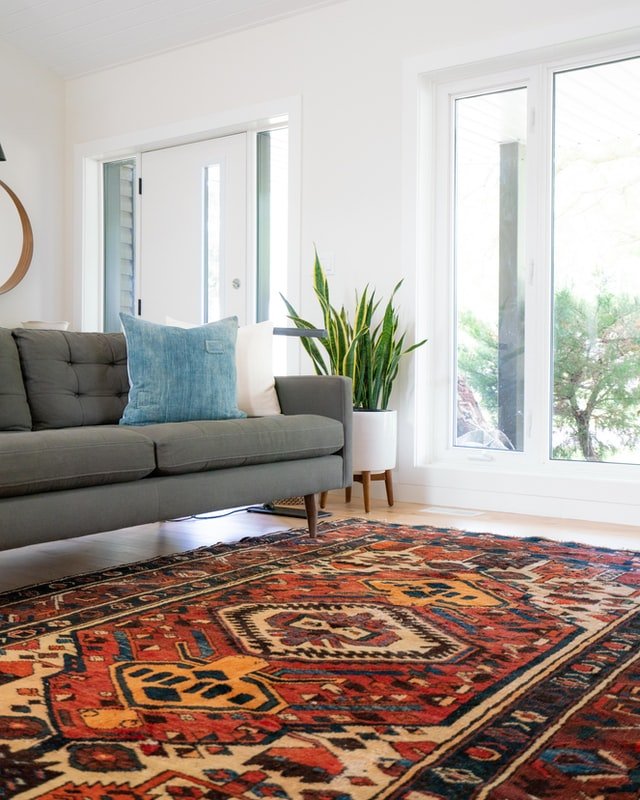 So if you're thinking that you're only limited to a 5×8 size rug for your small living room, think again.
Size up to an 8×10 and watch the magic happen. An 8×10 rug will see that most of your seating sits on the rug. It may take up most of your floor space but this is a good thing. If you need proof check here and swipe.
RELATED:
Throw Storage On The Walls
Free up floor space by adding wall-mounted shelves and storage. Choose storage that is both practical and stylish. Storage that doubles as decor is always a win-win for small spaces. Below are some ideas for wall-mounted storage.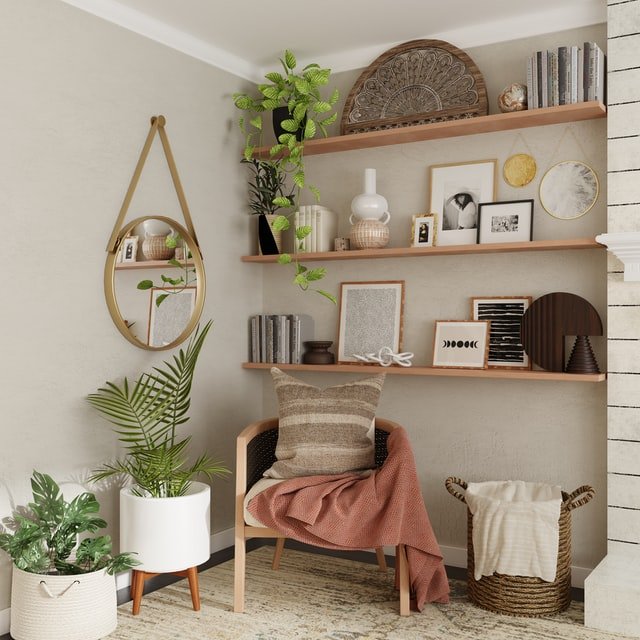 Other than shelves, here are a few items you can place on your walls:
Wall-mounted bookcases
Floating entertainment center
Floating TV stand
Hang your TV on the wall
A wall mounted desk
Want More Small Living Room Ideas & Tips?
PIN THIS FOR LATER!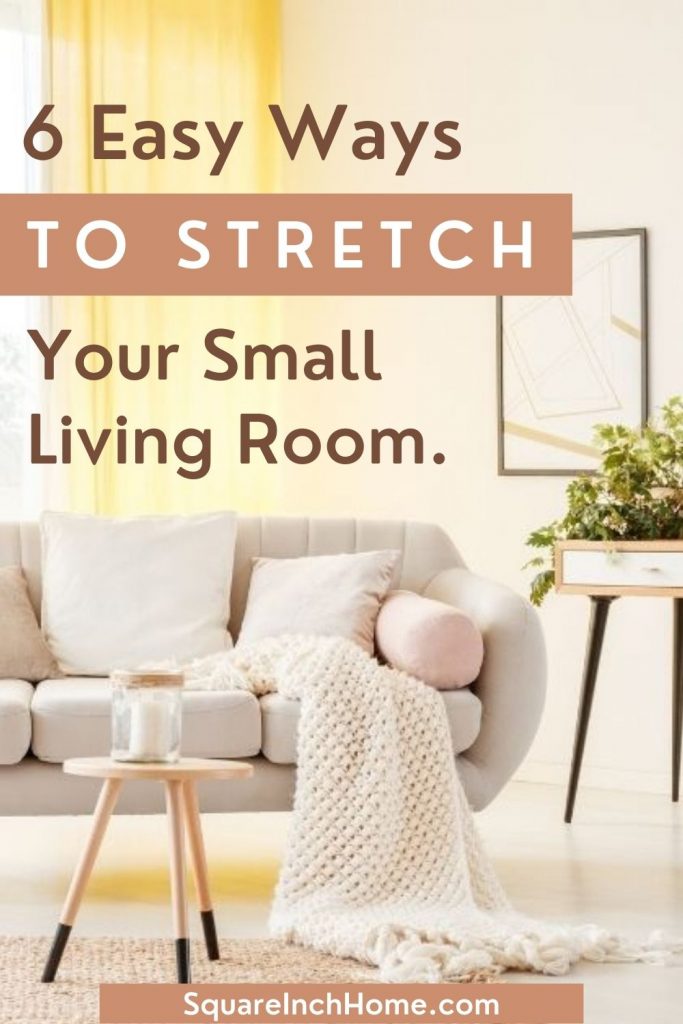 Latest Posts!
---