8 Ways To Organize A Small Kitchen Without A Pantry
Creating a functional kitchen in a small space is challenging enough. A small kitchen without proper storage can certainly amplify those challenges. We can all agree that organizing a small kitchen without a pantry is frustrating as hell! That's why you landed here, right?
The good news is that there are ways to make it work! All you need is a little creativity and a few smart moves. Done right, you can turn your tiny kitchen into a functional, well-organized, and even stylish space.
Here are 8 ways to organize a small kitchen without a pantry! If you're also looking for space-saving kitchen ideas check out these Small Kitchen Organization Solutions.
**This post may contain affiliate links. If you make a purchase through these links, I may receive a small commission at no extra cost to you. See the full disclosure here.**
8 Smart Ways To Organize A Small Kitchen Without A Pantry.
1. Use Your Cabinets As A Pantry.
Re-purpose one (or two) of your kitchen cabinets as a pantry. Overhead cabinets are better for your back. Add a few pantry storage bins and containers to keep things organized (and cute). Remember, visual clutter is quite common in pantries because of all the different food labels. Use matching storage to create a cohesive and harmonious look.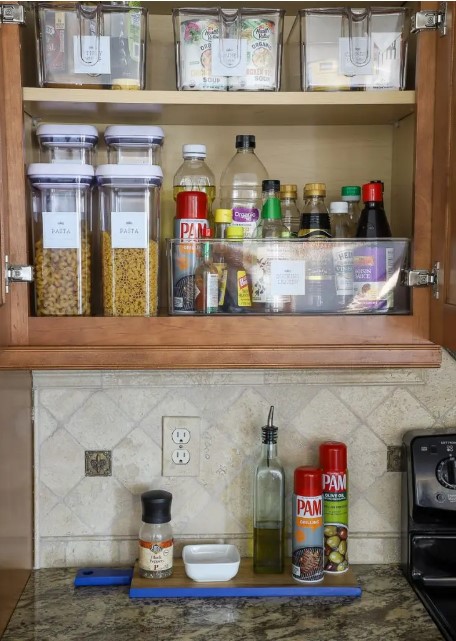 Shop These Clear Pantry Storage Bins & Containers :
2. Don't Forget Your Drawers!
Drawers are often an overlooked space for storing food items. They work just as great as cabinets! The deeper the drawer the better. Organize with bins, baskets, or dividers for easy access and separation. Be sure to measure your drawers before purchasing bins.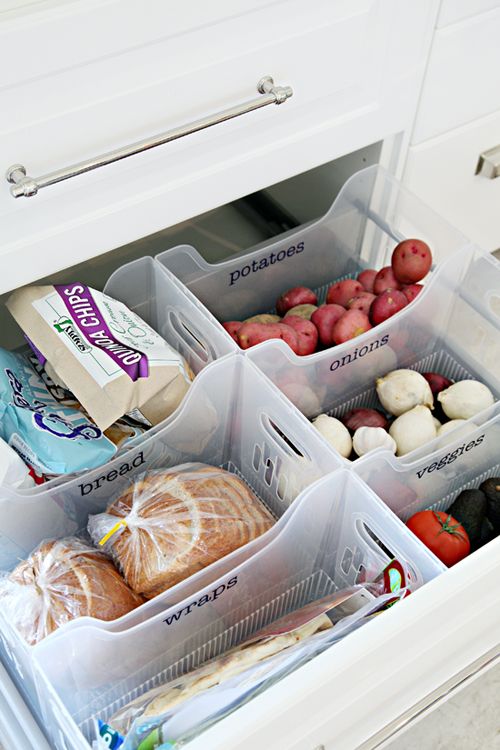 3. Repurpose A Bookcase.
Create Your Own Pantry! Bring in extra storage with freestanding shelves or bookcases, If you have the extra space, this is such an easy option.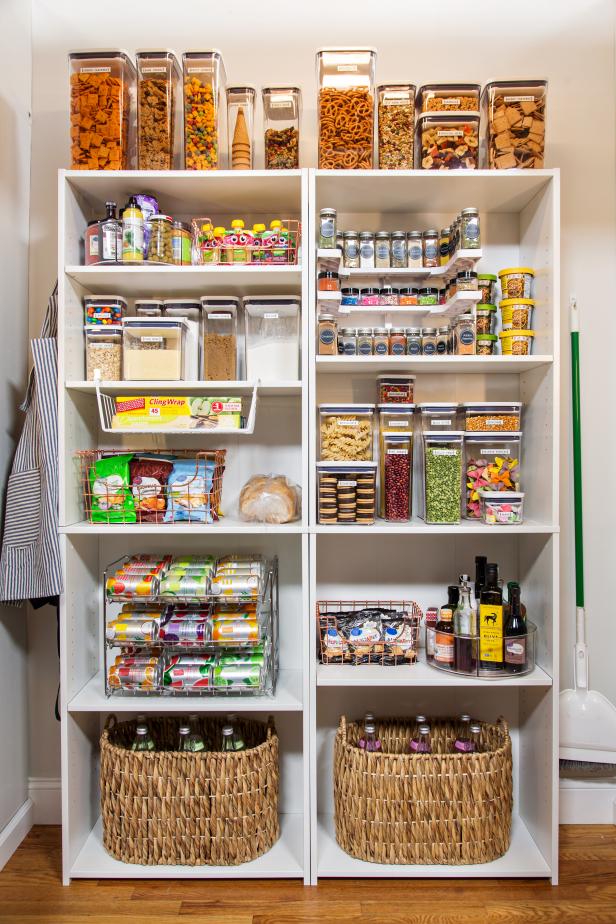 Shop These Items:
4. Bring In A Stylish Sideboard Or Credenza.
If you have few (or no) cabinets or just prefer hidden storage, a small sideboard or credenza is the way to go. If open shelves aren't your thing, a small credenza might be the option for you. Plus they provide extra surface space. Rest your microwave, small appliances, or other food items on top.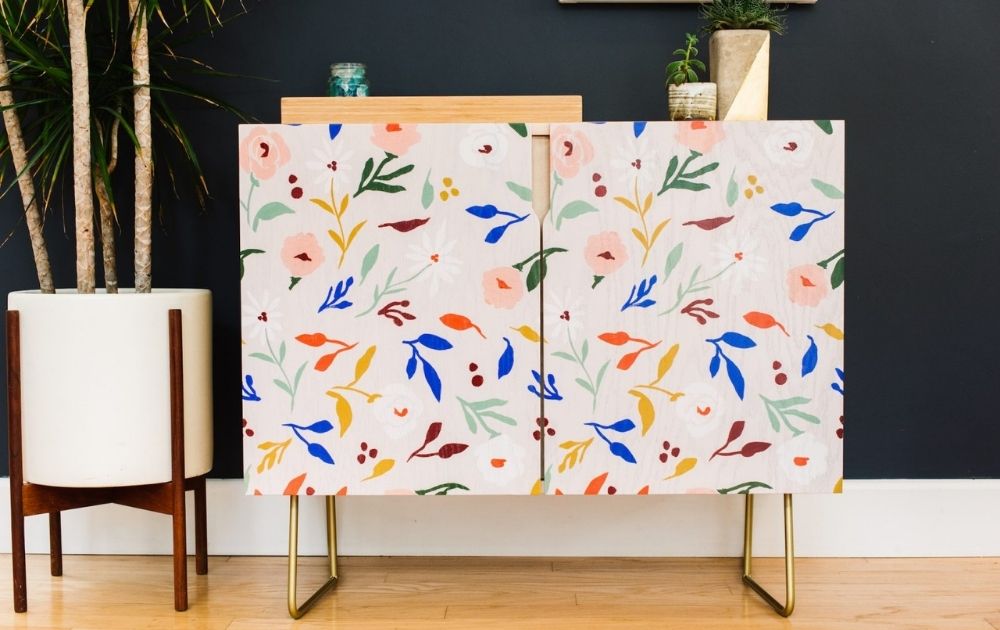 Get This Small Credenza Here at Society 6
Shop Small Credenzas:
---
Related Posts:
---
5. Hang A Pegboard.
With Pegboards all things are possible! This versatile, space-saving tool can be used anywhere you need a little extra storage. Kitchen pegboards are easy to set up and are fully customizable. You can use them to store pretty much anything; pots, utensils, spices, plants, and in this case food & cooking items. The options are endless with this simple item. They're really fun to style too!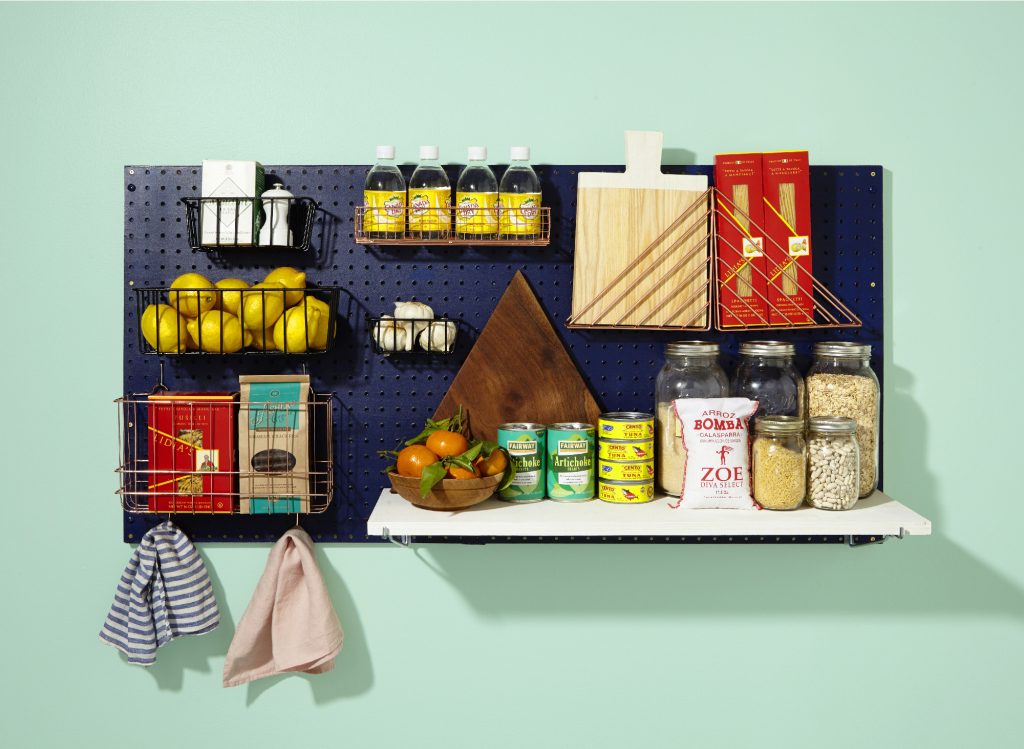 Shop pegboards and accessories here on Amazon
Related Posts:
6. Invest In A Slim Pantry Cart Or Slim Cabinet.
For all your quick-access food items, a slim storage cart or narrow cabinet is a smart option. Place a slim storage cart between your counter and refrigerator for your spices, cereal, snack, and other everyday use items. A slim cabinet or corner cabinet can house all your other pantry items without taking up too much space.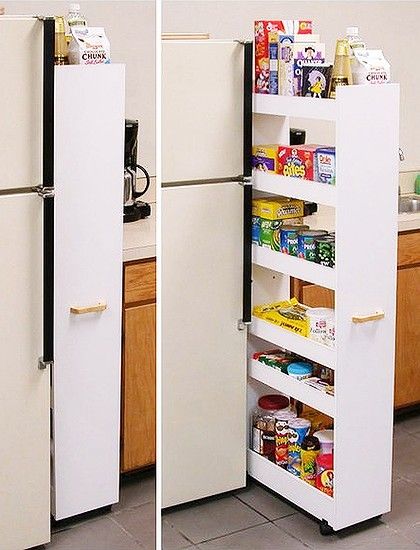 Shop Space-Saving Kitchen Carts & Cabinets:
---
---
7. Rethink Your Coat Closet.
If your coat closet is fairly close to your kitchen this option is a feasible one. Put that space to work by converting it into a small functional pantry. Add some shelves (mounted or freestanding), a few baskets/bins, and voila! You've got an official pantry.
PRO TIP: For maximum storage, Add mounted organizers/baskets to the inside of the closet door/s.
Get Wall Mounted Pantry Shelf Solutions here from ClosetMaid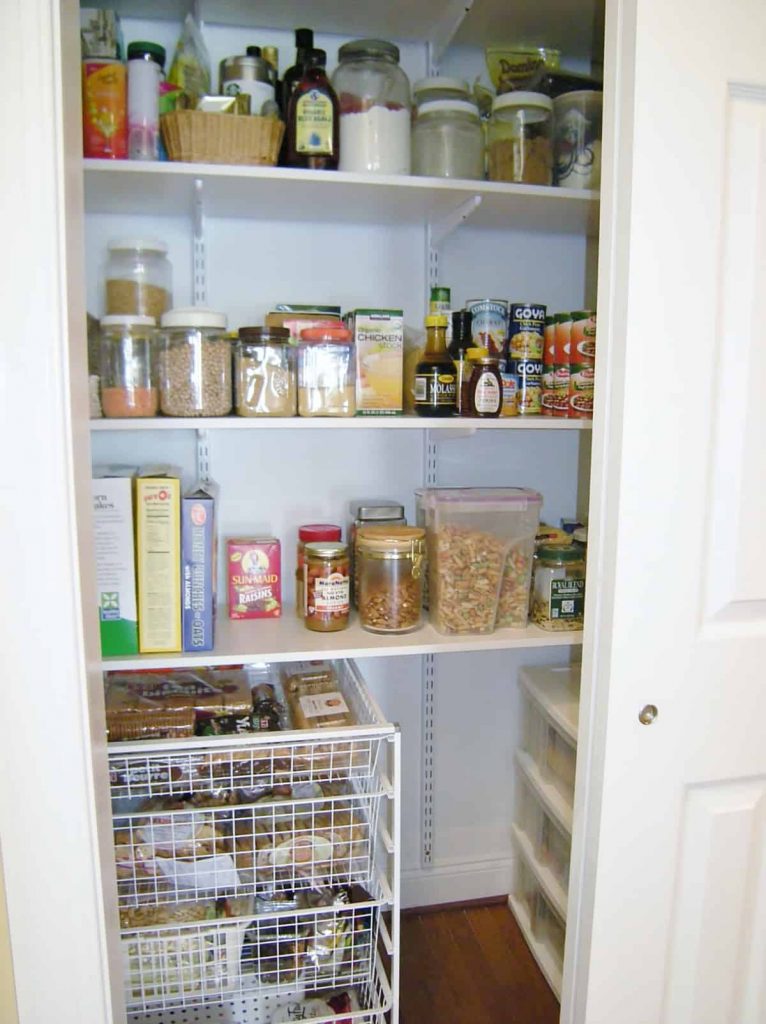 Even the tiniest of closets can be used as a pantry!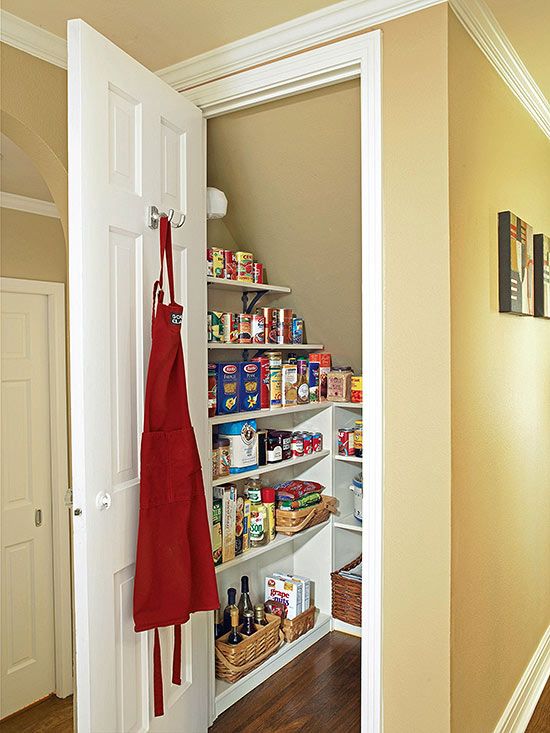 Pinterest
8. Hang Shelves Everywhere!
This should come as no surprise to you since wall space is the usual go-to solution for small spaces. Hang shelves everywhere! Avoid the clutter by using matching food jars, containers, bins, etc. Make your open shelves a decorative piece by styling them.
PRO TIP: Hang shelves in that narrow and awkward space at the end of your cabinets. Or the space next to your fridge.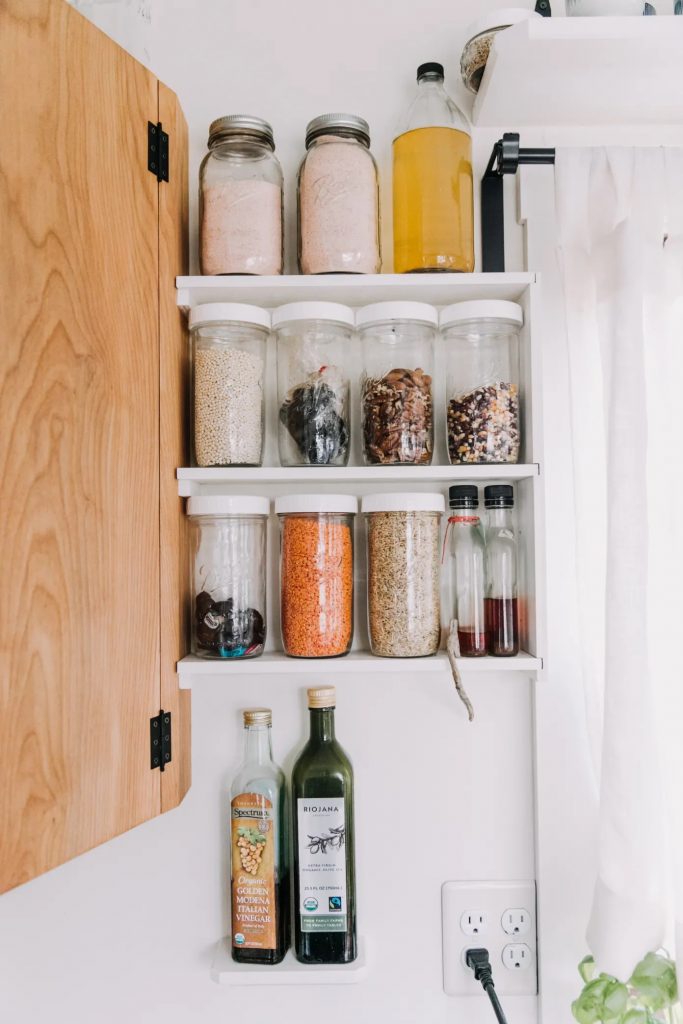 There you have it! 8 Easy ways to organize a small kitchen without a pantry. I hope you were inspired by some of these ideas. Our small space doesn't have to be a constant tyrant in our lives. We just have to make out-of-the-box thinking a daily norm. Let creativity (and frequent google searches) be your guide to navigating your small home. Happy Organizing!
Want More Small Kitchen Solutions & Ideas?
---
PIN IT FOR LATER!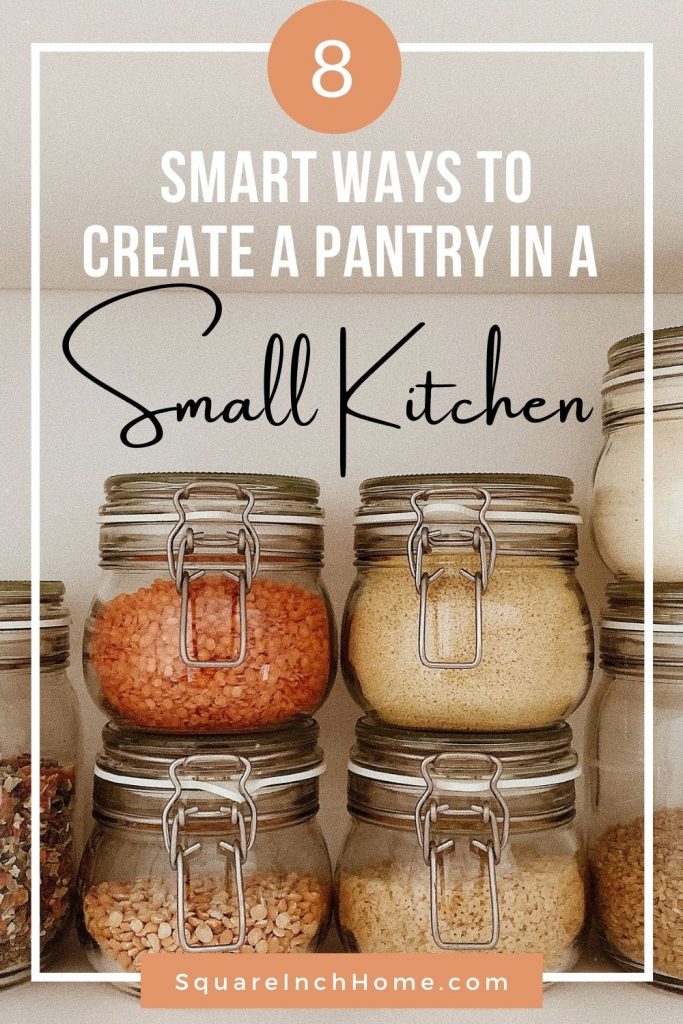 Don't Miss The Latest Posts…
---