How To Decorate Small Spaces? -The Ultimate Guide!
"Decorating small spaces" is a pretty popular search term on google.  With the growing popularity of tiny homes, micro-apartments, and minimalism, it seems like everyone's looking for guidance on how to decorate their small living spaces. Since it's such a popular inquiry, I figured I'd get in on the action.
So I did a little research and curated some of the most asked-about topics and solutions regarding small space decor. Then compiled everything I've found into one post (this post). I've also included lots of example images and illustrations for visual learners like myself.
So, If you want to learn how to decorate your small home, then grab a cup of coffee or tea, get comfortable and let's get into it!
**This page may contain affiliate links. If you purchase something through these links, I may receive a small commission. I only recommend products that I love and trust! **
How To Decorate Small Spaces?
Walls
First things first: Don't be afraid to go bold or dark In Small Spaces!
While light-colored walls are usually recommended for small rooms, it's okay to deviate from the guidelines a little. Bold, contrasting colors and even dark colors work really well in small rooms. Yes, white or light-colored walls do well to create a bright, airy and open space. But bold & darker colors can create their own magic too.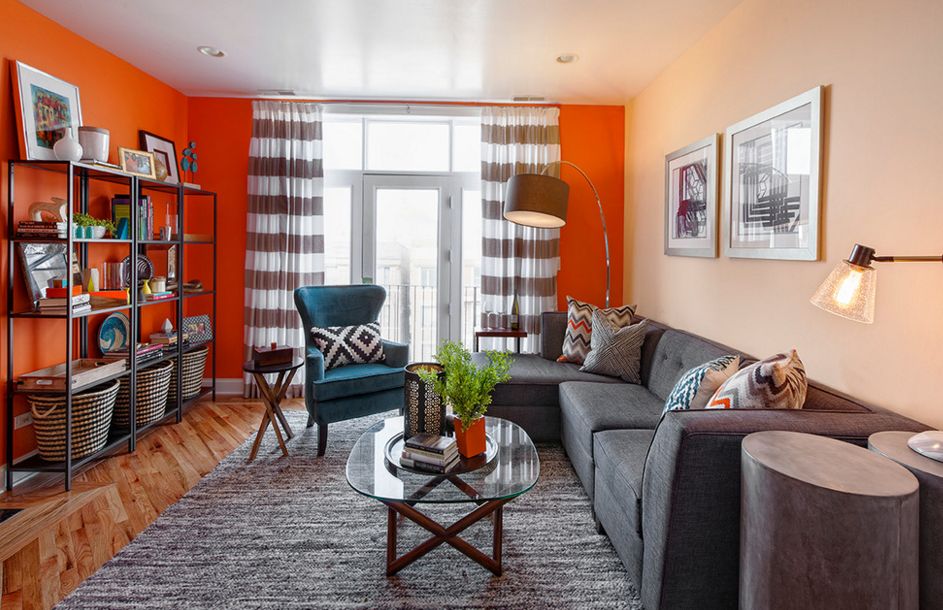 Dark colors can make the walls recede, giving the illusion that they are further back than it really is.
---
"Dark colors can actually make a small space seem larger—it just all depends on how you use them." –Apartment Therapy
---
Try This:
–Go for an accent wall. Bold, brighter colors (like the orange above) on all four walls are okay if you're going for a dramatic look. But if you're using black, dark gray or dark brown in a small room, then you might want to stick just one or two walls for contrasts.
For Ideas, I created a roundup of beautiful dark accent walls in small rooms.
–Make sure there are enough light sources in the room (both natural sunlight and artificial lighting). Dark walls in a room with poor lighting will certainly shrink that room.
If you only have one window, be sure to add extra artificial lighting throughout the room, and don't forget to illuminate those dark corners.
–Keep furnishings light for balance. Keep furnishings light and neutral. Dark walls paired with dark furniture in a small room can close down the space. Try to imagine dark walls + dark furniture + scarce lighting?… Yikes! Welcome to the Bat Cave!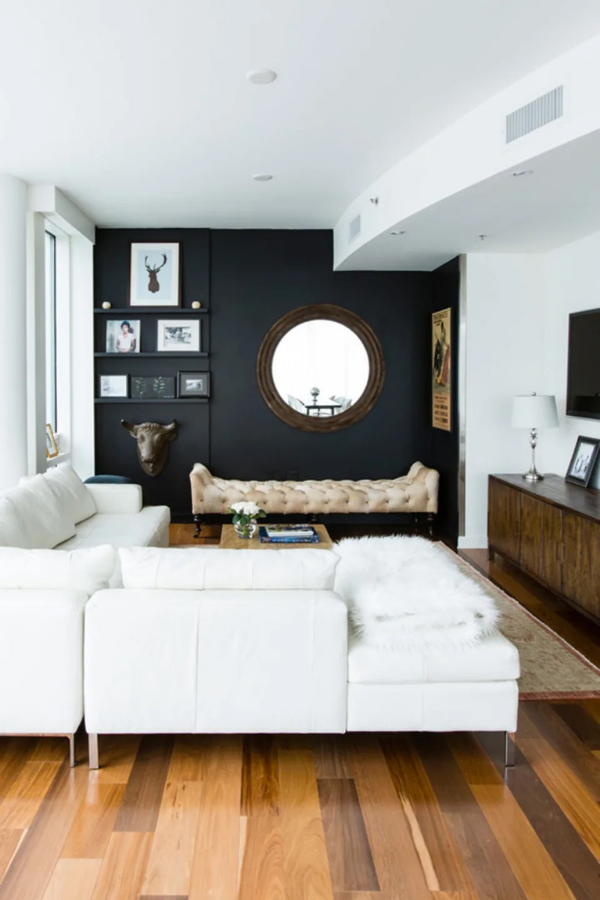 Source: Desire To Inspire
Create Depth & Height With Stripes
Striped Walls have the power to visually expand any room, adding depth and height to the space. Create an optical illusion with vertical and horizontal stripes to make your room feel larger.
It doesn't have to be literal stripes, but anything that creates long vertical or horizontal lines will do the trick.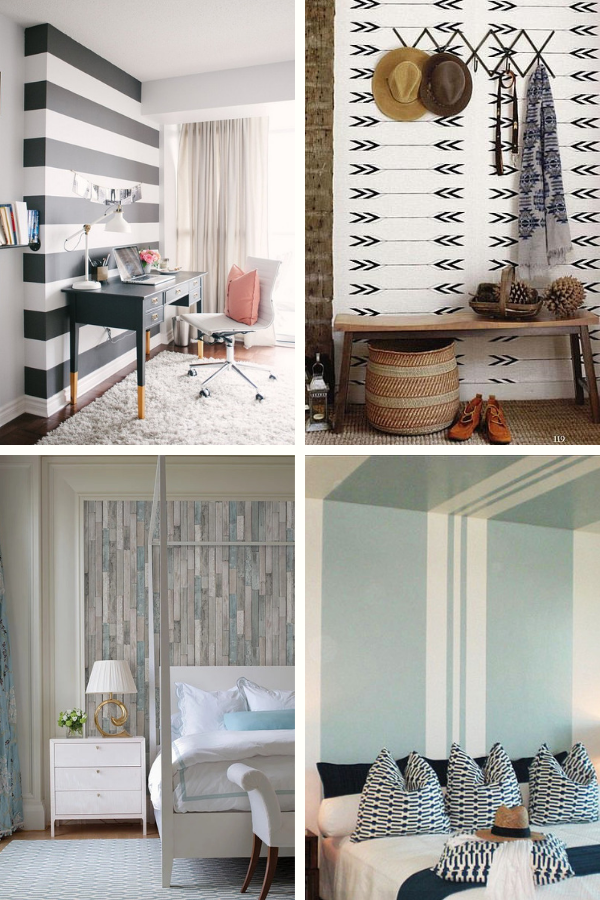 Sources: Brabbu | Tapestry Wallpaper  | Barn Board Grey Thin Plank Wallpaper | Fresh Home
Create Optical Illusion With Wallpaper
With wallpaper, there's something for every style and every budget. It's one of the more popular ways to create an accent wall without paint.
Scenic & Landscape wallpaper is powerful stuff.  large Scenic or landscape wallpaper/murals create the illusion of more space by pulling the eye outward. Thereby creating amazing depth.  Magic Murals has a huge collection of beautiful scenic, wallpaper and murals for any room, style and occasion.
Large Patterns work best to open up the room and prevent visual clutter and create interest.
Smaller patterns can work too but, just like dark paint, they work better on an accent wall. Small repeats in a pattern can seem quite busy in smaller rooms and can create visual clutter. But adding it to one wall will create beautiful contrasts without overwhelming the room.
For More On How To Use Wallpaper & Paint In Small Spaces Check Out These Posts:
---
Furniture
Furniture is often one of the biggest challenges faced when decorating small spaces. Getting furniture right is essential for creating a comfortable and clutter-free home. Check out my other post on the 9 Best Types Of Furniture For Small Spaces for a guide on what works!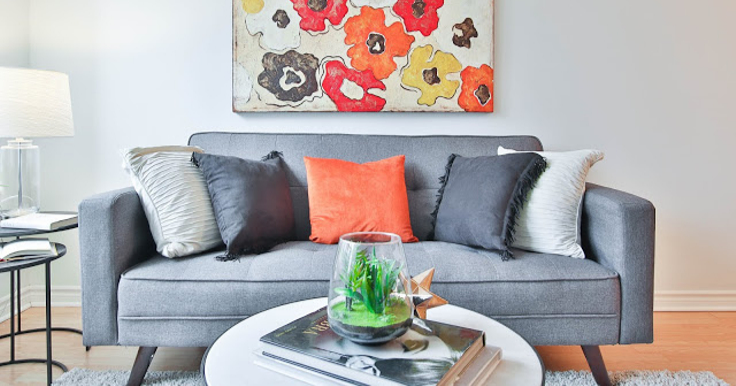 If you're downsizing from a bigger apartment, my guess is that you may (or may not) have furniture that's larger in scale. If you do, here's some good news:
You don't have to get rid of ALL your large furniture just because you live in a smaller space. You do, however, need to be strategic about its placement.
Here's what I mean,
Have a large sofa you want to keep? Then get a smaller scale coffee table and accent chair. It's that simple!
If every piece of furniture is large it certainly WILL overwhelm the room. But one or two large pieces won't. One or two large statements pieces are okay, as long as the surrounding furniture is smaller in scale. It's all about BALANCE!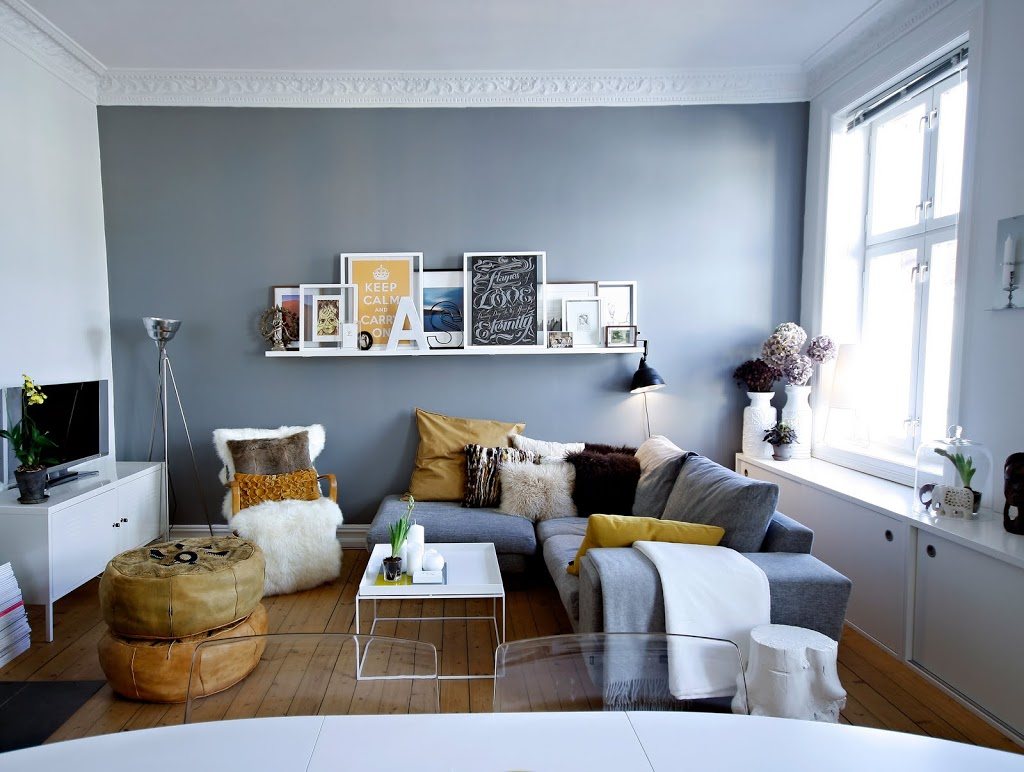 You can even skip the coffee table & accent chair altogether. Take the image below for instance. Even though the sofa is visually heavy, the room still feels spacious. Bringing more furniture into this space will just make the room feel cluttered.  Plus, c'mon, this chunky sofa is so beautiful it deserves to be the star of the room.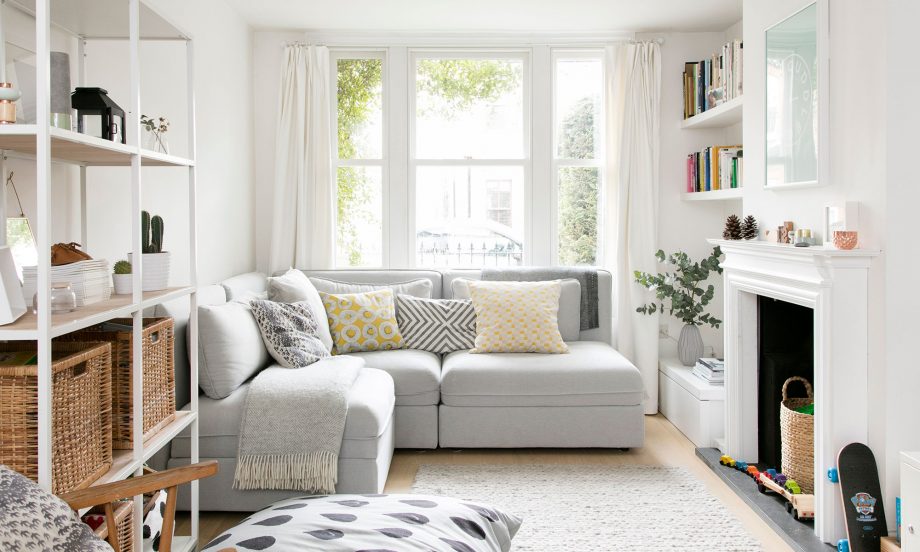 The same goes for other large pieces.
Got a large queen or queen-sized bed you don't want to get rid of?
Then skip the bedside tables and go for wall-mounted shelves instead.
Source: White Floating Corner Shelves (Set of 2) See Price On Amazon
The goal is to find a way to incorporate some of the things you already have and love without overcrowding the room. Select your large existing furniture pieces wisely. Realistically, you can't include all of them and will need to replace a few essential pieces with pieces that are smaller in scale.
Layout Tip: keep larger furniture on the perimeter of the room.
Once you've decided what pieces you want to keep, make a list of the new, smaller-scaled items you'll need (to keep things balanced, remember?).
Also, make sure you know your room's measurements ahead of time.  This is important in ensuring that everything fits! Measure your large pieces and experiment with different layouts before placing them. See more on How To Arrange Furniture In A Small Living Room.
Things To Consider When Buying Furniture For Small Spaces:
Choose visually lightweight furniture. You don't have to settle for 'dollhouse' furniture, but visual weight is important for creating extra visual space. Choose cushioned furniture that is trim & compact. Avoid excessively bulky, cumbersome pieces.
Tall furniture with long legs. Slim, 'leggy' chairs, and sofas don't obstruct views of the floor, so the space feels more open and airy. Furniture with long legs helps to minimize visual clutter. These Leggy Sofas are perfect for small spaces!
Acrylic Furniture is often a popular choice. They don't obstruct the eyes and look like they're barely there. Glass coffee tables work well too. Their see-through feature is a great way to add drama to a room without overloading it.
Look for multipurpose/transforming pieces.  Folding or transforming furniture offers multipurpose and space-saving features. Keep an eye out for pieces that can be used in different ways. Lift-top coffee tables are quite popular now. They provide hidden storage and a small desk/workspace all in one piece. Check out this roundup Here! Also, see these Space-Saving Tables for ideas!
Rolling furniture pieces are assets. Look for pieces that can be easily moved from one room or area to another. Free-standing clothing racks, lightweight shelves, folding tables, wheeled kitchen carts, etc. These pieces can be used for multiple purposes in any room.
Furniture with storage. Furniture pieces that help you squeeze in some extra storage space are great investment pieces. Beds with drawers underneath or a lift-up coffee table with storage will work harder for you in the long run.
Here's a visual reminder of what works best in small rooms.
PIN IT for later! and share it if you find it useful.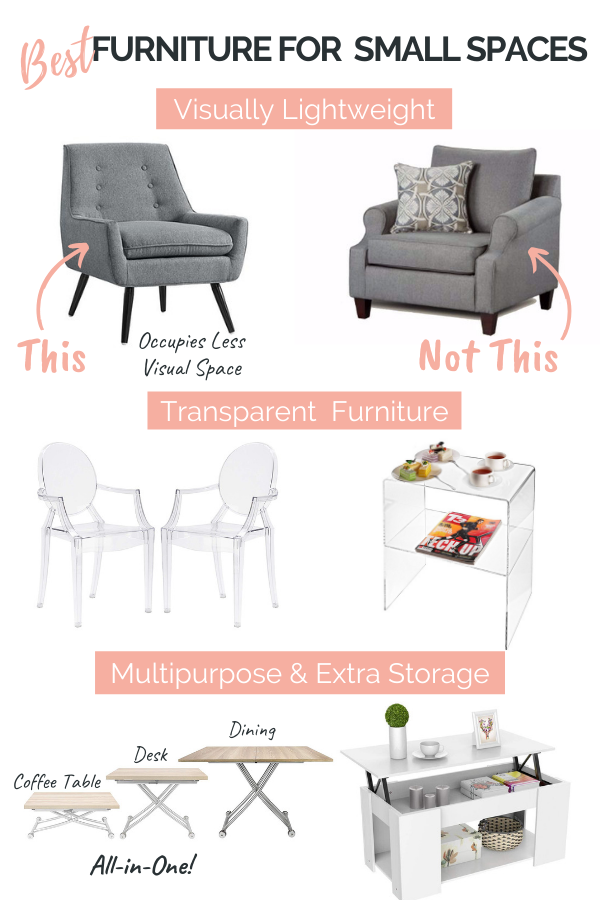 Shop These Items: Gray Mid-Century Accent Chair from HSN ($219.95) | Acrylic Chair | Modern Acrylic Table On Amazon | Convertible, Adjustable Coffee and Dining Table | Lift-Top Coffee Table With Hidden Storage
For More Tips On Furniture For Small Spaces Check Out These Posts:
---
Mirror, Mirror
Mirrors help to visually expand a room by reflecting both natural and artificial light and by creating the illusion of more square footage. 
Large circle mirrors are trending these days, not only because they're beautiful but also because the bounce so much light around the room creating a bright and airy feel to any space.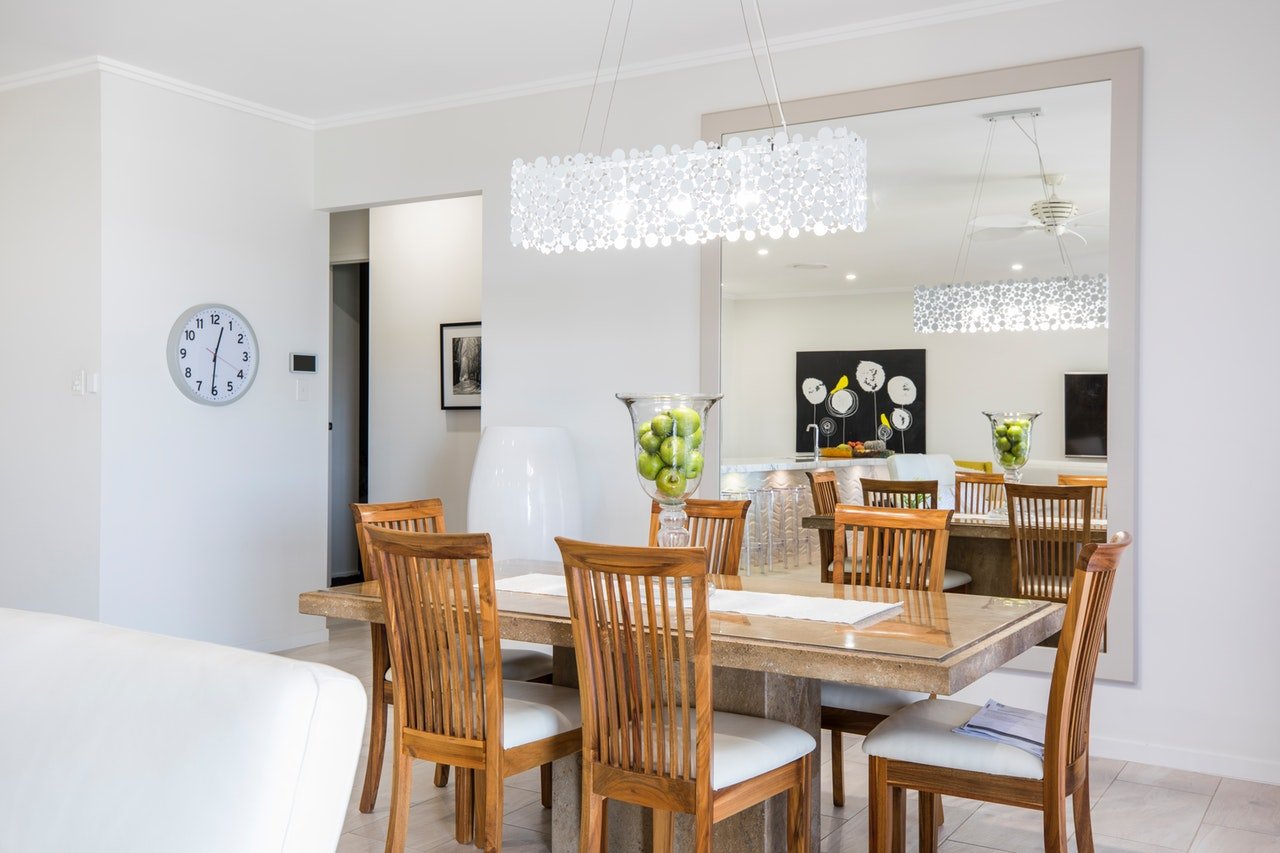 Pro Tip: Use Mirrors with Shelves and Hooks to maximize storage space. These types of mirrors are great for entryways, bathrooms and living rooms. I rounded up a list of beautiful options here.
Where to add mirrors In Small Spaces?
Opposite or near windows to bring in more natural light
At the end of a long hallway
Over sofa or bed
Dining rooms
Large leaning floor mirrors are great for living rooms and bedrooms.
---
Get Creative With Storage
Sneak some in every chance you get. Decorating small spaces with pretty storage offers a cool double-duty function. Use storage items that also double as decorative pieces (2-for-1!). Multipurpose items are like gold for small spaces.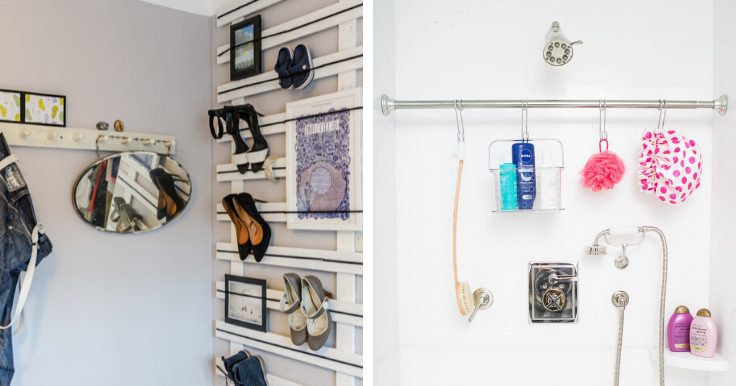 Choosing furniture that comes with extra storage is also a smart strategy. An ottoman with storage inside, a 2-tier coffee table, or a nightstand with drawers/shelves are great investment pieces. 
Source: 5 Closet Storage Hacks For Small Bedrooms | Small Bathroom Storage Hacks
Adorn those under-utilized corners with floating shelves or a corner desk. Use pretty baskets that can hang from or be mounted on walls. The options are endless.
Tap into your creative side or browse Pinterest for ideas and inspiration. Follow Square Inch Home while you're there! I frequently scour the platform for small space solutions!
Utilize Vertical Space
Always look for opportunities to draw the eye upward. Utilizing wall space will do just that. Walls, doors, the sides of your fridge and kitchen cabinets all offer loads of extra storage space. Use them at all costs.
Add shelving, wall-mounted tables, artwork, storage, lighting, etc.  Install wall lights instead of using floor lamps; create a spice wall for your kitchen to save space in your cabinets, add a hanging jewelry organizer or a wall-mounted shoe rack to your bedroom.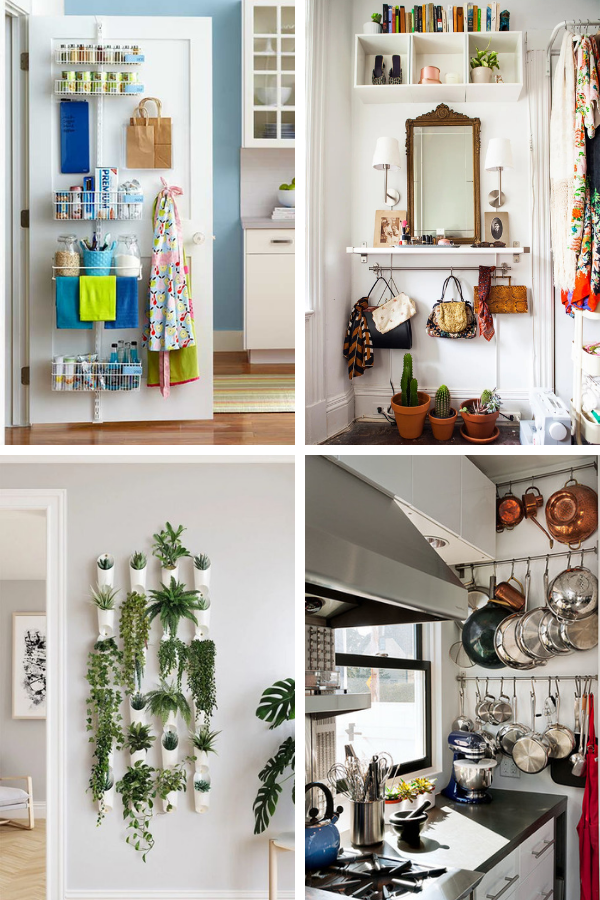 Source: Better Homes & Gardens   |  Refinery29  |  Indoor Garden Ideas For Small Apartments  |   7 Storage Solutions For Your Tiny Kitchen
Don't Ignore Those Corners
Try to maximize storage space wherever you can. Utilize those empty, awkward nooks and crannies and find new ways to make corners more functional.  Add a corner desk for writing/working, mount a few corner shelves for extra storage or add a large palm plant for decor.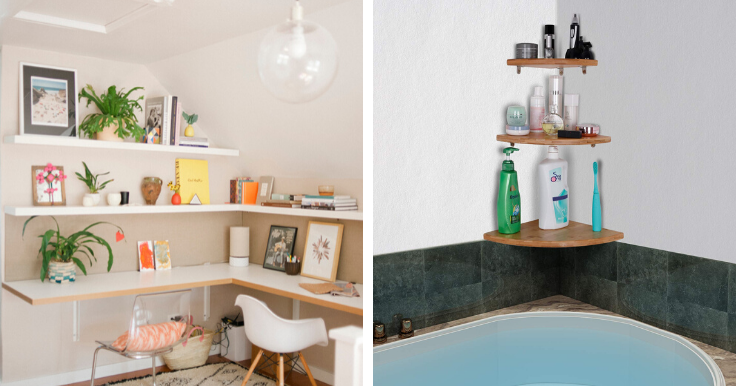 Source: Design Sponge | Bambo Corner Shelf On Amazon
Want More Storage Ideas For Small Spaces?
Or Browse The Storage Category On This BLog!
---
Divide And Conquer
Open floor plans are great. In fact, they're my favorite layout for apartments. But sometimes it can feel like you're living in a  furniture showroom. Separating living spaces provides an opportunity to create different 'rooms'.
Carving out a bedroom, living room or dining area in a one-room apartment is easy. The trick is to create separation without disrupting the overall flow throughout the apartment.
Some ways to create separation in an open floorplan:
Use paint or wallpaper – Color-zoning is a fun and effective way to divide spaces in an open concept space. It creates visual separation without the use of physical barriers.
Curtains – Sheer curtains work great since they block the eye from moving through the room
Room Dividers – Repurpose a bookcase as a divider or invest in a stylish folding divider screen.
Rugs – Carve out a bedroom or a dining space using rugs. Combining multiple rugs in a studio is another effective way of zoning living spaces.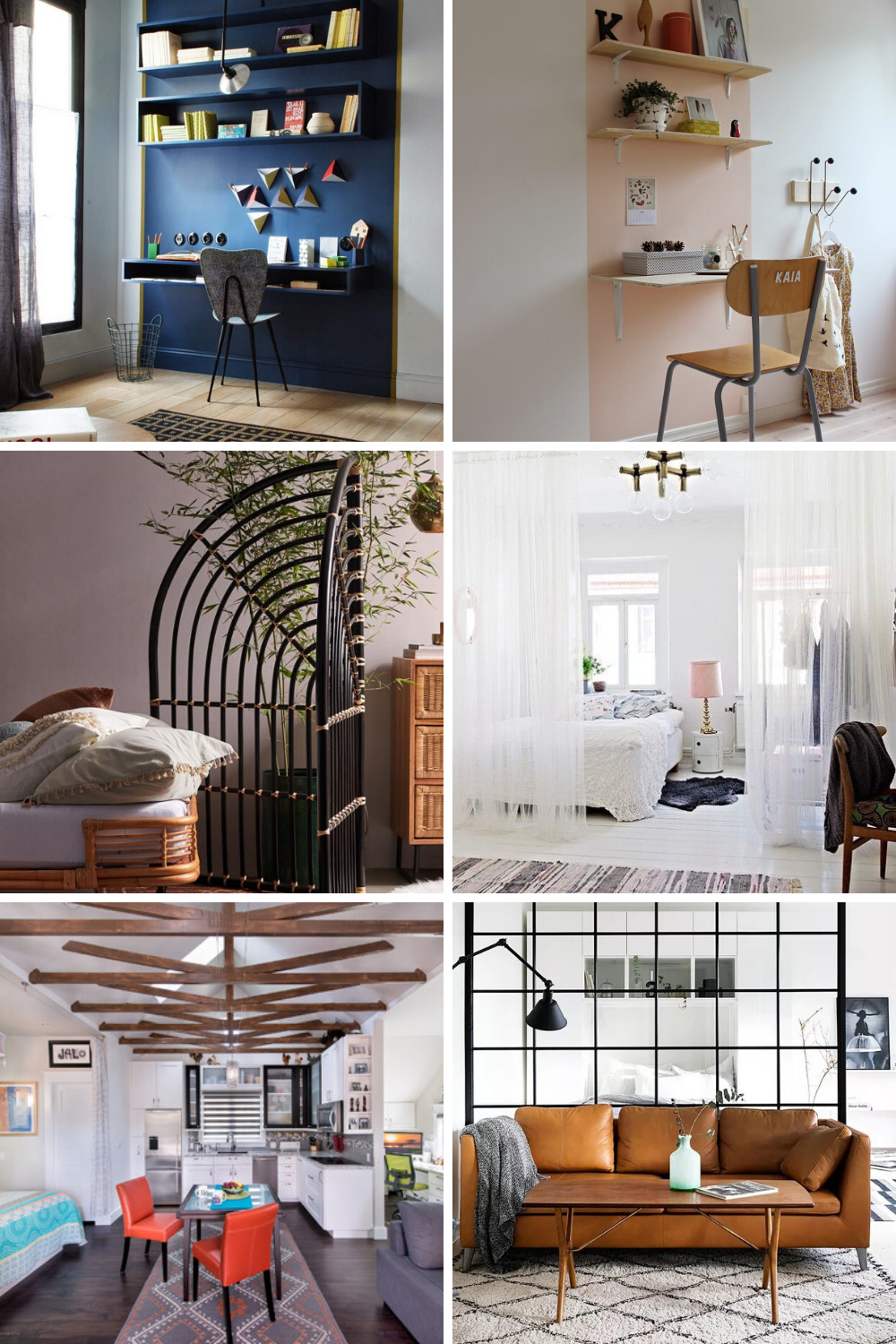 Sources: Image by Sara Lavoine Via Dulux | Mobel Pobel | Rattan Room Divider From Urban Outfitters | Pinterest |  Cozy, Stylish Studio Carraige House | Image By Fantastic Frank
More Ideas
---
Avoid Visual Clutter
Visual clutter is insidious. You don't always see it right away. It builds slowly until suddenly it becomes a glaring mess.
Visual clutter happens when our eyes cannot rest. When it's constantly scanning, moving and taking in everything in our surroundings. For some people, this visual clutter can cause an intense sense of inward chaos and disharmony because of the eye and mind never being able to rest.
Source: Productive & Pretty
Visual clutter comes in all forms; a chaotic spice cabinet, too many pictures, or an unstyled shelf. Even certain types of furniture can create visual clutter (bulky, excessively large furniture in small rooms).
Visual clutter may be a problem for some but not others. Whether you're a minimalist of a maximalist, too much clutter can affect your ability to relax in your own home.
So how to eliminate visual clutter for a more harmonious home?
1. Use Matching Storage Items For A More Cohesive Look
To combat visuall clutter you have to create a unified and harmonious look throughout the space. And that often means getting all matchy-matchy with storage.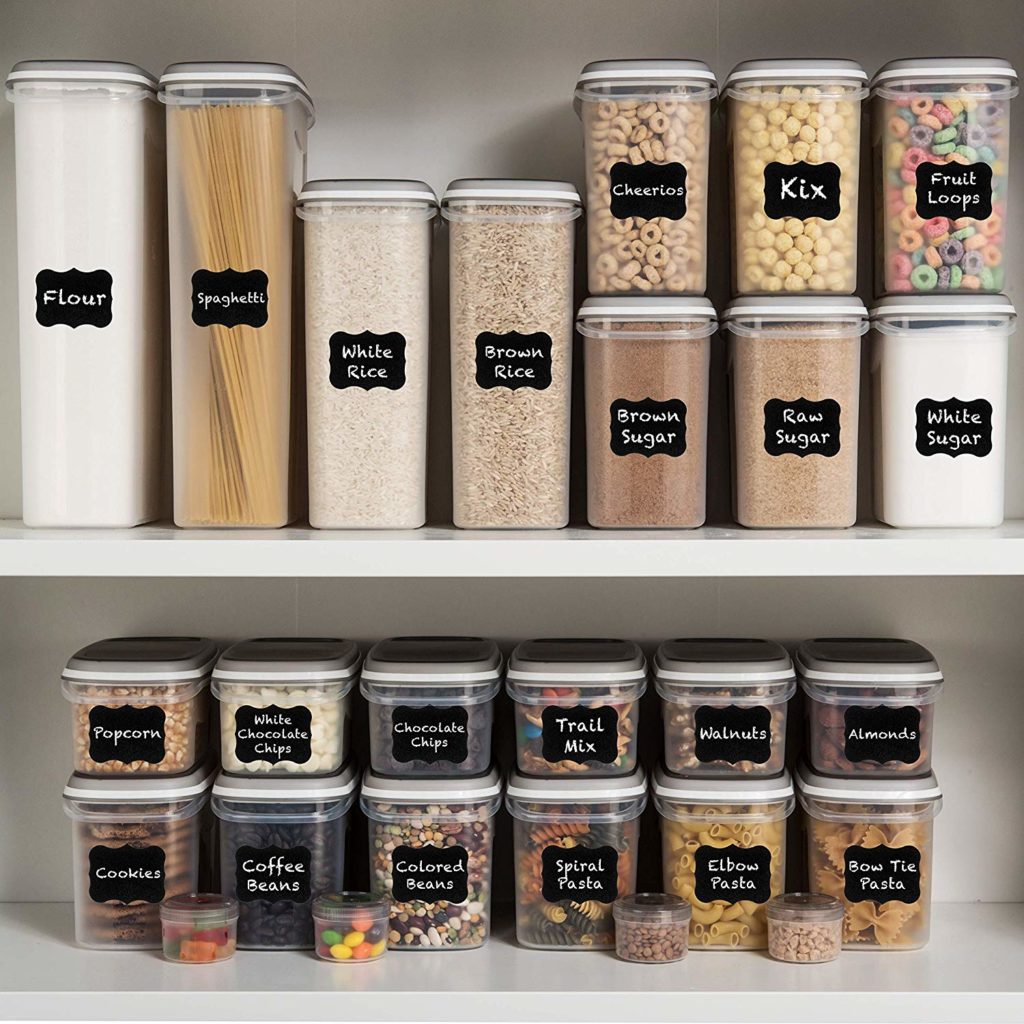 Get this Space-Saving, Stackable Food Storage Containers On Amazon. Or try this Alternative.
For kitchens, use matching or complementary storage canisters, containers, baskets, etc to create a cohesive, organized look. This is particularly important if you have open cupboards or an open pantry cabinet. This will ensure harmony and consistency throughout the space. Counters should house only the items you use daily. Store everything else in drawers, and cabinets.
Do the same for bathroom counters. Use toiletry sets for your soap, toothpaste and other toiletries, for a uniform, stylish look.
2. A Place For Everything And Everything In Its Place.
SHOP This 360 Degrees Rotatable Desk Organizer, Spinning Remote Control On Amazon!
Find a specific place for items that frequently cause clutter in your home. Remotes, stationary, dangling cords, loose change, and other trinkets. Use storage to hide these items.
Use desk organizers, remote control & device storage caddies, cord organizers for loose cords, and trinket trays for smaller easy-to-get-lost items, like keys or jewelry.
3. Use the Rule Of Three  
The rule guideline of threes in interior design is based on the idea that an odd number of items are more appealing, look more natural and less forced than an even-numbered grouping. Not to mention it keeps clutter at bay.
Use the rule of threes to display decorative collections and accessories. Keep this tip in mind when styling your coffee table, shelves or anywhere you plan to add accessories.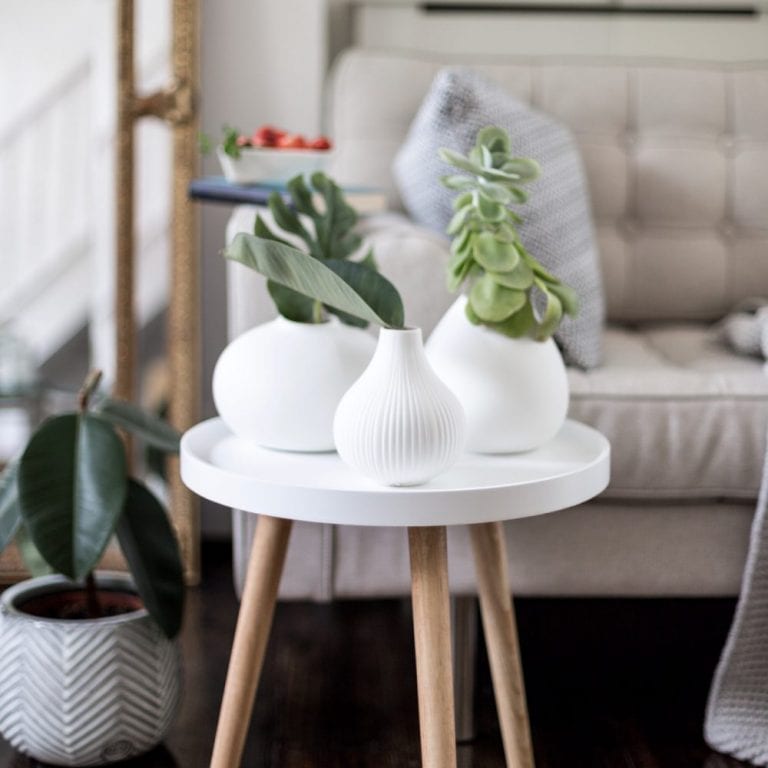 Don't take this idea too literally though.  Follow your design instincts and personal style. It's your home and you can do whatever makes you happy. Use your discretion and be guided by the way the room makes you feel (overwhelmed or relaxed) when you're in it.
You May Like These:
---
Accessorize
Lighting is important for small spaces. Keep corners and inner rooms well lit to avoid the cave effect. Use lighting tricks to make your space appear larger. Go for wall-mounted or hanging, pendant lights wherever you can. This way you save on floor space.
Curtains or drapes hung closer to the ceiling will create the illusion height in the room. This is a good thing!
Be Careful With Patterns. Too many conflicting patterns can create clutter and disorganization in small rooms.
The rule of three is great for mediating multiple patterns. Vary the scale of patterns "One large, one medium, and one small; or one large and two different mediums for instance". –The Spruce
Use this tip when accessorizing with throw pillows, rugs, drapes, etc. Three complimentary patterns will keep your space clutter-free. On the other hand,  If you're a maximalist at heart then you can ignore this tip altogether.
Related Posts:
Add Some Greenery 
Decorating small spaces with plants is a great way to bring life to a room.  Nothing brightens up a room more than living things.
Indoor plants are beautiful decor accessories that detoxify the air around us and even help us sleep better at night. So why wouldn't you want to include them in your home? You can even try a small indoor garden
If you're worried about being a bad, neglectful 'plant parent', don't. There are a lot of low-maintenance, no-brainer plants on the market. Some of them don't even need much sunlight to stay alive.
Incorporate them throughout your home to help break up all the concrete and harsh lines.
I put together a list of beautiful easy, low-maintenance indoor plants, both large and small. They are perfect for apartments and for beginners!
But here are a few other picks: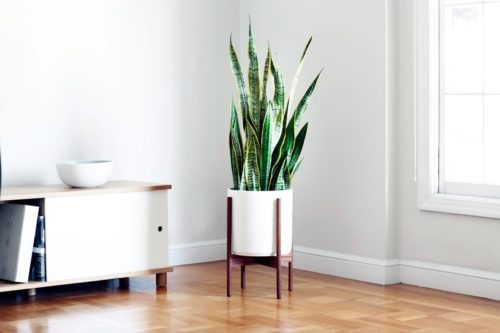 1. Snake Plant
This large succulent is incredibly tolerant of neglect. A big plus for new 'plant parents'. The snake plant is also known as "mother In Law's Tongue" (ouch!) offers guilt-free greenery with all the terrific air-purifying benefits plants offer.
This plant is almost impossible to kill.  It can go for weeks without watering and still look fresh. It's the perfect starter plant for newbies.
See different Snake Plants here at Bloomscape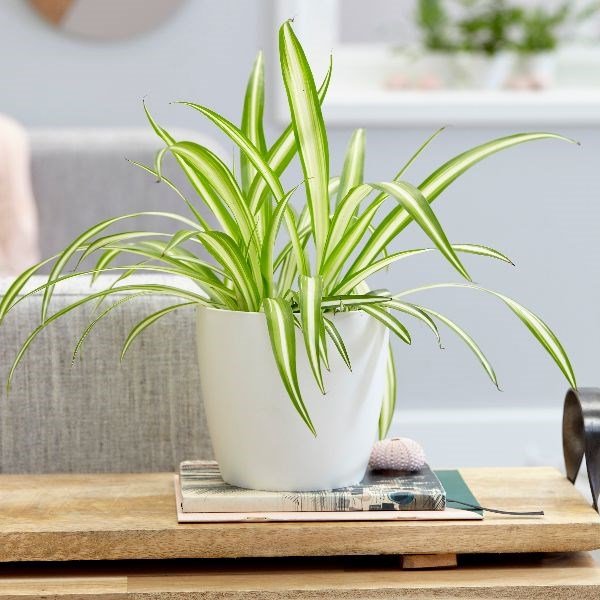 2. Spider Plant 
Extremely popular in buildings.  Maybe because everyone is too busy to water them. The spider plant is low maintenance, easy to grow, and looks especially pretty in hanging planters.

3. Pothos
Too much care can actually kill the Pothos plant. Yup. Too much direct sunlight will be the demise of this vine plant. The Pothos will fair just fine in bright indirect light and even low light. So you don't have to find space for it near your windows. Pothos is a depolluting plant and is effective against carbon monoxide.
Get these beautiful trailing Pothos At Bloomscape
Related Post:
---
Conclusion
Whew! If you made it to the end Congratulations! You're ready to decorate. Decorating small spaces can seem daunting at first. Especially when you're downsizing from a much larger home. But once you learn the tricks and strategic decor moves, it's smooth sailing to creating a space you love. 
Remember, decorating is supposed to be fun. So don't let yourself get bogged down with all the design 'rules' and the shoulds and should not's. Use your personal style, your intuition, and your measurements as a guide. Let your personality and your sense of style shine and Just Have Fun!
Want More Small Space Solutions?
Pin This Page For Later!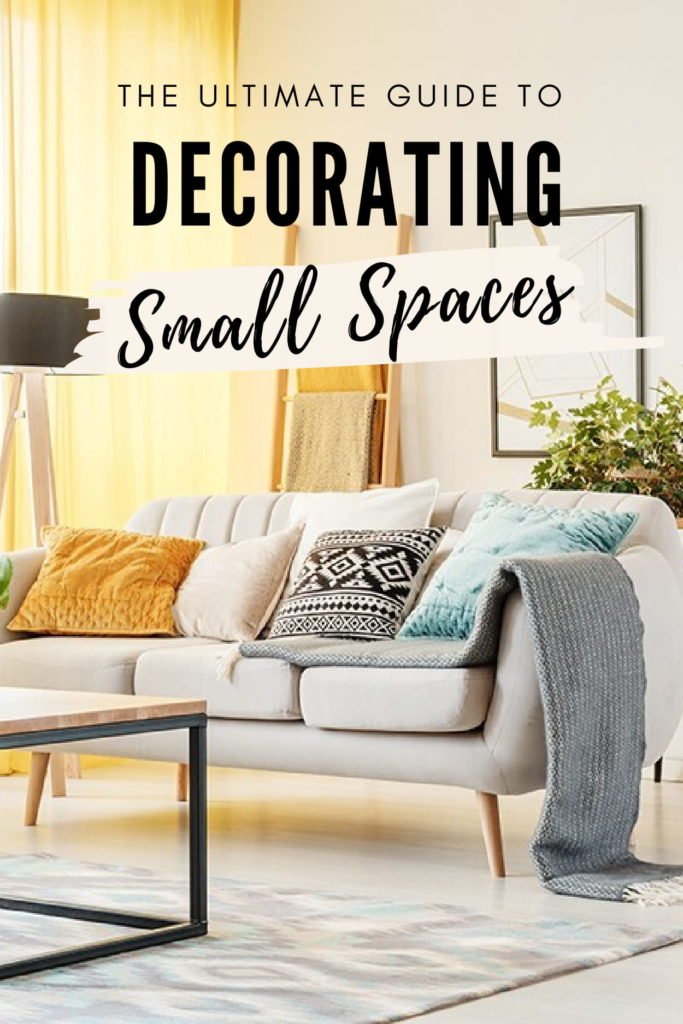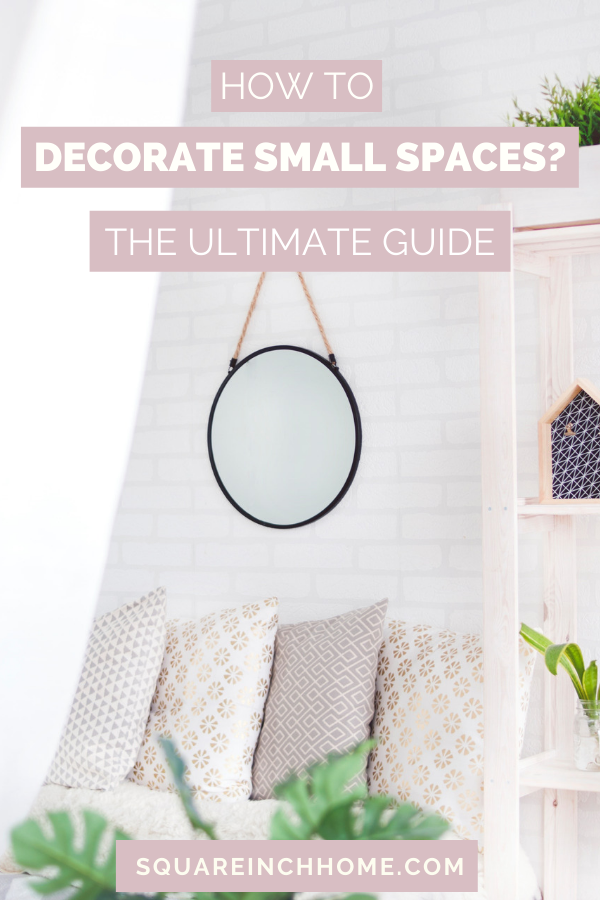 Don't Miss The Latest Posts!