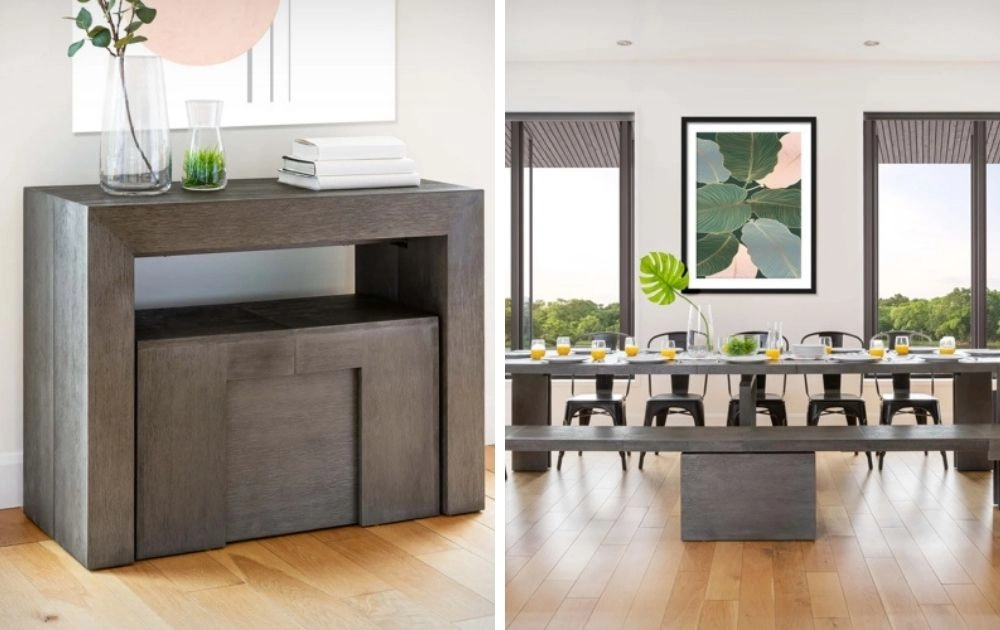 If you're looking for a multipurpose, space saving table for your small home or apartment, the Transformer Table is a great place to start! The award-winning six-in-one Transformer Table is a revolutionary table that is flexible and expandable to fit any space.
It's the perfect table for small space dwellers who love to entertain! Now you can host your dinner parties without worrying about tablespace or being forced to cut on your guest lists
Go from an 18-inch console table to a 10 feet dining table seating up to 12 guests in just seconds. Use it as a desk, a small dining table for 2, 4, etc, then back to console when not in use. This space-saving extendable table is truly "A Table You Can Grow With."
Pin This For Later!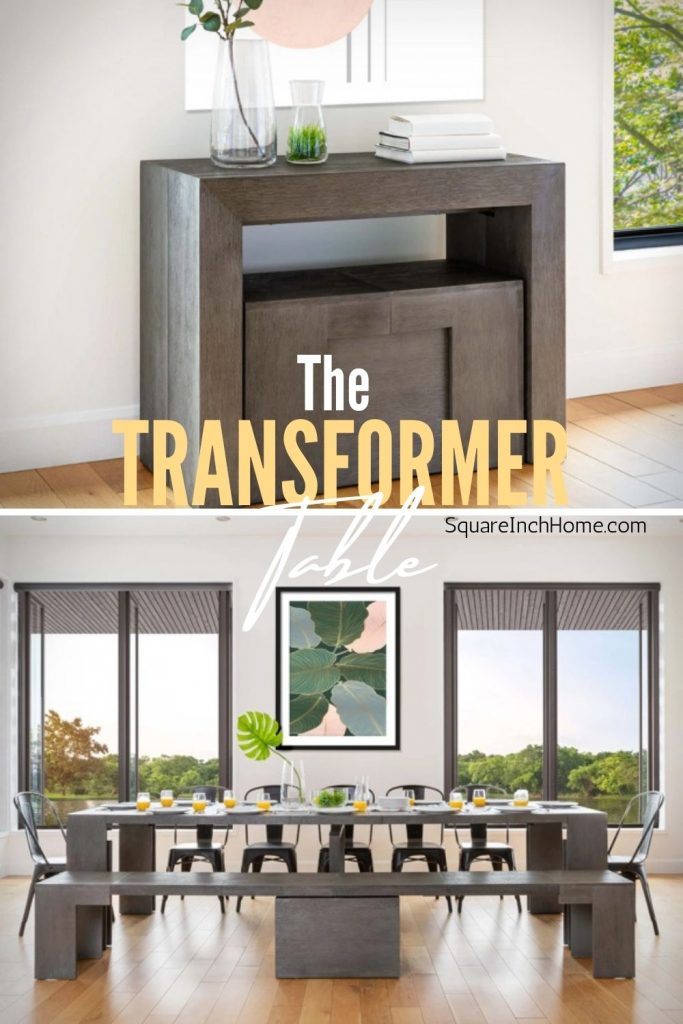 *This page may contain affiliate links. If you purchase something through these links, I may receive a small commission. I only recommend products that I love and trust! **
The Transformer Table is built to last and is designed to stand the test of time. Made from 100% Hardwood and high-quality materials, this table is scratch and stain-resistant.
With 4 Beautiful Wood Finishes to choose from, finding one that suits your style and decor is easy. Choose Canadian Dark Oak, Australian Acacia, Siberian Birch, or American Mahogany.
The Transformer Table 3.0 Collection includes signature hardwood tables, benches, and coffee tables. These pieces were intentionally designed to cultivate beautiful, functional spaces that bring people together. Plus you get a multifunctional piece for one price.
How Does It Work?
From 18″ to 118″, these expandable dining room tables are built with an integrated extension feature that allows you to adjust the table for any space or gathering.
The table comes with multiple panels that can be added to the frame. To make the table bigger simply open the table and add more panels.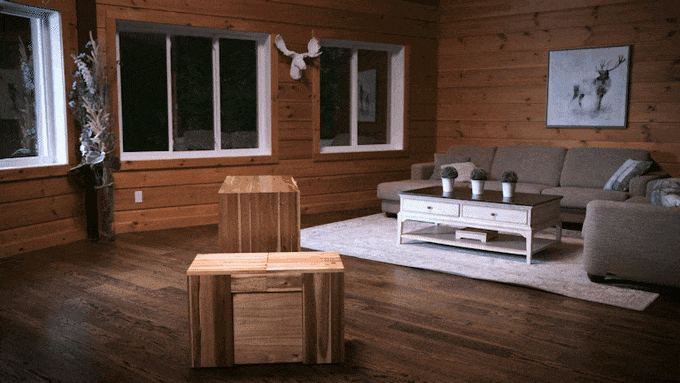 Open The Table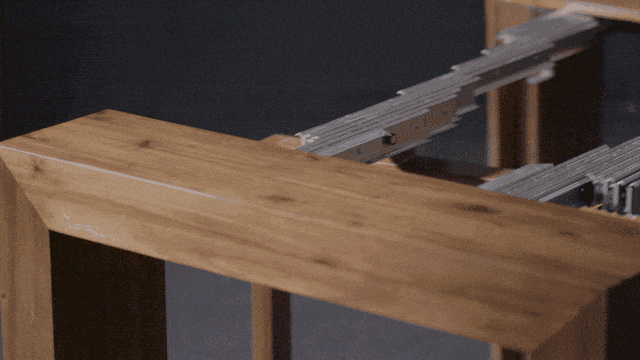 Put In The Panel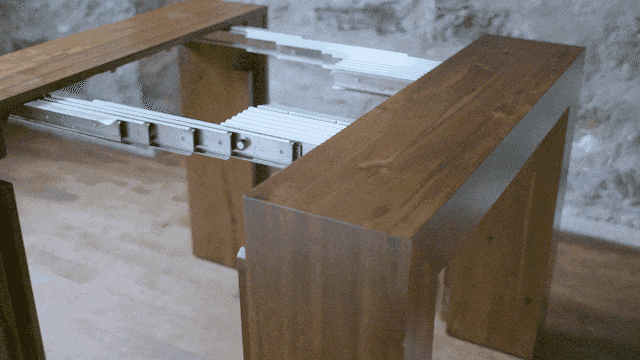 Clip Them Together (Clips Underneath The Table)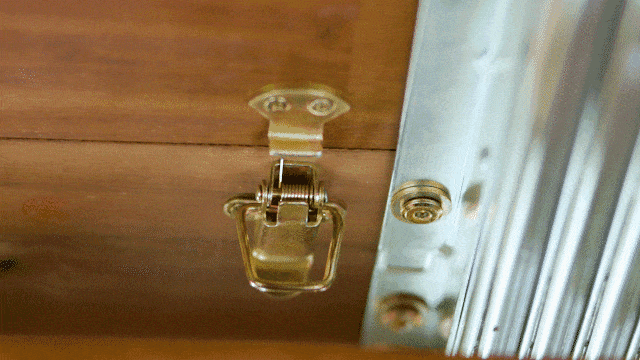 Where To Store The Panels?
The Transformer Coffee Table 3.0 is designed to store all panels for the dining table. The Transformer Coffee Table brings function to all areas of the home. This elegant coffee table features an integrated storage unit to house your Transformer Table extension panels. Simply slide the panels out of the coffee table when you need to expand your dining table. Tuck them back in when you want to downsize. See it Here!
Current promotions offer this FREE COFFEE TABLE when you purchase the Transformer Table or any of the available sets!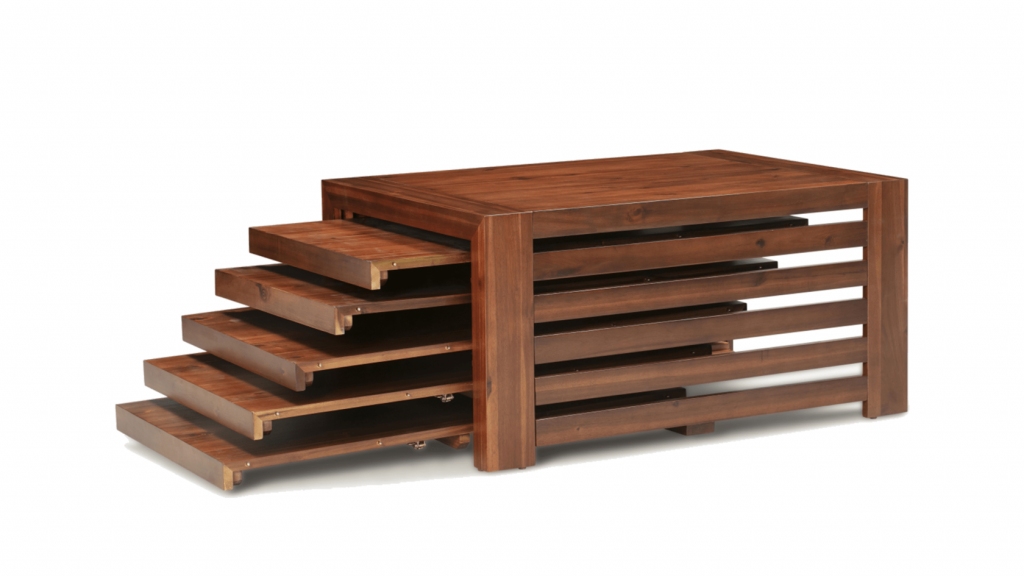 The Transformer Bench
Complementing perfectly the Transformer Table is the Transformer Bench. This bench extends the same way the table does, by adding panels stored inside the base of the bench. The bench extends all the way up to 11 feet and seats up to 6 of your guests.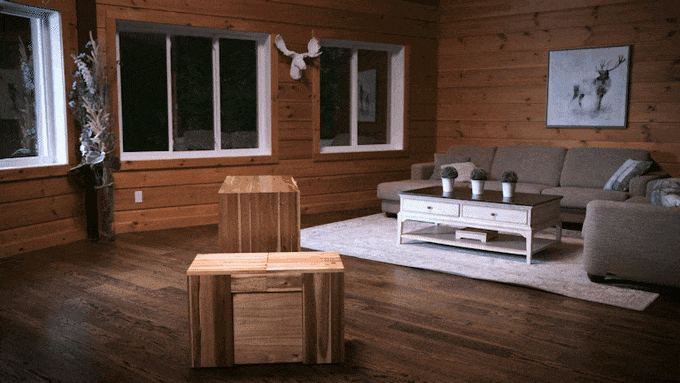 Let's Talk Costs
All Products from the Transformer Table Collection 3.0 Includes:
Free Shipping across the U.S. and Canada.
1 Year Warranty
0% APR Financing Available
Transformer Table runs frequent sales and discounts. The prices listed below are quoted from the website at the time of writing this article. So be sure to check their homepage for new deals and promotions.
Here are your purchase options:
The Transformer Table 3.0 (Table Alone)
Price: $2,299 $1,999 (FREE Coffee Table Included). Buy It Here!
The Dining Set 3.0 (Table & Bench)
1 Transformer Table
1 Transformer Bench
Price: $3,199 $2,599 (FREE Coffee Table Included). Buy It Here!
The Full Dining Set 3.0 (Table & 2 Benches)
1 Transformer Table
2 Transformer Benches
Price: $3,999 $2,999 (FREE Coffee Table Included). Buy It Here!
You May Also Like:
---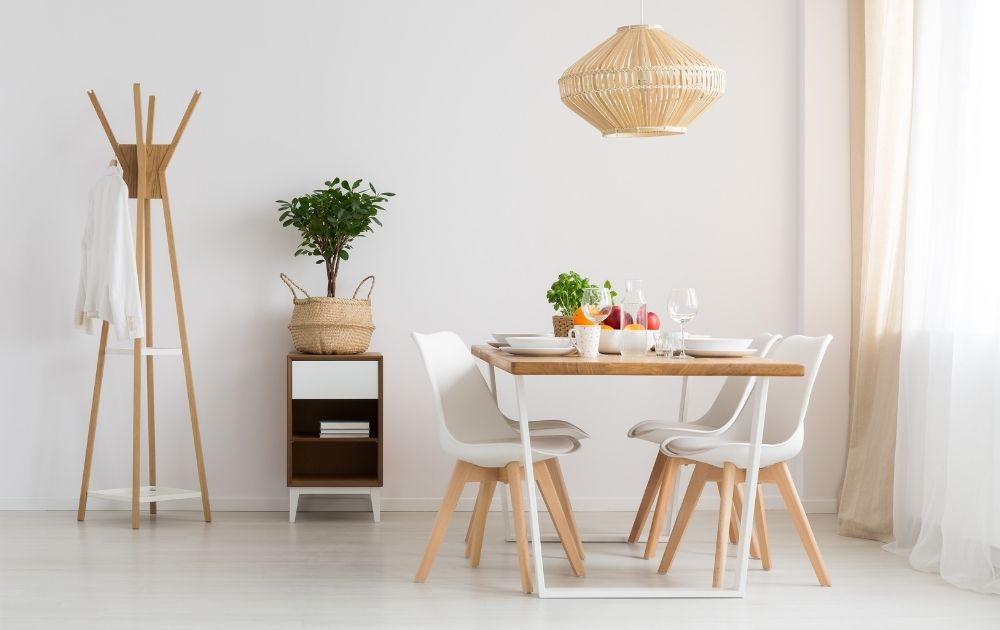 Related Article:
12 Expandable Dining Tables To Help You Make Space AND Save Space!
---
Want More Small-Space Furniture Ideas?