This Is How You Choose Furniture For Small Bedrooms!
If you're downsizing from a bigger apartment or home, trying to figure out if or how things will fit, Choosing furniture for small bedrooms can seem tricky at first. The truth is, half the work is already done for you. Your small space has already simplified the process by eliminating certain options and illuminating others. 
This quick guide will show you what features to look for when shopping for small spaces and provide options to help you maximize space and gain more storage. The tips offered here, combined with your own personal style should make furniture shopping a fun and hassle-free experience. Let's go!
First, Know Your Essentials – This Is Important!
You should have some idea of what items you want to incorporate in the room. Keep in mind that small spaces demand less stuff. So figure out exactly what pieces of furniture you absolutely need in your bedroom.  A bed (obviously), one or two nightstands? A dresser or a closet storage unit? A reading chair? a desk? Think about this carefully, assess your space and make a decision BEFORE you start shopping.
Start With Your Bed 
The bed is not only the most important piece of furniture in the room, but it's also the largest. Choosing the bed first will give you a better idea of the layout for the rest of your bedroom furniture. It will also help you maximize the remaining space. 
Decide on what size bed you want or can accommodate. Don't be afraid to choose a medium or large-sized bed, if your space would allow it. Large beds in small rooms look great!
Just be mindful of the remaining space and the other items you want to include in your bedroom (this is why it's important to know your bedroom essentials, ahead of time). 
PIN THIS FOR LATER!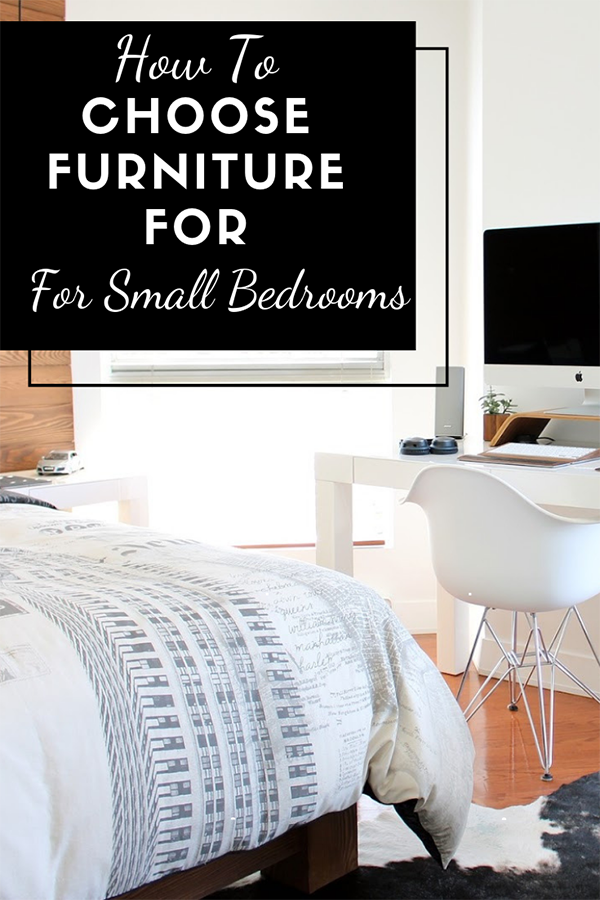 **This page may contain affiliate links. If you purchase something through these links, I may receive a small commission at no extra cost to you. See full disclosure here.**
1. What Beds Work For Small Spaces?
Beds That Visually Expand The Room
If you want to create the illusion of more space, go for beds with tall headboards. These tall beds draw the eye upward, thereby creating the illusion of more space.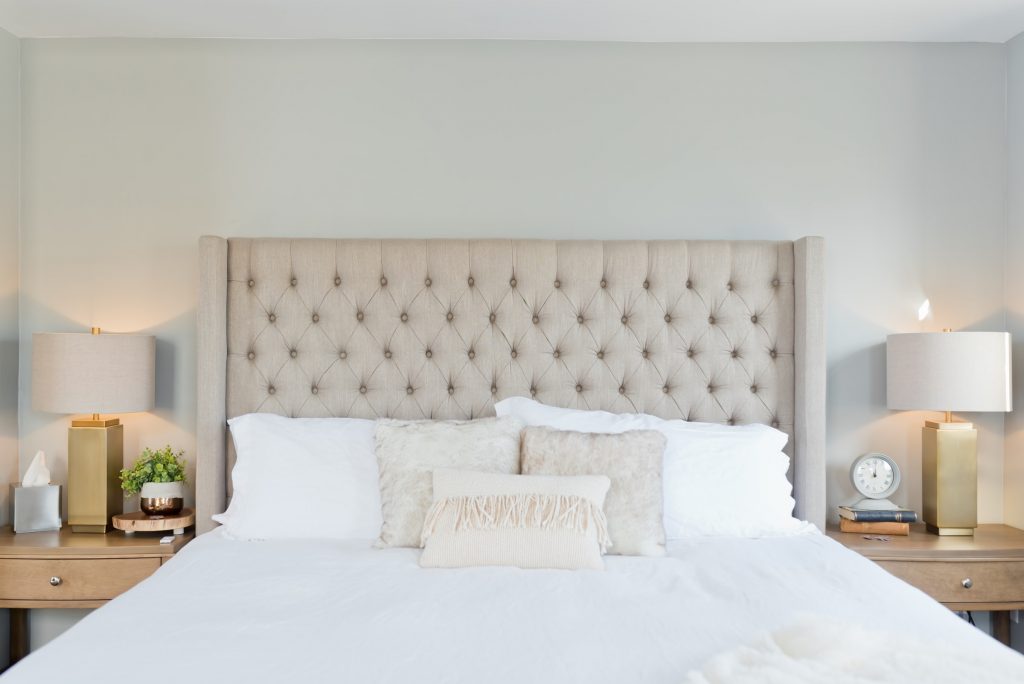 Photo by Sissoni Home + Design
Of course, you can always get a basic bed base and purchase a tall headboard separately to achieve the same look and effect. Adding a unique & stylish headboard acts as a beautiful focal point for small rooms. Taking the attention away from the actual size od the room.
I Found some stylish beds with tall headboards here at Apt2B. They always have good deals and frequent sales. Plus have the option for financing.
Beds That Provide Extra Storage
Beds with under-storage are a God-send for small spaces and are really one of the best choices for small bedrooms. Beds with drawers and shelves help to maximize storage space while keeping the room tidy and clutter-free.
Small Space Tip: Always look for ways to squeeze in extra storage space. Furniture with built-in storage is GOLDEN!
This bed a great for storing out-of-season clothing or extra sheets and pillows. Similar Bed Available on Amazon
Murphy Beds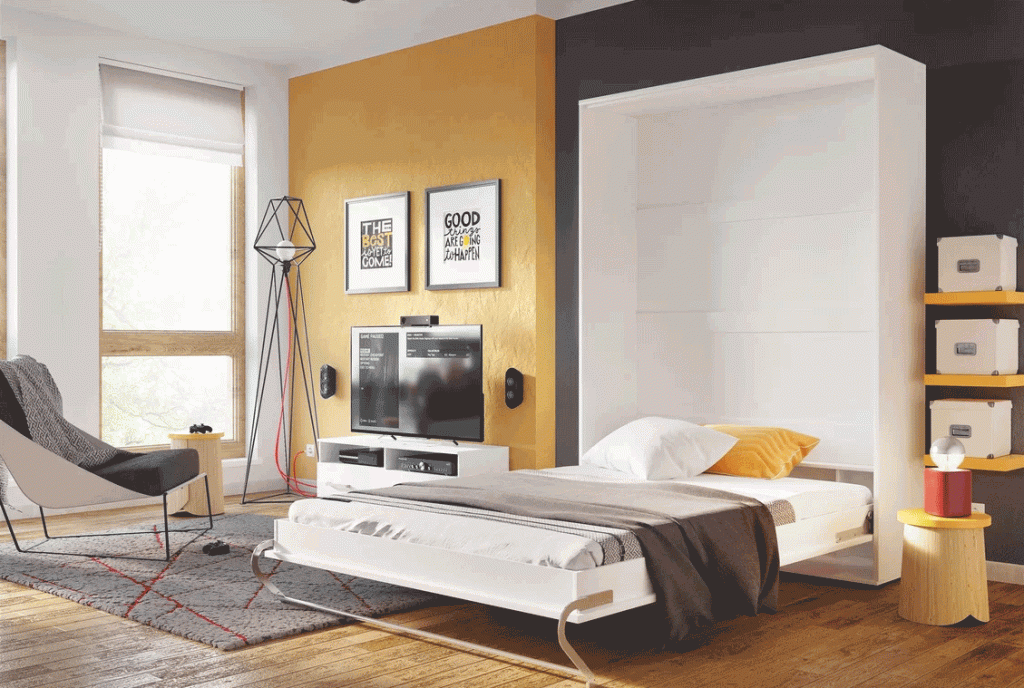 2. Keep The Rest Of Your Furniture Trim & Compact.
With the bed out of the way, it's time to choose the rest of your bedroom furniture. Look for furniture pieces that are trim and visually lightweight. These won't overwhelm the space. Keep in mind that 'trim' doesn't' have to mean tiny. It just means that you should avoid bulky, cumbersome items.
Choose furniture that's raised a few inches off the floor and has long legs. These types of furniture occupy less visual real estate and help to create a nice flow throughout the room.
See More Small Modern Desks For Small Spaces in This Roundup
When choosing a bedroom chair or desk chair, one with large round armrests and thick cushions will seem too inflated. Instead, pick one with skinny arms (or no arms) and a tight, upholstered back with slender legs.
Related Post: This Furniture Style Is Perfect For Small Spaces!
3. Try Transparent or Mirrored Furniture.
Transparent furniture occupies less visual real estate. Its see-through design means that there's nothing blocking your view from one area of the room to another.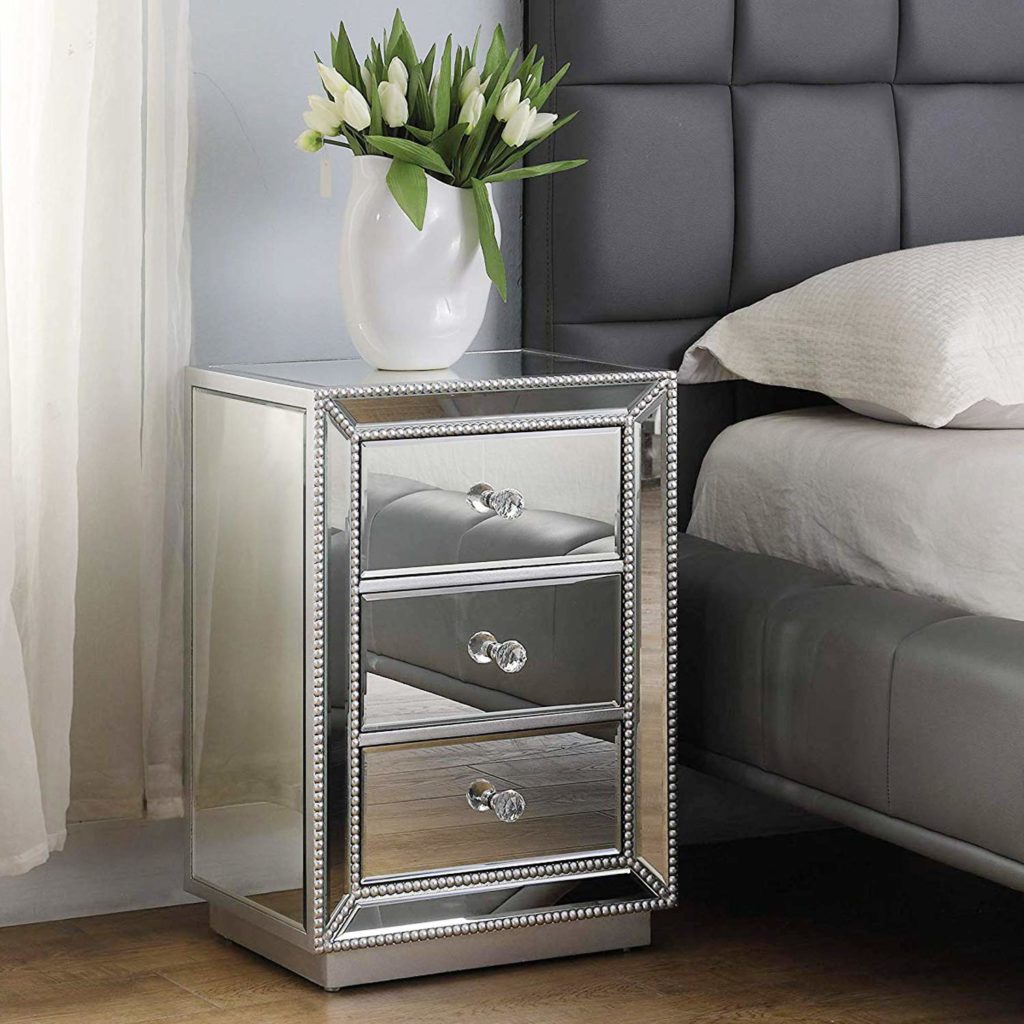 Get this mirrored nightstand here on Amazon
Mirrored furniture is great for reflecting light throughout the room, creating a bright and airy atmosphere. Mirrors are best used for creating the illusion of more space.
Try a mirrored vanity or desk or acrylic tables and chairs for your or workspace. This mirrored vanity desk from Amazon is perfect for small spaces!
4. Choose Multi-functional Pieces.
There's nothing better than getting two items for the price of one. You get to save money and space. Multipurpose furniture is really a must-have for small rooms.
This Bookshelf provides ample storage space and acts as a beautiful room divider in this studio apartment. The open shelves create a natural flow from one area of the apartment (the living room) to the other (the bedroom).
Even though the room is divided, there is a natural continuum throughout the apartment. Open bookshelves are the best choice for small rooms because they help to spread light around and maintain a visual flow throughout the space.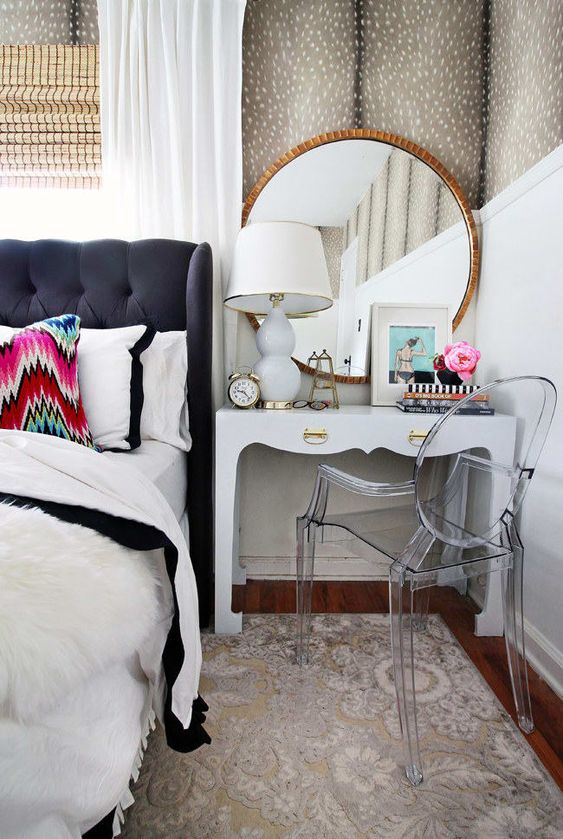 Get these Acrylic Chairs Here!
A small makeup vanity can double as a stylish nightstand or even a work desk without sacrificing space or adding extra furniture.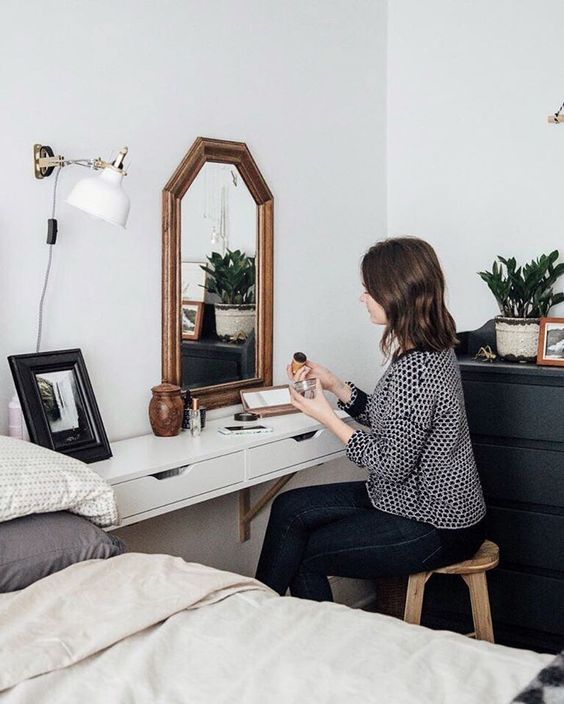 Look for pieces that can be used for more than one purpose to save on space. If you're in need of a work space, then check out these 7 ways to carve out an office space in a small home.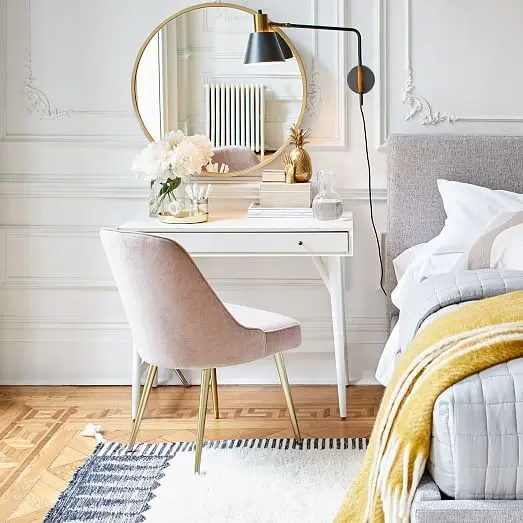 That's all there is to it. A few smart choices combined with your newly trained eye, and you're ready to start creating a cozy, stylish, and functional bedroom. 
To sum up:
Purchase your bed first! Go for tall headboards, beds that offer extra storage, or try a Murphy Bed for maximum space-saving benefits.
Trim, 'leggy' & raised furniture work best to create a light and airy space.
Reduce visual clutter with Transparent Furniture.
Create the illusion of more space with mirrored furniture.
Make it Multi-functional!
You May Also Like: