These Tiny, Swoon-Worthy Kitchens Aren't Shy with Color
I love to see small spaces break design 'rules'. Using color is a great way to rebel! These bold color ideas for small kitchens will certainly inspire. Rich and bold color does something special for smaller spaces. They have the ability to create a beautiful, moody vibe that you just can't get with larger rooms. Intense color -when done right- can make your small room feel more inviting and better reflect your personality and style.
So, for the small space dwellers out there who aren't afraid of color, this one is for you! If you're looking to revamp your tiny kitchen, then check out these bold color ideas for small kitchens. I also included some renter-friendly solutions for adding color to your kitchen.
Bold Color Ideas For Small Kitchens.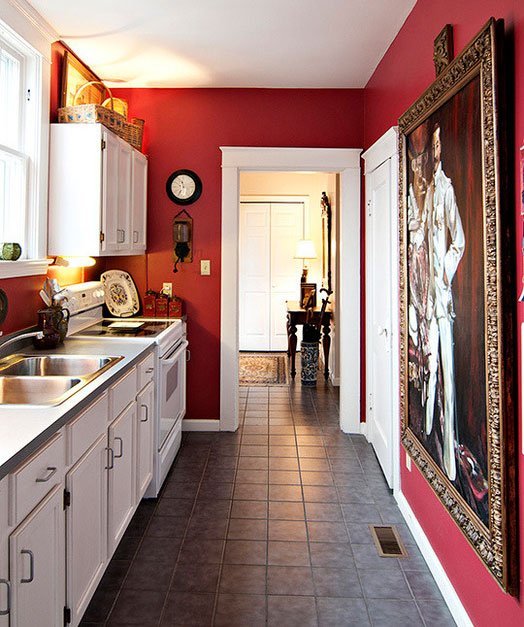 Red walls are always bold. No matter the shade. This red kitchen adds a hint of beautiful luxury to this space. Even though this shade of red is on the dark side, The white cabinets and natural light pouring in from the window helps to keep the room bright and airy.
This kitchen uses color-zoning to separate the kitchen from the rest of the room. For more ideas on color-zoning, check out how this 40 Sq meter apartment uses this technique to separate spaces.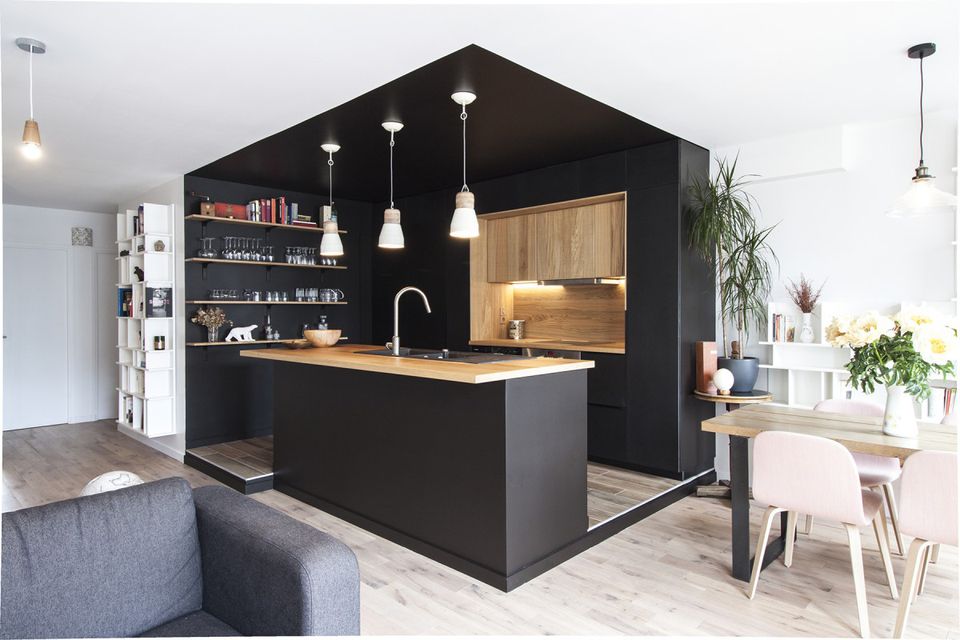 When you think of bold walls, the color black is often in the mix. This black kitchen is another beautiful example of color-zoning. It completely separates the space without any physical barriers and adds the right amount of drama and style to this space.
Related Post
---
---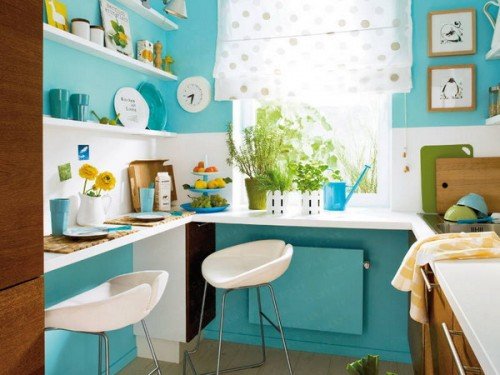 Bright and functional, this small kitchen has it all, with beautiful light blue walls and accents.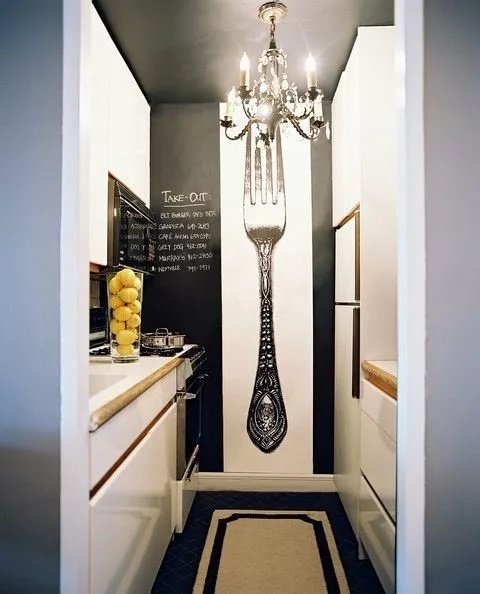 This is a really tight space. Adding black paint to the wall and ceiling might seem like a really bold move. But that's what we're here for! This tiny kitchen is chic and modern, and that chandelier adds a touch of such sophistication to the look. This space is tiny but you kinda want to just hang out in there. The whole thing just WORKS!
Related Post:
How To Decorate Small Spaces? – The Ultimate Guide!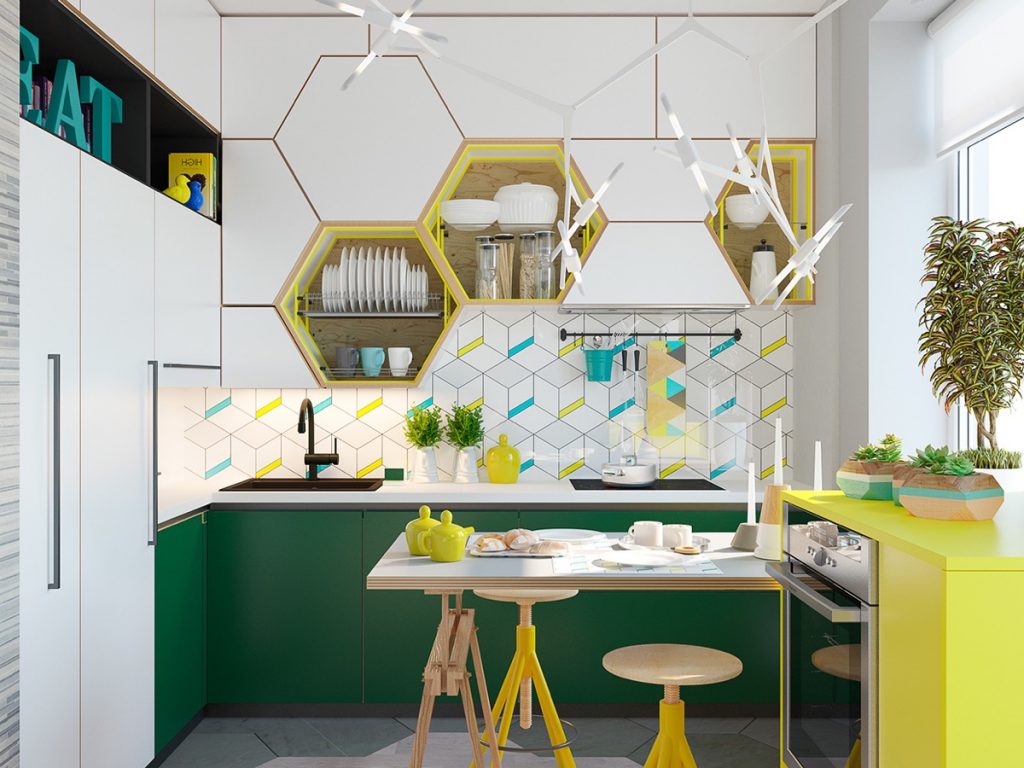 This bright, small kitchen embraces bold color and geometric shapes to create a modern and playful design. See more Bold Tiny Kitchens that will inspire.
Another example of color-Zoning here. This kitchen uses a bright orange to create stylish visual separation shelves. A bold but simple way to add a pop of color. Orange accents are sprinkled throughout the space to create a cohesive look.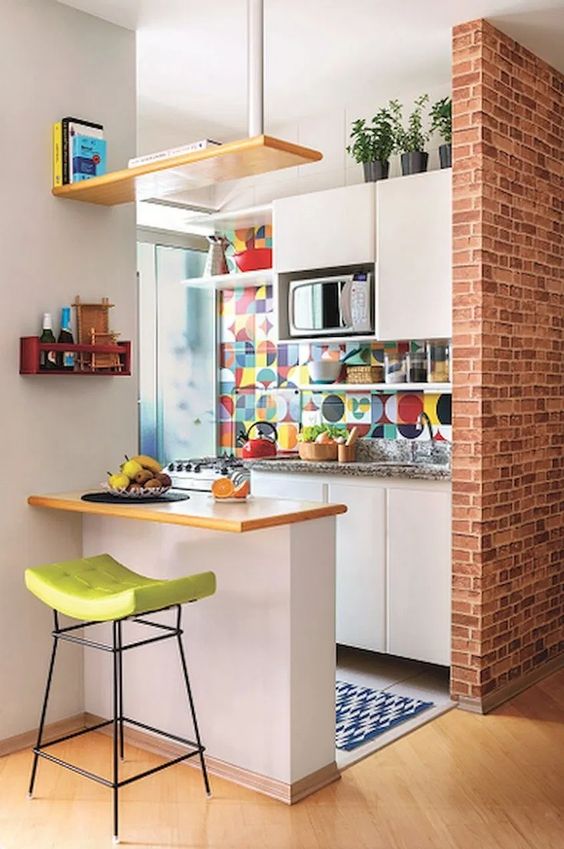 Colorful backsplash tiles are a great way to spice up a drab kitchen. There are tons of peel-and-stick options for renters too.
Related Post:
---
---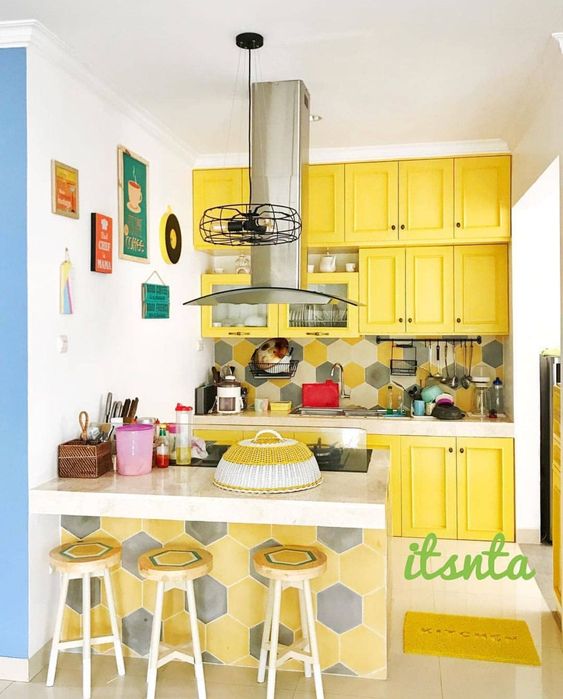 Talk about bright and bold! If you really want to brighten things up, yellow is certainly the way to go. The bright yellow and gray combination in this small kitchen adds loads of personality to this room. The hexagon shapes add a modern touch to the look. The color yellow has been known to stimulate appetite (I wish I remembered where I read that). Which makes it perfect for kitchens!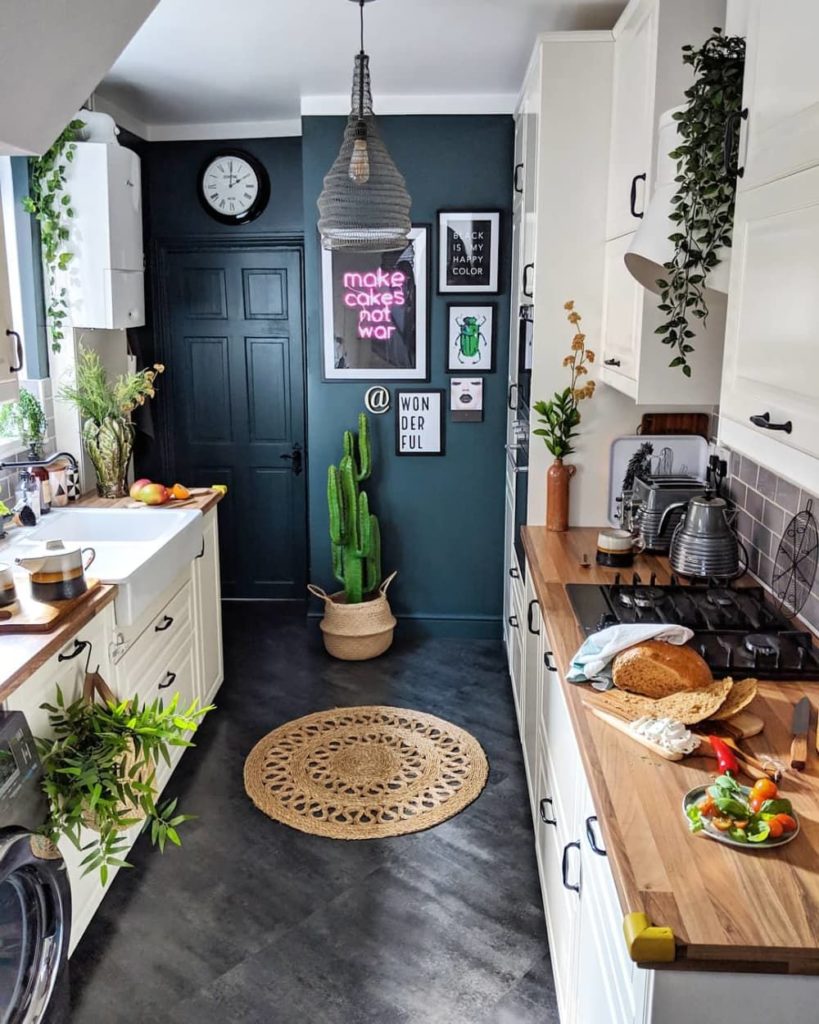 This dark accent wall adds enough drama to this small kitchen to spruce it up, but not so much as to overwhelm it. Accent walls are great at that.
Related Post:
---
---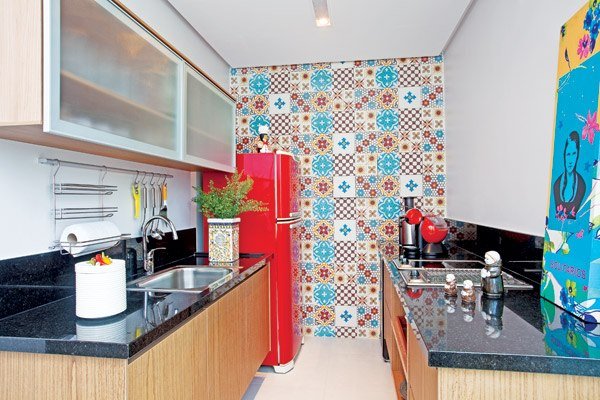 Not sure which the accent piece here. The colorful patchwork accent wall or the fire-engine red refrigerator! Either way, they both add a playful and retro style to this space.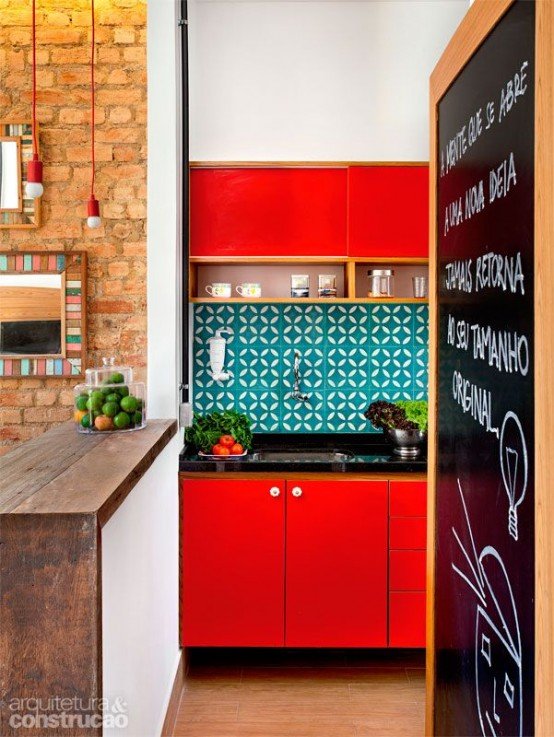 This color combo is surprisingly beautiful. The geometric backsplash tiles add an interesting dimension to this space.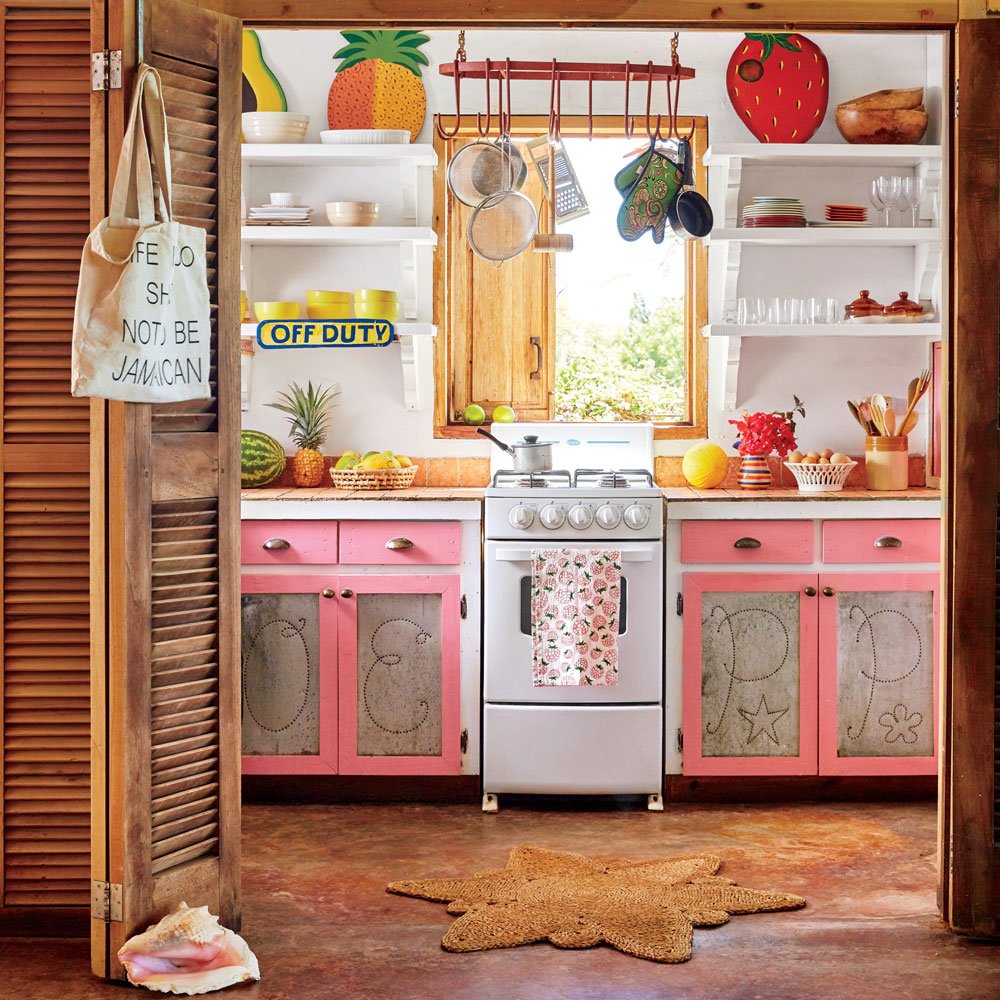 Those pink cabinets are the real stars in this cozy Jamaican kitchen. This is how grownups do pink! Yellow and red accents are sprinkled throughout the room ties everything together beautifully.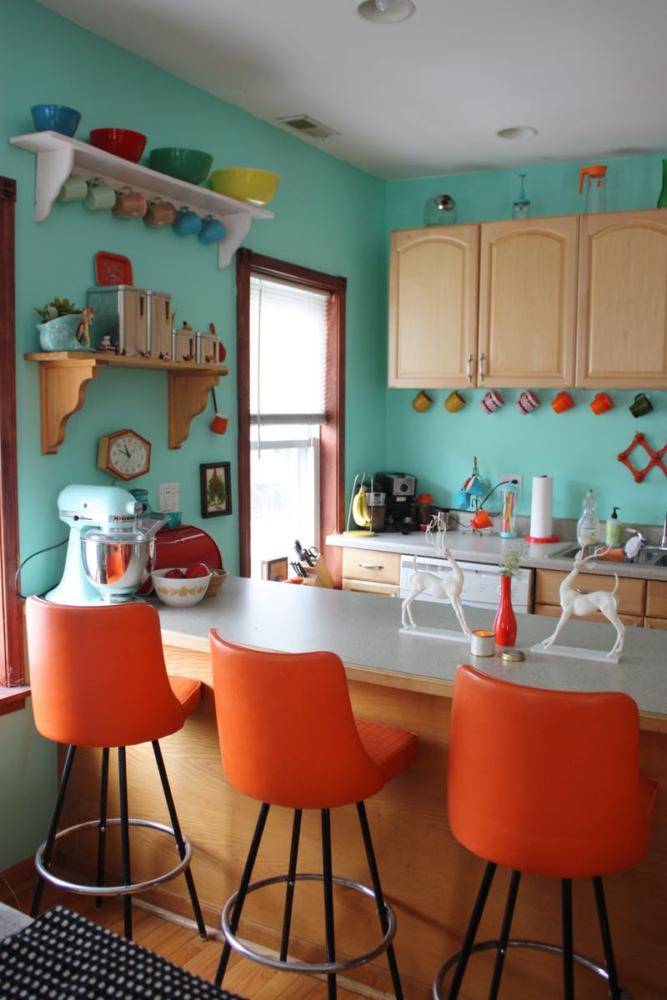 I'm getting major tropical, beach house vibes from this one!
We can't have a list of bold decor without including some beautiful bohemian spaces. This bright, yet subtle kitchen is perfect for the in-betweeners: those who love color but don't want to overdo.
If you're looking for bold color ideas for small kitchens, it doesn't get any bolder than this playful boho kitchen. It's Maximalist decor at it's best!
How To Add Bold Color To A Small Rental Kitchen?
If you're thinking of adding some color to your drab rental kitchen but aren't allowed to paint, There are options:
Add Peel & Stick backsplash tiles
Add A colorful rug
Use kitchen accessories to incorporate color, like kitchen canisters, bowls & dishes, colorful pots, etc.
Removable Peel & Stick wallpaper for cabinets and countertops
Wall art/decals
Colorful Appliances
Renter-Friendly Solutions On Amazon To Help You Spruce Up Your Tiny Kitchen.
Removable Backsplash Tile
Peel & Stick Cabinet Covers
Removable, Peel & Stick Countertops
---
Want More Small Kitchen Ideas & Solutions?
---
Pin This For Inspiration Later!