10 Clever Storage Ideas For Small Bathrooms
The Internet is never short on storage ideas for small bathrooms. There are so many easy DIYs and creative hacks for bathroom storage that it's worth trying a few to help maximize your space. All you need is a little time and ingenuity. I rounded up a few of my favorite clever storage ideas for small bathrooms!
**This page may contain affiliate links. If you purchase something through these links, I may receive a small commission at no extra cost to you. See the full disclosure here. **
Try These Clever Storage Ideas For Small Bathrooms.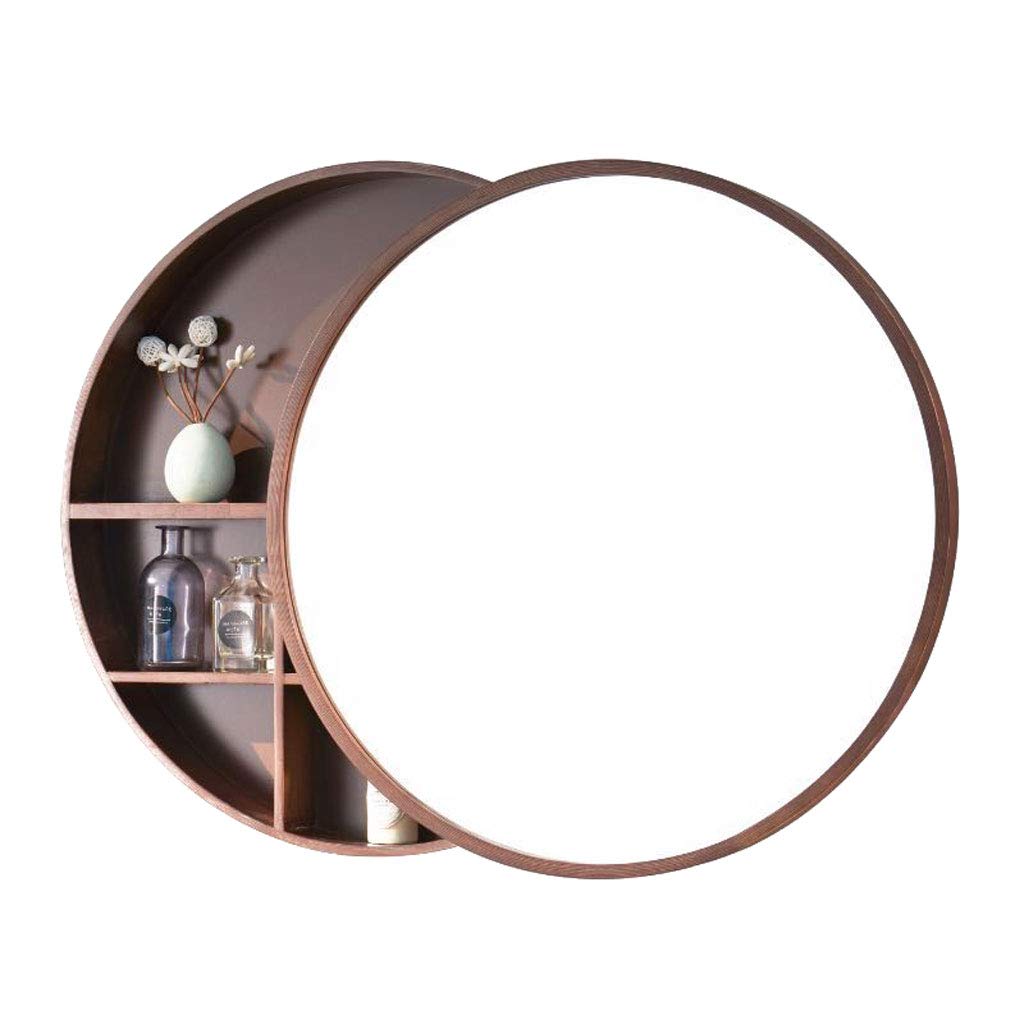 Shop This Round Mirror With Hidden Storage Here On Amazon
Sneaky storage is always fun! This bathroom mirror comes with hidden shelve. Just slide the mirror to the side to access all your bathroom essentials.
Install Floating Shelves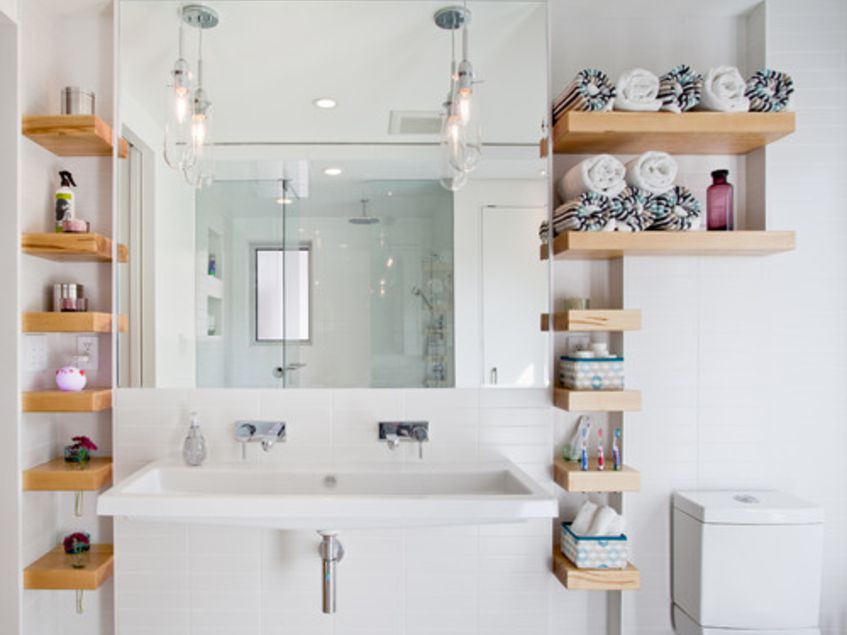 The Spruce
Get The Look with these white floating shelves from Amazon
A popular solution is adding floating shelves above your sink or in those empty narrow spaces at the side of your mirror. This will help you free up space on your countertops. It's a great option for bathrooms with small sinks or limited counter space.
Curtain Rod Inside Shower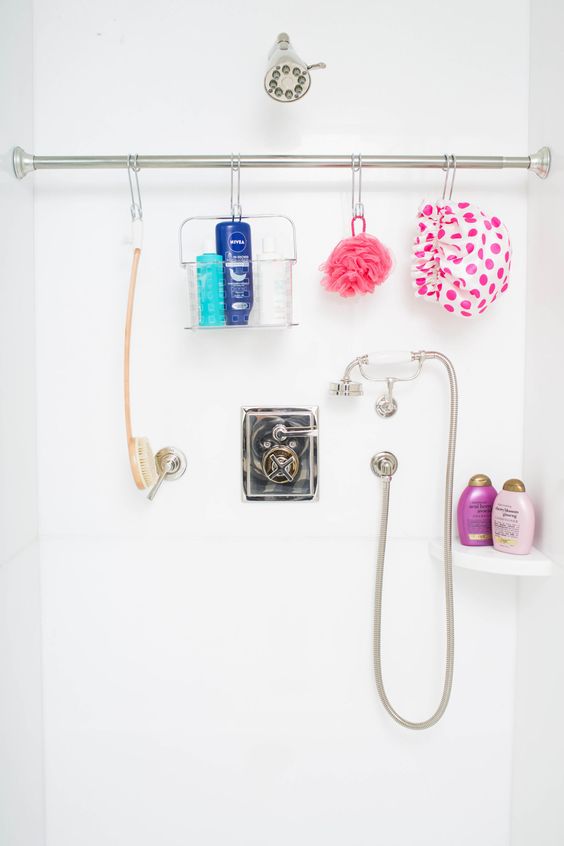 Kathleen Kamphausen via Cosmopolitan
Who says curtain rods are for curtains only? Add a tension curtain rod inside your shower, throw on some S-hooks and you've got a new place to store loofahs, shampoo and more.
You'll Need A : Rust-Proof tension rod and S-Hooks from Amazon.
Perfect for storing toys & towels during bath time!
---
Related Articles:
---
Hang Shower Items On Shower Curtain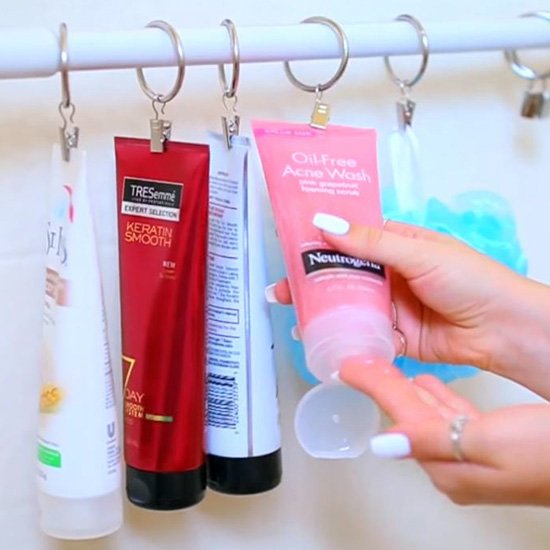 Better Home & Gardens
This is a cool hack for those tubed shampoos and face wash products. We all have them. Attaching these products to your shower curtain conveniently puts them within reach during your shower.
You'll need: Shower Curtain Clip Rings (Amazon)
Wall Mounted Basket Storage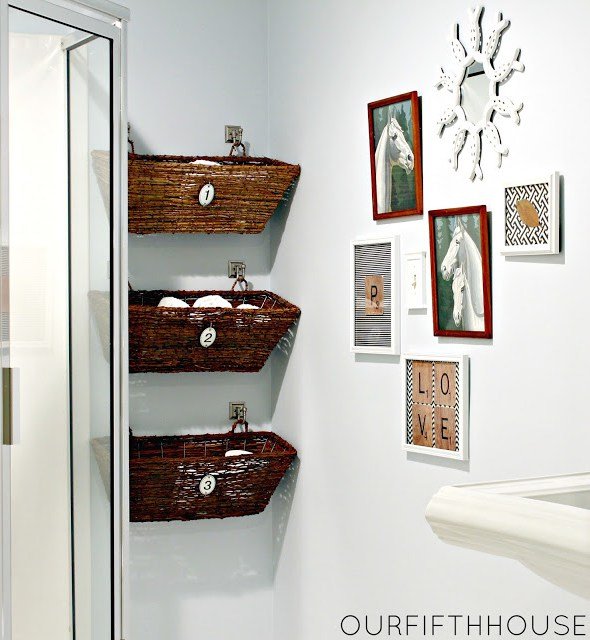 Our Fifth House
These wall-mounted baskets can be used for storing toilet paper, towels, soaps and more, all within reach. There are so many options for decorative baskets that it would be a shame not to try this easy hack. Use heavy-duty command hooks to secure baskets onto the walls. These peel and stick hooks won't cause any damage to your walls, making them the perfect solution for renters.
---
Related Articles:
---
Drawer Organizer With Power Outlet
In-Drawer Hair Tool Organizer & Power Outlet
Buy It Here On Amazon
This custom storage drawer keeps hairdryers, straighteners and their cords organized and hidden when not in use. The built-in extension cord is a great feature for persons sharing a bathroom with others.
When you're done getting ready, just store your hair tools away in the thermally protected compartments and close the draw. No unsightly dangling and tangling of cords, and now you have more counter space for your everyday items.
Get A Similar Setup Here On Amazon
Multiple Toilet Paper Holder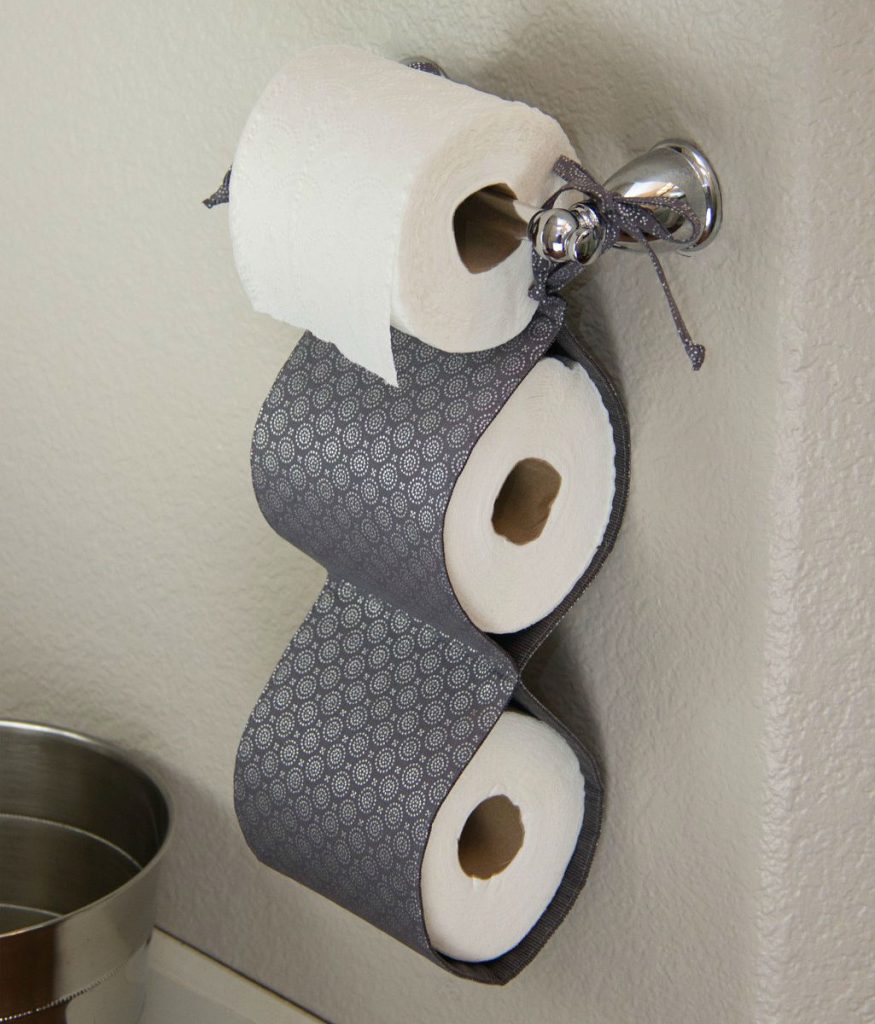 makeitandloveit
As Ashley from Make It & Love It put it: No more shouting "can someone get me a roll of toilet paper!!" from inside your bathroom. This D.I.Y puts extra TP right at your fingertips. Now the challenge is actually keeping this holder stocked.
Or Try The Popular Cloud Shelf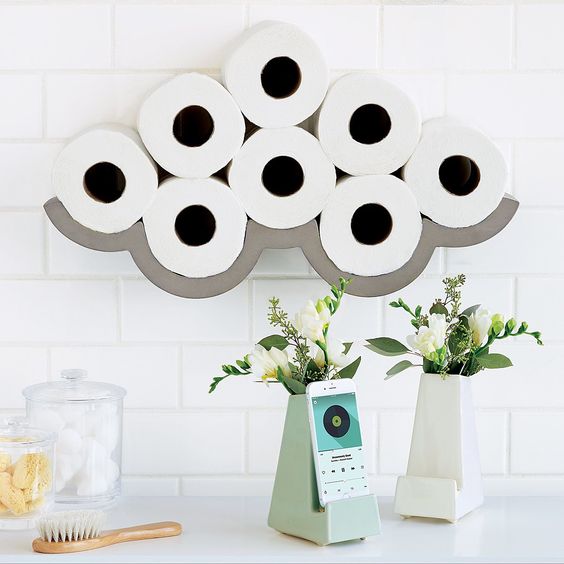 Get It Here On Amazon Or At Uncommon Goods
---
Related Articles:
---
Slim Storage Cabinet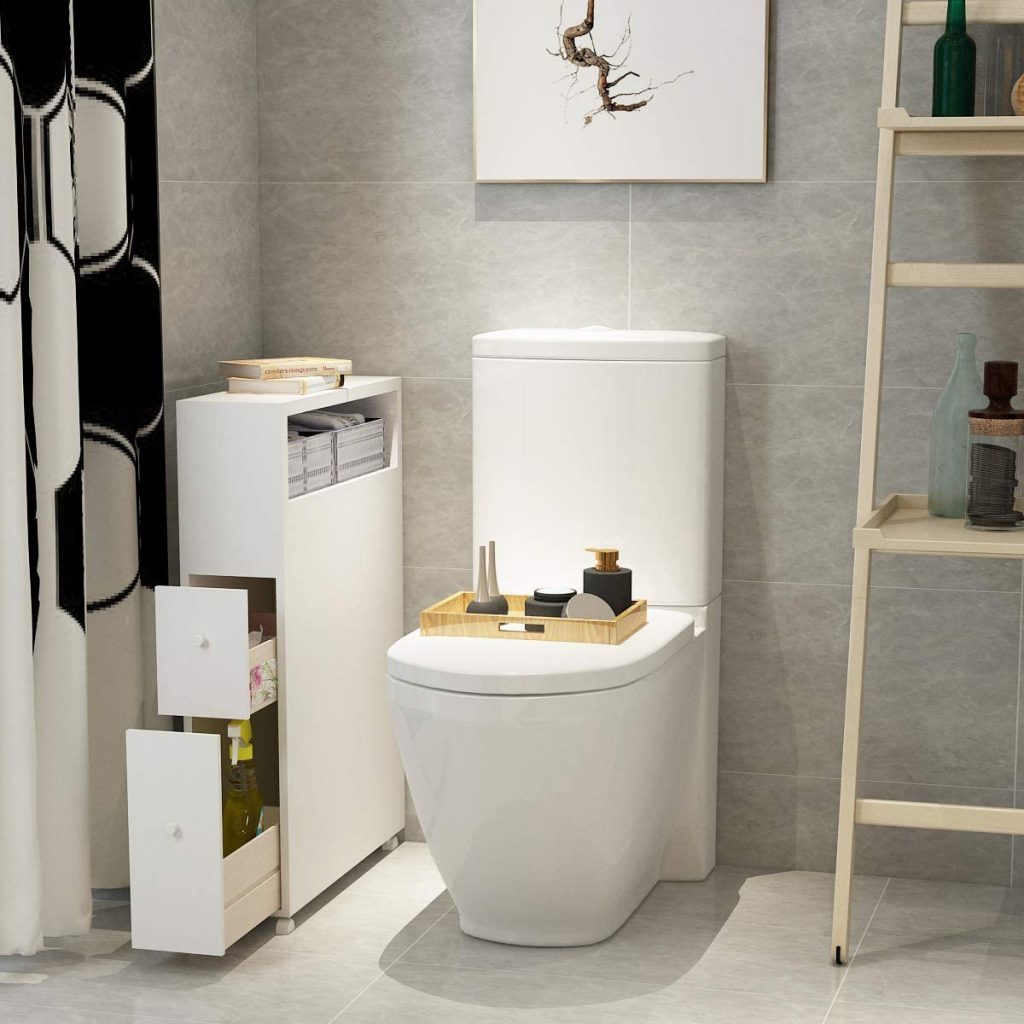 Buy this Slim Bathroom Storage Cabinet On Amazon
This slim bathroom organizer can store toilet paper, tampons, cleaning supplies, reading material, and more. These narrow bathroom cabinets offer extra storage without sacrificing space.
Another good alternative: Narrow 3-Tier Corner Bath Rack Chest, also from Amazon.
Behind-The-Door Storage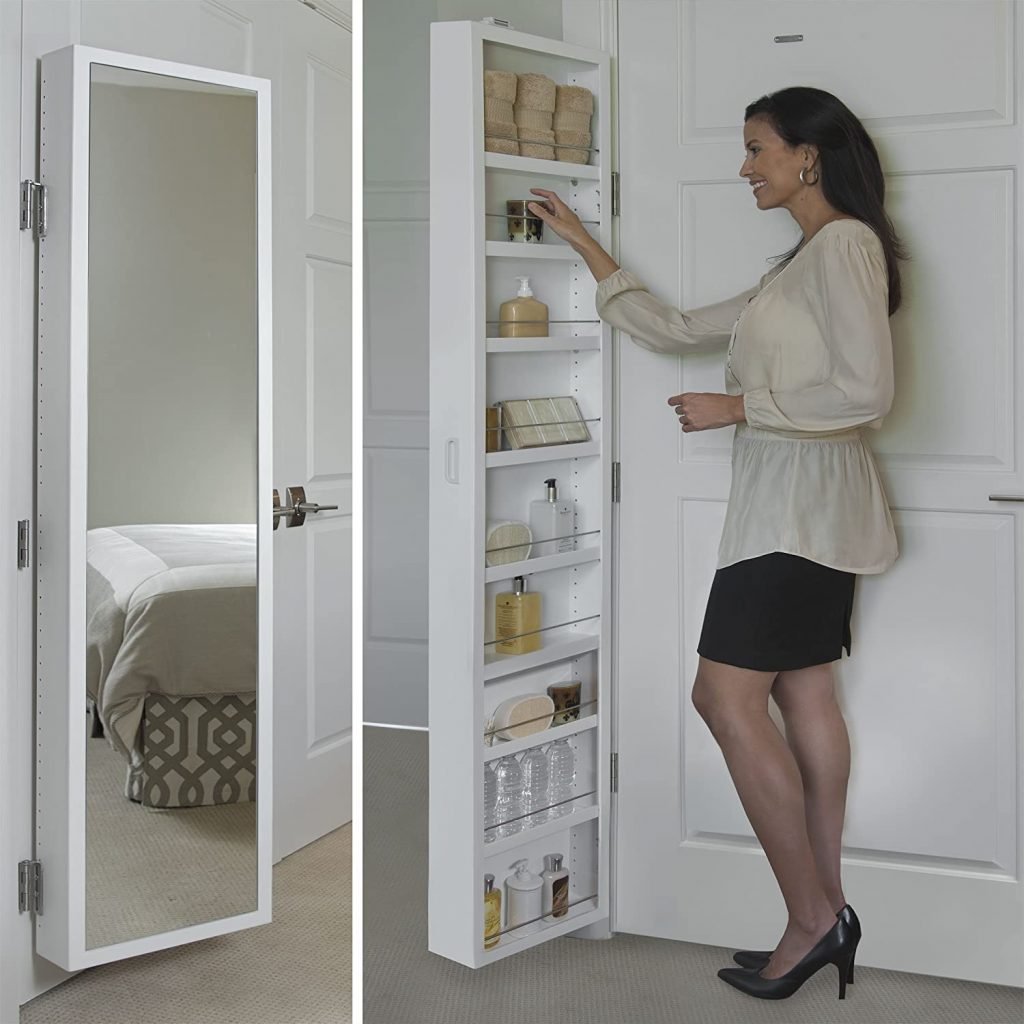 Don't let extra space go to waste. This nifty storage cabinet attaches to your bathroom door hinges to give you 9 shelves for storage and is also a mirror behind. This unit helps you maximize space and stay clutter-free. Don't limit this storage gem to your bathroom only. Use it in your kitchen too to gain extra pantry storage.
Get this Storage Unit Here On Amazon!
---
Related Articles:
---
The Matte Makeup Counter
No more trying to balance your eye pencils and mascara on the side of your bathroom sink. Turn your tiny bathroom sink into a spacious makeup counter with The Matte. This foldable, durable Matte offers a clean, sanitary surface for all your makeup brushes and beauty blenders.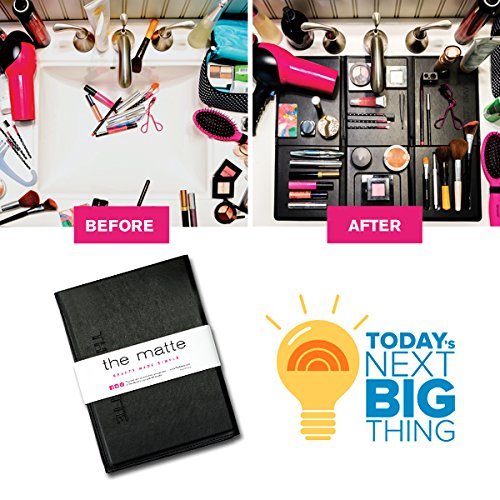 The grooves on the Matte prevent your make from rolling around and actually helps to keep things organized. It's travel-friendly too. When folded, it's about the size of an iPad.
Learn more about this cool small space product HERE!
I Found More Small Bathroom Solutions on Amazon:
Want More Bathroom Ideas?