12 Creative Nightstand Alternatives For Small Bedrooms
When there's no room for a bedside table it's time to get creative. Coming up with a few nightstand alternatives just got easier!
In small bedrooms, storage is forever a problem. Trying to squeeze more space into your bedroom without adding extra furniture can be a challenge.
It's true that small nightstands and bedside tables are great for storing all your bedtime essentials. But if you just bought that queen-sized bed you've been wanting all year, then you probably don't have much space left for a nightstand. Finding a space-saving nightstand alternative is the perfect solution.
This list is a great place to start. I scoured the internet and found 12 creative nightstand alternatives for small bedrooms.
Pin This Post For Inspiration Later!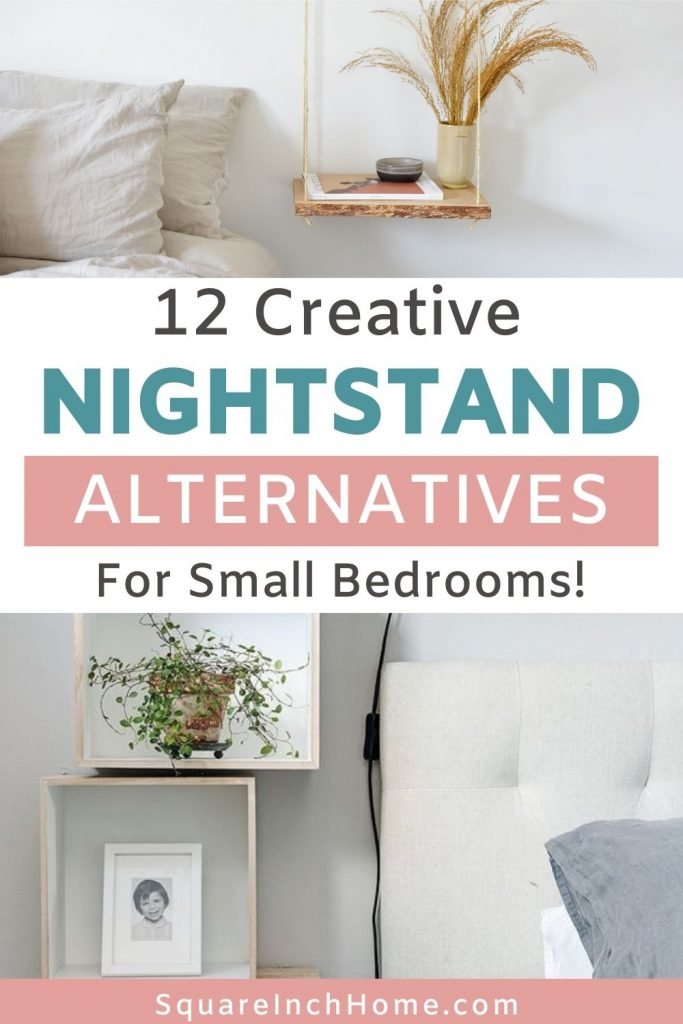 **This page contains affiliate links. If you purchase products through these links, I may receive a small commission at no extra cost to you. I only recommend products that I love and trust! **
12 Creative Nightstand Alternatives You Must See!
Pegboard Headboard With Shelves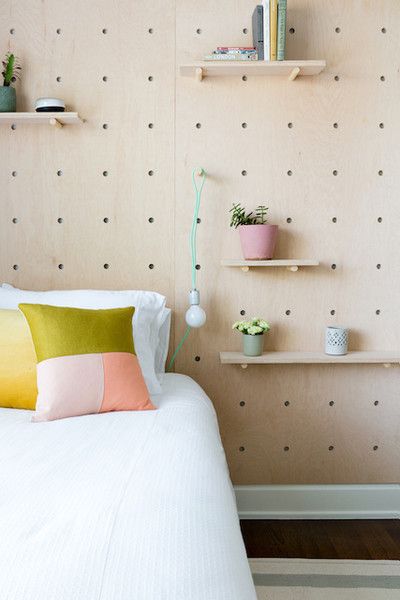 Pegboards have always been an obsession of mine. They're practical and pretty! Try a pegboard headboard and add as many shelves and pockets as needed. Or you can grab a small SKÅDIS pegboard from IKEA and hang it beside your bed. This hack delivers so much style and storage.
Pegboard organizers are fully customizable. The fun part is styling them!
For more pegboard ideas check out my other post on Gorgeous Kitchen Pegboard Ideas .
Try A Modren Wall Grid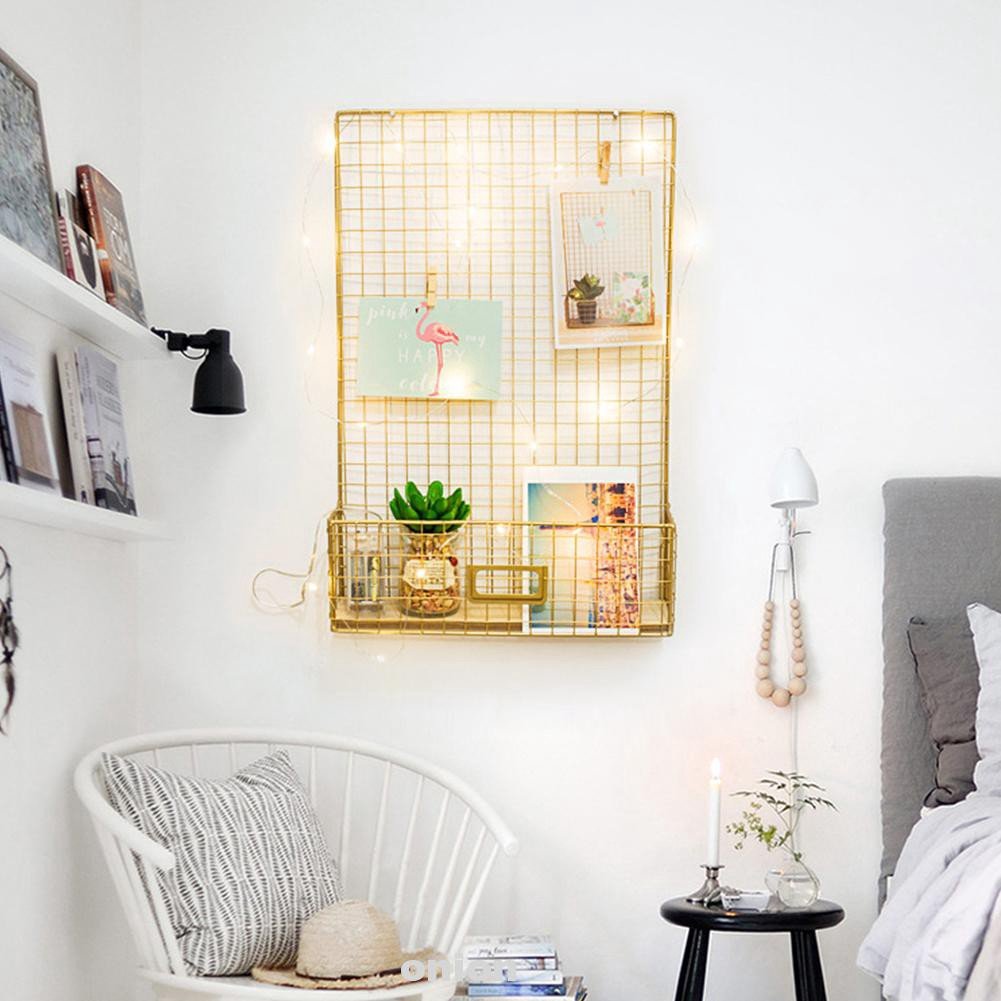 Wire wall grids are often used for office spaces, but I think this would be perfect for bedside storage. You can hang almost anything on these. Shelves, pockets, baskets, photos and so much more. Not to mention the styling options are endless.
Grab these wall grid panels from Amazon and add matching pockets and shelves to create the perfect modern wall grid storage beside your bed.
A Hanging Nightstand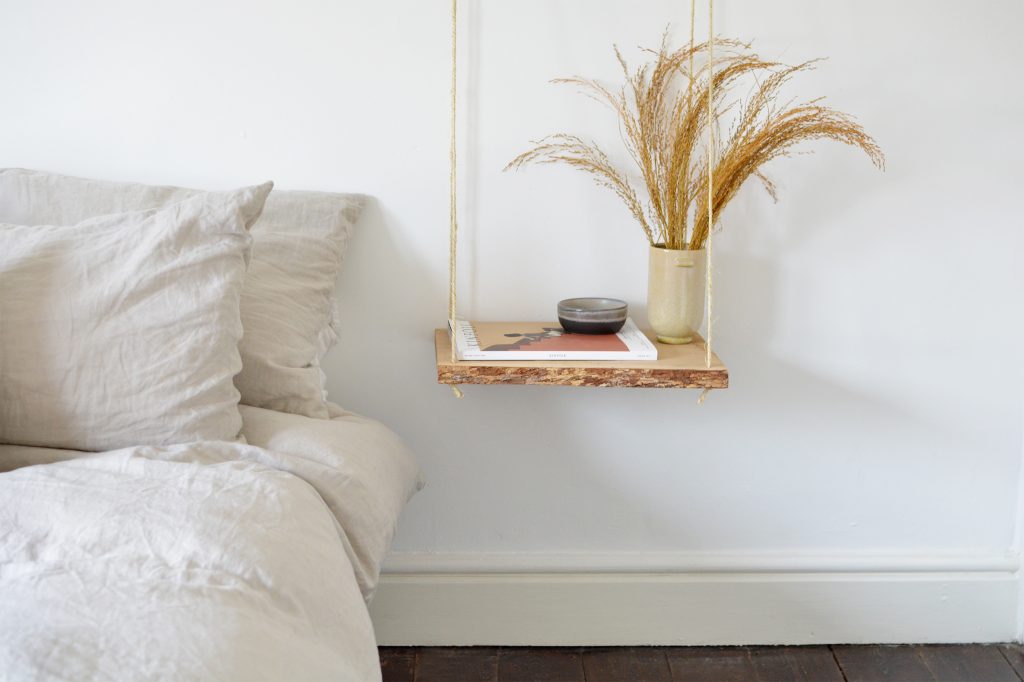 For all the boho and rustic decor lovers out there, this one is for you! Try a whimsical hanging nightstand for added storage and charm. This is definitely one of my favorite alternatives!
Floating Shelves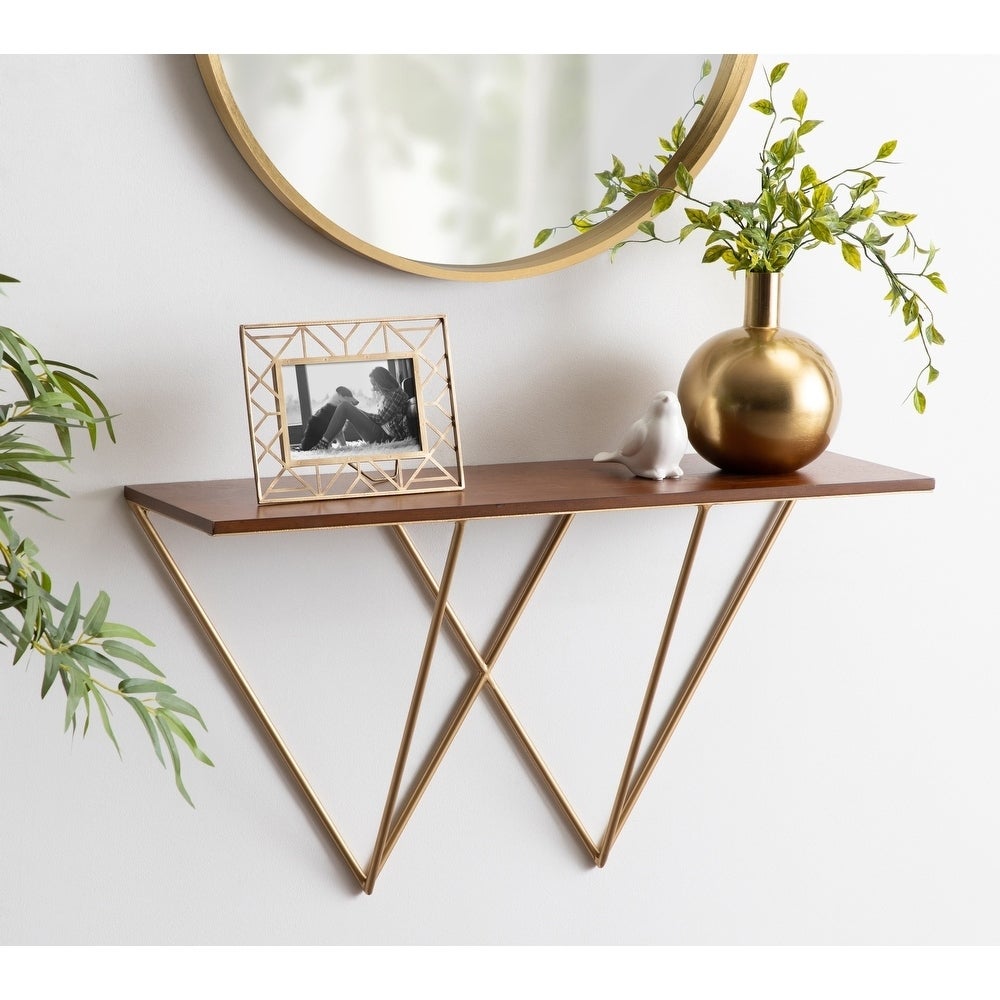 Buy This Stylish Shelf Here on Overstock
You can't have a list of nightstand alternatives without including floating shelves. Decorative floating shelves make the best nightstands for small bedrooms. They help you save on floor space, they can be stacked for added storage and they're available in a variety of styles and sizes. If you're looking for stylish wall shelves check out my roundup of 23 Decorative Wall Shelves For More Beautiful Storage.
Corner Wall Shelves
Shop This Corner Wall Shelf Here at Overstock for $50.99
When working with small rooms, there's one rule that should never be ignored- don't ignore empty corners! Corners, like wall space, is prime real estate in small spaces. If your bed has claimed an entire wall, utilize your corners by adding a single or tiered corner wall shelf. These shelves can become decor too! For more corner furniture ideas see these Essential Corner Furniture Pieces For Small Spaces.
A Stool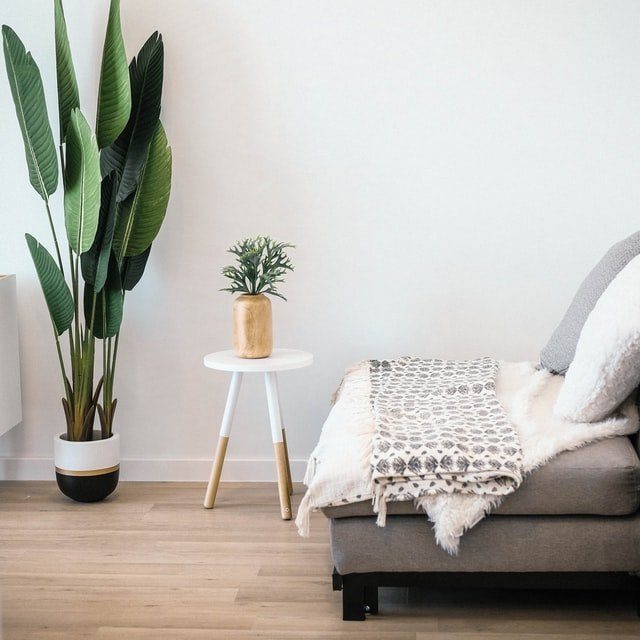 Using a stool as a nightstand is a popular option. If you're going for a more laid-back look for your decor, a small stool will do the trick. Stools come in various materials, colors and styles. The hard part is deciding which one to get.
Try A Bookcase Behind Your Bed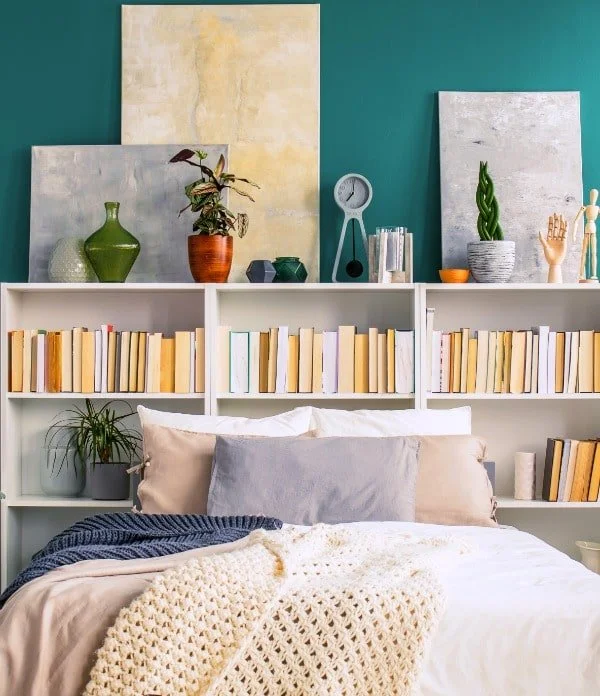 Use a bookcase as a headboard for maximum bedroom storage. The shelves closest to your bed can be used as a built-in nightstand. This solution is perfect for book lovers with a growing library. Plus you get to play around with styling all the shelves. To level up on this hack, add storage bins to a few shelves for more hidden storage.
A Slim End Table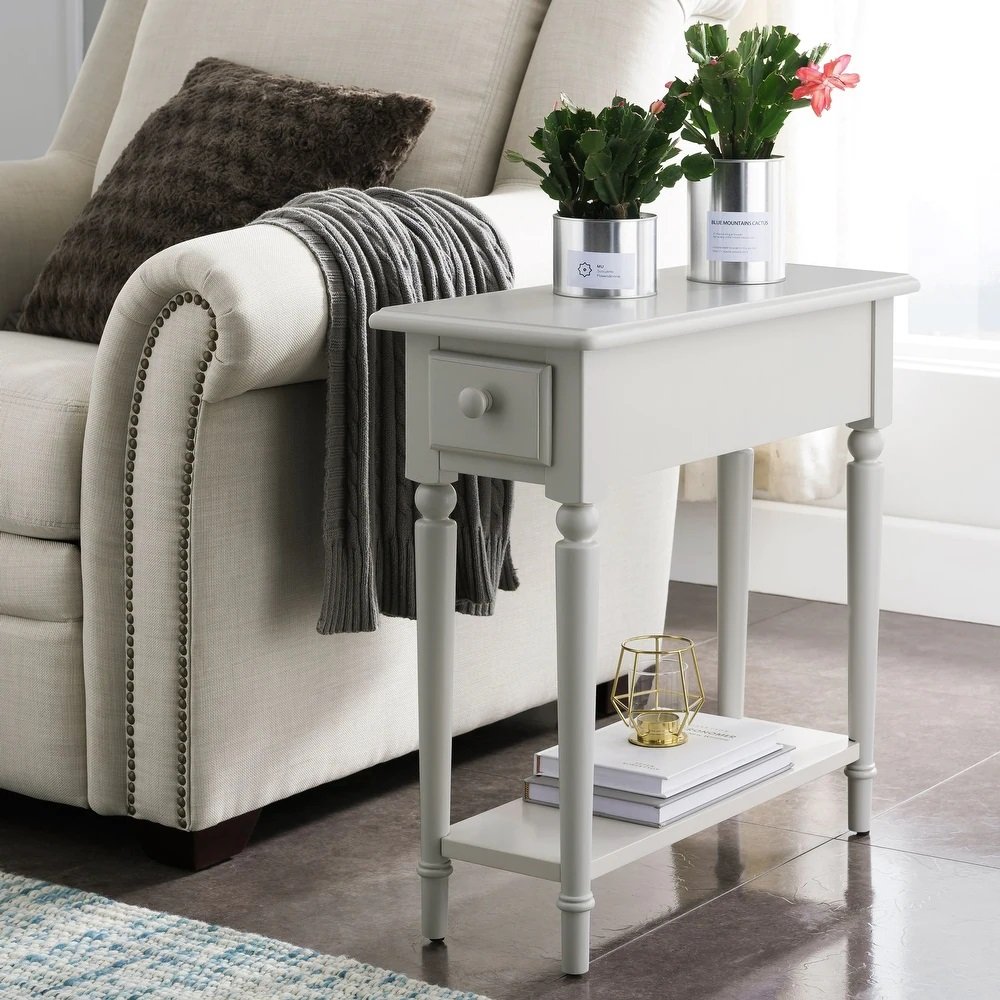 Buy this slim accent table Here at Overstock. Available in other colors!
If you have a sliver of space next to your bed then a slim end table is what you need. These come in a variety of styles and colors, so finding one that blends with your decor should be easy. I found some here on Amazon!
Do Double-Duty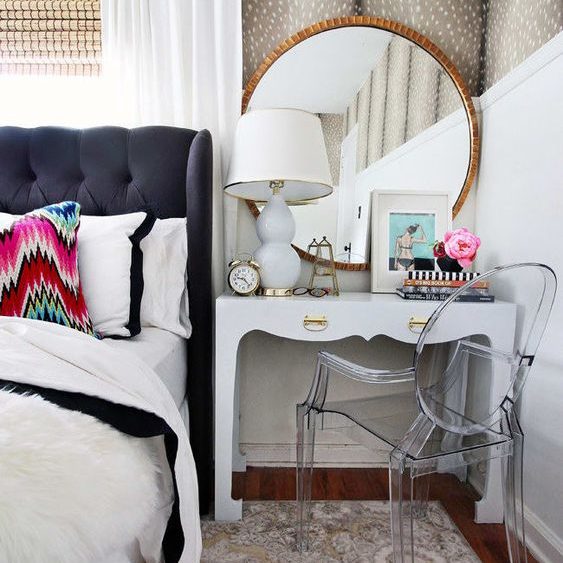 Make your furniture work harder for you with double-duty functionality. Push your vanity, desk, or dresser beside your bed for the perfect nightstand/vanity combo. No need for extra furniture to clutter your space! Multifunction furniture is one of the best types of furniture for small spaces. It's always good to do a furniture audit from time to time so you can evaluate how your existing pieces can be multipurpose or repurposed.
Floating Headboard With Built-In Nightstands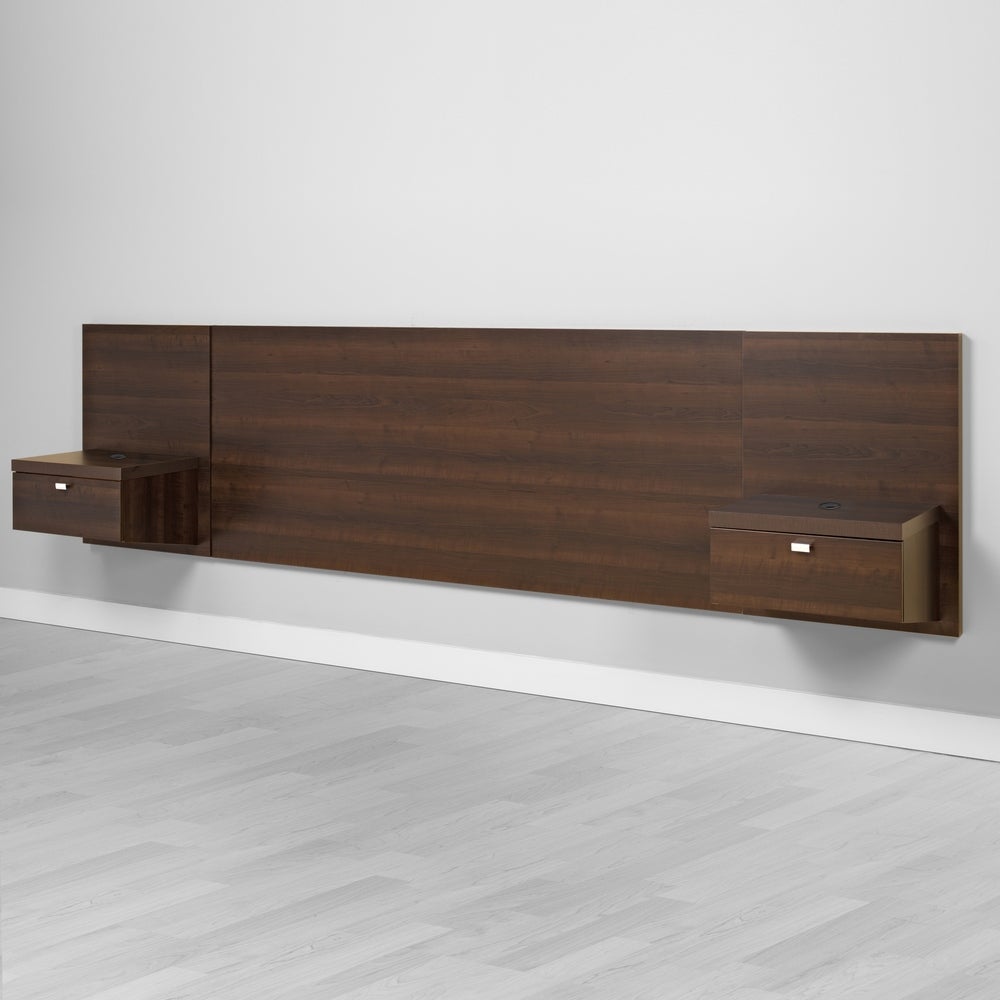 Get This Headboard Here on Overstock. – Get it in Black too!
Who doesn't love a built-in, 2-for-1 piece? This Prepac, floating headboard is focused on simplicity and functional storage. This piece lets you save on floor space while adding a modern and sophisticated style. See it here for more details.
A Slim Floor Lamp With Shelves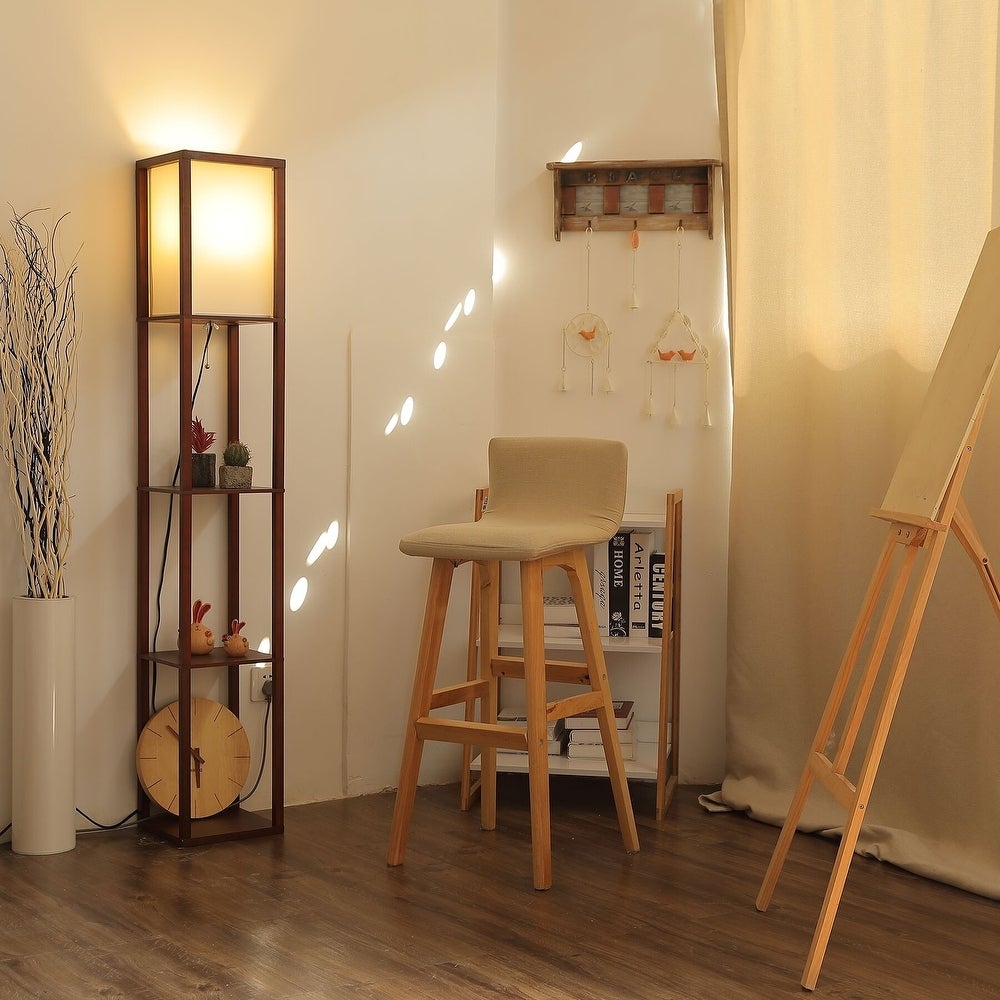 Buy It On Here on Overstock – More colors available!
While we're on the topic of dual-functionality, this floor lamp with shelves is a brilliant space-saving solution for small bedrooms. Use this lamp to store your books, alarm clock, and more. And since you don't need a table lamp you have extra space for decor accents and accessories.
Stacked Wall Mounted Boxes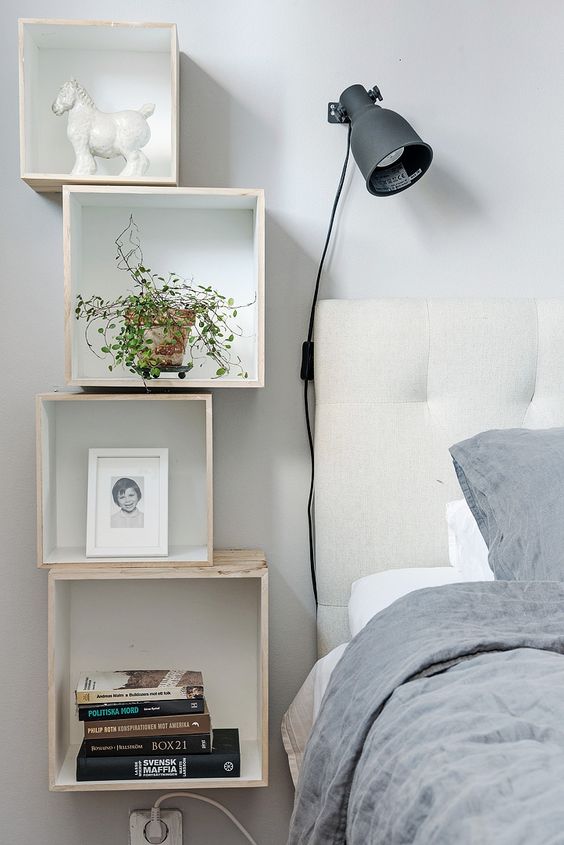 This is one of the easiest DIYs out there. Stack and mount wooden boxes to create a tiered nightstand shelf. This look is modern and playful. If you're not into the wooden boxes? Then try baskets, wine crates, or storage bins instead. I love the different sizes and positioning of the boxes in this hack. This nightstand shelf doubles as decor.
Shop These Nightstand Alternatives For Small Bedrooms:
Want More Small Bedroom Ideas? You Might Like These:
How To Decorate A Small Bedroom On A Budget
14 Modern Storage Beds To Keep Your Bedroom Clutter-Free
How To Make A Small Bedroom Look Bigger With Wallpaper?
16 Tiny Bedroom Ideas That Are BIG on Style!
18 Small Bedside Tables, That Fit Both Your Bedroom & Your Budget!
15 Earthy Bedroom Decor Ideas You Can Steal!
No Closet Space? No Problem! 5 Closet Storage Hacks For Small bedrooms
Pin This Post For Inspiration Later!