7 Easy, Reversible Ways To 'Renovate' Your Rental Bathroom.
So you want to give your rental bathroom a complete makeover but you're not sure how to do it without risking your deposit. Stick around. I've outlined 7 reversible ways to 'renovate' your rental bathroom!
If you're stuck with a dreadful rental bathroom, you're likely dealing with ugly floors, strange paint choices, or bad lighting. All things that make you ask yourself, 'what the hell was this landlord thinking?' I feel you.
Luckily there are ways to completely overhaul your rental bathroom without the damage. You can finally get that luxe marble countertop you've always wanted or those stunning teak vanity cabinets. Here's how.
**This post may contain affiliate links. If you purchase something through these links, I may receive a small commission. You will NOT pay more for products purchased through these links. I only recommend products that I love and trust! **
7 Reversible Ways To 'Renovate' Your Rental Bathroom.
1. Get Brand New Floors Without Ripping Out Tiles.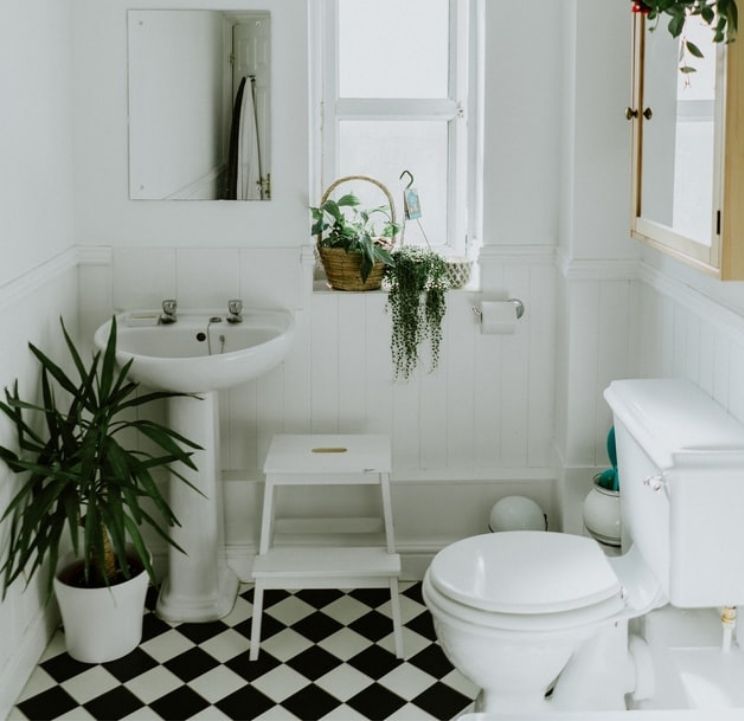 Temporary flooring is transformative! Removable tiles or plank flooring will cover the original floors and give your bathroom that newly renovated look. Peel and stick tiles are popular for changing up the look in bathrooms and are easy to install and remove. They come in different patterns, styles, and materials so finding one that suits your style is easy.
Some temporary flooring options are:
Vinyl Flooring tiles – Popular in bathrooms and kitchens is because it is resistant to moisture, steam, and humidity. These come in sheets or tiles.
Temporary Vinyl Planks – Perfect if you want that gorgeous wooden floor finish. These planks simply click into place, making installation a breeze. There are also peel-and-stick options as well.
Choose waterproof options to protect against constant moisture and heat.
An Easier (and Cheaper) Alternative For Sprucing Up Floors
These removable Foil Tile Stickers add stylish and luxurious look to your bathroom floors. If you don't want to mess around too much with your rental bathroom floors, this sticker is an affirdable & easy solution!
Available in gold and silver.
2. Upgrade Walls Without Paint
Add peel and stick wallpaper and backsplash tiles to give your walls a new look. There are many waterproof, temporary tiles that work well inside your shower or as a backsplash over your vanity. Even a bathroom accent wall using removable wallpaper will work. There are so many ways to spruce up walls without paint. Explore your options!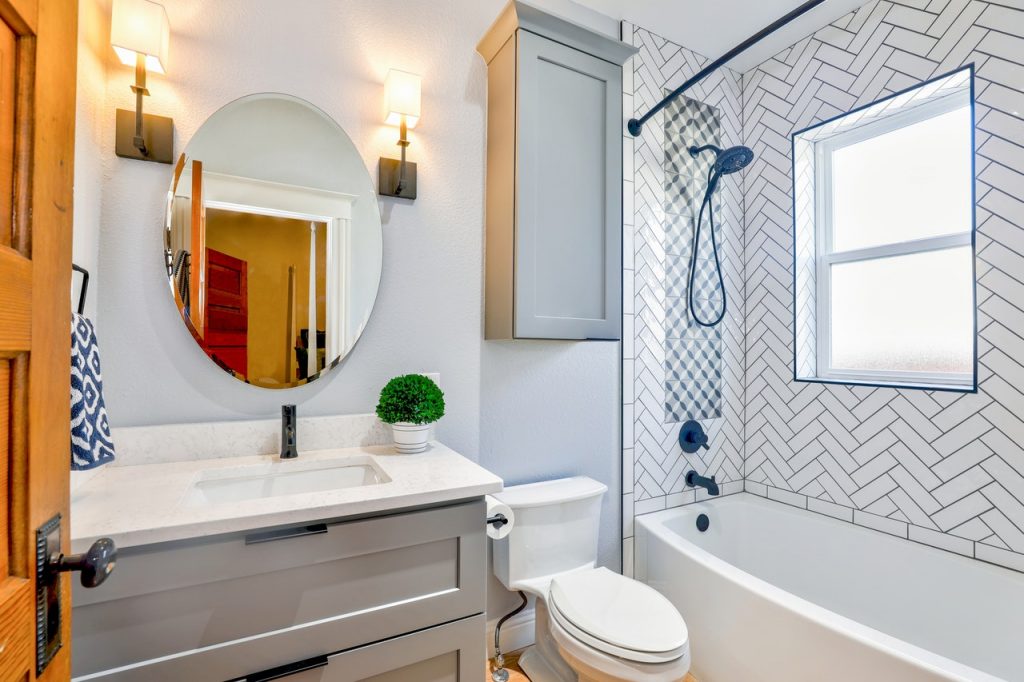 Try these:
Peel & Stick Wallpaper –Hygge & West / Chasing Paper / US Wall Decor and Photo Wall all have a ton of stunning, modern, and trendy peel & stick wallpaper options.
If you're looking for 3d wallpaper to make your small bathroom look bigger Magic Murals has some beautiful Scenic and Landscape Murals that trick create the illusion of more space.
Temporary Backsplash Tiles – Shop modern removable wall tiles Here On Amazon.
Remember to choose waterproof options. Even if you're not using it in the shower.
For tips on how to choose wallpaper patterns for small spaces, check out this guide!
3. Add A Sleek Bathroom Countertop Without Hammer Or Nails.
With the amount of removable contact paper on the market right now, it would be a real shame not to try this. You can add these waterproof self-adhesive contact paper to your bathroom countertop the same way you would your walls. The result, a fresh look with little effort and zero damage.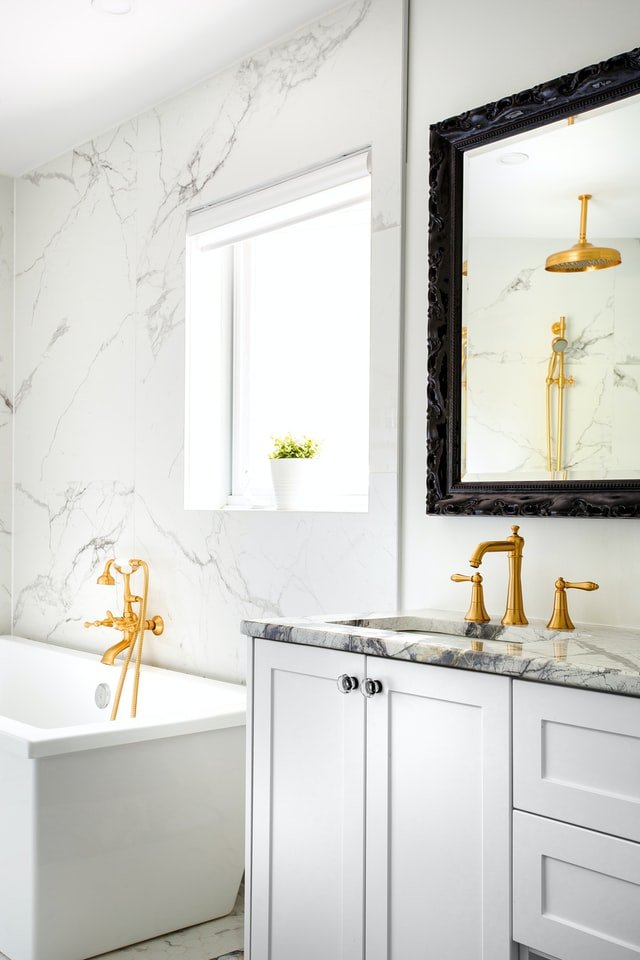 4. Give Your Bathroom Vanity A New Look, Without Paint!
Many temporary wallpaper options can also be used on furniture. I've seen so many furniture upgrades using leftover wallpaper. It's an easy and affordable hack for upgrading your bathroom vanity and cabinets. Be sure to use the waterproof options!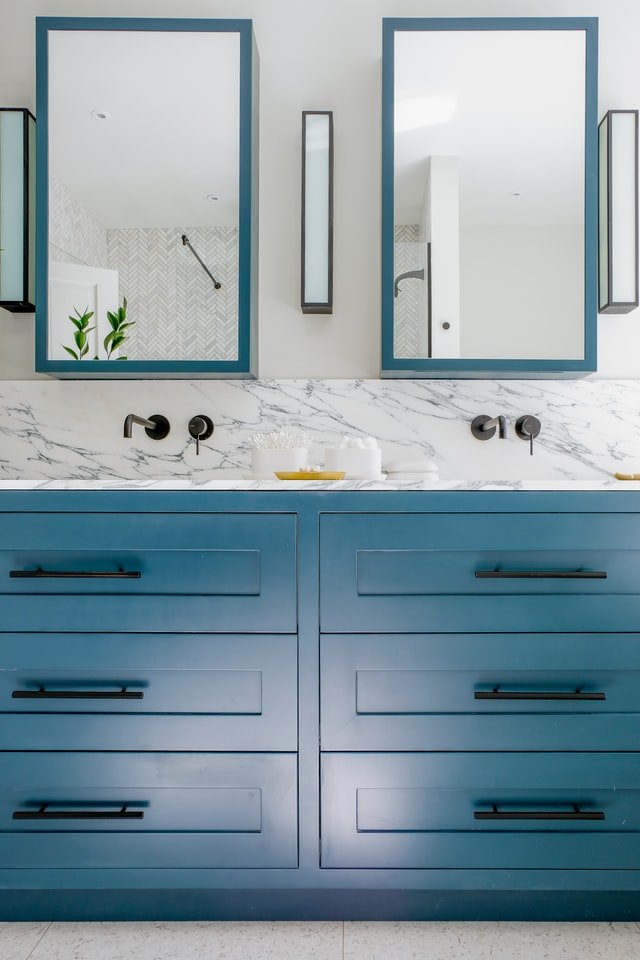 Add a bold solid color or a dramatic pattern to your bathroom cabinets to give the space a fresh, stylish look.
5. Swap Out Fixtures
Change out bathroom fixtures and hardware to create a more cohesive look to the design. Modern metallic fixtures add a little sparkle and shine to your bathroom decor, while bold, matte fixtures will create beautiful contrasts.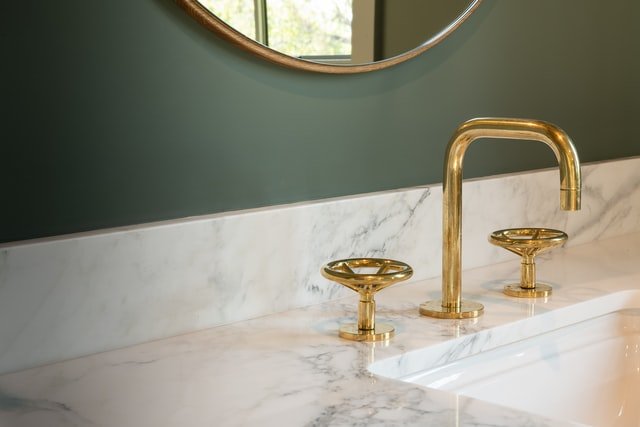 Here are a few fixtures you can easily swap out:
TIP –Remember to store all the original fixtures together in a box or bag in a safe place. This way you can easily find and replace them when you're ready to move out.
6. Bring In New Accessories
Decor accessories will add those beautiful finishing touches to your new bathroom. This is where your personality can really shine.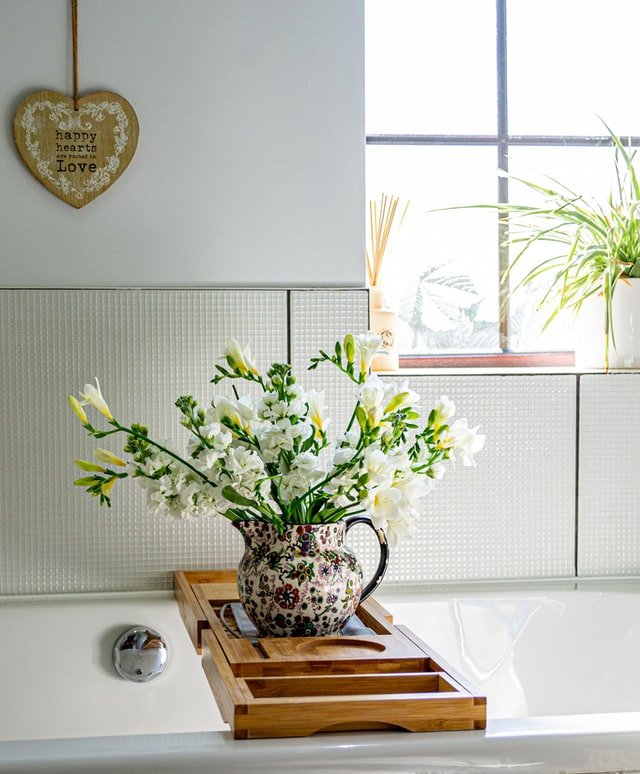 Some Accessories That Make A Huge Impact Are:
Decorative Mirrors – Check out these 20 Stylish Mirrors With Storage! Many of them are perfect for bathrooms!
A Bold or Unique Shower Curtain – Spring is right around the corner and Society 6 has some beautiful floral shower curtains, designed by artists and illustrators. You can even get matching bath mats and hand towels!
Plants – The trailing Philodendron Brasil the Hedgehog Aloe, and the Monstera are perfect for bathrooms because they love humidity and can tolerate low lighting. See more plant options for bathrooms here at Bloomscape! If you love large, lush plants then you'll love This Roundup!
Artwork– But Be Careful Here! Heat and moisture can destroy some photographs, paintings, and prints over time. Never display artwork that's valuable or irreplaceable in the bathroom. Maybe try a framed printable from Etsy or a pretty picture from the dollar store. Or create your own wall art at Zazzle.
Bathroom Mat – Society 6 has a ton of unique and fun bathroom mats. Amazon also has a lot of options for absorbent, non-slip bath mats in a variety of styles and colors.
7. Encorporate Stylish Storage
Bathroom storage is essential but it doesn't have to be boring. Decorative storage adds charm and functionality to any space and bathrooms are no different. Bring in some pretty baskets, decorative shelves, and creative storage.
If you're short on space, stick to vertical, slim, or wall-mounted storage to maximize space.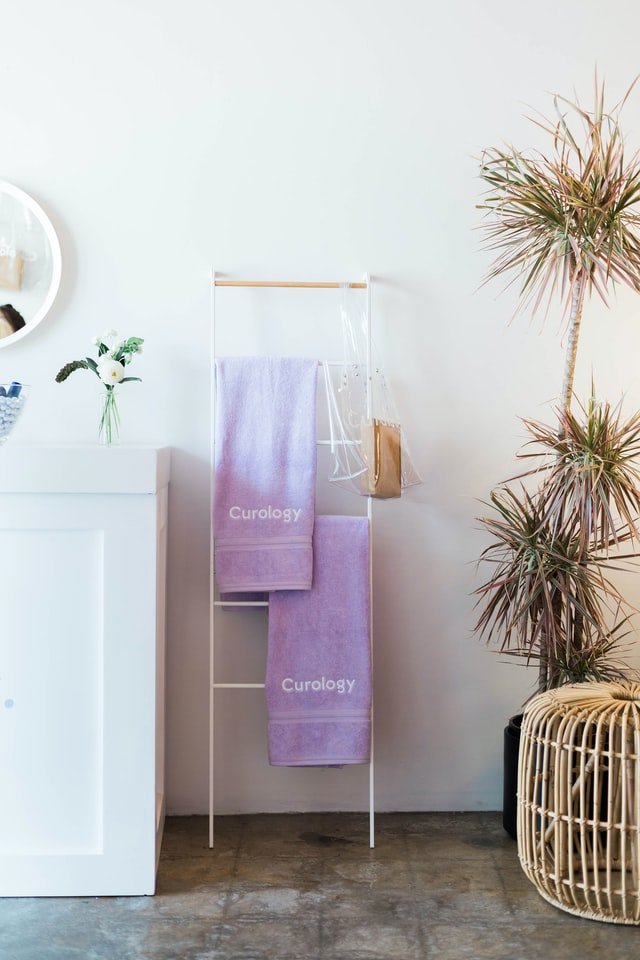 Try These:
Decorative Shelves, – If you already have shelves installed in your rental bathroom, simply swap them out for more stylish ones. I recently created a roundup of 23 Decorative Wall Shelves For More Beautiful Storage. Many of them would be perfect for bathrooms.
Slim Storage – Narrow, free-standing cabinets, side-of-the-toilet cabinets (Amazon) etc. will provide the extra storage you need without occupying too much floor space.
Over-The-Toilet Storage – This can be an over-the-toilet unit (Amazon) or a few wall shelves mounted above the toilet.
Ladder Towel Rack – Ladder towel racks (Amazon) are a popular piece for storing towels. They come in a variety of styles and colors and materials. Best of all they occupy very little space.
Shower Shelves – Try a space-saving corner shower shelf for storing all your shower products. You can try a free-standing waterproof shelf to avoid drilling into the tile.
Over-The-Door Storage – Make good use of that space behind your door with an over-the-door storage unit (Amazon). It's a creative way to avoid clutter and keep things off your bathroom counter.
There you have it! 7 Easy, Reversible Ways To 'Renovate' Your Rental Bathroom.
Decorating a rental bathroom can be frustrating when you're faced with certain design restrictions. But with a little creativity and resourcefulness, you can make your rental feel a little more like home.
Don't forget to use the many resources available online. There are tons of youtube videos on how to apply contact paper to cabinets or change out the hardware.
Check out my roundup of "35 Small Bathroom Decor Ideas – In 5 Design Styles" for inspiration or browse Pinterest for ideas (follow me while you're there!) You'll realize that 'renovating' your rental is a lot easier than you think.
Remember to store all the original hardware and fixtures together, in a safe place. This is where the 'reversible' part comes in!
Have fun decorating!! Whatever you create, it's going to be beautiful!
Want More Bathroom Ideas?
You May Also Like:
PIN THIS POST FOR LATER!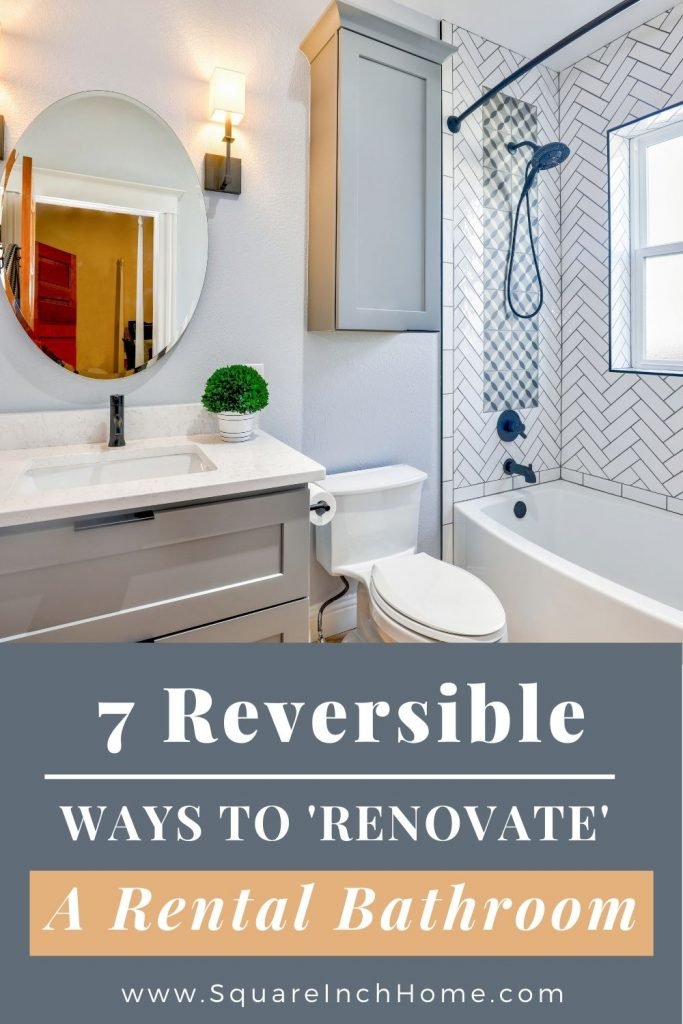 Latest On The Blog!