13 Handbag Storage Ideas That Will Save You A Ton Of Space!
When you've got a small bedroom with a tiny closet (or no closet…yikes!) a lack of storage is a constant and annoying problem. Especially when you have a growing handbag collection that amplifies the problem.
If getting rid of a few bags is out of the question, then you need to start getting creative with your handbag storage. REALLY creative! The good news is there are a ton of solutions for you to try. Check these out!
**This post may contain affiliate links. If you make a purchase through these links, I may receive a small commission at no extra cost to you. See the full disclosure here.**
13 Handbag Storage Ideas For Small Bedrooms!
1. Pegboard Handbag Storage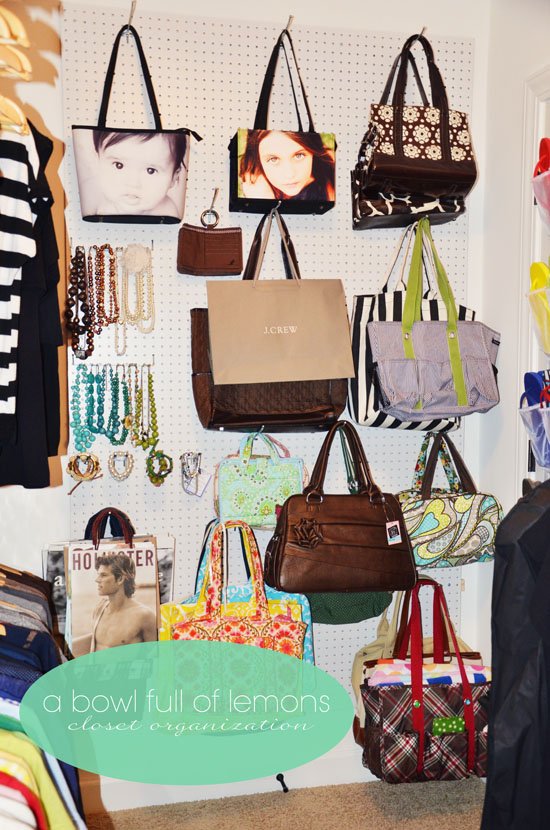 Pegboards are such a great option for vertical storage. They can literally be used in any part of the house, including the garage. Not only are they functional but they can be decorated to look great too! Their versatility is what makes them so popular. Recreate this handbag pegboard storage with these Pegboards & hooks from Amazon). This is great for storing other closet items too!
Space-Saving Hack: Use larger hooks (Amazon)so you can store multiple bags on one hook! A Bowl Full Of Lemons does it so beautifully.
2. Repurpose A Wine Rack For Storing Clutches
When your wine collection has outgrown your wine rack, repurpose it in your bedroom pr closet to house your purses. Don't own a wall-mounted wine rack to repurpose? I found an alternative here on Amazon.
3. A 5-Compartment Hanging Organizer Tray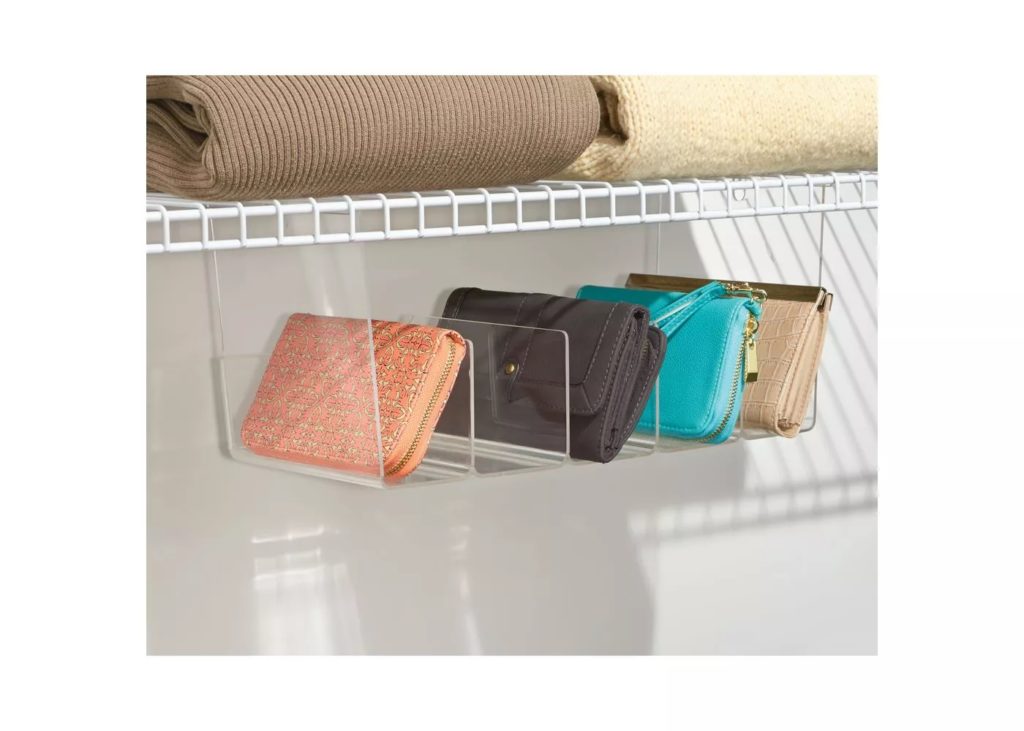 This clear hanging organizer from Amazon has 5 compartments for storing all your clutches and wallets, with enough room for 2 per compartment. A great way to utilize unused space in your closet. And since it's transparent, it doesn't create visual clutter!
Some Closet Handbag Storage Picks:
4. Adjustable Over-The-Door Handbag Storage Units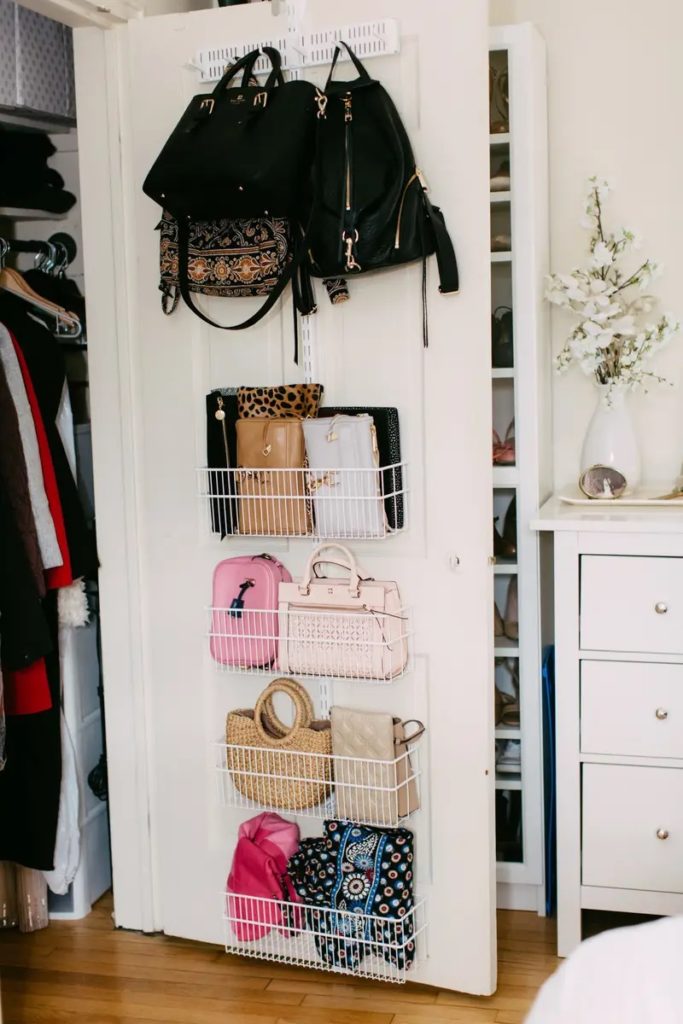 Source: Wellesley And King
When you think about handbag storage ideas, the behind-the-door solution is pretty popular. For good reason too. It's such a great way to utilize and save space. Hang individual metal or mesh baskets behind your closet door or on your bedroom wall, using command hooks. Either way, this method will help you save a ton of space and keep things organized. Get one of these ClosetMaid Adjustable Over-The-Door Hanging Organizers Here at Overstock
5. Hanging Pocket Handbag Organizers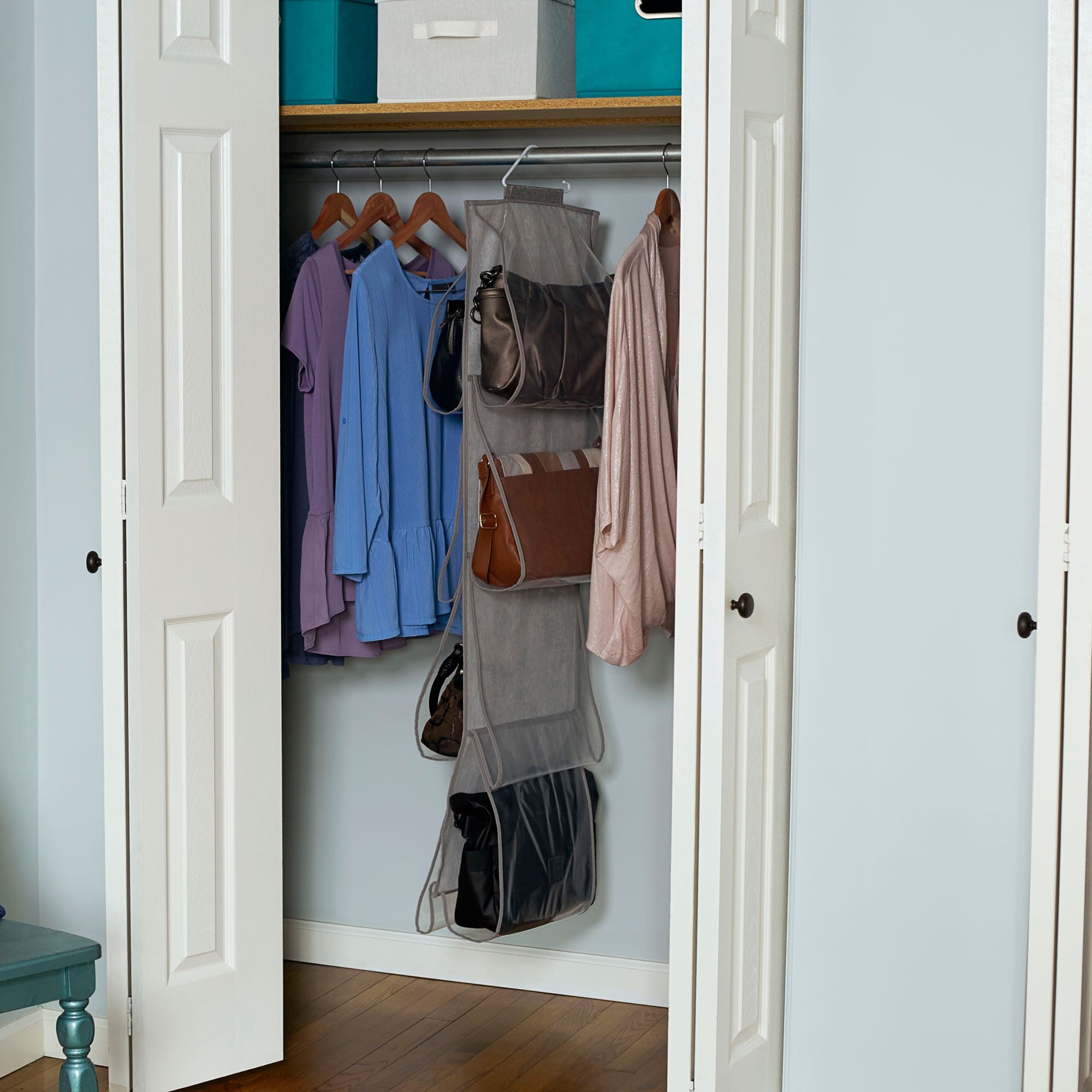 Get this Hanging Handbag Posket Organizer Here at Overstock.
If you're looking for something that's compact and tucked away, then these closet handbag organizers are a great option. Get clear one like these here. Simply hang them inside your closet or clothing rack out of sight but within reach. They come in different sizes, colors, and shapes. Check out these closet handbag organizers from Amazon.
6. Create A Pretty Display Wall With Your Handbags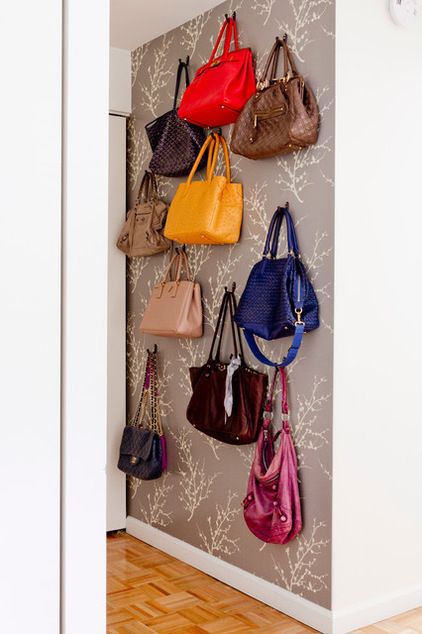 Get double duty function out of this one. Storage & Decor! Pick a wall in your closet or bedroom and hang your bags vertically. This is a great option for larger, bulkier bags like totes and overnight bags. Use decorative hooks to add to your decor.
7. File Organizers For Storing Clutches & Smaller Purses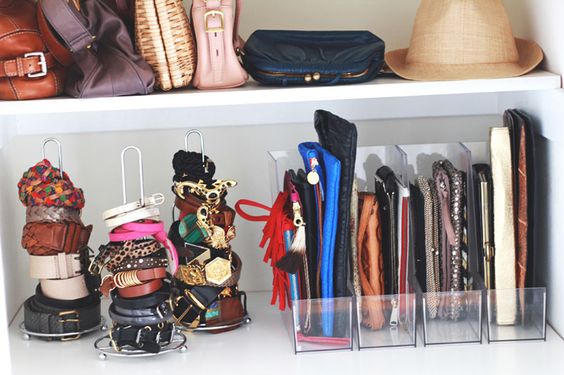 Of all the handbag storage ideas, this is one of my favorites! It's clever and often under-utilized. Get creative with file organizers. Use it to store smaller bags, clutches, and wallets. I'm always partial to clear, transparent storage. You can easily see the contents, and more importantly, it helps to minimize visual clutter. Plus, if you own a colorful collection of clutches, these acrylic organizers will display them beautifully.
I found a good match for these acrylic file organizers on Amazon.
8. Multiple Stylish Wall Hooks
Add multiple decorative hooks for storing all your hanging purses. Found these pretty leaf wall hooks from Amazon! See more stylish wall hooks Here!
9. Acrylic Purse & Handbag Storage Box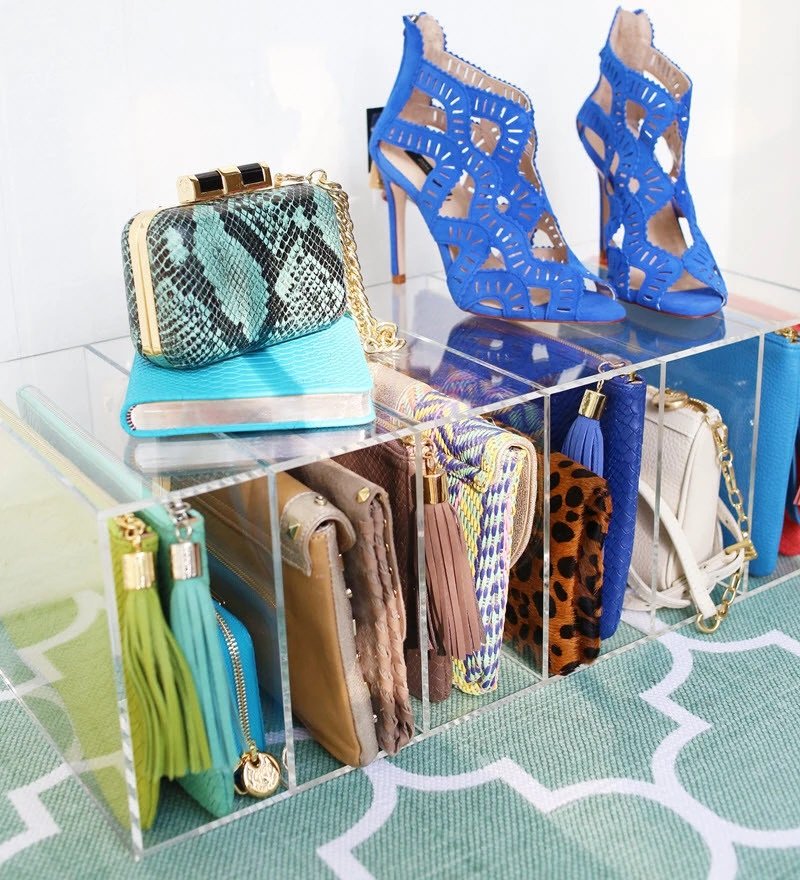 Get this 6 compartment acrylic handbag organizer here on Overstock
Place them in your closet/floating shelf. Stack them on top of each other to create 2-tiered shelves. Or try this ClosetMaid Closet Cube Organizer+ Shelf on Amazon.
Shop more cubby storage for your purses and handbags Here: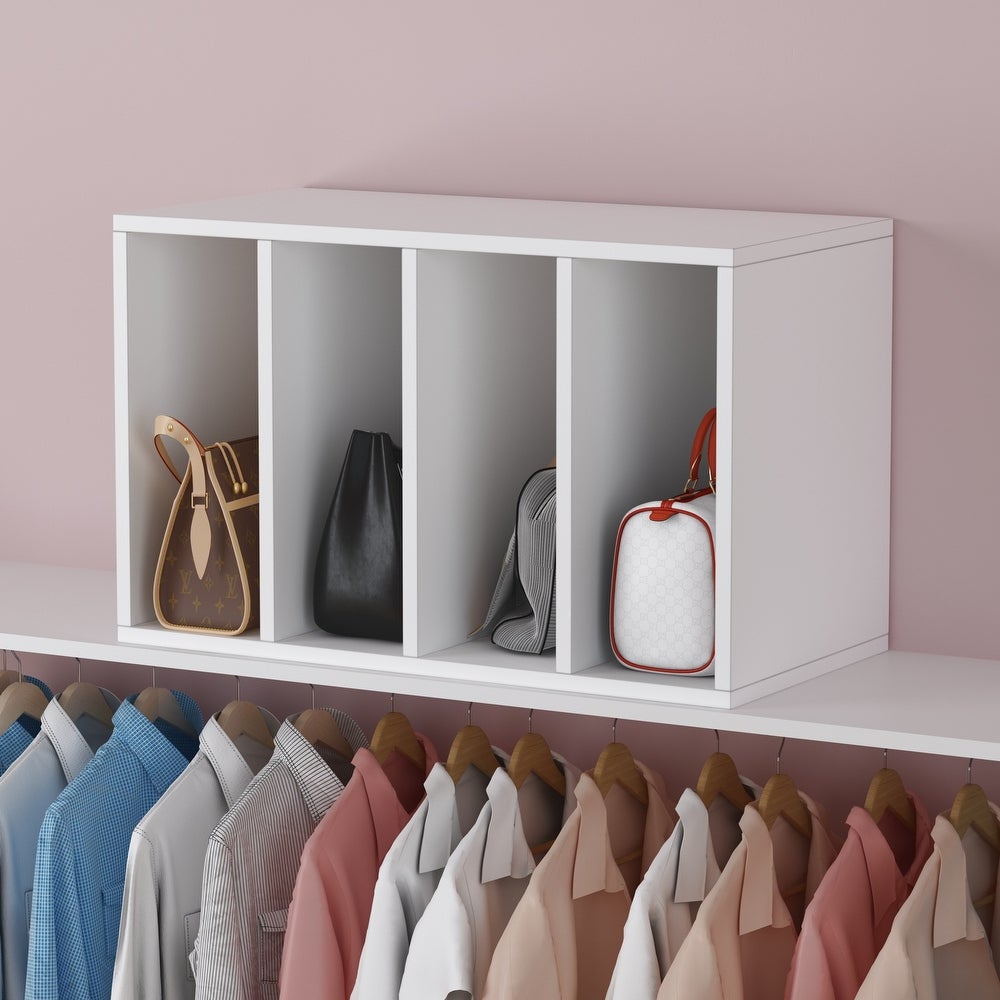 White Purse Organizer for Closet
Available in other colors
Acrylic File Organizer For Clutch Purse
Plastic Purse Organizer
10. Store & Display Handbags On A Stylish Free-Standing Shelf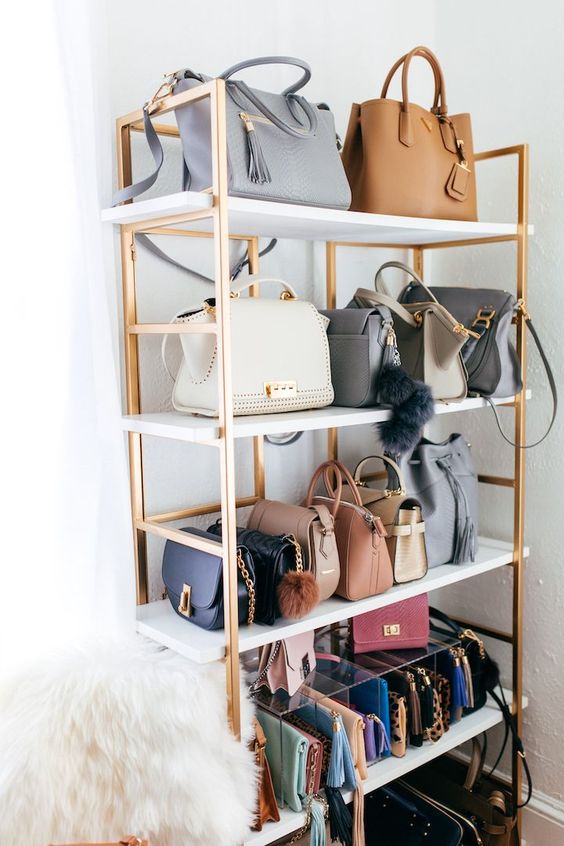 A list of handbag storage ideas is not complete without the bookshelf suggestion. Because, c'mon, it's just an easy option! When your bag collection is larger than your actual closet. Dedicate an entire shelving unit for your bags (If you have the extra space, of course) You can use a standard bookshelf or stylish display shelves like this gold and white beauty. These shelves are great for storing shoes too!
Get The Look With These Picks!
11. Use Floating Shelves To Store Handbags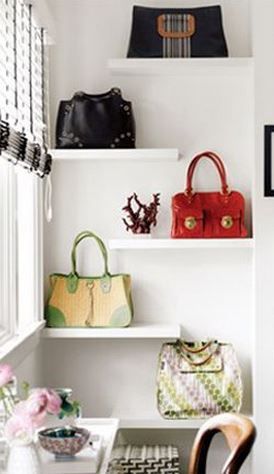 Get designer store vibes with this one. Put your handbags on display with floating shelves. A perfect solution for when you're short on floor space. Use larger floating shelves for maximum space. Try these 8-Pack shelf dividers from Amazon to keep things organized.
12. Handbag Storage Bins/Baskets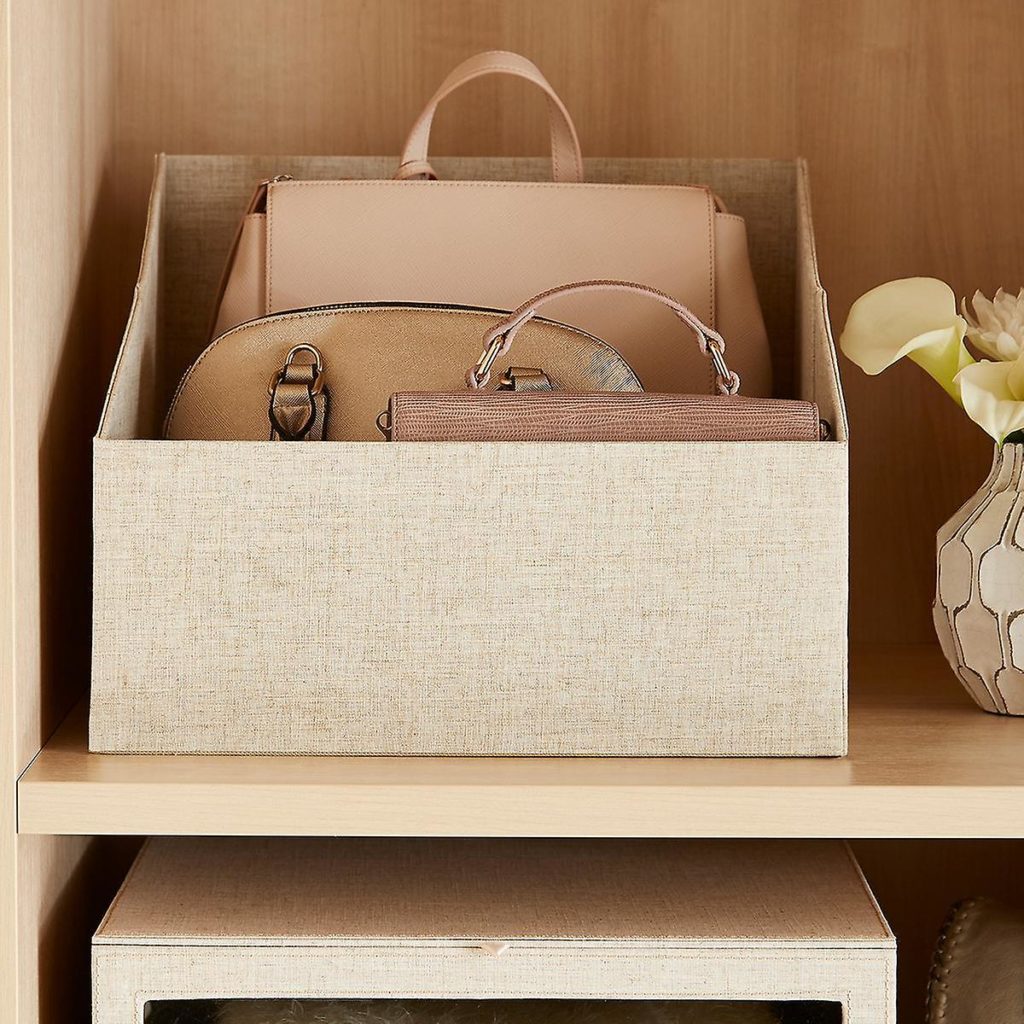 Get a BeigeLinen Purse Storage Bin like this on Amazon.
Matching storage baskets or bins are a great way to create a cohesive look throughout your closet space. Try grouping bags using these bins – 1 for clutches, 1 for wallets, and one for everyday bags.
13. Use A Horizontal Wall Rack + S- Shape Hooks To Hang Your Bags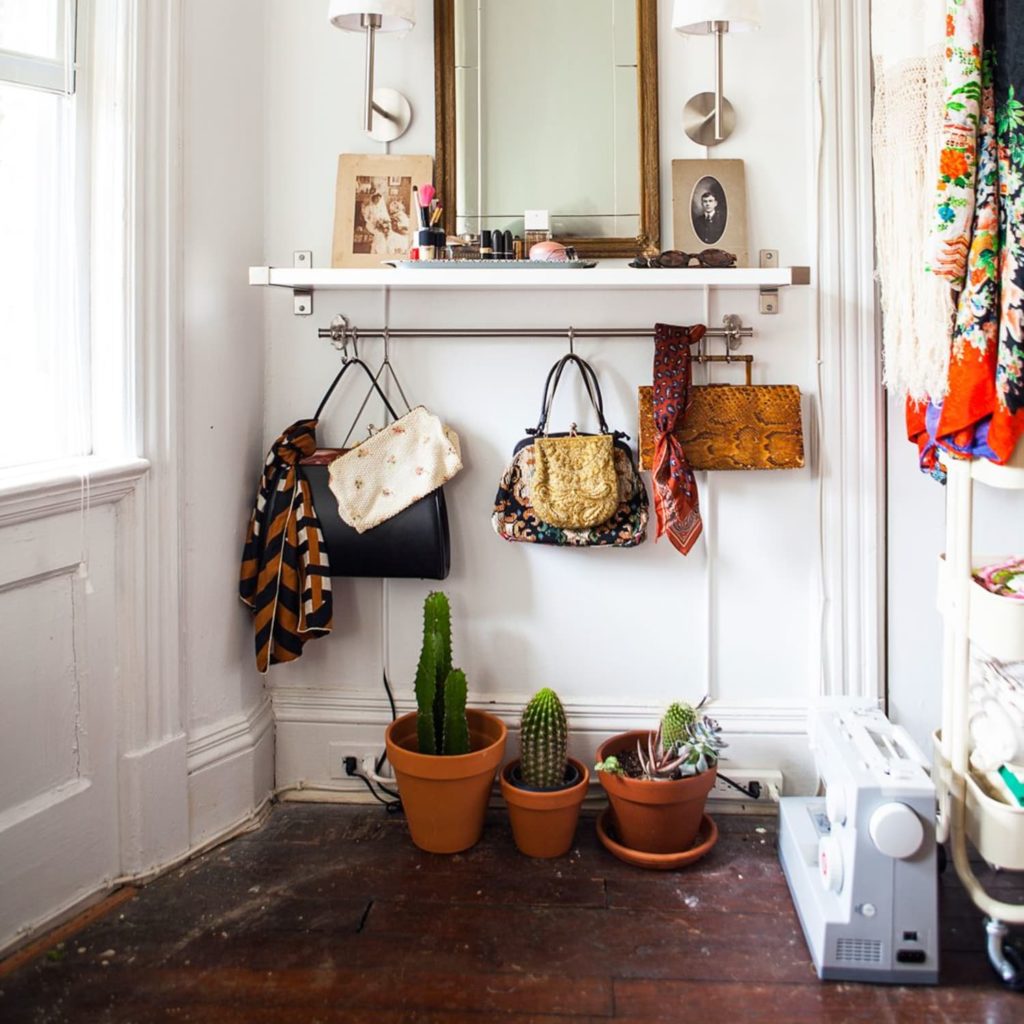 Utilize wall space with mounted bars and s-shapes hooks. Or install a stylish modern wall/coat rack with hooks. Add multiple rows as needed. Check out some modern wall racks here on Amazon.
There are so many options and ideas for storage when it comes to small space. With little ingenuity and the right products, you'll be on your way to creating the perfect home for all your handbags! Don't forget to keep it stylish. I mean, just because you live in a small space doesn't mean you have to skimp on style and personality. Yes, storage solutions are supposed to be practical, but they can also be pretty!
Want More Storage Ideas?
5 Closet Storage Hacks For Small Bedrooms
23 Inspiring Makeshift Closets That Will Inspire
Under-Bed Storage You Won't Want to Hide
Storage Finds That Double As Decor
20 Gorgeous Mirrors With Shelves & Hooks
PIN THIS FOR LATER!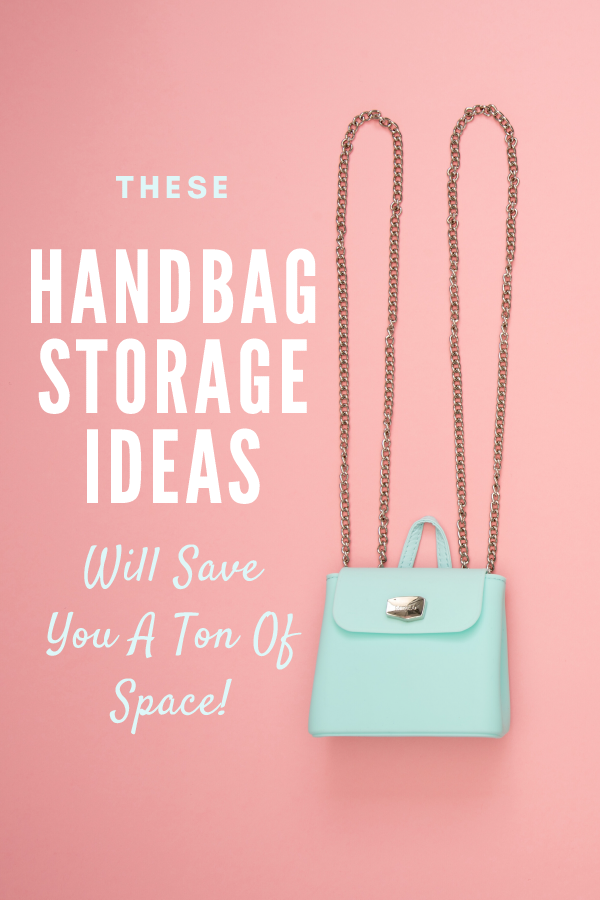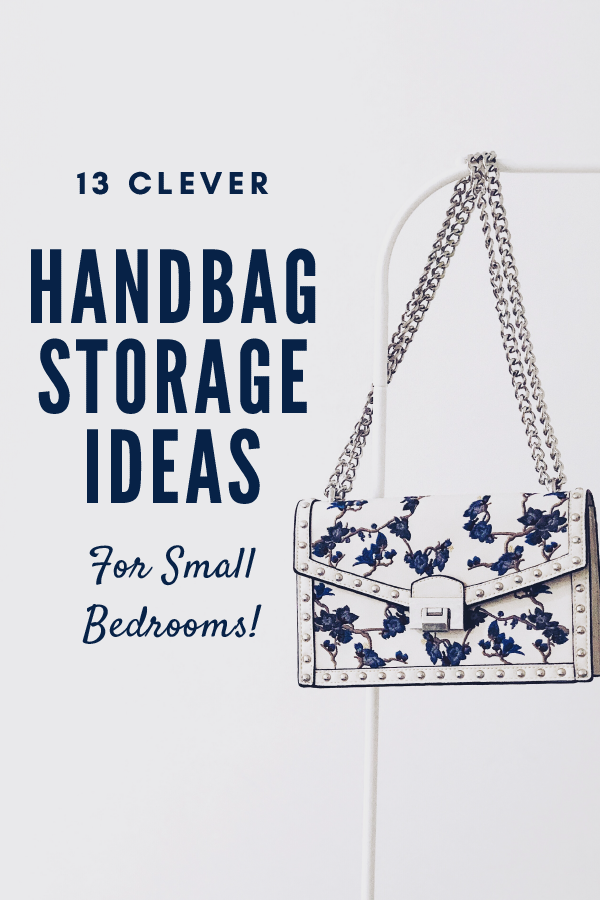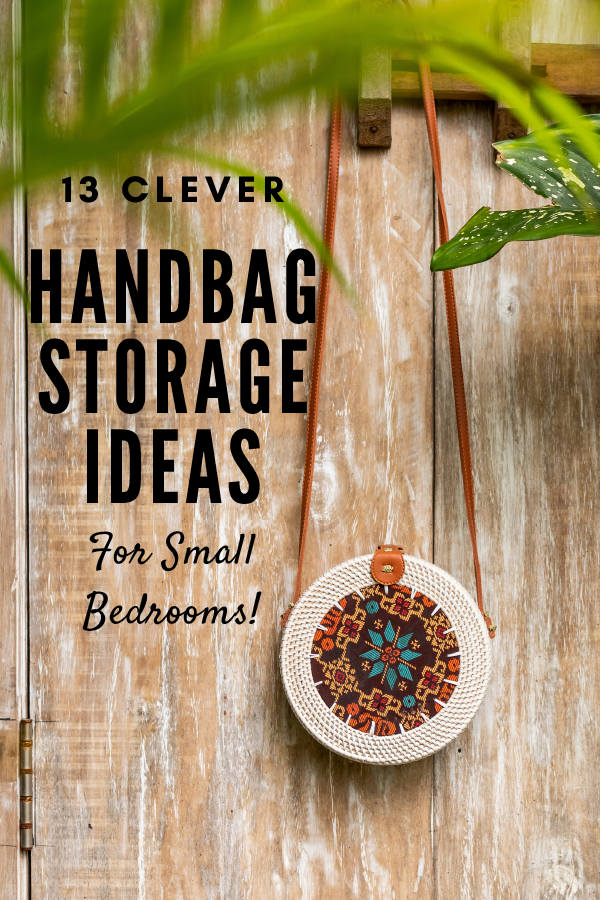 Don't Miss The Latest Posts!