How To Mix And Match Rugs In A Studio Apartment?
Studio apartments are often tricky to decorate, because of it's open concept layout. There are no walls to separate rooms and decor styles. Decorating has to be strategic in order to create a cohesive look throughout the entire space. Rugs can help you connect 'Rooms' in your studio without disrupting the design flow. Choosing the right rugs is the tricky part. Here are some tips on how to mix and match rugs in a studio apartment.
FYI, rugs are also a clever way to divide a studio apartment!
Stick around till the end for a roundup of stylish, no-hassle rugs!
Pin This For Later!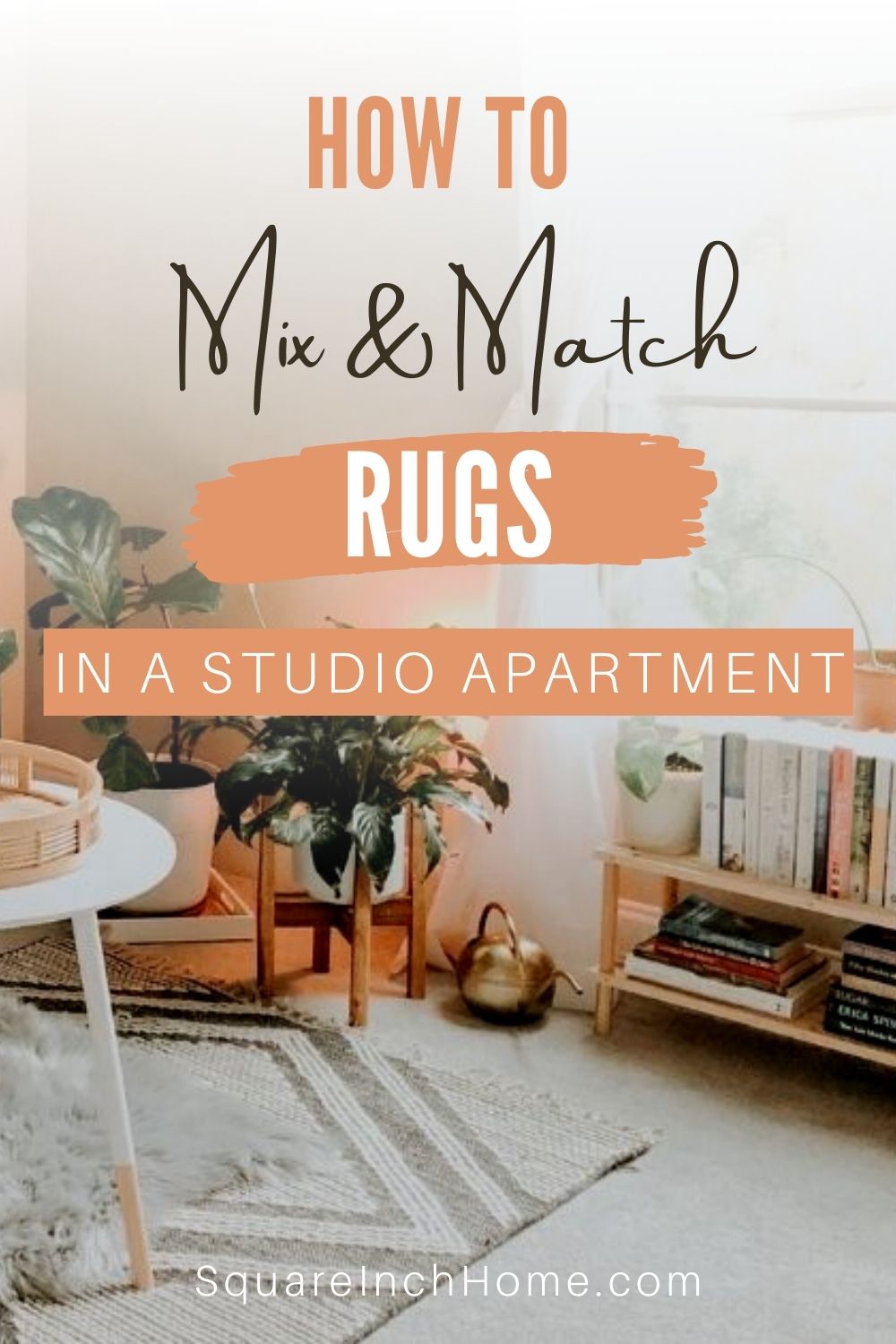 **This page may contain affiliate links. If you purchase something through these links, I may receive a small commission. You will NOT pay more for products purchased through these links. I only recommend products that I love and trust! **
How To Mix And Match Rugs In A Studio Apartment?
The Easy Solution First: Same Rug But In Different Sizes.
If you want to keep things really simple just get two or more of the same style rug and vary the size or shape accordingly. Get an area rug for your living room, a matching runner rug for the kitchen, or a round area rug under your dining table. Easy-peasy!
Many rug retailers will often carry multiple sizes and orientations in the same style. Ruggable is one of them! They offer up to 9 sizes, including round rugs. Plus, they're Stain-Resistant & Machine Washable! If you want easy, no-hassle rugs, Ruggable is definitely worth checking out.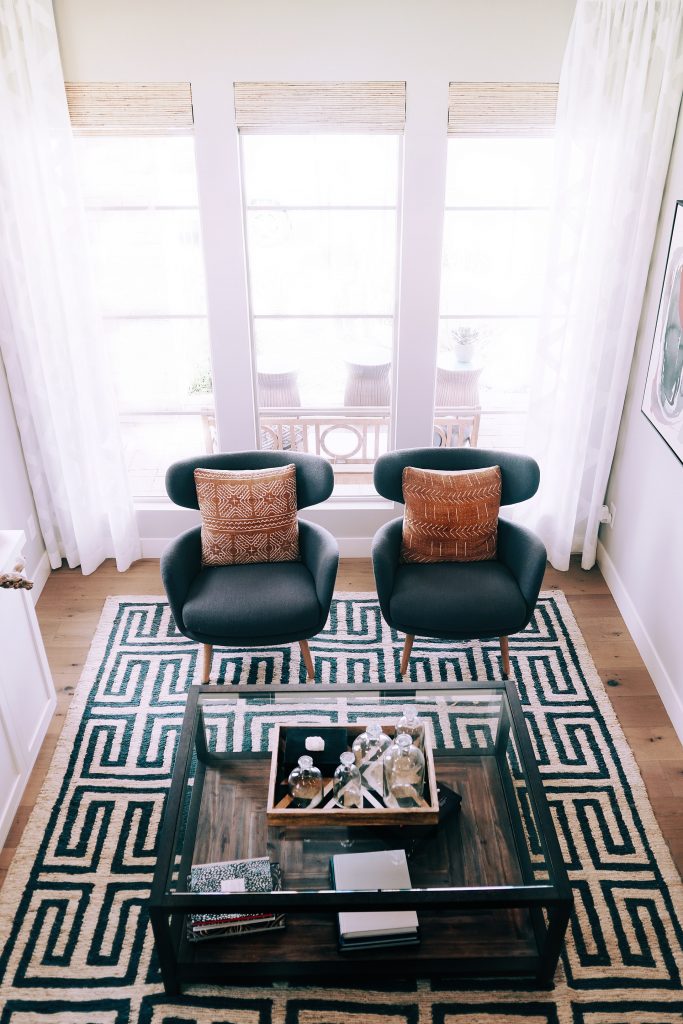 Pick A Dominant Color
Now for a little effort. When choosing rugs for your studio, be sure that they all have the same dominant color. If you already own a rug and looking for another, identify the dominant color in that rug and use that as your guide for choosing a new one. They don't have to match exactly. As long as they share one (or two) unifying color/s, they'll do well to complement each other.
Take these two rugs for example, while they have a different pattern, they share a common dominant color, Red. There's some blue in one rug but it doesn't clash with the other. it just works!
Oriental rugs are surprisingly easy to mix and match. This is because they just need to share one or two common colors. Like the yellow and red in these two rugs.
Related Posts:
Stick To The Same Tone 
It's safe to combine different colored rugs as long as they are the same tone (cool/warm). Have a cool-toned rug? make sure the new one is on the cooler side too, and vice versa. This is one way to ensure that rugs complement each other.
Quick Tip: Pairing is always easier when one rug is a neutral color.
These two rugs are different styles & patterns, but both share the same cool tones.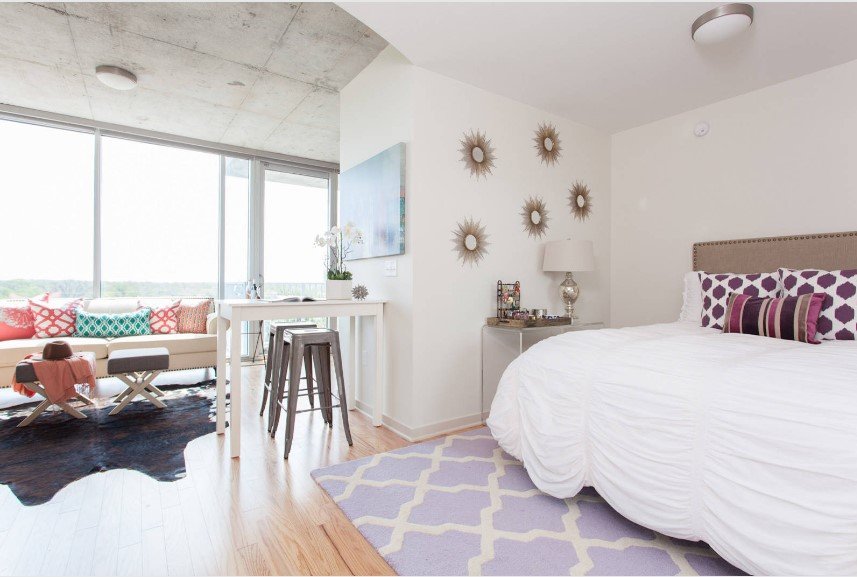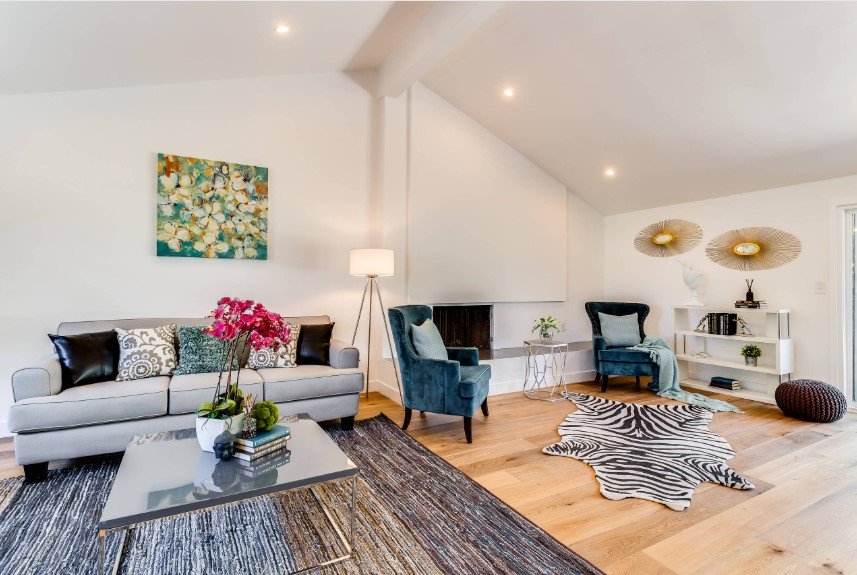 Cool Tones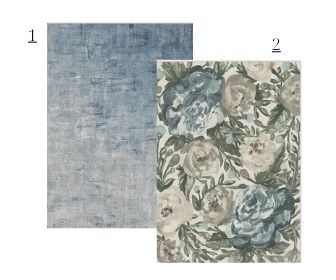 Neutral / Warm Tones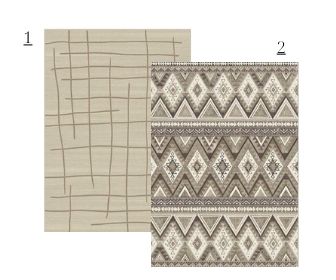 Related Posts:
Different Pattern & Texture In the Same Color Palette
Mixing patterns with textures work too. You don't have to settle for one type of rug for fear that they may clash. Mixing a textured rug with patterned one work surprisingly well when they're within the same color palette.
Remember: You can vary the size and orientation of these rugs. Too many large rugs in a small space can look cluttered. Play with different sizes and shapes.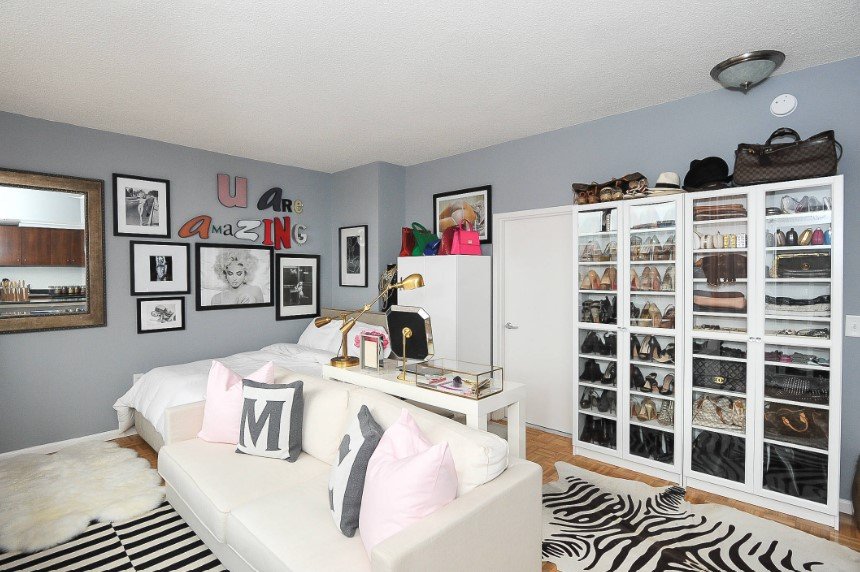 See more from this fashionista's 500 SQft NY Studio Makeover
Try The Layered Look
Layering rugs are all the rave these days and can add a nice textural element to your room. You can choose to keep it minimal or go all out with this technique.
A classic layering style normally has a natural fiber rug on the bottom in a bigger size with a patterned rug in a smaller size on top. This is a great option for those of us who love traditional patterned rugs but are interested in shaking things up a little bit.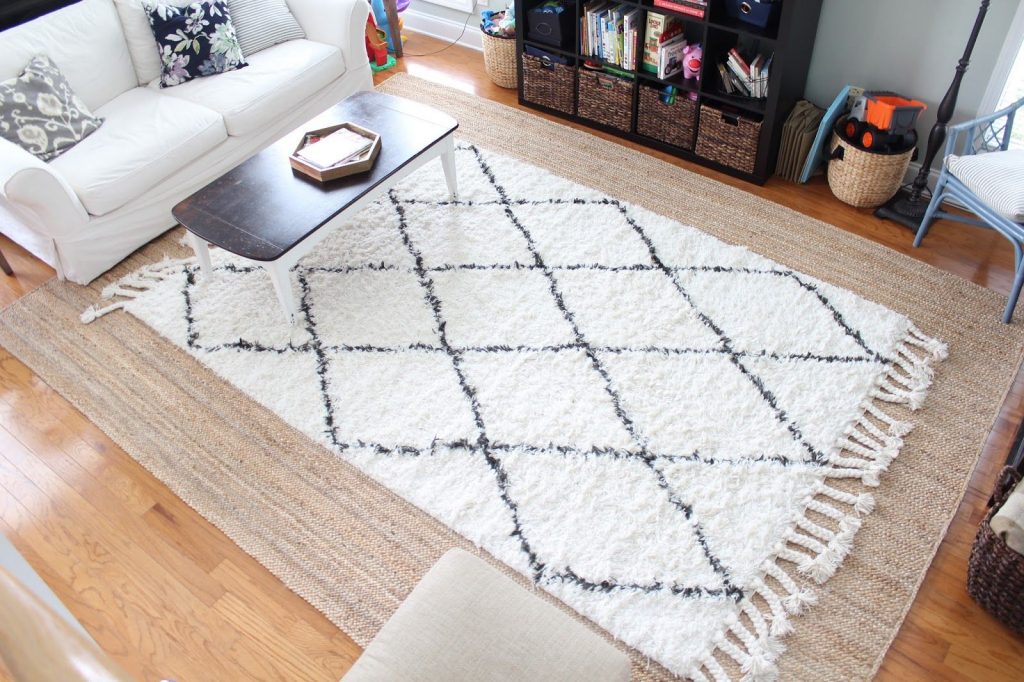 Get This Look with these machine-washable rugs from Ruggable:
On the flip side, a patterned rug at the bottom with a smaller shag rug on top works well too. The contrast in textures is always fun, but don't be afraid to layer two patterned rugs. Again, stick to the same color palette and tone when doing so.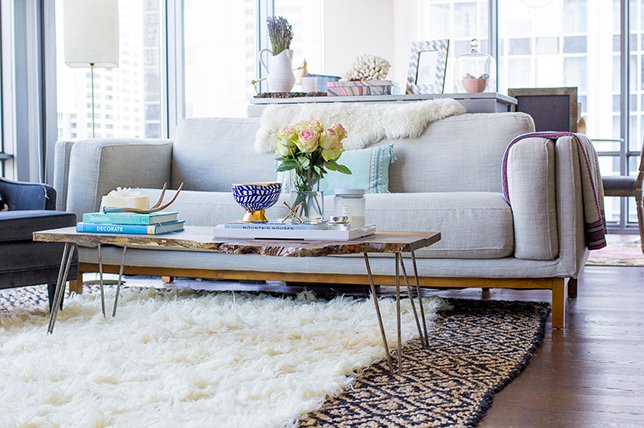 Go Bold Or Go Home! I've always loved the layered rug look on the set of the popular tv show Big Bang Theory. The living room features a large blue rug underneath a patterned tribal traditional on top. Giving me major boho vibes!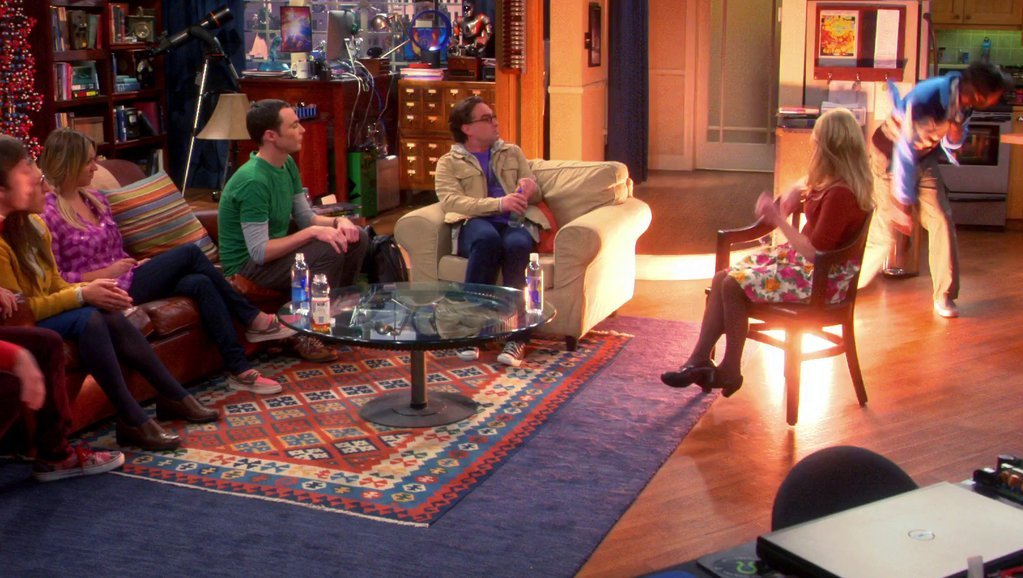 Want More Apartment Decor Ideas?
Or Browse The Decor Section!
Don't Miss The Latest Posts!
PIN IT FOR LATER!