Mood Board Monday: Cozy California Living Room (Small-Space Style!)
Happy Monday! I'm starting a new series today.
Lately, I've been looking for a creative outlet within the decor niche and I think I found one. Mood Boards! (or Design Boards. I use them interchangeably). I've always loved creating mood boards. It's so much fun playing around with furniture, color schemes, and design styles.
Lately, I've been so focused on trying to create useful and helpful content that my mood board ideas just get lost in my sea of to-dos. I feel like I should be creating more of it. You know, like a "create more of what you love" type of thing.
So I'm going to make it a weekly thing! Every Monday I'll create a new mood board in a new style, featuring small-space options (of course).
This way I get my creative fix, and you get inspiration plus a chance to discover new and stylish products for your home. Win, Win Right!
**This post may contain affiliate links. If you purchase something through these links, I may receive a small commission. You will NOT pay more for products purchased through these links. I only recommend products that I love and trust! **
Cozy California Living Room Decor – Small Space Style!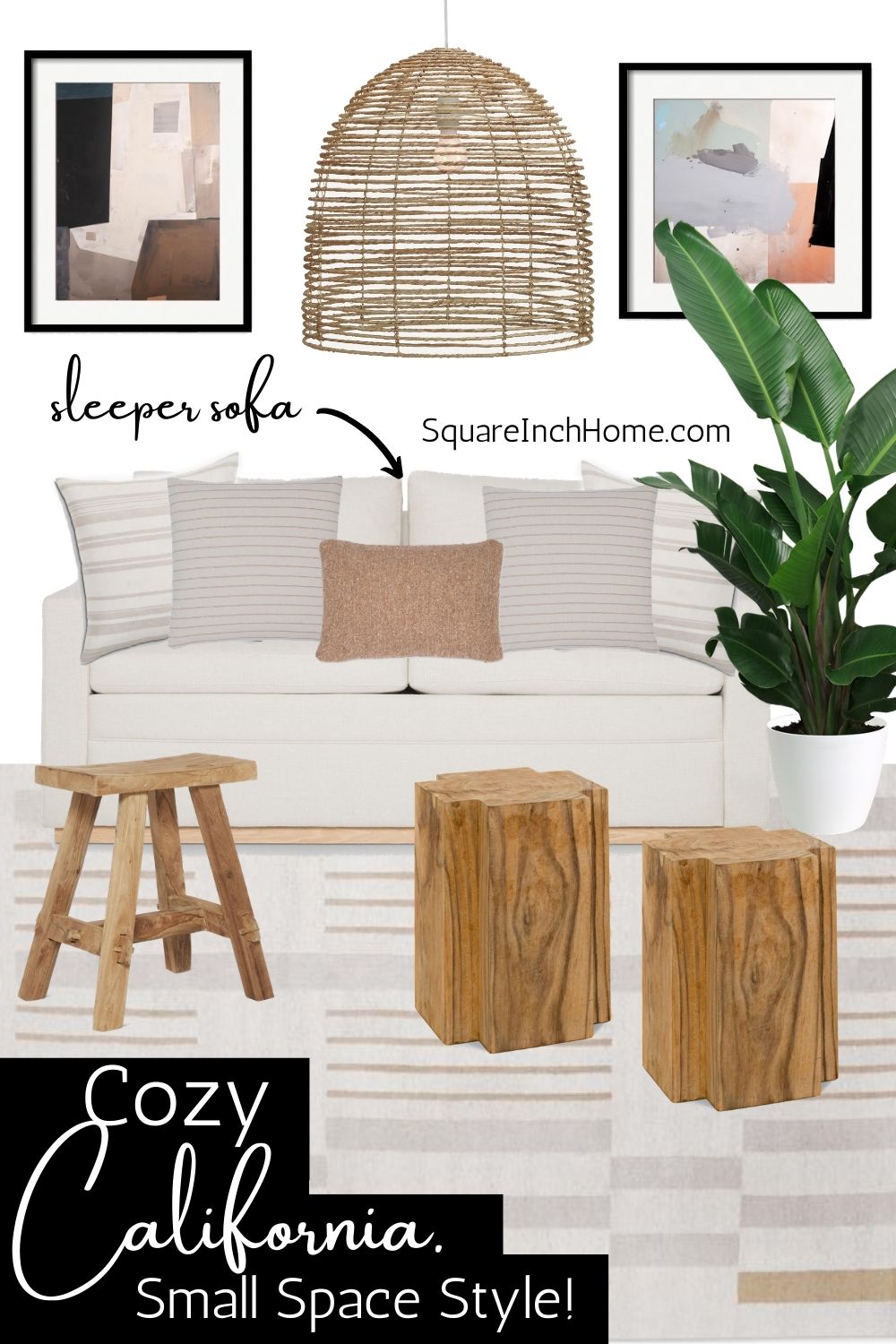 Pin It For Later!
To kick off the series, a Cozy California Living Room! This look features natural wooden and rattan elements, warm, neutral tones mixed with cooler hues.
California style is loved by more than just those who live by the beach. And for good reason. All those natural wovens, earth tones, crisp white linens and a "go with the flow" sensibility. It doesn't matter if you're miles away from the shore, you can take inspiration from this laid-back aesthetic no matter where you live.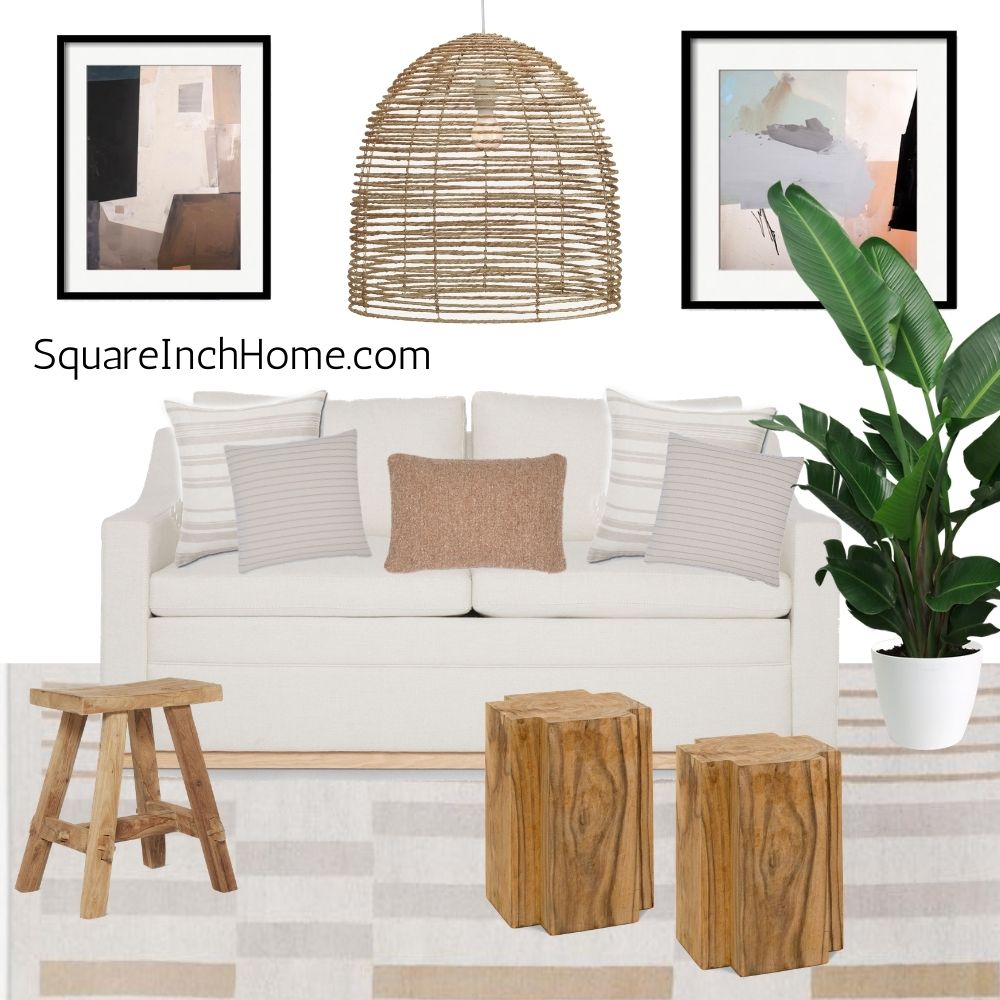 For furniture, a stunning small-scale linen sleeper sofa to help you turn your living room into a stylish guest bedroom. Plus rustic wooden, multipurpose pieces. All Items in this look were curated from Lulu & Georgia. They have the most stunning natural wooden furniture and neutral rugs! Take 10% off your first purchase when you sign up for Lulu & Georgia emails!
California Decor- Small Space Style!
I wanted to include small-space options for this look –After all, this is a blog about small-space decorating. This meant finding pieces that were smaller in scale as well as multipurpose.
The linen sleeper sofa makes this space multifunctional without overcrowding. You can easily turn this living room into a cozy guest bedroom.
The Two wooden teak side tables can be used as coffee tables or even stools when you need extra seating. The solid wood stool on the side doubles as a side table too, as its surface is flat enough to hold 2-3 books, accessories, or even a small lamp.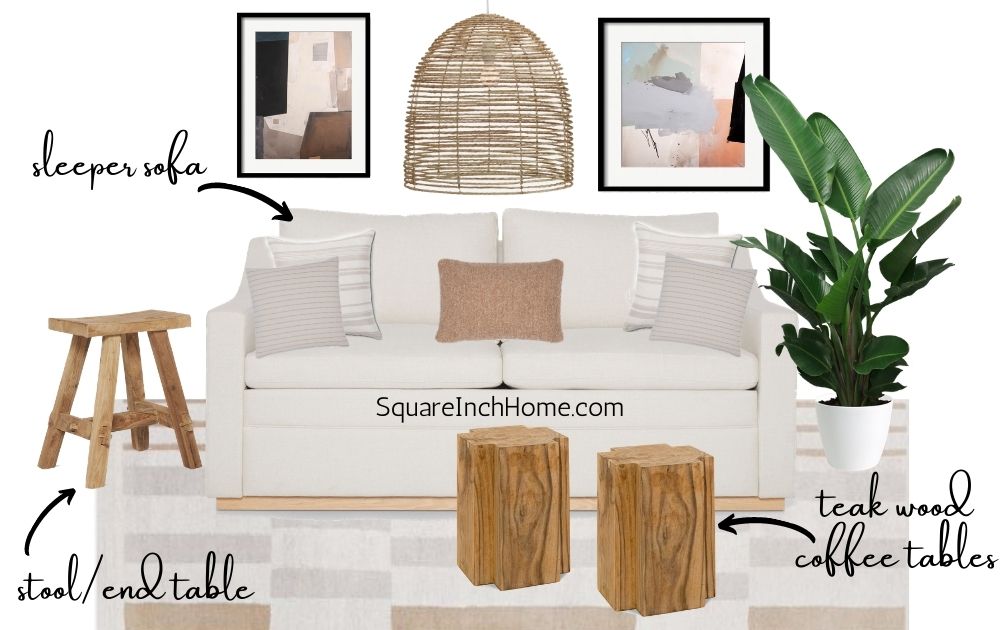 As for the rug, I played around with a few other colors from Lulu & Georgia's collection. The Safi rug blends nicely with the look, picking up on both cool and warm tones in the wall art and pillows. Lulu & Georgia has some of the most stunning rugs I've seen online. They are tastefully curated and always have raving reviews.
The artwork was added at the end. I wanted to add some color to break up all the neutrals. I think these two paintings add just the right pop of color without overwhelming the overall look. These art pieces are on the pricey side, but you can always substitute these for a more affordable alternative.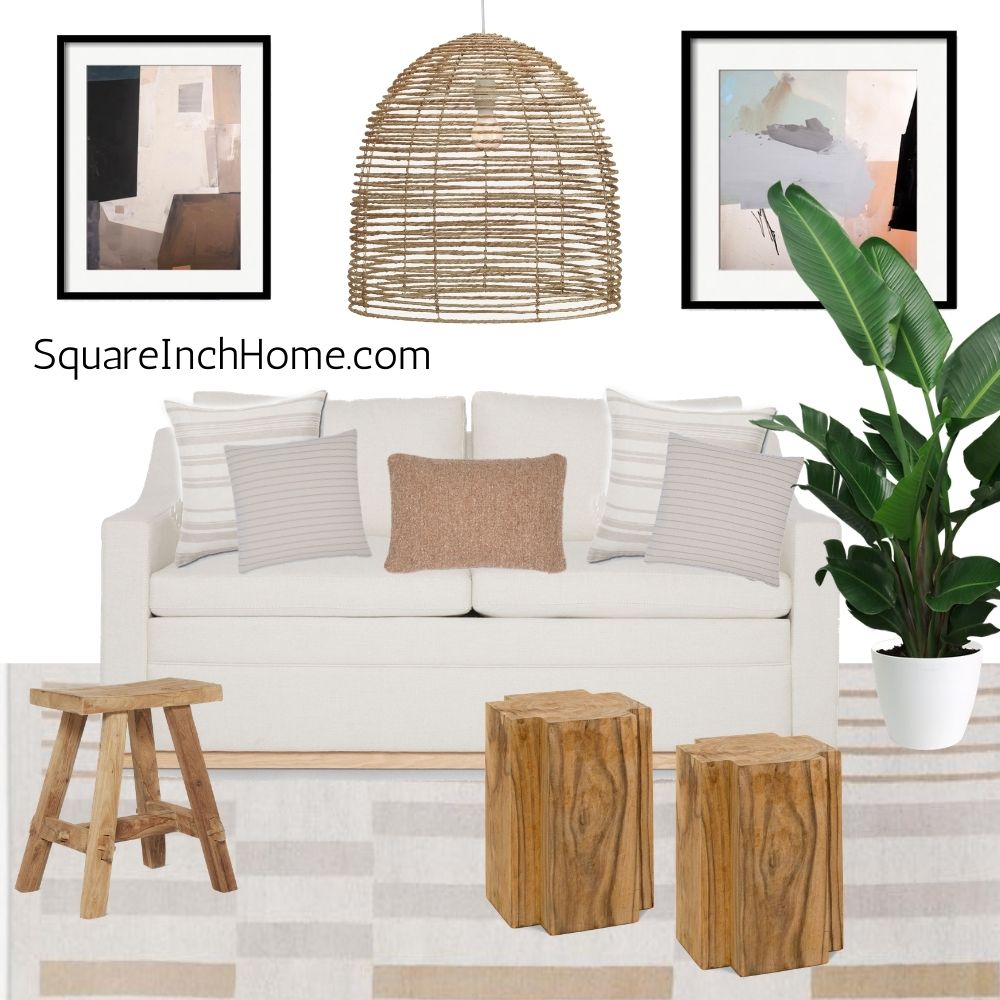 Get The Look!
The links below will take you to the individual products used in this California-style living room.
Linen Sleeper Sofa // Teak Wood Side Table // Solid Wood Stool // Safi Rug // Rattan Chandelier // Wall Art #1 // Wall Art #2 // Lumbar Pillow // Striped Pillow # 1 // Stripped Pillow #2 // Plant (Bird Of Paradise) – See more Easy Indoor Plants
Want More Small Living Room Ideas & Tips?
Pin This For Later!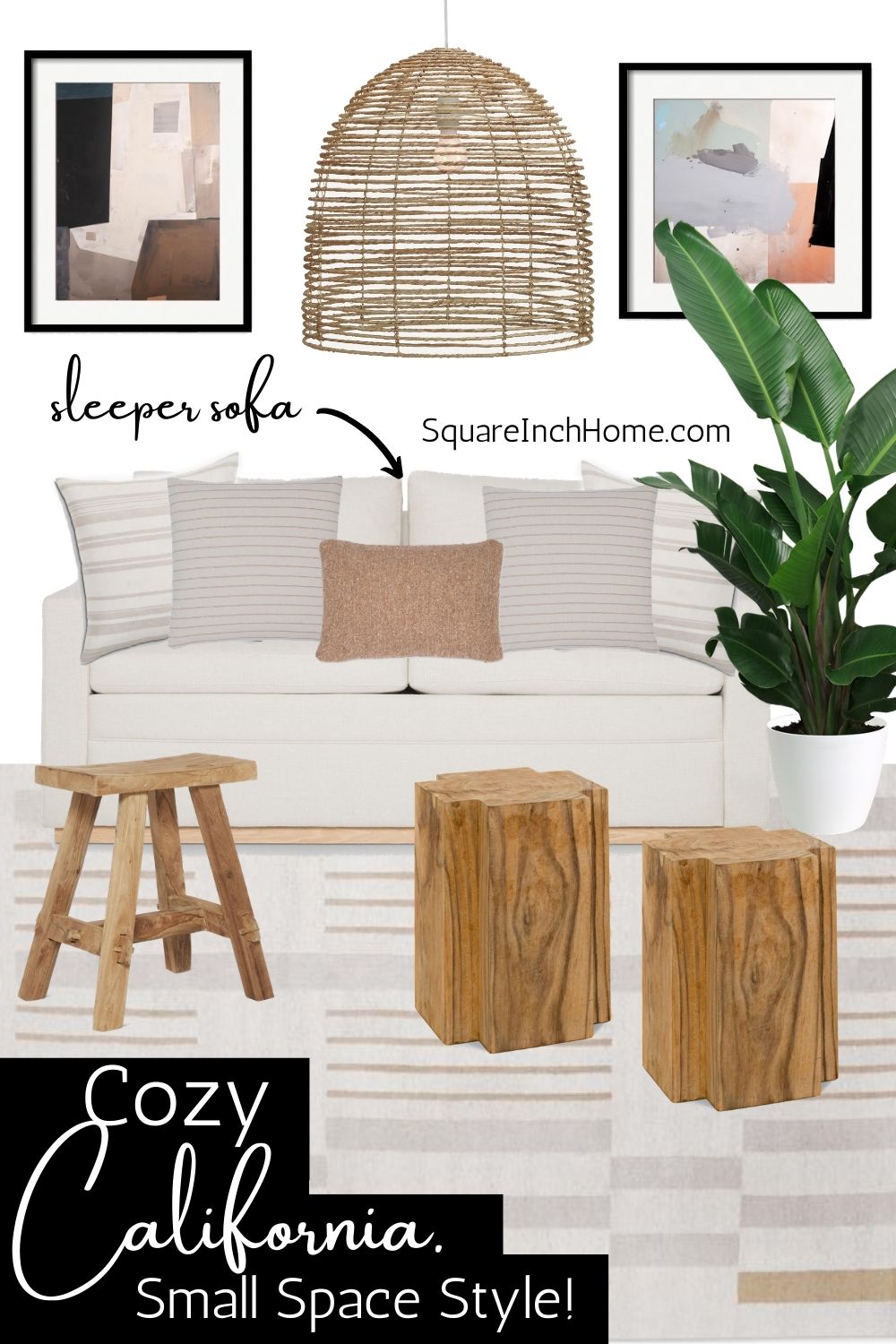 Don't Miss The Latest Posts!