20 Stunning Scandinavian Baskets That Add Style & Function To Any Decor.
Scandinavian decor is all about simplicity and elegance. Since its inception during the early 20th century, this aesthetic has embodied a sense of minimalism and functionality. And storage is no exception. So today, I'm rounding up some of my favorite Scandinavian storage baskets from Fint Designs – A little retail gem that specializes in Scandinavian decor accessories.
Storage baskets come in all shapes, sizes, and materials. Small-space-dwellers know the value of dual-functionality. If it's useful, doesn't take up too much space, AND pretty, it's a winner!
So if you're looking to add extra storage to your Scandinavian decor, or just love basket storage, then I've got some goodies for you. These Scandinavian storage baskets prove that elegance and simplicity still wins!
20 Stunning Scandinavian Baskets You'll Love!
Modern Magazine Storage Basket ($34). Stay organized and clutter-free with a stylish, nordic style wire basket. With three elegant color options, you are sure to find a design that compliments your home decor. Hang them on the wall to maximize space or set it on your desk, console table, or wherever you need a little extra storage. Use them to store files in your home office or as a mail organizer in your entryway.
Modern Iron Fruit Basket ($37). Get it in White too! A unique design built with sturdy materials, this modern bowl can be used to store just about anything.
Nordic Woven Basket Storage ($28). Keep clutter at bay with these Seagrass Wickerwork Baskets.
Related Post:
Summer Decor Accents – Roundup!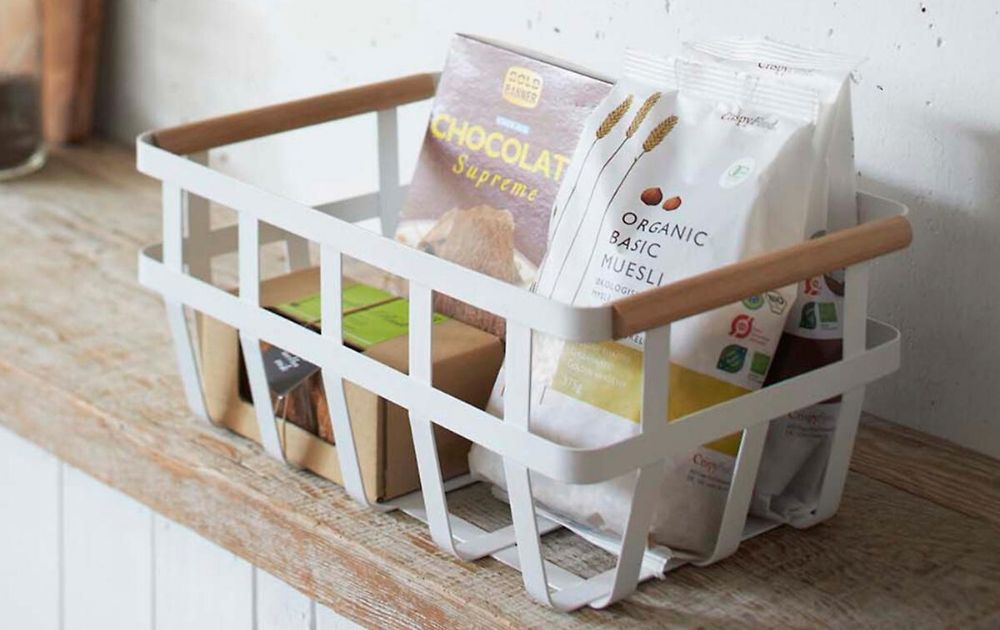 Tosca Storage Basket in White ($35). This Yamazaki steel & wood basket is both decorative and functional. Use it in your pantry, bathroom or closet. It's sturdy and built to last a long time.
Want More Like This? Check out The Yamakazi Home for stunning minimalist white & wood home accessories
Nordic Felt Basket ($23). Perfect for storing toys, towels or laundry. The neutral colors add a cozy feel to any space and will compliment all decor styles.
Related Post:
Double-Duty-Decor: 20 Gorgeous Mirrors With Shelves & Storage
13 Handbag Storage Ideas That Will Save You A Ton Of Space!
Gold Metal Storage Basket ($40). Available in Rose Gold too! Nothing screams luxury more than gold accessories. This golden metal wire basket is luxe glam without the hefty price tag. Use it in your home office, your bathroom or anywhere you want to add style and storage!
Santo Rattan Bowls/Baskets – Set of 2 ($170). You can't go wrong with large basket bowls! Add some warmth and texture to your decor with this natural, woven rattan basket set, where imperfections of the texture are considered normal and part of the organic charm. Use them in the bedroom or bathroom for extra storage. I don't care what anyone says, Rattan is always on-trend!
Related Post:
These Amazing Storage Finds Double As Decorative Pieces
Under-Bed Storage You Won't Want To Hide
Iron Bread Basket ($24). A list about Scandinavian decor accessories won't be complete without a simple white basket. The storage opportunities are endless with this clean iron basket.
Golden Laundry Basket ($152). Available in Rose Gold too! Add some glam to your bathroom and save space with this gold rolling laundry basket. Or use it in your kitchen or office.
Nordic Style Decorative Storage Basket ($25). Available in black too! I love these because you can hang them on the wall to save space or use them as a decorative storage bin for your desk or dresser. It's a great catch-all to help you reduce clutter while enhancing your decor.
Related Posts:
10 Easy Ways To Create Stunning Scandinavian Interior Design
Turn Your Tiny Bathroom Sink Into A Spacious Makeup Counter!
Scandinavian Table Storage Basket ($60). Four color options to choose from! Spruce up your kitchen with a modern, geometric storage basket. Use as a fruit or bread bowl and serve in style!
Nordic Gold Storage Baskets ($26). Also available in other colors. Organize your home office desk or bathroom counters with these chic gold storage baskets. Personalize your space with over a dozen basket combinations & colors to choose from.
Nordic Pet Cat Bed ($91). Make a cozy home for your furry friend with this knitted cotton, anti-scratch, breathable Cat Bed. This sleeping house is washable too!
Bamboo Laundry Basket ($277). This unique 3-bin Bamboo laundry basket creates easy separation of all your dirty items. It's size makes it the perfect solution for small spaces!
Nordic Rectangle Metal Storage Basket ($20). Sort and organize all your trinkets with these metal storage baskets. Use them anywhere in the home to stave off clutter and add simple style to your space.
Related Post:
Decor Trends 2020 – What You Can Expect To See This Year.
Nordic Hand-Woven Storage ($9 – $12). These woven collapsible baskets help you maximize storage and space. A functional and decorative piece that compliments any decor. They're beautiful as a set or on their own.
Nordic Gold Storage Basket ($35). More shapes and sizes available. I can't get enough of these fruit baskets! This gold kitchen accessory can be used anywhere you need a little extra storage. With eight size and shape combinations to choose from these baskets are delightfully versatile. So don't limit them yo the kitchen! Use them on your dresser, in your closet, the bathroom, etc.
Collapsible Laundry Basket ($38). Two color options to choose from. These laundry baskets are light-weight and easy to transport with its cushioned and aluminum handles. The colors are neutral and sure to blend with any decor. Plus they look great!
Straw Rattan Basket ($45 – $60). Different styles & sizes available. Double your storage with these natural rattan straw baskets. Great for storing blankets, toys, etc.
Scandinavian Metal Storage Basket ($33). Organize your office desk with a rose gold storage basket. Add a touch of elegance, femininity, and luxury to your space, while maximizing storage. Use this pretty storage basket anywhere!
See More Stunning Scandinavian Accessories At Fint Designs:
You May Also Like:
Home Refresh – Update Your Decor This Season With These Swappable Decor Finds.
Home Decor Gift Ideas For Her.
11 Cheap Ways To Update Your Decor This Summer!
Thoughtful Gifts For Small Apartments & Tiny Homes
Use Color-Zoning To Separate Small Spaces.
How To Decorate Small Spaces? -The Ultimate Guide!
Don't Miss The Latest Posts: