10 Easy Ways To Create Stunning Scandinavian Interior Design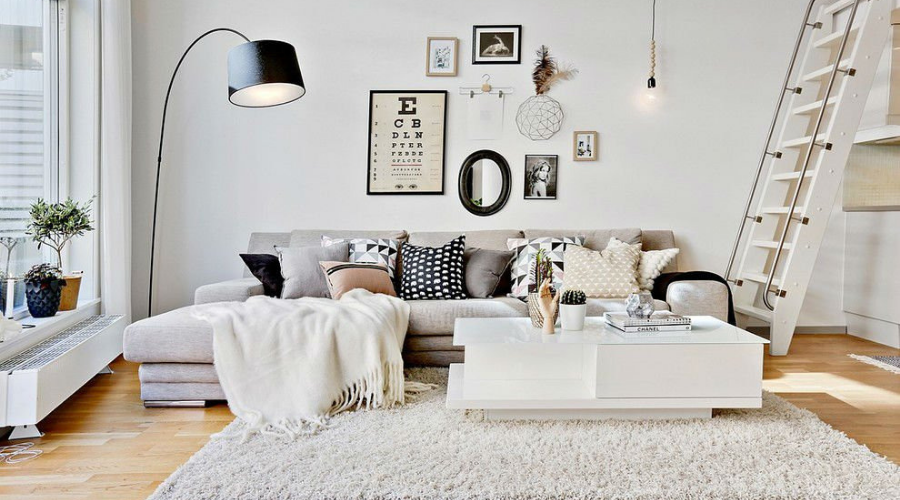 The term Scandinavia traditionally refers to three northern European countries – Norway, Sweden and Denmark. Currently, however, the definition has been expanded in common usage to include Finland, Iceland, and even, though less often, Greenland.
Scandinavian interior design focuses on simplicity, minimalism, and functionality. This style emerged in the 1950s with an appreciation for craftsmanship and understated elegance in homes.
How To Spot Scandinavian Design?
At a glance, you'll notice a few common characteristics like white walls, wood or bare floors and modern furniture. But there's so much more to this elegant, minimalistic design. This style has a deep appreciation for light woods, decluttered spaces, simple accessories and the use of natural and accent lighting and let's not forget the little hints greenery.
Want to infuse your space with the clever functionality and pleasing aesthetics of Scandinavian interiors? Here's a quick guide.
So How To Create Beautiful Scandinavian Interior Design?
1. Lighting Is Key
Image Via Doan Nguyen
The way lighting is used in the design is paramount to typical Scandinavian interior design. With as little as seven daylight hours in winter months, lighting is a life source. Scandinavian interiors utilize natural light first but typically have several types of lighting for adequate and ambient illumination. These vary from pendant lights, warm floor lamps and candlelight is also a must, adding a touch of whimsy and glow to the space.
2. Create Clean Lines With The Right Furniture
In terms of furniture, clean lines are a must for this style. Sofas, tables, and chairs often take on a mid-century modern style with smooth rounded edges and natural hues. Scandinavian design also prides itself on functional and innovative design when decorating interiors. There is a trend towards multi-leveled and sized wall shelving as Scandinavian style tends to be very much space-savvy through practical storage and visual interest.
---
---
3. Use Light Wood
Whether it's on the floor, on the walls, or used to make cupboards, Scandinavian design includes a lot of wood. But not just any wood will do. In keeping with their light theme, the woods used in Scandinavian design are usually light woods, like beech, ash, and pine. If you want to get the Scandinavian style by decorating you don't have to redo your cabinets or floors. Instead, try to incorporate these light wooden elements with furniture or accessories.
4. Light Flooring
Wall-to-wall carpeting is a 'No-No' in Scandinavian design. Flooring traditionally is hard-wood, often left in its natural color or painted white. This contributes to expanding the space and inviting in more light. White or light-colored tile works well with this design too.
If you already have dark flooring that's okay. Again, you can still incorporate the style by adding white walls, wooden furniture & accessories. There's always a workaround!
5. Add Greenery
Notice how almost every decor image shown in this post far has some kind of green, plant element. This is because it's important to have living elements of color and beauty in Scandinavian interior design. Plants & fresh flowers are a necessity for this design. They help create a warm ambiance and break the frequent whiteness of the Scandinavian style.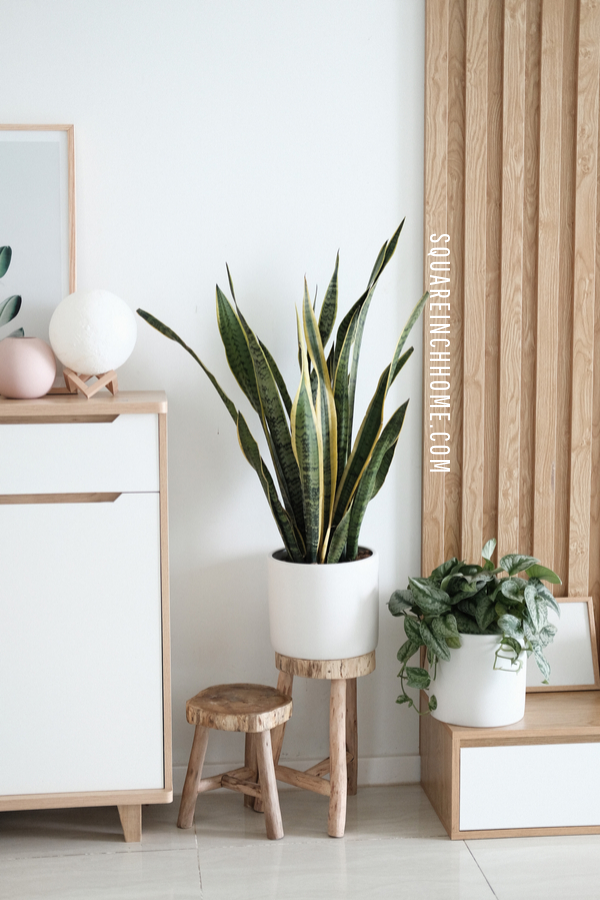 ---
---
6. Open & Beautifully Decorated Shelving
Whether in the kitchen or the living room, open up those cabinets to create that Scandi style. Bear in mind that open shelves put all your stuff on display. So keep it beautifully decorated and curated. Shelves aren't just for books; layer in some art and accessories. In the kitchen, a collection of beautiful dishware and glasses will make your space look like it' was designed by a pro. Remember…stay away from clutter!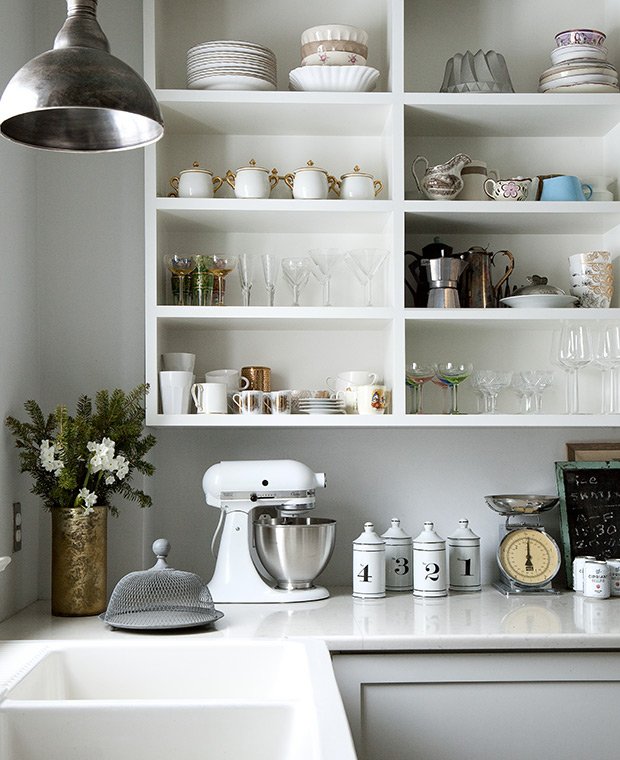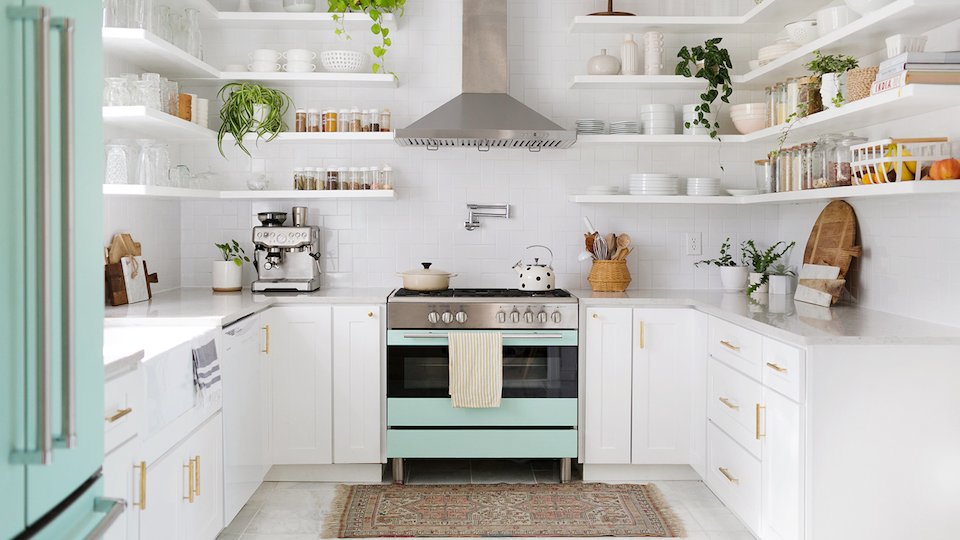 7. Simple Or Mid-Century Modern Furniture
Where furniture is concerned Scandinavian design is more than just IKEA.  Scandinavian style uses a sleek, modern furniture style which is very simple in aesthetic. Light in color and material, this furniture is used to present a wholesome image that merges seamlessly with the rest of the room.
Mid-century modern furniture fits this description perfectly and is widely used in Scandinavian design. Some pieces are more popular than others. Scroll up this post and see what most of these images have in common. It's these chairs. These mid-century modern molded chairs have become synonymous with Scandinavian design and we love them. This furniture style also checks all the boxes when choosing the right furniture for small spaces. They're simple yet aesthetically pleasing. They can be used anywhere in the home and don't take up a lot of space. All the things you want in Scandi decor.
There is often some confusion about the real differences between Scandinavian and Mid-Century Modern Furniture. Some have argued that the two overlap and that there is not much difference between the two. Aside from actual Scandinavian furniture, light-colored mid-century modern furniture designs are the next best thing. They're easily accessible and very affordable!
8. Clutter-Free Spaces
One of the truest characteristics of Scandinavian interior design is making sure spaces are well used and decluttered. Traditionally, many Scandinavian homes were very small and didn't allow for excessive amounts of stuff.
While homes are being built larger now and there's more room for things, the idea of keeping a space free of clutter has remained an important aspect of Scandinavian design.
Storage is wisely implemented in the form of cabinets and shelving. The decor is intentional with a "less is more" mantra, keeping spaces looking clean and visually relaxing.
---
---
9. Simple Accents
Decor is kept to a minimum in Scandinavian design, which corresponds with the notion of keeping a space clutter-free. For this look, minimal wall accessories and empty spaces are appreciated. Decorative accents are simple and elegant in style, with subtle splashes of color look just as beautiful.
10. Use Neutral Colors
This doesn't white. While White walls and furnishings are characteristic of Scandinavian design, you still have a lot of wiggle room where color palettes are concerned. Subtle grays, light blues, beige and even blush pink work great for Scandinavian design. The point is to keep it light and neutral.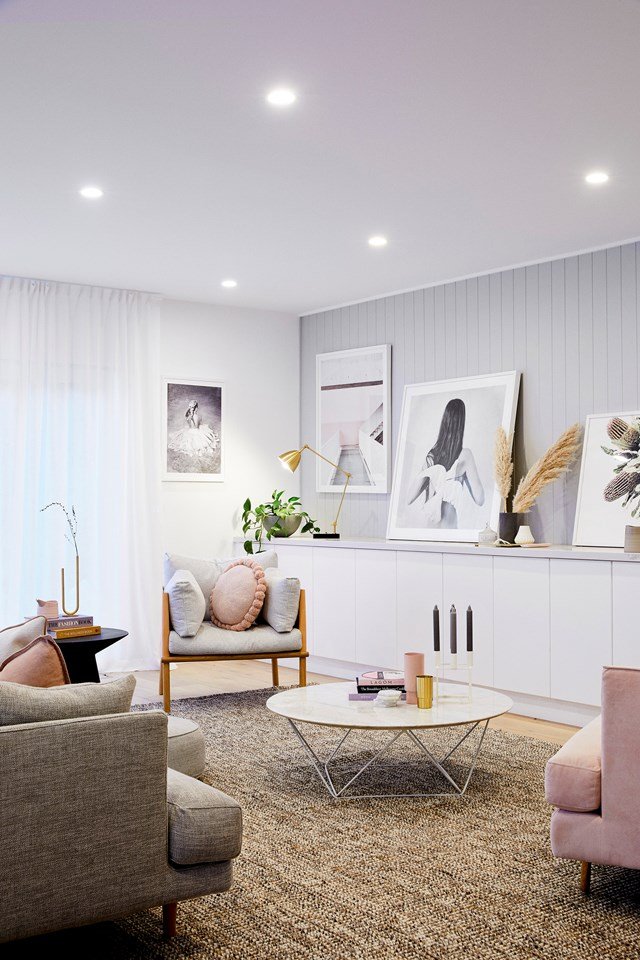 ---
For more Small Space Decor ideas, check out these posts: