8 Common Small Apartment Problems – SOLVED!
Small apartments can be cozy, charming and well, cheap. But they also come with a whole lot of problems and frustrations. Limited storage, awkward layouts, and bad lighting are just a few issues that small-apartment-dwellers have to deal with. As a result, we often spend a lot of time scouring the internet looking for small apartment solutions. Luckily there are many!
Today we're delving into 8 of the most common problems people face when living in a small apartment, PLUS multiple solutions!
**This page may contain affiliate links. If you purchase something through these links, I may receive a small commission.  I only recommend products that I love and trust! **
Let's turn your frustration into Inspiration!
Small Apartment Solutions. 8 Common Problems SOLVED!
Problem #1: Limited Storage Space
This is probably the biggest and most common problem people face when living in small apartments. While de-cluttering and owning less stuff is the ultimate and long term solution here, there are many to squeeze more storage into your home.
Small Apartment Solutions:
Small Space Solution # 1: Use Vertical Space. Walls are often under-utilized in homes of any size. But they are prime real estate in small spaces. Install floating shelves, racks and hooks to create more storage. There are lots of removable, renter-friendly hooks and shelves on the market to ensure you don't damage walls. Be sure to use them so you don't lose your security deposit.
Solution #2: Double-Duty Furniture. Storage furniture is golden when working with tiny rooms. When shopping for new furniture look for pieces that offer extra storage. Coffee tables with storage compartments, nightstands with drawers, and beds with drawers underneath. Maximizing storage wherever you can is key to a clutter-free space.
Solution # 3: Storage Bins & Baskets. Decorative storage is easy to come by and are multifunctional. Use stylish bins and baskets to create more storage and add to your decor. For ideas, check out these stylish storage finds that double as decor.
Related Post: 20 Gorgeous Mirrors With Extra Storage!
Problem #2: No Room Separation
Studio apartments are great. I love an open concept layout. But when your bedroom is in your living room and your living room is in your kitchen, your apartment can sometimes feel like a mini furniture showroom. That's why creating some form of separation is key. Here are a few ideas for dividing a studio apartment.
Small Apartment Solutions:
Solution# 1: Use A stylish folding, freestanding divider screen. Use it to separate your sleeping space from your living space. By doing this you can create a 'bedroom' within the open floor plan. Freestanding divider screens are often lightweight and mobile. You can get the privacy and separation you need without sacrificing space. For double-duty action, check out these Folding Room Divider Screens With Shelves!
Solution #3: Create visual separation with rugs. Separate your living room area from your kitchen with a large area rug.  This creates the sense that the furniture is within a designated area. Space is now defined with the rug that acts as the "perimeter" of a room. It becomes clear where the living room ends and where the bedroom begins. It also provides a base for your furniture to sit on.
Solution #2: Use furniture to separate spaces. Use a rectangular pub set to separate the kitchen areas from the living room, or push your sofa up against the foot of your bed to divide that area. Hollow bookshelves work great for separating spaces too. They provide adequate separation without obscuring the view to the other side of the room. This helps to maintain a nice flow throughout the space. Plus, you get extra storage! Win, Win!
For more ideas, check out these 6 Simple Ways To Divide A Studio Apartment ||
Want Studio Apartment Ideas?
Problem #3: No Closet
Closet storage is at the top of the list for small apartment dwellers. While limited bedroom storage is frustrating, it's also an opportunity to get a little creative.
Small Apartment Solutions:
Solution #1: Create Your Own! A makeshift closet is easy to put together and is pretty popular these days. Designate an area or corner in your room and add a clothing rack, a small dresser and a vertical shoe rack (Get some ideas here). These are just the basics. These makeshift closet essentials will help you get started on creating your own.
Solution #2: Use a bookshelf or cubicle organizers. Adding a few stylish storage bins to each shelf will act like drawers you can easily slide in and out. These can be used for your folded clothing items or underwear. ClosetMaid has a 9-Cube cubicle organizer Here On Amazon
Solution #3: Platform beds with under-storage are perfect for storing out-of-season clothing, extra bedding, suitcases, or anything that you don't use daily. They're especially useful for small bedrooms without a closet and are a great investment piece!
Solution #4: Go Vertical. If you haven't guessed already, vertical space is golden when dealing with small rooms!. You can install a complete wall-mounted closet system (Like this Rubbermaid Closet System on Amazon) or if you're on a budget, mount a few large floating shelves for your folded clothes, shoes, handbags, etc. Wall-mounted clothing racks are also great for saving on floor space. Simply designate a wall for your closet space and install shelves and wall racks (Like these from Amazon) at varying heights and lengths for a stylish look.
Related Posts:
13 Handbag Storage Ideas That Will Save You A Ton Of Space!
Underbed Storage You Won't Want To Hide!
Problem #4: No outdoor Space
If you live in an apartment in the city, and you're craving that lush, vibrant backyard garden, then these tips are for you. Here's how you can bring some greenery into your apartment: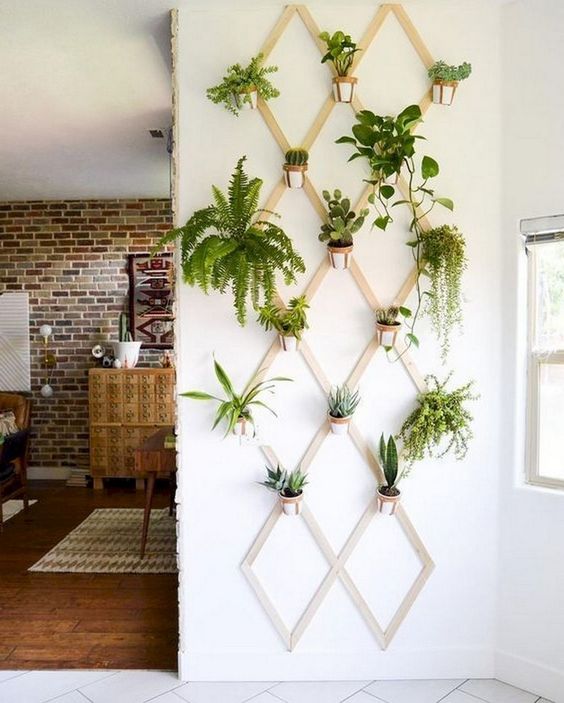 Small Apartment Solutions:
Solution #1 – Add plants wherever you can. Try adding a plant to every room. Alternate with small and large plant pots. Place tiny plant pots on bathroom counters and larger palm potted trees for your living room. Fresh flowers will do the trick too!
Bloomscape has a ton of easy apartment plants for beginners. Plus useful resources to help you take care of them. Get $10 Off Your First Bloomscape Order Over $50 & Free Shipping On Orders Over $75! Use Code: NEWBLOOM10!
Solution # 2: Create a space-saving indoor garden. A vertical, wall garden, for example, is a great way to save space and enhance your decor. I put together a few space-saving indoor garden ideas for small apartments here!. You can also create a kitchen herb garden that you can place on your window. Or go for one of those nifty smart gardens for growing vegetables and herbs right on your kitchen counter!
Two notable and affordable smart garden products are Click & Grow and AeroGrow! Both with different options to suit your needs and your space.
Solution # 3: Fake it till you make it. If it's more of a visual thing for you, then add one of these garden window murals from Amazon or a landscape wallpaper. These are perfect for smaller rooms! Landscape mural images pull the eye outward, creating amazing depth, and the illusion of a wide and open space. There are a lot of peel and stick wallpaper, mural options on the market too.
Related Post: The Best Wallpaper Patterns For Small Spaces
Problem # 5: My Bathroom Opens Into My Kitchen.
That awkward floor plan where your bathroom just happens to be directly opposite or inside your kitchen…Ughhh! With this kind of set up, it's really hard to avoid the inevitable awkward moments between yourself and your roommate, partner or occasional guests.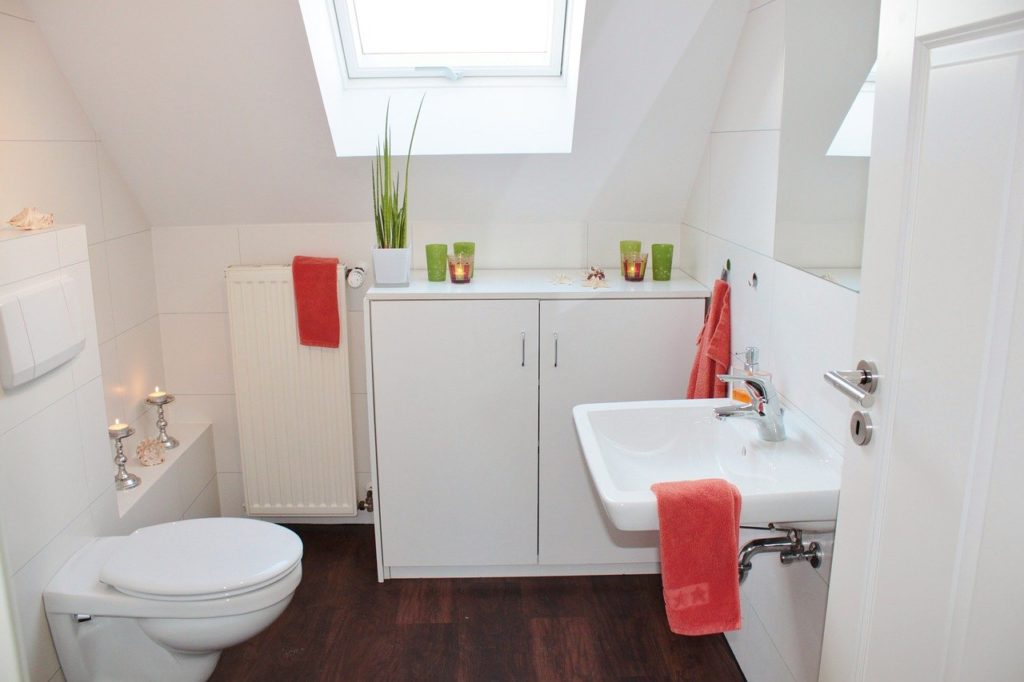 So what can we do about this? Realistically, not much. But there are ways to make it a little less awkward.
Solutions:
Solution # 1: Create Separation. Experiment with free-standing folding divider screens, curtains or other boundary-defining objects to separate the spaces. The goal is to section off the doorway to your bathroom and block the view to the bathroom door.
If you're using a folding divider screen, fold a section of the divider towards the hinged part of the bathroom door and let the remaining half act as a barrier between the two rooms. This will create a short, makeshift hallway to the bathroom door. This way the bathroom will feel separate from the kitchen.
Solution # 2: Keep the bathroom door closed at all times (for obvious reasons).  Of course, keeping the door close also helps to prevent the spread of unpleasant odors drifting into your kitchen, but it also acts as a visual barrier separating the rooms. Place a door draft stopper under the bathroom door to contain any unpleasant smell.
TIP:  To keep your bathroom clean and fresh at all times. Try a natural deodorizer using baking soda and a couple of drops of any fragrant oil of your choice (Be generous with the oils). Mix in a bowl with a whisk or a fork and place the mixture into a decorative container. Place the container in your bathroom to keep it fresh all day every day. The scent should last for about a month, depending on how generous you were with the oils. After which you can just add a few more drops of oil to refresh.
It's an all-natural and inexpensive way to freshen up your home. Add it to your kitchen too. A small apartment means that the slightest odors will travel throughout the entire apartment so this can help to get rid of food odors as well.
Problem #6: No space for Entertaining
Who says you have to have a traditional dining room to host guests? Small apartment dwellers can entertain in style too!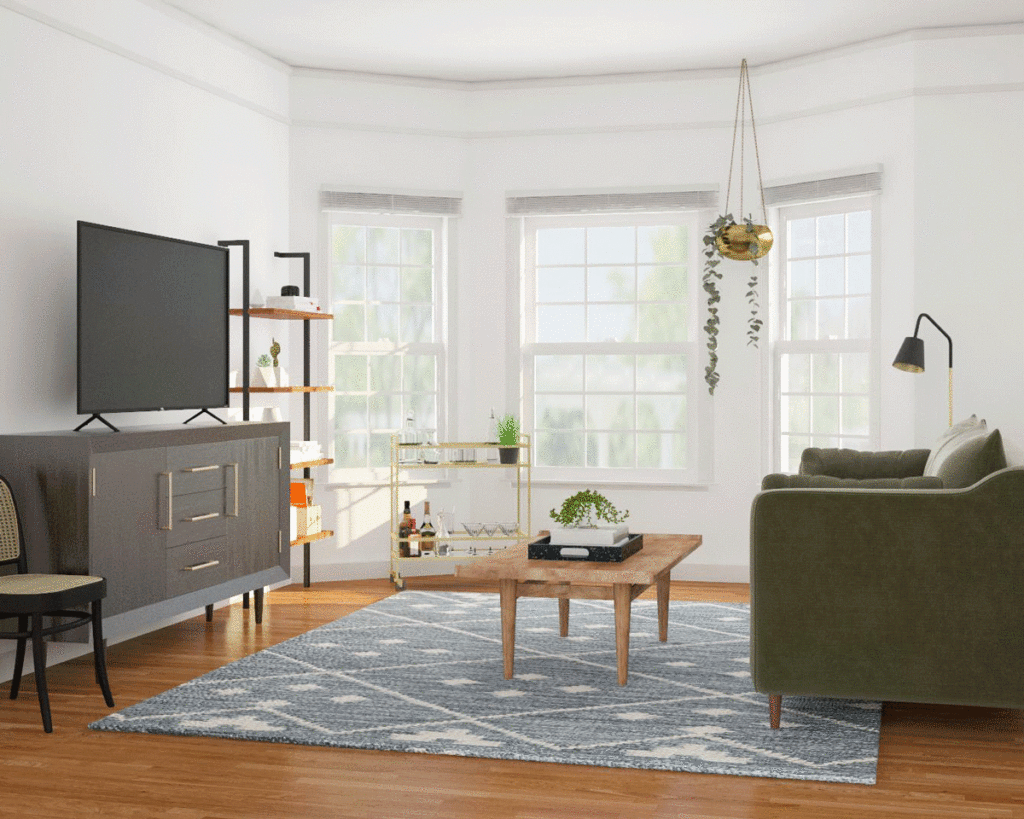 Solutions:
Solution # 1: Move furniture around. If you have a dining table but need extra seating, try moving the table into the living room. Place it in front of your sofa to create extra seating. Then place the original dining chairs around the opposite side. Guests can gather around on the sofa as well as on the chairs.
---
Get More Tips On How to Throw a Dinner Party In a Small Apartment.
---
Solution #2: Invest in a transforming, multipurpose table. Multi-functional furniture is a must in tiny homes and small apartments. Tables that can be maneuvered to suit your needs is an investment that will continue to work for you. This white transforming table goes from console to desk to dining table in seconds!
Solution # 3: Use your coffee table. For a more informal gathering, drape a stylish tablecloth over your coffee table and have your guests gather around on floor cushions.
Problem #7: Lack of Countertop Space
Tiny kitchens often translate to limited counter space. A major pain in the butt for people who cook regularly. If you like to entertain, a lack of counter space can be really frustrating. Luckily, there are several ways to squeeze more space out of your tiny kitchen!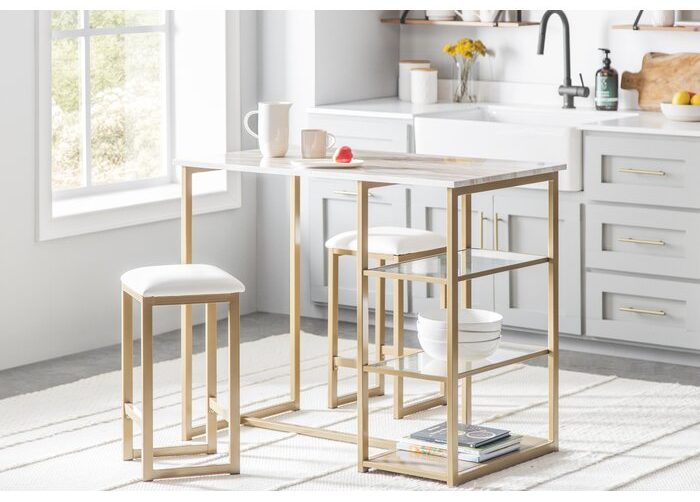 Gold Brass, Faux Marble 3 Piece Pub-Set Dining Table – On Amazon
Solutions:
Solution # 1: De-clutter your countertops. The golden rule for tiny kitchens: If you don't use it every day, put it away.  That blender that you only use for whipping up margaritas on girl's night doesn't need to sit on your counter during the week. Put it away in your cupboards till you're ready to use it again. To help keep things off the counter use a Kitchen Pegboard to store spices, utensils, coffee, and more.
---
Related Post: Clever Kitchen Storage Ideas For Small Kitchens.
---
Solution #2: Use a stovetop cover for extra counter space. Create an extra counter over your stove for prepping food or storing other kitchen items. I found this neat bamboo burner cover/cutting board on Amazon!
Solution #3: Use a counter height breakfast table. This Counter Height Dining Table Set from Amazon acts as a kitchen island, a breakfast table, and an extra countertop! These sets often have stools that slide under the table and out of the way when cooking. Get one with shelves to maximize storage! See more Counter Height Tables Here On Amazon.
Solution # 4: Invest a small kitchen island cart. These are great for providing an extra surface for prepping food. Get one with storage underneath to really maximize your storage. And since they're mobile, you can move it to any part of your kitchen or into another room. I Found a few small kitchen carts here on Amazon, and they're pretty cheap!
Solution # 5: Use Over-the-sink cutting boards are also great for food prep in small kitchens. There're a lot cheaper and can be stored away when not in use. You can find them HERE on Amazon!
---
If you're looking for more small kitchen solutions, These Space-Saving Kitchen Finds Will Save You a Ton of Space!
---
Problem # 8: Bad Lighting
A small, cramped room usually comes with one overhead (often dim) light, and one window. Poor lighting give way to dark corners, and dark corners can make a room feel a lot smaller than it actually is. There are quite a few lighting tricks to make a small room feel bigger. But here are some basic tips for using lighting in small rooms.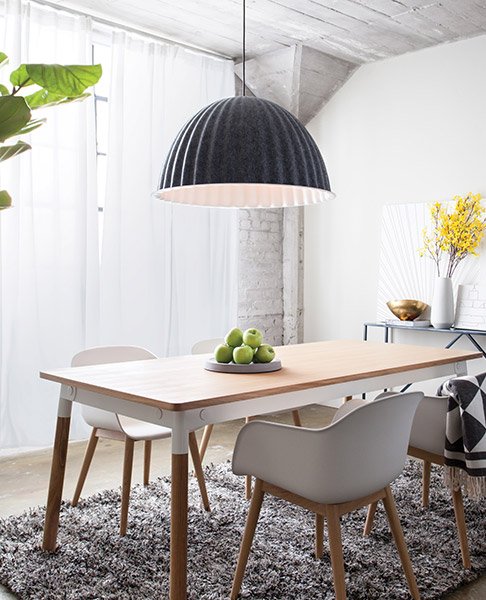 Solution # 1: Your best shot is to hang wall lights or scones that can illuminate dark corners and brighten up the room in general.
Solution # 2: Hang mirrors to bounce light (both natural and artificial) around the room. A well-lit space will make a room feel much larger. Place mirrors opposite windows to maximize sunlight during the day.
Solution # 3: Replace original overhead lights with bigger, brighter lighting to help spread light throughout the room. There are so many stylish, modern options for chandeliers and ceiling lights that are easy to install.
There You Have It! 8 Common Small Apartment Solutions SOLVED! I hope this helps you in navigating your small space or at least inspired some ideas. Small apartments can be a joy to live in. They're cozy, homey and easy to clean! By learning how to deal with its challenges in a fun and creative way, you'll be strides closer to creating a home you'll love.
You May Also Like:
Don't Miss The Latest Posts!
PIN THIS FOR LATER!