Mood Board Monday: Small, Natural Front Porch Decor Ideas.
If you're looking for small front porch ideas, then try this natural look! Warmer days are upon us and we're all looking forward to lounging outdoors. Now is a good time for an outdoor decor refresh (or a complete overhaul!). In this post, we're talking about front porch decor ideas for small spaces. Because small outdoor spaces need love too.
I put together two natural, simple, yet chic looks for your small front porch. If you like the natural look but want to add some dimension, then these two design boards are worth considering. They feature woven elements with black and white accents for a laid-back, sophisticated style. Also, If you're on a budget, these pieces are right up your alley. You're gonna love these!
*This page contains affiliate links. If you purchase something via these links, I may receive a small commission at no extra cost to you. See the full disclosure here**
Small Natural Front Porch Decor Ideas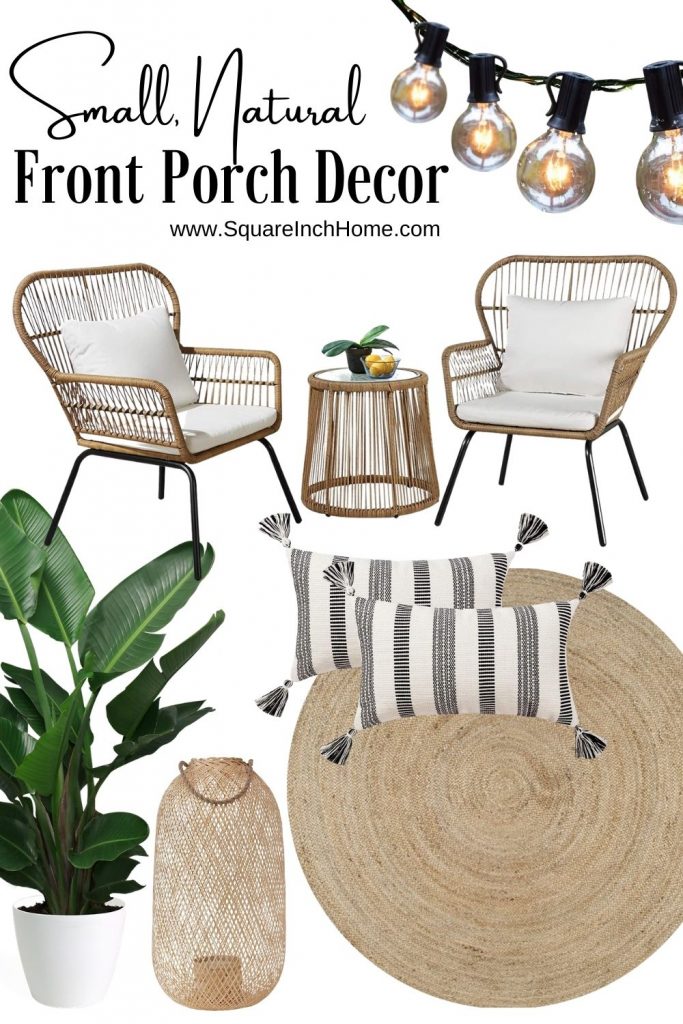 Pin This For Inspiration Later!
I love working with natural and neutral color pallets, mainly because they are so versatile. It works like a blank canvas! Ramp up the look by adding bold-colored accent pillows or tone it down with warmer, more neutral shades when you want a crisp, clean look. This natural bistro set, for one, makes the design possibilities endless.
For small patio furniture ideas, check out these Small Outdoor Bistro Sets That Fit!
SHOP THIS LOOK!
The links below will take you to the specific product pages. The pieces in this look were curated from Amazon & Bloomscape.
3 Piece Outdoor Wicker Set Patio Set || Round Natural Handwoven 6′ Jute Rug || Stripe Woven Lumbar Throw Pillow Covers, (Set of 2) || Hand-Woven Bamboo Lantern || 25ft Outdoor String Lights  || Large Plant
Look #2: Natural, Black & White Front Porch Decor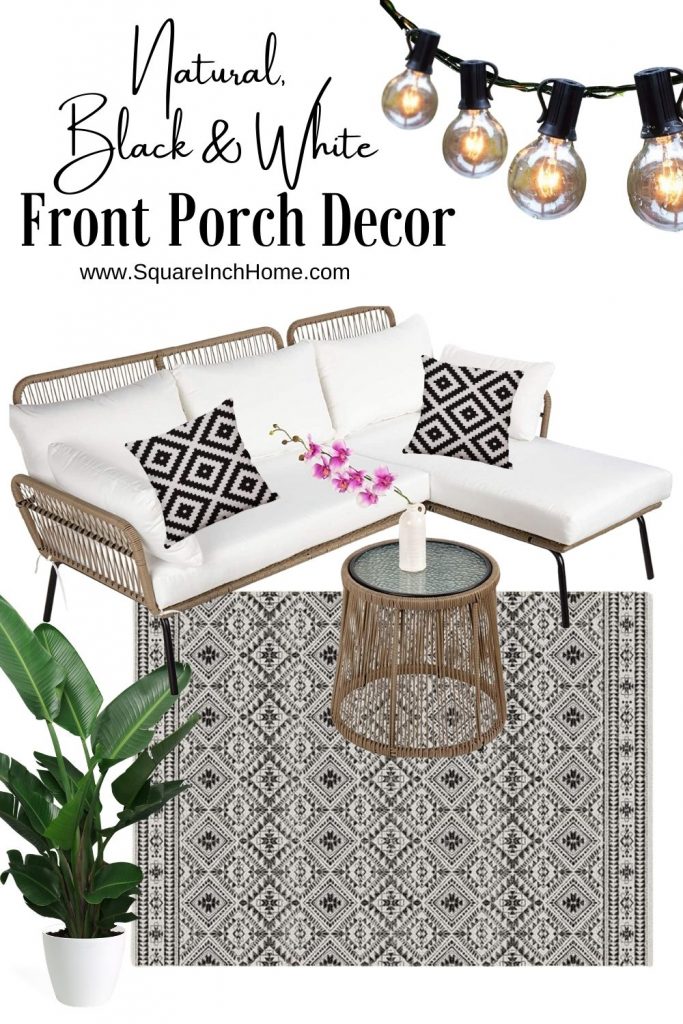 Pin This For Inspiration Later!
This black and white variation is more striking than the previous look, but still effortlessly chic. The small modular sectional outdoor lounger adds sophistication while the black and white (machine-washable) diamond rug adds color and texture. I completed the look with black and white diamond outdoor throw pillows to match the rug. Add a plant or two and some warm string lights and you have yourself a beautiful outdoor oasis for all your summer lounging!
SHOP THIS LOOK!
Rope Woven Outdoor Sectional Lounger Set || Machine-Washable Outdoor Nomada White Rug || Geometric Outdoor Throw Pillow Covers || 25ft Outdoor String Lights  || Large Plant
Some Natural Front Porch Decor Inspiration!
There you have it! Small front porch decor ideas featuring small-space furniture and natural decor. I'm currently obsessed with warm, natural furnishings and accents so creating these looks was so much fun!
If you want to browser more natural interior looks, check out this new site I found- Natural Decor Ideas. It's a home decor blog that focuses entirely on the natural decor aesthetic. You'll find lots of warm, earthy decor inspiration as well as tips on how to decorate with natural materials found in and around your home!
I hope you found some inspiration here. Happy decorating!
Want More Small-Space Outdoor Furniture Ideas? Take A Look At These:
Want More Design Boards?
The form you have selected does not exist.
Browse The Latest Posts!
---