9 Space-Saving Tables For Your Small Space
Tables take up a fair amount of space depending on their purpose. Small space dwellers have an additional challenge of finding the right scale tables for their space.  Dining tables, nightstands, coffee tables, are necessary for creating a comfortable, and aesthetic home. It's important to be strategic about your choices when shopping for tables for small spaces.
Maximizing space should be a top priority. Some tables are more suited for small homes than others while some tables are designed specifically for small space living.  Here's a list of space-saving tables for small spaces!
FYI: I recently rounded up 16 Modern Lift-Top Coffee Tables that provide hidden storage and a built-in desk! It's definitely worth checking out.
9 Space-Saving Tables For Your Small Space
1. Nesting Table
Nesting tables offer great functionality and versatility. They can be adjusted to any space and for any occasion. Just slide them in when you're not using the extra space.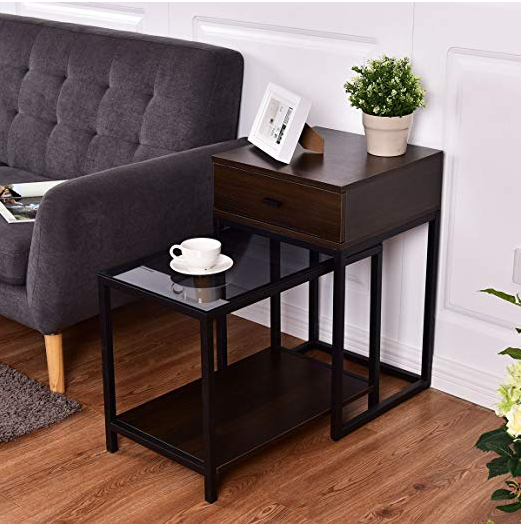 Use them together or as two separate pieces. The glass table acts as a coffee table and the wooden piece an accent or sofa table.  That's 2 tables PLUS storage for the price of one. What more can a small space dweller ask for?  Check out more nesting tables Here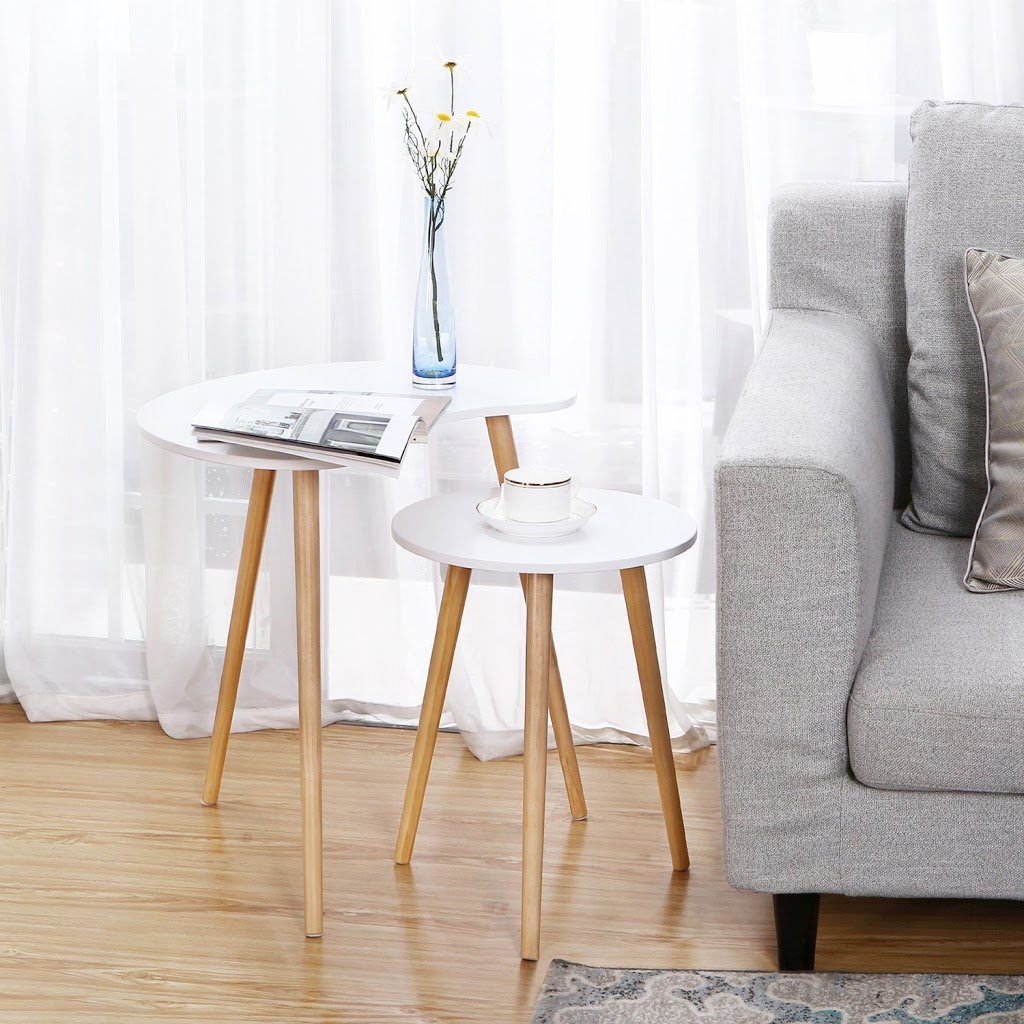 This Mid-Century Modern Nesting Coffee table set can double as an end table or coffee table. An Amazon Best Seller for good reason.  Its tall spindly legs are perfect for small spaces because there's nothing to block the eye. In other words, you can 'see-through' it.
2.  Angled End Table
Want to add a surface for resting drinks or coffee while sitting on your sofa? Maybe you want to create some separation between your living room chairs but don't have space for a boxy end table. Enter the Angled End Table.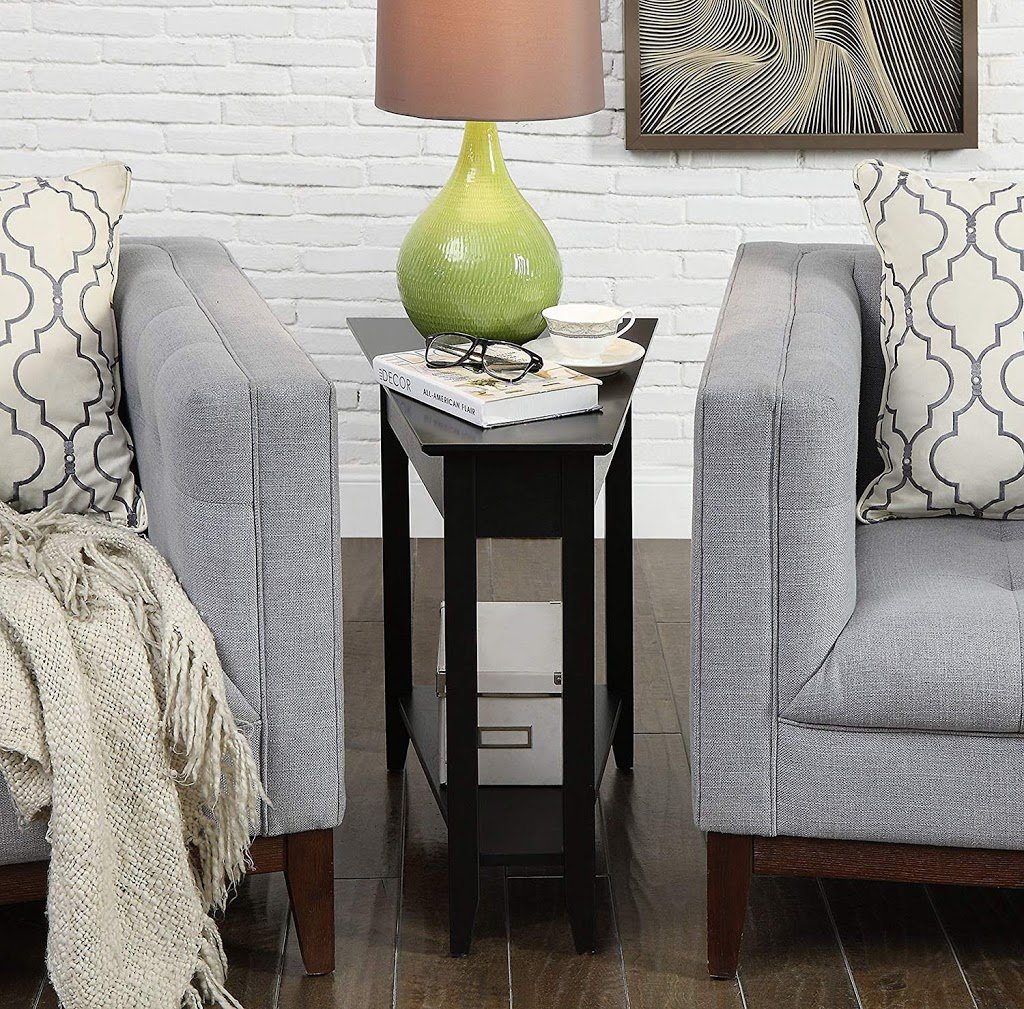 This rich black Angled end table fits nicely between sofas/chairs and even provides extra storage space underneath. Convenience Concepts offers great space-saving furniture designs that add to any decor with a variety of colors to choose from.
3. End Table With Built-In Lamp
Talk about a 2 for 1 deal! End tables with built-in lamps are a great way to save space, get more storage and simply add a modern style to your decor.
This LED Floor Lamp with USB charging Ports from Brightech provides a combination of style and function to brighten up your room.  Seems like this table was designed with small spaces in mind. Here you get storage or display area for vases, books,  photo frames, or other small objects. It even comes with 2 USB Ports & 1 US Electric Outlet. Need more light? Use the swiveled lamp neck to bring the light closer to wherever you need it. Check out more space-saving lamps from Brightech.
4. Modern Multipurpose Transforming Table
Talk about double-duty! This stylish transforms from a coffee table to a 4-6 person dining table with its Adjustable X-Lift Mechanism. A perfect solution for hosting dinner parties and events at home.
For more tables like these, check out this Console-to-Dining Table!. See More Space Saving Furniture From Space Master.
5. Bistro Dining Set
Who says bistro furniture is for restaurants only? Bistro tables are a popular table for small spaces. These dining sets are perfect for a small kitchen or dining area as they were designed for cozy restaurants and bars with small dining spaces. These offer a stylish yet compact look and saves a ton of space.
This 3-piece, space-saving, bistro dining set from Amazon is both smart and stylish. It features a  storage rack under the desk for storing wine, plates and other table essentials. Chairs are ergonomic and armless with a curved back for comfort. Just slide chairs in when not in use to maximize your space. see more options for bistro dining furniture 
6. Wall Mounted Folding Table
Folding drop-leaf tables that are mounted to the wall off lots of multi-purpose benefits. These are one of the more popular space-saving tables for small spaces. Its wall-mounted feature allows this table to fold flat against the wall when not in use, giving you extra space whenever you need it. Don't limit this nifty table to one area though. Use it for extra counter space in the kitchen, as a breakfast table and even as a work or study desk in other parts of your home.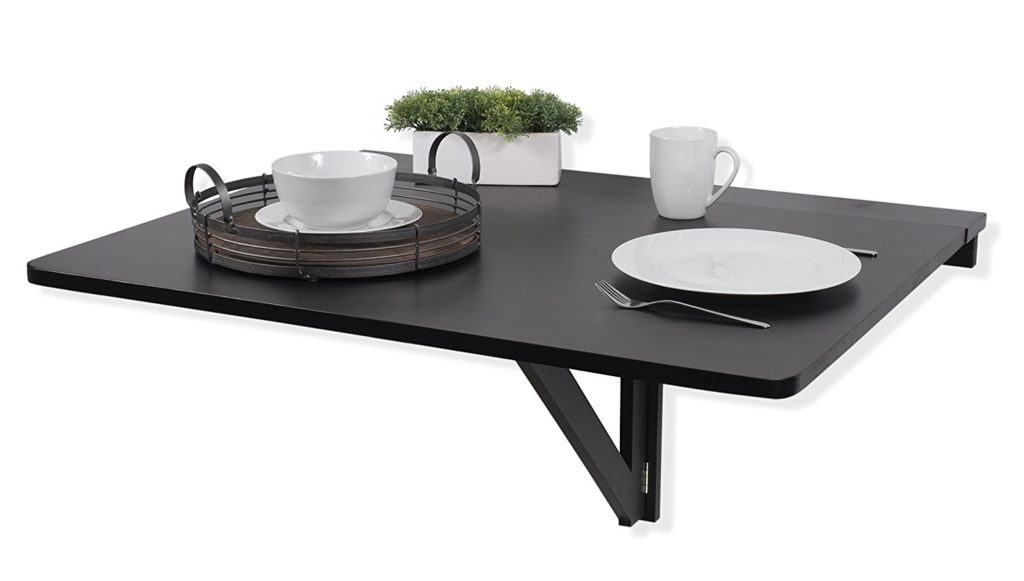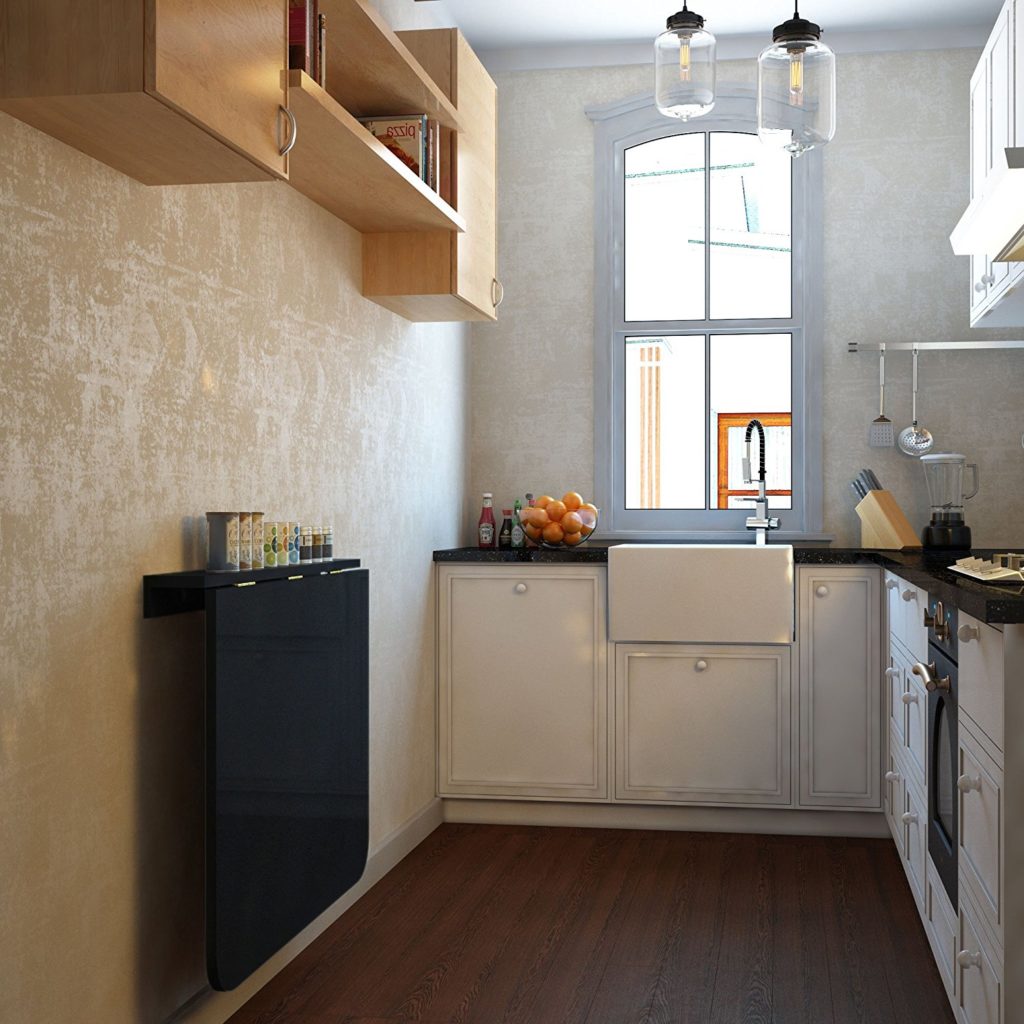 Get It Here On Amazon
Learn how to Carve Out A Home Office in your small living space with these ideas.
7. Sliding Sofa Accent Table
These tables were designed to save on space with its ability to slide comfortably in front of, or on the side of any couch, sofa or chair. They are both functional and attractive and can be used as an end table, lamp table, side table or snack table. Simply slide the table under furniture and the tabletop is convenient to place drinks and snacks right next to your seat.
These sofa accent tables provide ample surface space for drinks, snacks, meals or even a mini laptop or tablet  See more space-saving tables from Monarch Specialties.



8. Console Table
For small spaces, instead of placing these in the hallway or entryway try placing against the back of your sofa to create a sofa table console. Add a chair or stool and you now have a neat workspace, or vanity or just a place for your lamps, books or accessories.
This Black & White Mirror Glam Console Table is minimalism with a modern style. The draws include sorting space for your trinkets, keys, jewelry, etc. Use in the living room as a statement piece or in the bedroom as a vanity or desk. However you decide to use it, is both multi-functional and stylish, giving you a good bang for your buck.
9. Kitchen Trolley Cart
This kitchen cart doubles as dining space extra storage.  The fold-up leaf provides extra counter space for cutting and prepping food or for extra dining space in your kitchen. The wheels make this table mobile and multipurpose. You can even use this as a bar or dessert table when entertaining.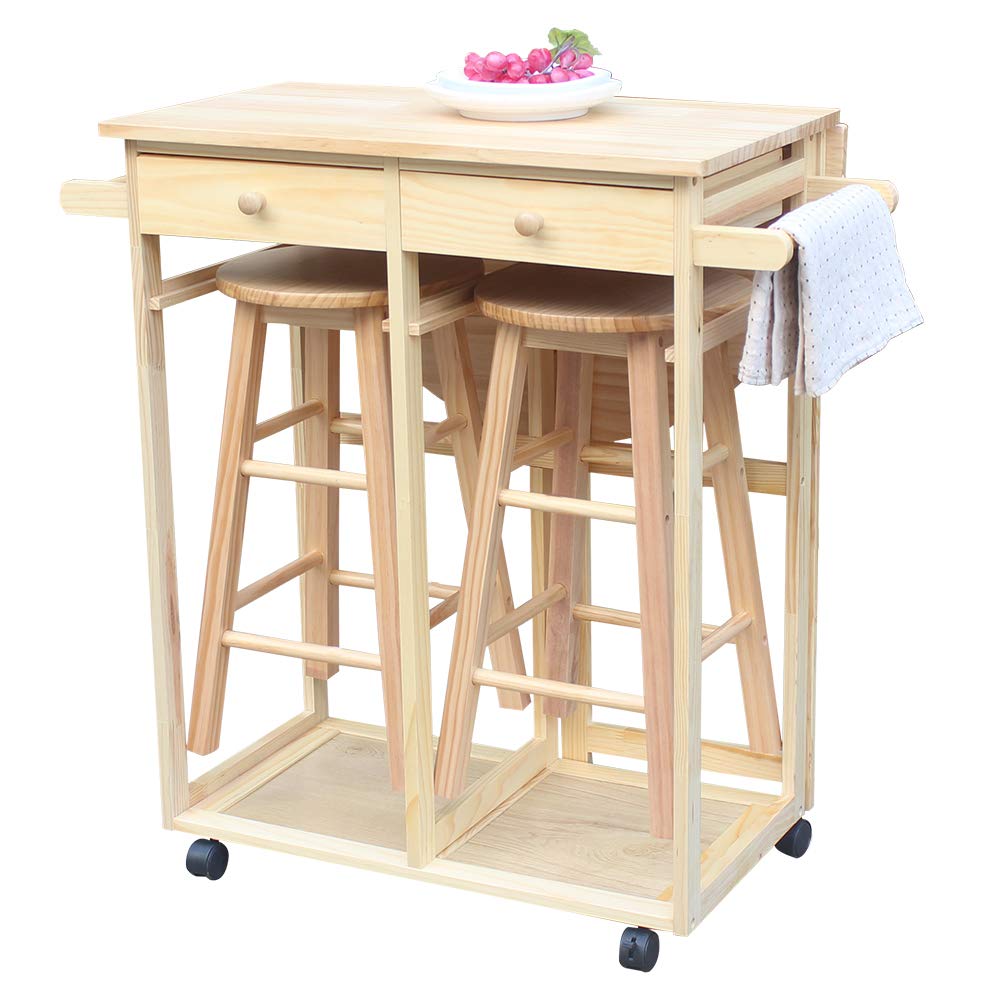 PIN THIS FOR LATER!