Even the smallest of apartments could use a stylish entryway. Having a catch-all for your keys, handbag, or scarves is a sure way to avoid unnecessary clutter. If you're looking to redecorate your small entryway and need some inspiration, I rounded up 10 stylish entryway ideas for small apartments.
**This page may contain affiliate links. If you make a purchase via these links, I may receive a small commission at no extra cost to you. See full disclosure here. **
10 Stylish Entryway Ideas For Small Apartments!
Boho Entryway Decor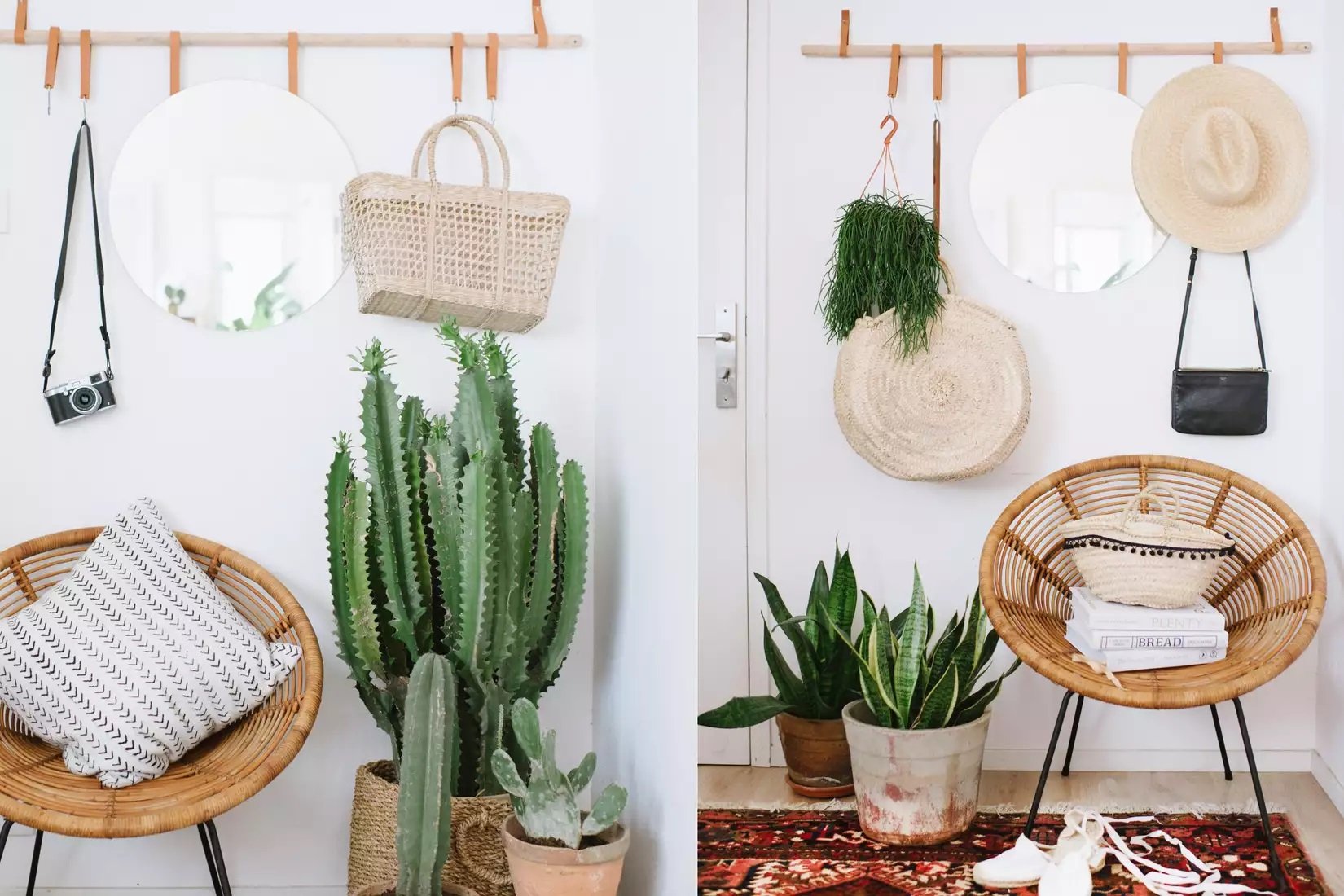 The Spruce
This entryway is bright, warm, and features beautiful natural elements with the leather strap rack, a rattan chair, and lush plants. The statement rug adds a nice pop of color and a point of interest to the space.
Classic Black & White Accent Entryway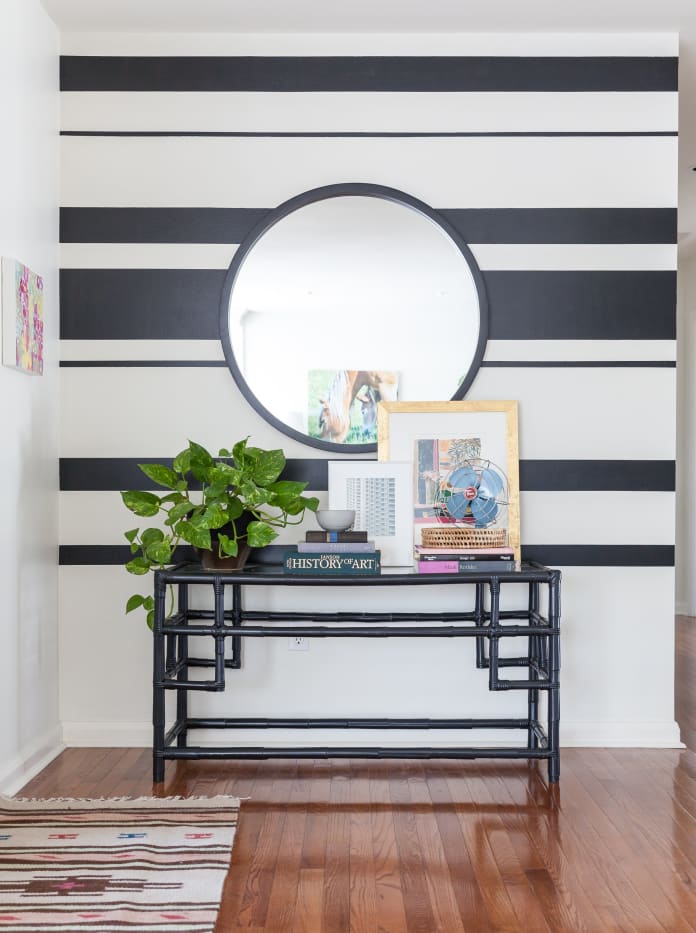 Apartment Therapy
This effortlessly chic entryway is sophisticated elegance at its best. If you don't already know, striped walls do wonders for small spaces. They have the power to visually widen and elongate a room. Making them the perfect choice for small entryway accent walls!
Storage Packed Entryway With Accent Wall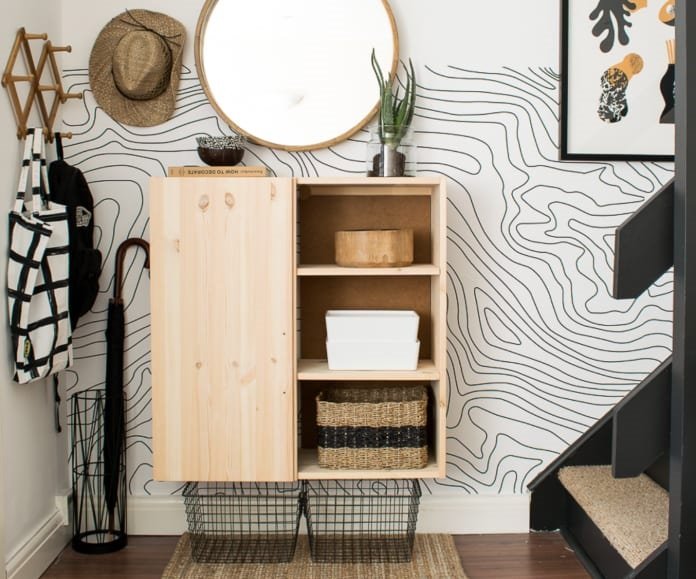 Apartment Therapy
This entryway is not only visually appealing, but it also provides ample storage with a floating storage cabinet and basket storage below. The fun and striking wallpaper and artwork make this entryway both stylish and practical.
Black & White Modern Glam Entryway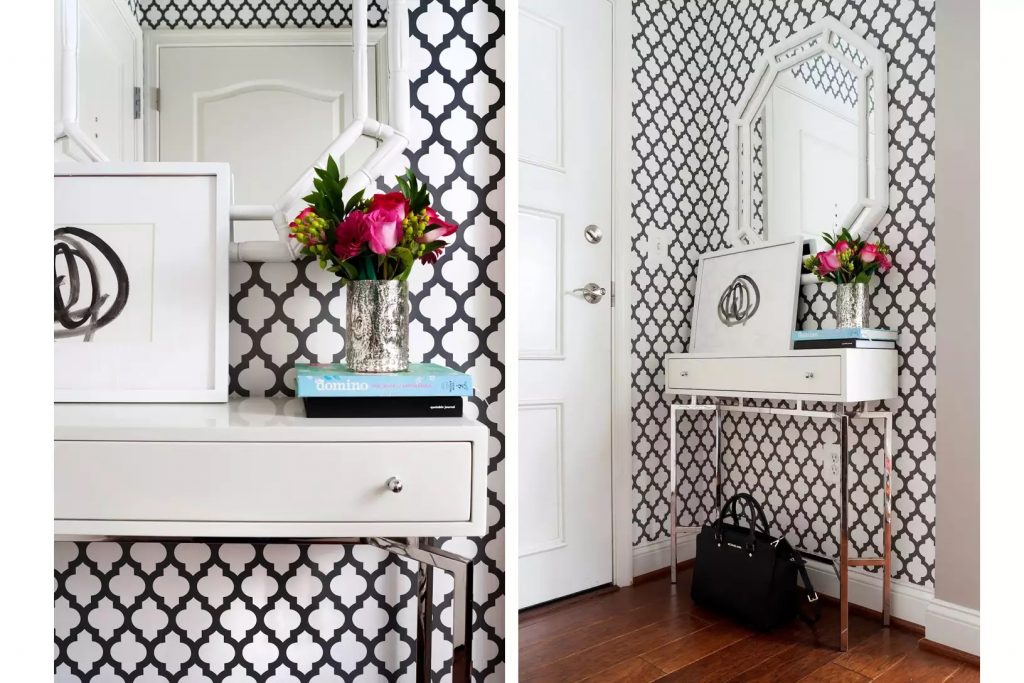 The Spruce
If modern glam is what you're going for then draw inspiration from this gem right here. This tiny entryway is feminine chic! The narrow console table adds hidden storage without sacrifice too much floor space. The geometric mirror blends beautifully with the wallpaper pattern to make this a modern and classic space.
---
---
Plant Filled Entryway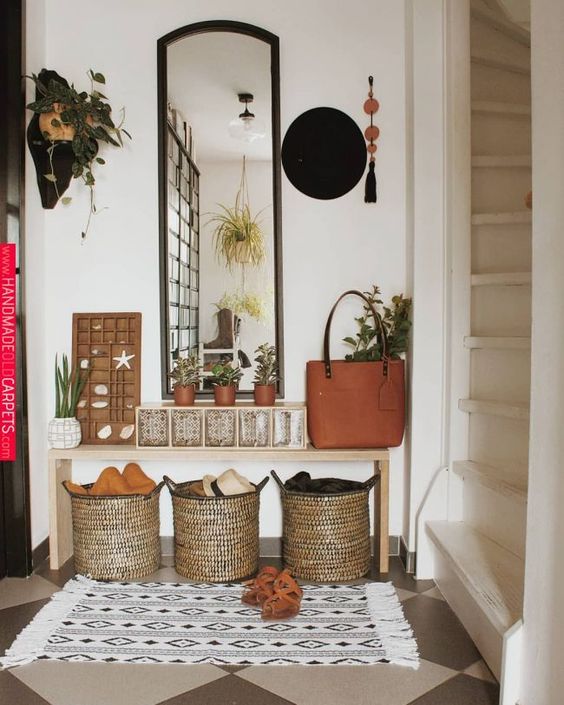 Plants and earth tones are all the rave in decor these days and are expected to stick around for a while. This entryway is warm and inviting –a nice way to be welcomed home after a long day. The woven storage baskets make this space functional as well as beautiful.
If you're looking for easy apartment-friendly plants, Bloomscape has a beautiful selection of decorative and pet-friendly plants for beginners. As well as a ton of helpful resources to help you care for them.
For Easy, Low-Maintenance Indoor Plants check out this roundup!
Modern Rustic Entryway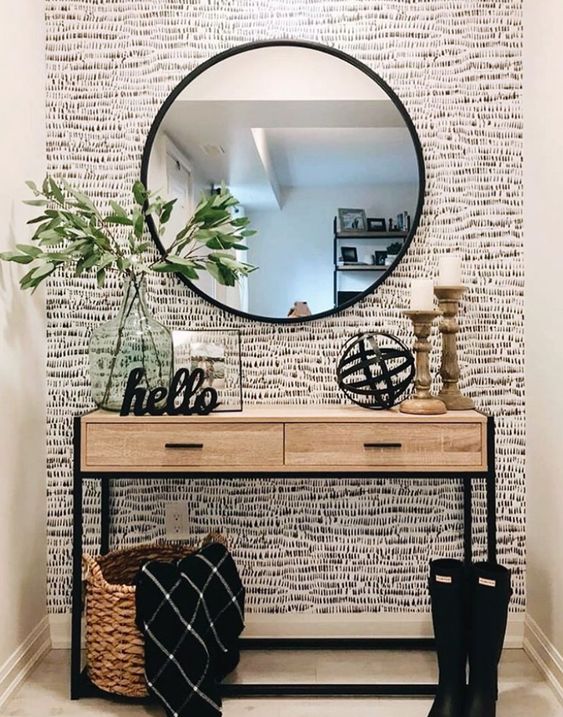 Umbra
This entryway is a beautiful mix of modern and rustic charm, with its eye-catching accent wall, ancient candlesticks, and modern, industrial console table.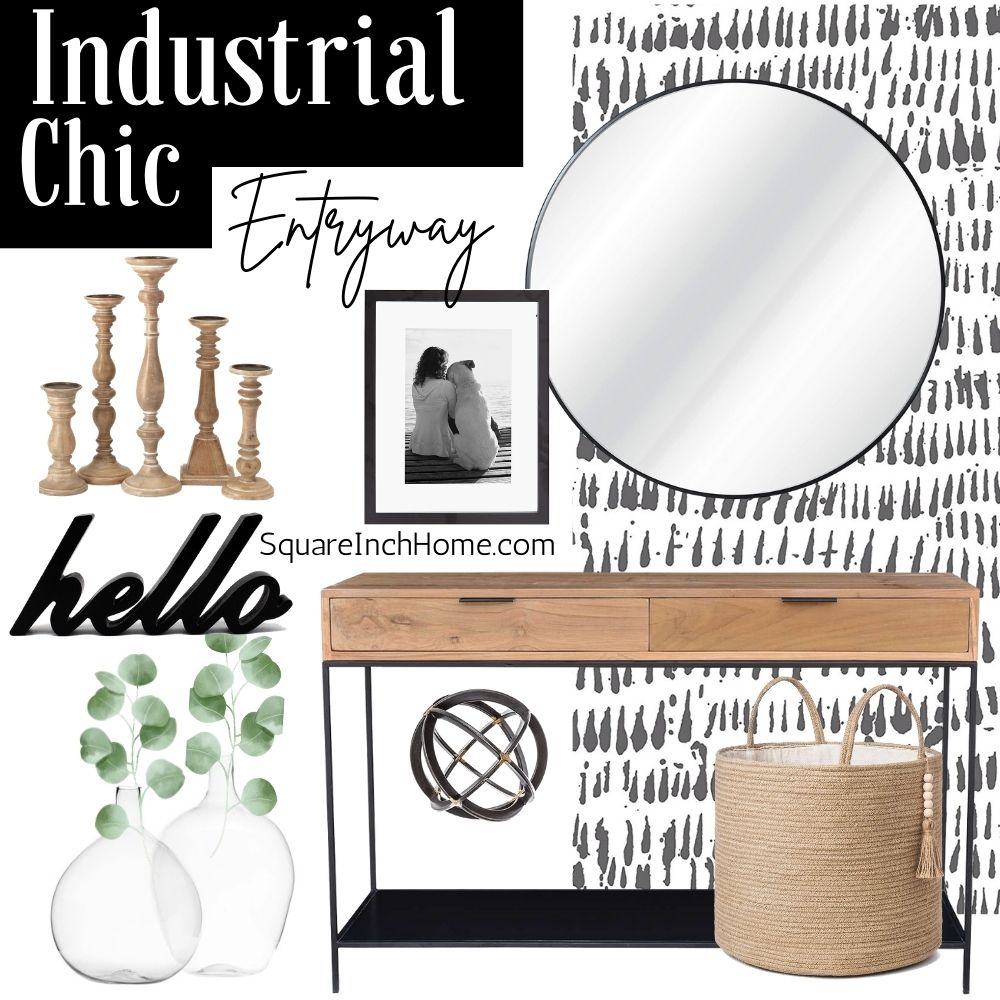 Get The Look!
---
I scoured the internet to find similar pieces to recreate this look. See these items HERE!
Warm Toned, Boho Entryway Decor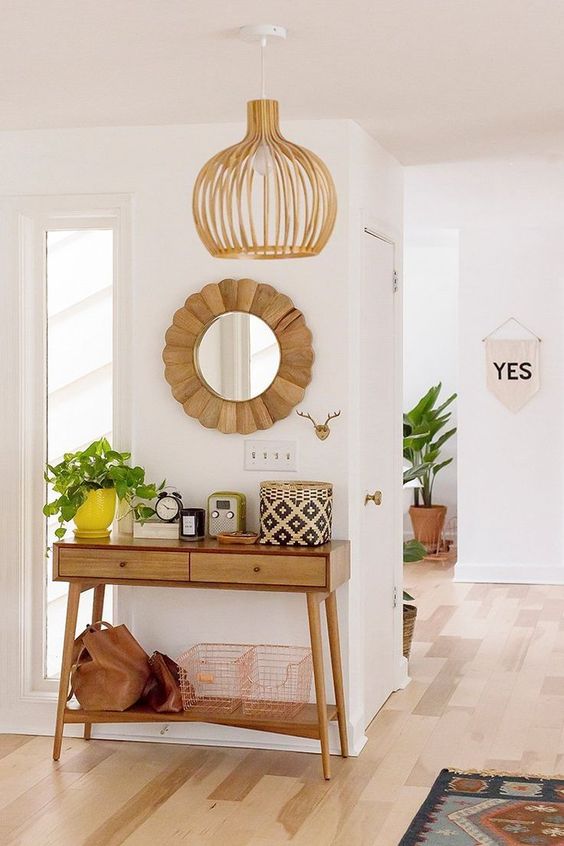 GET THE LOOK! – Console Table (from Amazon) / Mirror (from Overstock) / Pendant Light (from Overstock)
Warm up your white walls with wooden furniture and natural decor elements. This entryway is bright, airy, and inviting.
Farmhouse Styled Entryway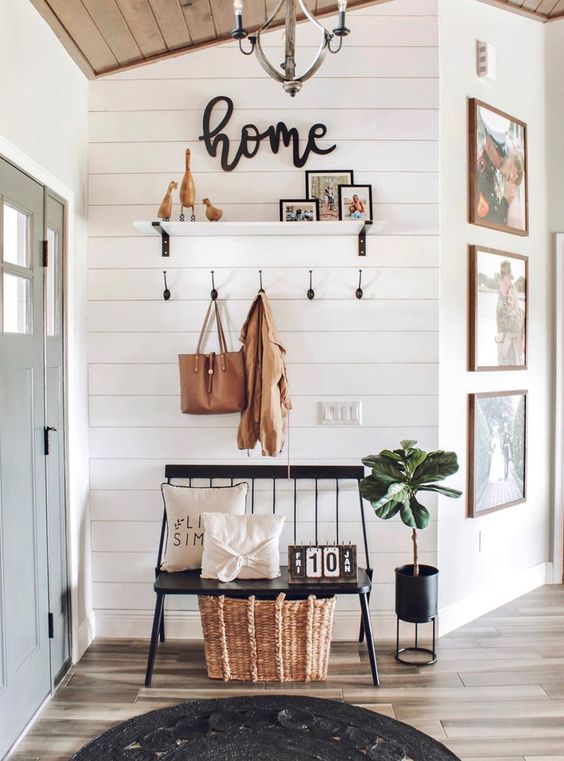 House & Hens
Farmhouse decor is still very much a thing and doesn't seem to be losing traction anytime soon. This entryway has all the essentials for a fully functioning entryway.
Practical & Stylish Entryway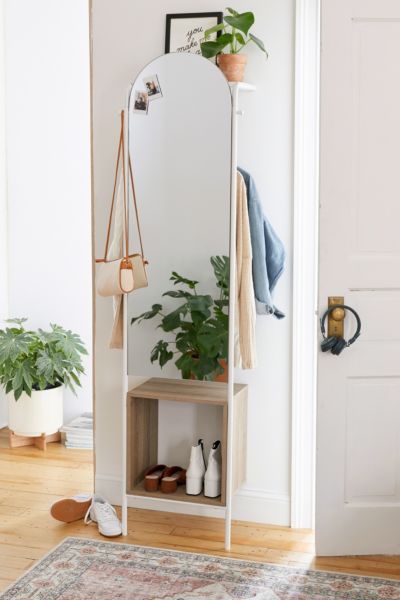 Shop This Entryway Mirror Here On Amazon
Multi-purpose furniture is pure gold in small spaces. They are a wonderful investment piece. Use them whenever and wherever you can! This tiny entryway offers that much need storage and style in just 1 piece of furniture! You can even style it with your favorite accessories.
Buy This Piece Here On Amazon.
---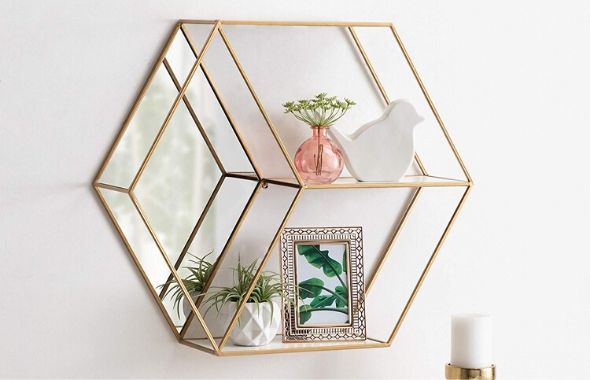 ---
Warm Scandinavian Entryway
@Houseofchais
GET THE LOOK! – Mirror / Wall Baskets / Wall Art / Floating Shelf
Another earthy, bright, and modern Entryway to inspire. This airy space is giving off major Scandinavian vibes with a boho twist. The warm-toned details used against the stark white walls create a striking yet simple design. This space feels cozy yet elegant at the same time.

There you have it!
10 Gorgeous Entryway Ideas For Small Apartments. I hope you were inspired by these ideas. They're all so easy to recreate.
My only tip…
Consider your entryway needs before you start shopping or moving things around; How much storage do you need? Do you need storage at all? What decorative pieces do you want to include? Plants? Artwork? Do you need a small wall mirror or a beautiful oversized leaning mirror? Thinking of an oversized floor mirror? etc. Deciding on these early on will save you time and multiple trips to the store. Whatever you choose to create, it's going to be beautiful. Have fun! Happy Decorating!
You May Also Like…