Considering Dark Paint For Your Small Bathroom? Here's What You Need To Know.
If you're thinking of using dark paint in your small bathroom, first, let me just say, Bravo for taking that bold step! I know some people are a little adamant about using dark paint in small rooms (understandably so). The fact that you're considering dark walls tells me that you're a brave decorator! And that's awesome. I've always been a huge fan of dark paint colors in small spaces. So welcome!
Dark walls evoke a certain richness, luxury, and sophistication. Dark bathrooms create a moody and bold aesthetic that certainly makes a statement, no matter the size. While darker colors are beautiful and timeless, there are some things to consider when using them in small bathrooms.
**This post contains affiliate links. If you make a purchase through these links I may receive a commission at no extra cost to you. See the full disclosure here.**
Like why dark paint can work for small bathrooms; the different ways to use dark paint in a small bathroom, and of course, styling a small bathroom with dark walls. That's what I want to talk about in this post. I did a little research to help you brainstorm your dark bathroom project (so you won't have any regrets).
Bear in mind, these are just suggestions that I've found to be helpful. They are NOT rules. At the end of the day, It's your home and you can do with it what you like! For more ideas check out these 5 Tips For Decorating A Small Room With Dark Walls.
Let's get started. Here are a few things to consider when using dark paint in a small bathroom.
Tips & Ideas For Using Dark Paint In A Small Bathroom.
First, Is It Okay To Use Dark Paint In A Small Bathroom?
The old theory is that lighter paint colors are better for small rooms, because they reflect more light, making the room appear bigger. But dark paint has its own tricks! Dark walls tend to recede, making the wall seem farther away. This can create the illusion of more space.
Design Sponge writer Kevin O'Gara explains:
"Instead of reflecting more light, it [dark paint] reflects less, and though this difference may seem misleading, the depth of its color and shadows — and the fact that it's not so clearly defined by the light — blurs the edges of the room. By absorbing the light, the walls of the room are less clearly marked and can give an illusion of more space." – Kevin O'Gara
The misconception that light colors make a room feel bigger was discussed in this article by Sherwin Williams. According to the author, studies have shown that humans perceive bright objects as being closer than the same object in a darker color.
Translate that into interior design and it suggests that light-colored walls will make those walls appear closer, while dark walls seem further away. By this logic, one could conclude that the idea that dark walls close in a room may be unfounded.
There's much debate about this, but it just goes to show that there are no rules! It all comes down to personal choice. We can all agree that dark paint colors create amazing depth and beautiful shadows that add interest and intrigue to any room. If this sounds good to you then go for it! But pick a dark shade you really, really love.
Ways To Use Dark Paint In A Small Bathroom
If you've already decided to add dark paint to all four walls then you're set! But if you're looking for more options for using your dark shade, then these ideas might be helpful. Here are a few ways to use dark paint in your small bathroom.
Paint Half the Wall
Create beautiful contrasts by adding your dark shade to just half of the wall. This look is striking and modern. Especially when the other half is a crisp, bright white. It's also a safe choice if you don't want to go too crazy with the dark paint.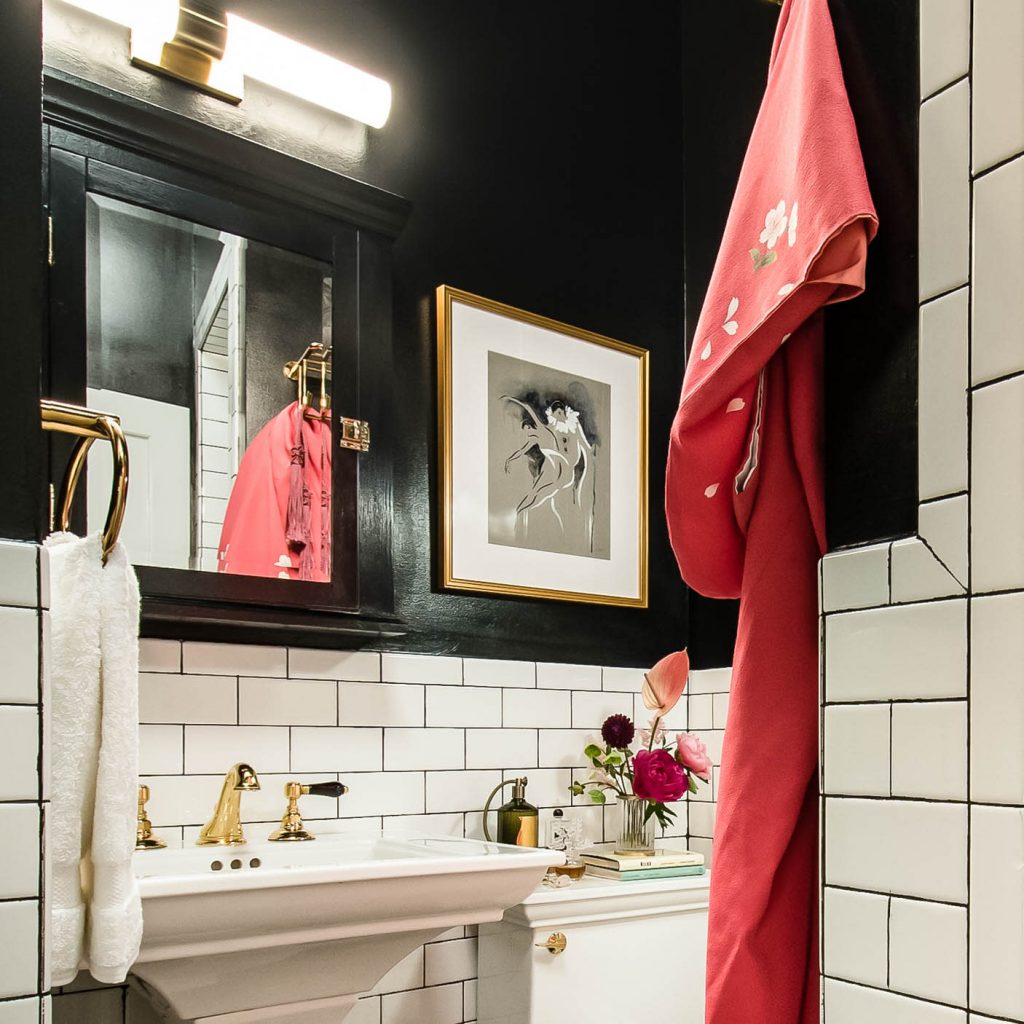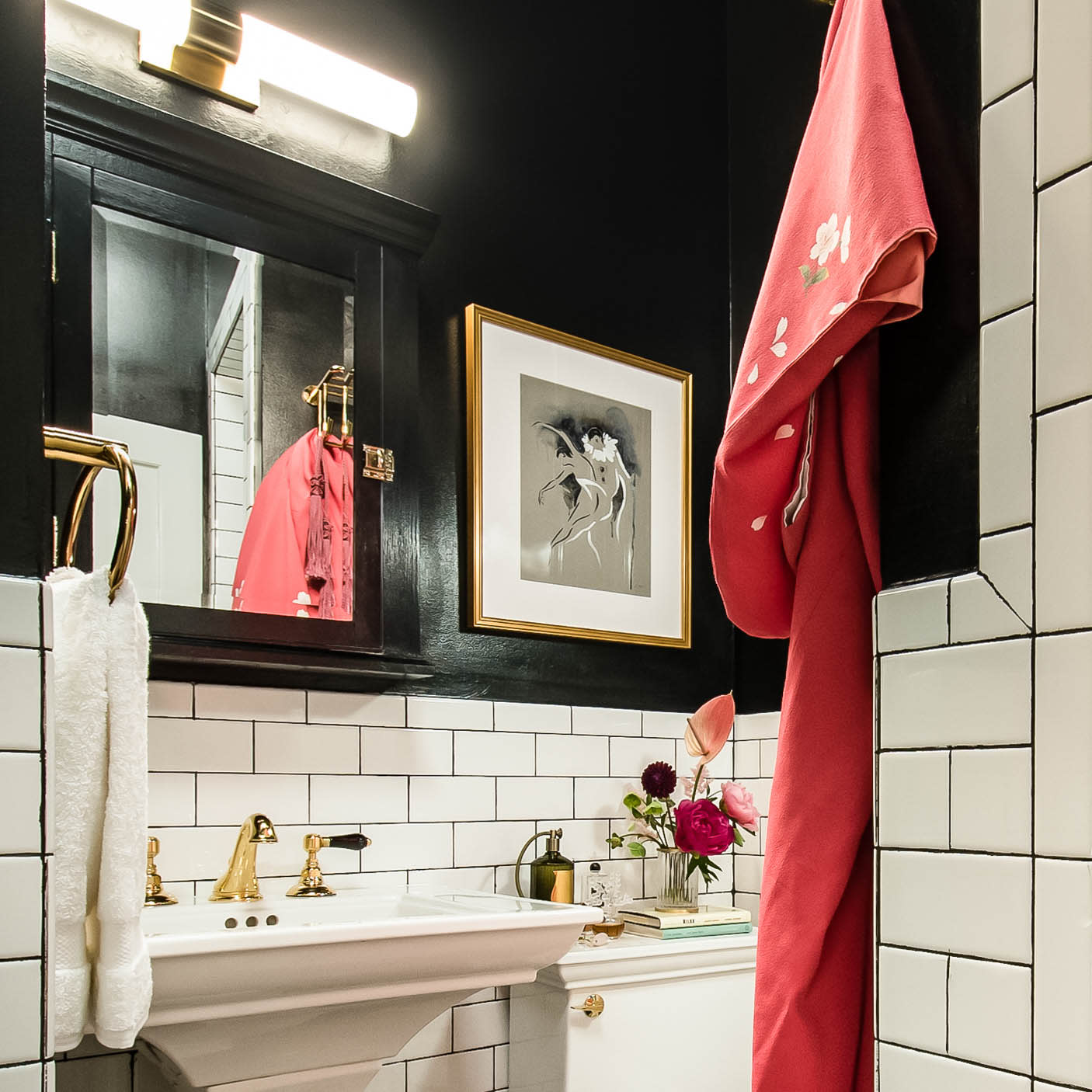 Create An Accent Wall
A timeless feature wall is also an option if you just want to add a pop of color or depth to your bathroom. Plus it's a budget-friendly solution! You can never go wrong with an accent wall. For ideas check out these accent wall ideas for small bathrooms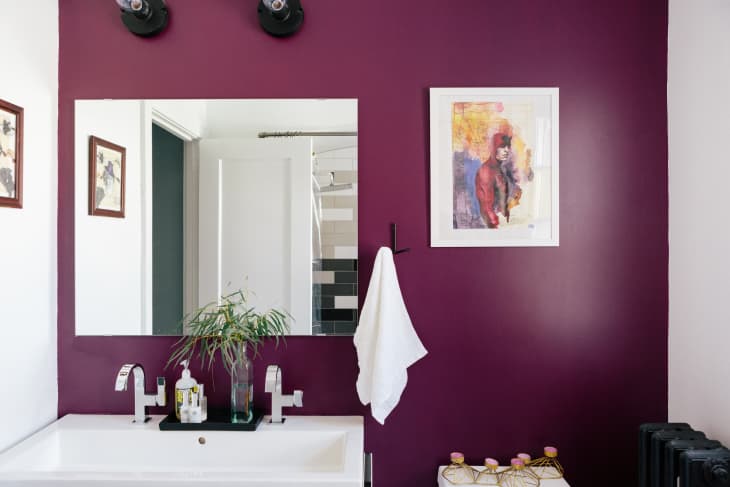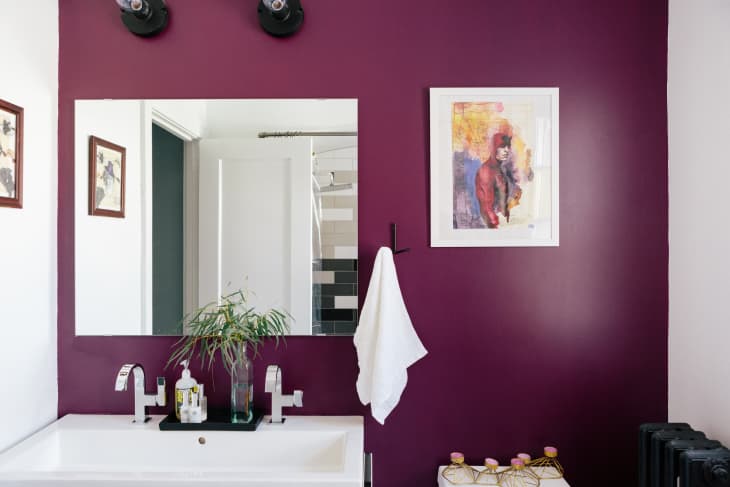 Related:
Color Blocking / Color Zoning
Color blocking or Color-Zoning is a fun and creative way to add color to your bathroom. Get creative and add that bold dark paint on one small area or multiple areas of your bathroom. This can be the area behind your bathtub, behind your toilet, or inside your shower. The creative possibilities are endless.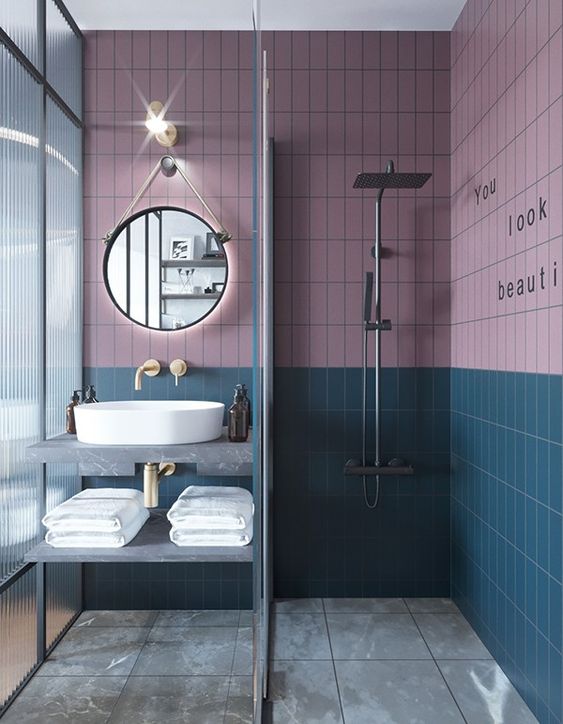 Paint The Upper Wall & Ceiling
Dare to be bold? Treat your ceiling like a 5th wall and add the dark color there. Painting the ceiling will create the most beautiful contrasts as seen in the photo below. If you want a dramatic look this is the way to go. The bathroom below is striking but it also feels cozy, intimate, and inviting.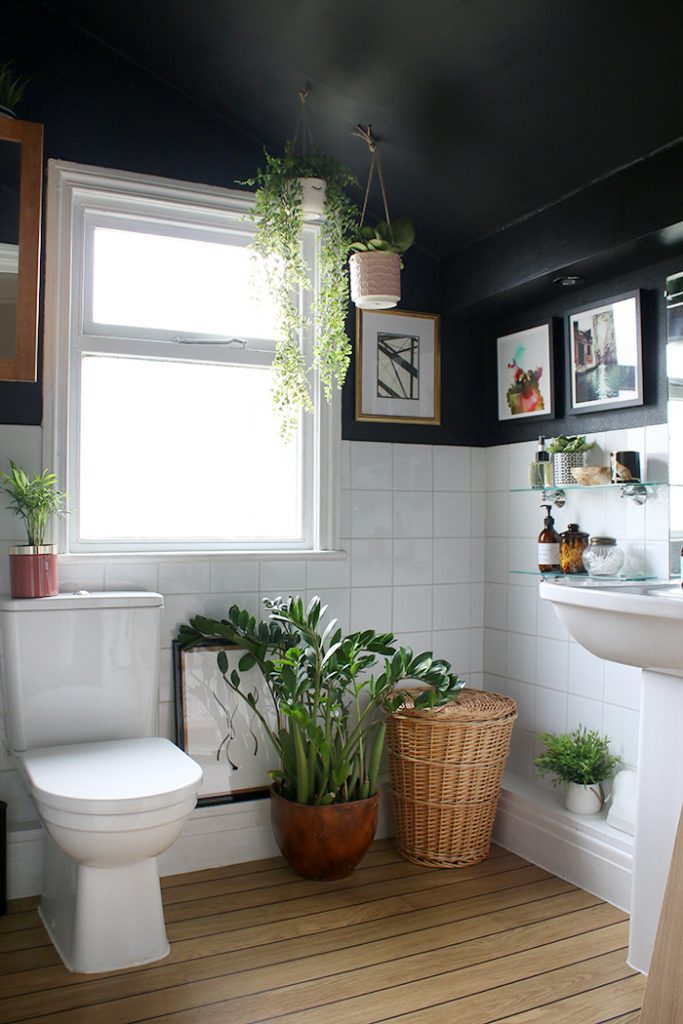 All Four Walls
When you want to take the brain work out of painting and feel confident enough, just paint all four walls in your dark shade. You can always create contrasts with accessories and furnishings. But be sure to add adequate lighting. More on this below.
How To Style A Small Dark Bathroom?
This is probably the biggest mystery when working with dark walls. Styling a small bathroom with dark walls can seem daunting at first. So here are a few tips for styling a small bathroom with dark walls.
FYI: If you want more tips for styling a small room with dark walls, This Post would be helpful!
1. Create Contrasts – If you add dark color to your walls, stick to lighter furnishings and linens to keep the room balanced. White or light-colored picture frames and wall art will create beautiful contrasts against the dark walls. Try a light-colored shower curtain, and towels to keep things balanced.
2. Add Extra Lighting – If your bathroom has little to no natural light, you need to focus on lighting fixtures. The trick here is to create multiple layers of lighting to brighten up the space. Combine ceiling lights with wall lights or sconces. These can be placed above your mirror or on each side of the mirror. You can even add task lighting on your countertop. See my other post How To Use Lighting To Make A Small Rool Look Bigger.
3. Add A Medium-To-Large Mirror – Especially If you're short on natural light and have to rely on artificial lighting. A sizeable mirror will help to bounce light around the room, making it feel brighter and bigger.
4. Add Gold Accessories For A Luxe Finish. For the ladies who love the glam look, a gold-framed mirror, gold picture frames or accessories are your best friend. Gold accents create a sophisticated and luxurious look that's both modern and feminine.
5. Don't Be Afraid To Add Other Colors – Just because you have dark walls doesn't mean you can't add a pop of color. Incorporate color with towels, countertop storage, and accessories, your bath mat, shower curtain, lighting fixtures or simply add some flowers throughout the space.
6. Add Low-Light Plants – There are quite a few plants that thrive in low light, warm, humid environments such as bathrooms. Some popular bathroom plants are:
The Pothos – beautiful trailing plants! perfect for shelves
the Philodendron Heartleaf is another easy, low-light trailing plant with heart shaped leaves (Just Beautiful!)
Aloe Vera
Gardenia
For more easy, indoor plant ideas, check out this roundup! I put together a list of beautiful and lush indoor plants (both small and large). If you're looking for low-maintenance indoor plants Bloomscape has a ton of options and resources for beginners.
Some Inspiration!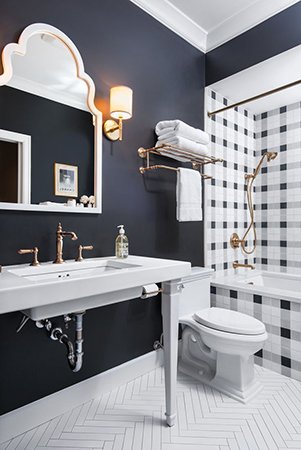 I hope you found this helpful and found some inspiration. Don't be afraid to go bold in small spaces. Pick a shade, select the perfect placement, plan your decor, and get started! It's only paint. Happy Decorating!
You May Also Like:
Pin This Post For Later!