I LOVE bold wallpaper for small rooms.  Not every small space dweller share that love. For some, the idea alone is intimidating. Many small-space-dwellers worry that busy patterns or shapes will be too much for their tiny room, and they don't want to overwhelm the space.
I get it…
The truth is, adding wallpaper to a small room is a great way to visually expand that space. Patterned wallpaper has the power to create all kinds of illusions. One, in particular, is making a room appear larger than it actually is.
Pin This For Later!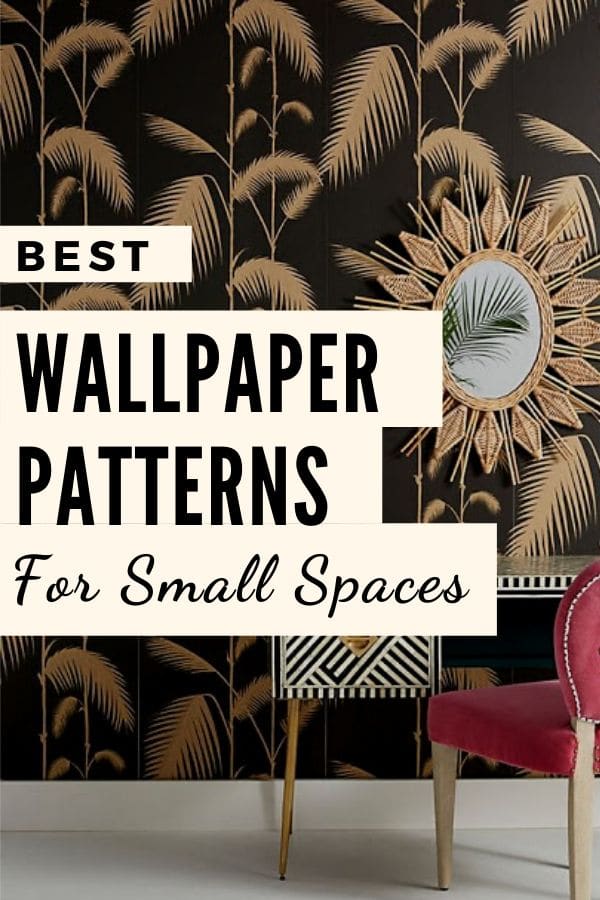 Patterned wallpaper adds interest by creating a beautiful focal point. They also create depth and make low ceilings appear 10ft taller!
I know it may seem counterintuitive to add busy shapes and large flowery elements to the walls of a tiny room But trust me, the result can create the most beautiful and charming accents for your home. You just have to work smart! That's what this post is about.
But before we get into the options, one thing to note is that you should only use a pattern that you really REALLY love. Aside from the fact that you'll be looking at it every day, anything that isn't super appealing to you will eventually feel overwhelming.
FYI –At the end of this post I rounded up a few online shops where you can find stylish, modern wallpaper & murals. So stick around till the end! 
**This post may contain affiliate links. If you purchase something through these links, I may receive a small commission. I only recommend products that I love and trust! **
So What Wallpaper Patterns Work Best For Small Spaces?
1. Stripes!
You may have seen this suggestion in your research thus far. Stripes are one of the best wallpaper patterns for small spaces because they have the power to visually transform a room. Striped wallpaper can create the illusion of height or depth depending on their orientation.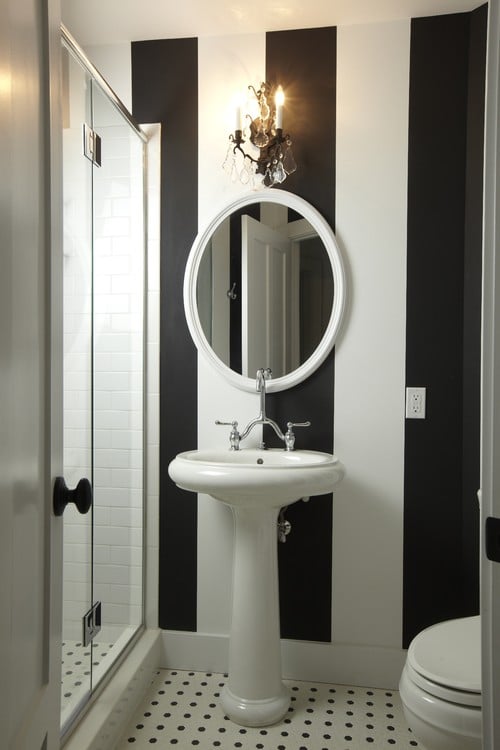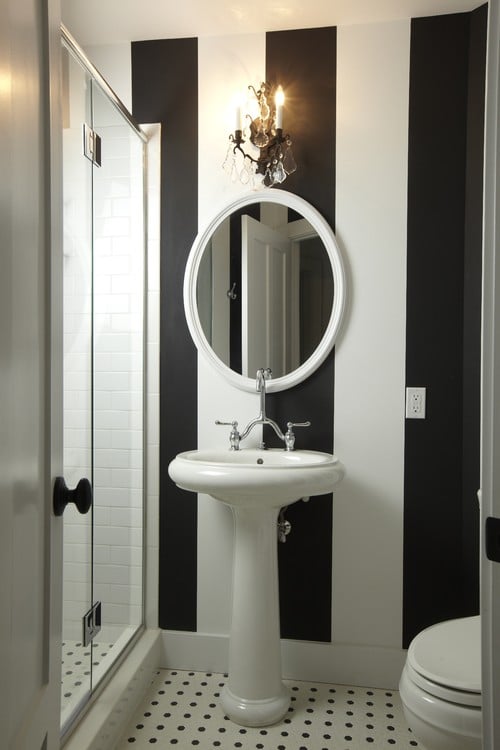 Photo by Beth Bourque Design Studio 
Vertical stripes make ceilings appear higher than it actually is, while horizontal stripes will make walls seem longer/ wider. Either way, stripes help to create the illusion of a larger space, which is the ultimate goal.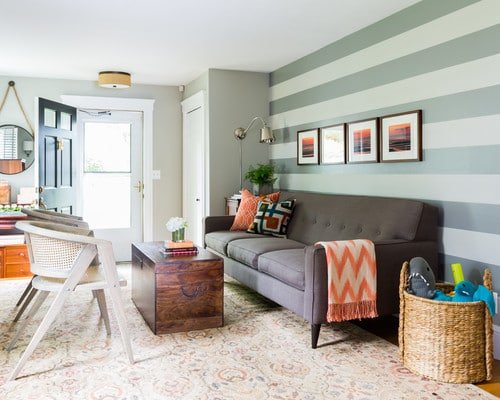 Photo by Beth Bourque Design Studio
NOTE: It doesn't have to be literal stripes like the images above. Any pattern that creates vertical or horizontal lines will do the trick!
Stripped Wallpaper Finds On Amazon:
2. Scenic Wallpaper/Murals
This is probably the best wallpaper for small spaces. Scenic wallpaper or Murals are truly powerful stuff when it comes to creating an optical illusion. The magic is in pulling the eye outward, adding depth and distance. Creating depth in a small room means more visual space. Magic Murals has a huge collection of beautiful scenic wallpaper, and murals for any room, style, and occasion.
Photo by Anthony Baratta LLC 
---
---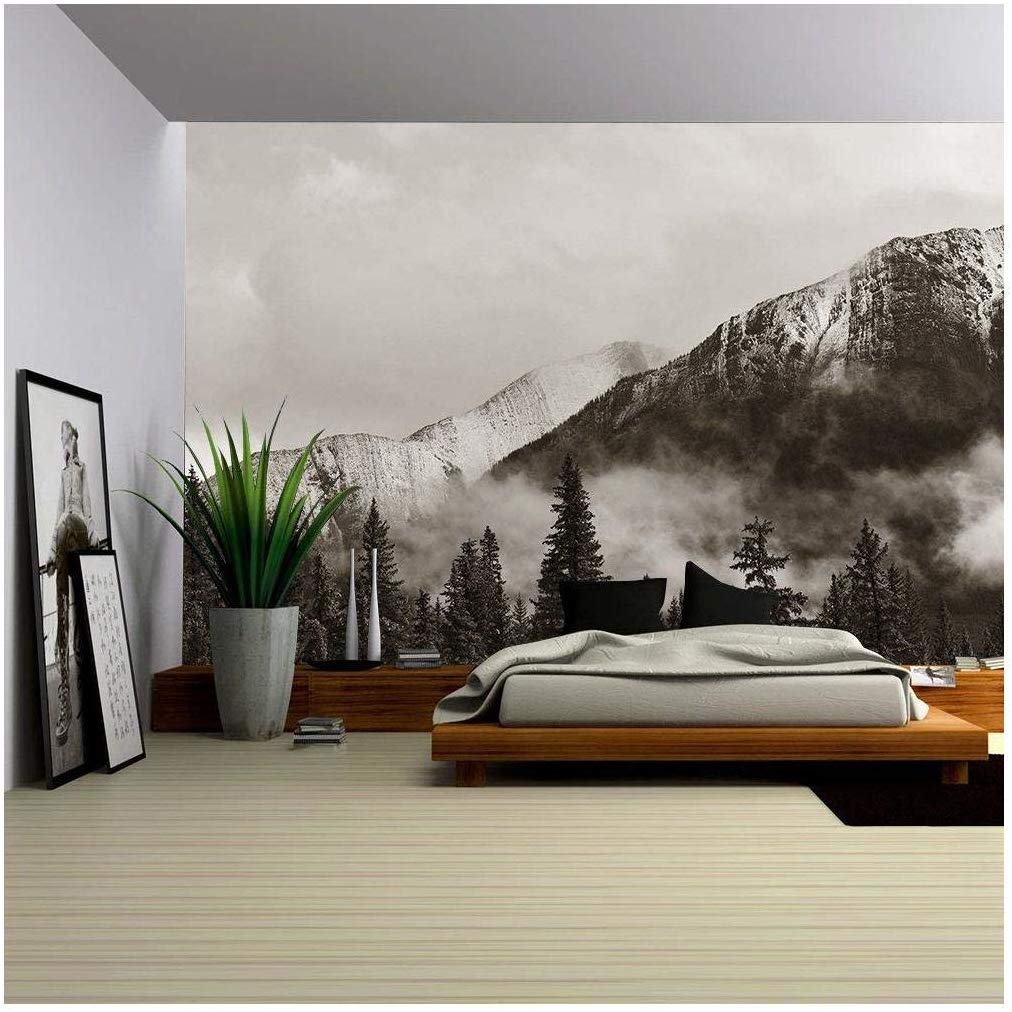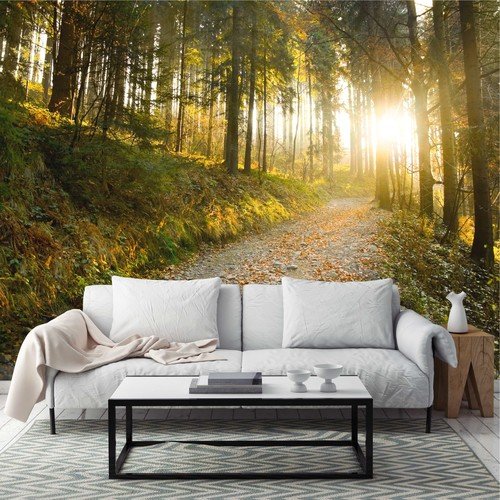 Photo by Black Anchor Creative 
Related Posts:
3. Seamless Patterns: Busy vs Random Wallpaper Patterns.
I think maybe this is the part where people get scared. Remember, patterns repeat. So some can seem too busy and overwhelming for small rooms. It's the scale of the pattern that makes all the difference. Smaller repeated prints can sometimes look chaotic, while larger repeated patterns stretch the eye upward and outward, making the room appear larger.
The distance between each repeat is also an important factor to consider.
Consider this: Any pattern with a repeat of 6 inches or less will appear quite busy. Larger patterns with a repeat of 12 inches or more will appear more random and be easier on the eye.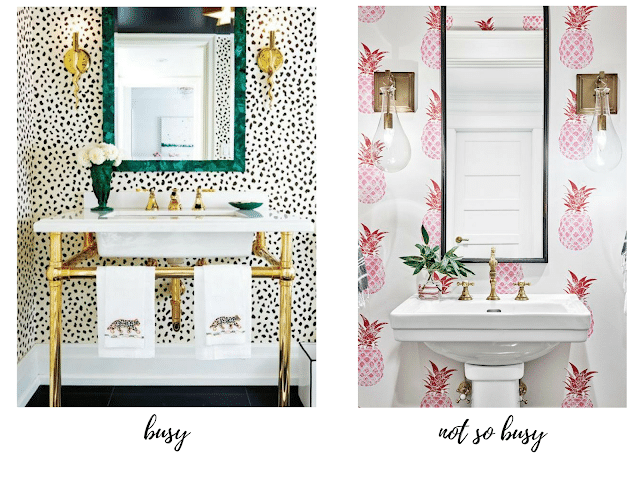 With small spaces, it's generally recommended that bold repeated patterns should be used for creating a single accent/feature wall. Especially if you're using small repeated prints.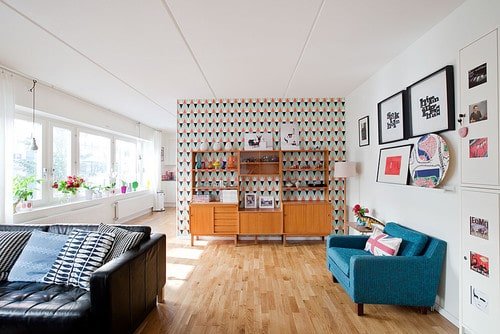 Photo by Fotograf Lisbet Spörndly
Busy wallpaper for small rooms can definitely work. If you find a busy pattern that you love, use it on one wall. This way you get the look you want, without claustrophobia.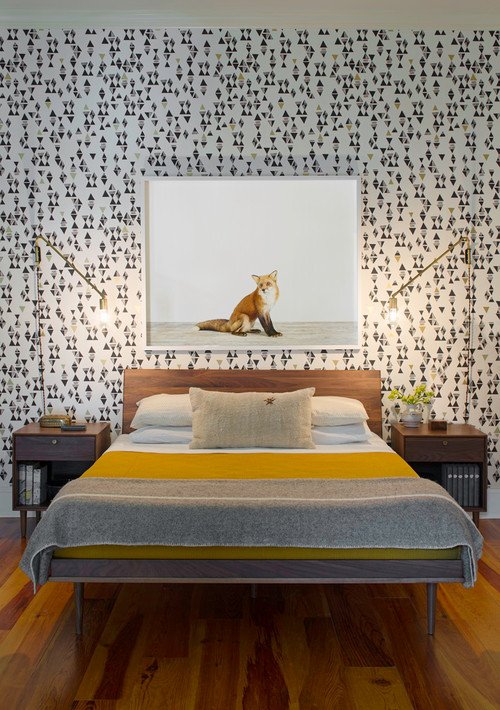 Photo by Rethink Design Studio 
On the other hand, if you're a maximalist at heart and prefer to cover the entire room in busy wallpaper, then go for it! Maximalists can do small spaces too!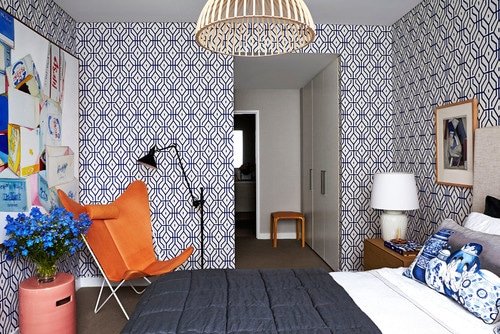 Photo by Arent & Pyke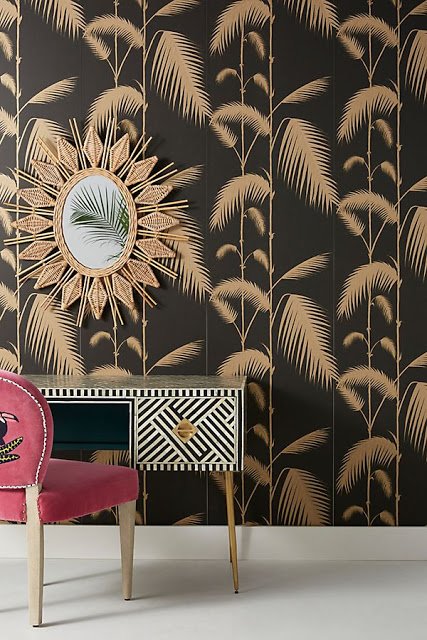 Get This Palm Leaves Wallpaper from Anthropologie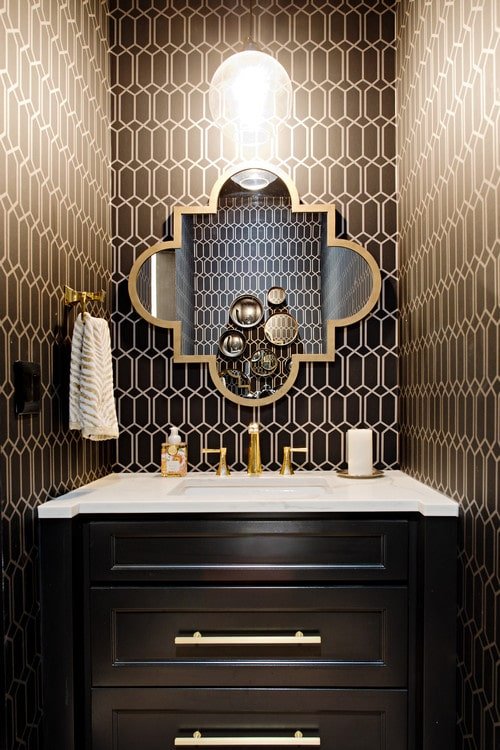 Photo by Sarah St. Amand Interior Design, Inc. 
This pattern is infinite. You can't really tell where it begins and where it ends, causing the eye to continue on 'forever'. This is a good thing for creating visual space.
Related Posts:
4. Textured wallpaper 
This type of wall-covering is considered a pattern in its own right. Textured wallpaper creates another level of dimension, adding interest to a small space.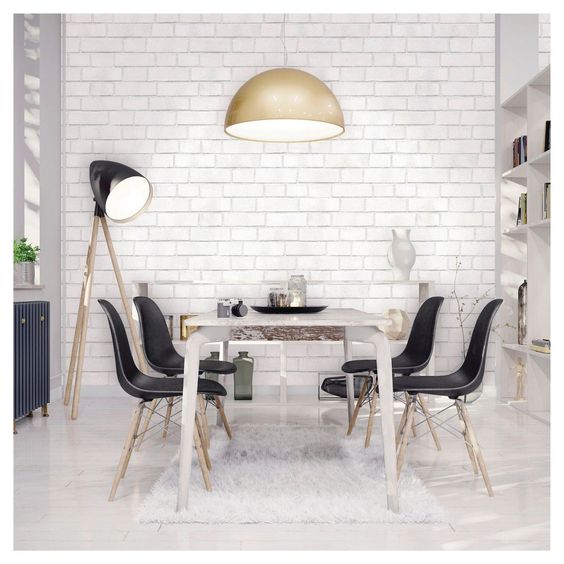 Get this White Brick, Peel and Stick Wallpaper From Amazon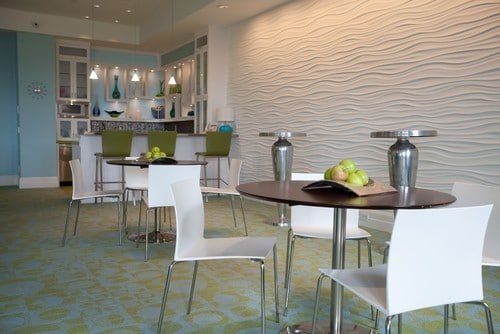 Photo by Cre8tive Interior Designs 
Interior designers have predicted that textured and 3D wallpaper will be big in 2020! Bringing dull walls to life with rich 3-dimensional shapes and designs. See more 2020 Decor Trends Here!
Related
Let's Talk About Scale
We touched on pattern scale earlier, so you might recall that for small spaces, smaller, busier patterns are perfect for accent walls. Larger patterns will create a bold and dramatic effect. Large patterns that go all the way up to the ceiling are perfect for small spaces because it draws the eye upward, creating the illusion of higher ceilings and therefore more space. Florals are still a popular pattern for small rooms.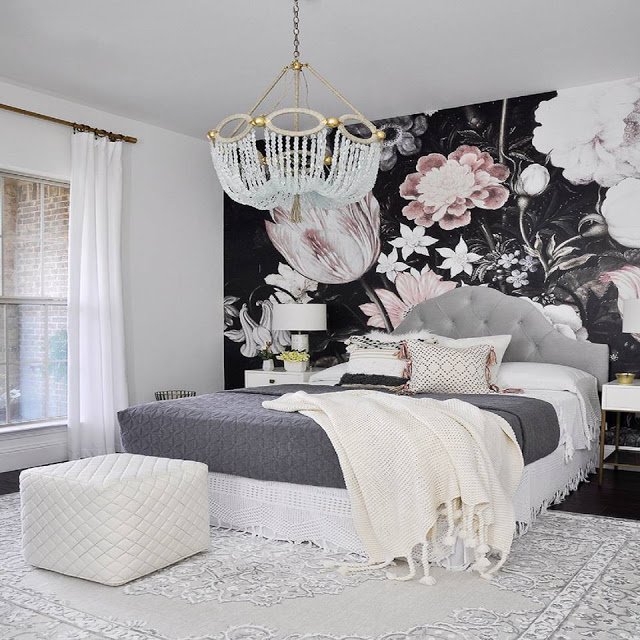 Get The Look With These Floral Wallpaper Murals From Amazon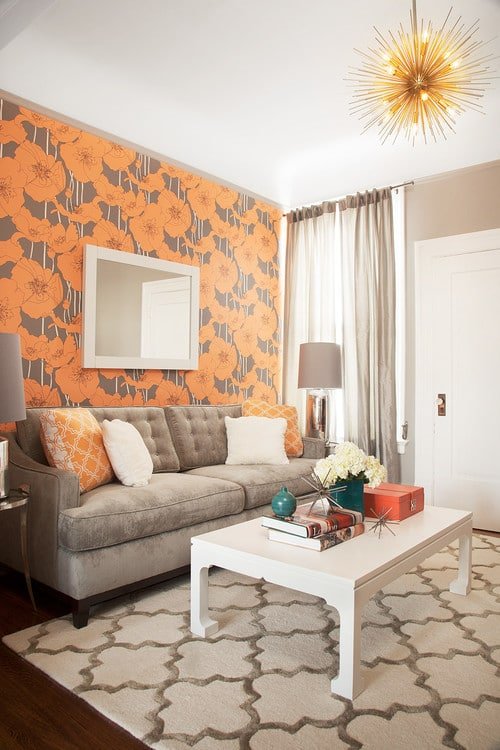 Photo by Coddington Design 
---
---
Creating Balance
Balance is everything when working with wallpaper for small rooms. If you use large, bold, busy patterns in a small room, tone down the rest of your decor. This includes drapes, rugs, cushions, and other accessories. Doing this will ensure that the wallpaper shines but also helps the room to feel relaxed and calm. At the end of the day, be guided by your personal style and the feeling that the pattern elicits. Do that and you'll be well on your way to creating a space you'll love.

You May Also Like:
PIN THIS FOR LATER!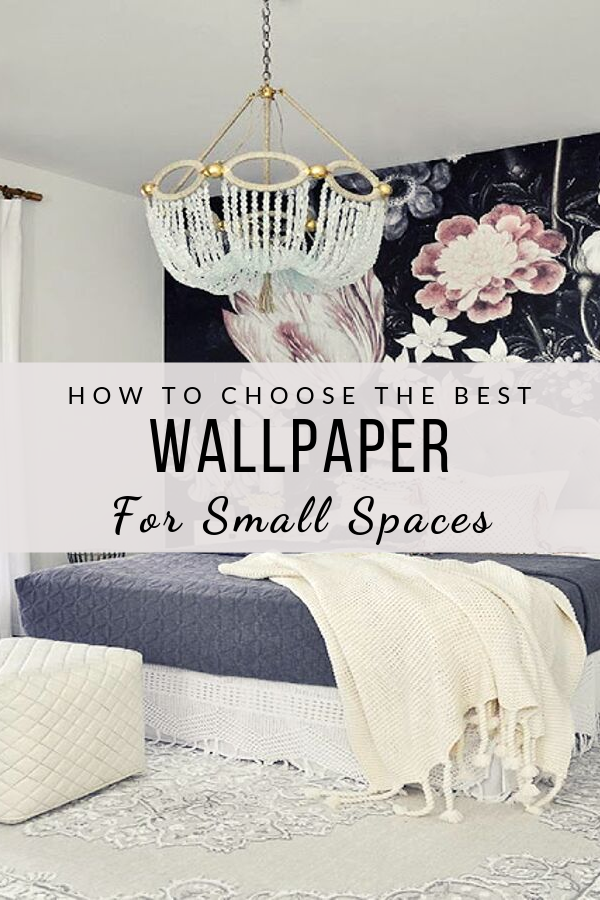 Don't Miss The Latest Post!